| | |
| --- | --- |
| General News | |

... 26 news stories awaiting approval



Coolermaster Devastator Mouse & Keyboard Review

Coolermaster and their gaming division CM Storm are a popular choice for PC gamers, with a wide range of cooling, chassis and peripheral products that have won virtually countless awards around the world at their disposal. CM Storm do offer a great range of premium products, but we all know that not everyone in the world has a premium sized budget when shopping for their peripherals, which is why CM Storm have created the Devastator. Priced at an average of just £30 the Devestator promises great value for money by bundling together both the MB24 keyboard and the MS2K mouse. There are many reasons for wanting to save a few bucks at your local retailer, you may just be after a cheaper replacement, you may have spent all your money on a huge graphics card, or maybe your building a rig for your kids to play Minecraft and you don't think splashing out on a £100 mechanical keyboard is the best course of action. What ever your reason, £30 for a mouse and keyboard combo from a well-known brand name is a tempting option, and today we hope to find out if it really is good value for money or not. CM Storm haven't let us down with their budget friendly products in the past, so it will be interesting to see just how much you can get for your money at this price range.

Corsair Force LX 256GB SSD Review

Corsair is using Silicon Motion's new SM2246EN SATA III 6Gbps controller along with 128Gbit Micron L85 20nm ONFI MLC NAND for the Corsair Force LX lineup. This combination gives the Corsair Force LX series a maximum sequential read speed of 560MB/s, which is as good as it gets for SSDs using the SATA III interface. When it comes to write speed the Corsair Force LX 128GB drive has a maximum sequential write speed of 150MB/s and the 256GB model is rated at up to 300MB/s. Read on to see how the Corsair Force LX 256GB drive does when we put it to the test!

iStarUSA S-915 Review

If you have read our guide to building your own NAS or our more recent Lian Li PC-Q28 Review, you may be ready to get your own personal NAS project started. The cases featured in both of those articles were great enclosures for a NAS Solution, but didn't really make accessing your drives easy. iStarUSA thinks they have the perfect case for the job, the S-915. This compact mini-ITX tower style chassis may not be an enthusiasts first choice in brand name or feature a sleek all aluminum exterior, but it does have a company with 20 years of experience in industrial computers behind it.

Corsair Flash Voyager GTX 128GB Review

Chances are you already have several flash pen drives at home, either lying around on a desk or in a drawer. Smaller drives are ideal for flashing a motherboard BIOS and updating firmware, but the larger drives are more serious – used for backing up and moving large amounts of data between computers. It is true they are generally not the most exciting of devices however today we look at something very special from Corsair, a new flash drive they say is their fastest ever – The Voyager GTX.


Intel Core i7-5960X Haswell-E Review

Intel's Extreme Edition processor line is over a decade old now, starting way back in 2003 with the single-core Pentium 4 EE 3.4GHz. Fast forward to today, the chip we'll be looking at boasts eight cores, a massive 20MB smart cache, support for the latest DDR4 memory, and is accompanied by the new X99 chipset for more SATA 6Gb/s ports (10 rather than just two) and finally brings native USB 3.0 to Intel's flagship platform.

i7 5960X + MSI X99 Experience So Far: It's Smoking, Really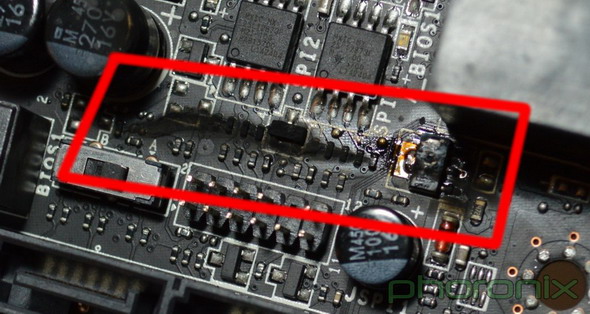 This weekend I was planning to publish the first Linux benchmarks for Intel's incredibly powerful Core i7 5960X Haswell-E processor with X99 motherboard and DDR4 system memory. Unfortunately, all I can tell you now is that it's smoking, quite literally!"

Gigabyte X99 Gaming 5 (LGA 2011-3) Motherboard Review

Intel's new "Haswell-E" high-end desktop platform recently launched with the Core i7 5960X 8 core CPU leading the way - be sure to check our review of that right here. To accompany Intel's new Haswell-E CPUs we have a brand new platform based on the X99 Express chipset and DDR4 memory. Today we are reviewing our first motherboard based on X99 Express and it is actually the same motherboard we used in our Core i7 5960X – theGigabyte G1 Gaming 5 X99 motherboard. To put it through its paces we are using Intel's flagship Core i7 5960X and a hefty 32GB of Crucial DDR4 2133MHz memory which is fresh off the Micron production line. Gigabyte's newest X99 series of boards draw a lot of their inspiration from the recent Z97 releases: they use the same colour schemes, they offer similar audio and networking combos and they are orientated towards the same market segments, albeit at a higher premium. The Gigabyte X99 Gaming 5 has impressive specifications, largely due to the fact the X99 chipset offers so much. Gigabyte have opted for the "gamer" orientation with this board by equipping the usual Killer networking and high quality audio package, we also have the almost-cliché red & black colour scheme which has proved so popular.

Nilox SRM-850 Review @ ocaholic

Today, we have a chance to look at a power supply from Nilox. To be a bit more precise we`re having a closer look at their SRM-850 offering. This PSU features a single-rail design that boasts 70A on the +12 rail. Apart from that this unit also features a very reasonable price point and we`re curious to see what it can do."

Sandberg Credit Card 850mAh Powerbank Review

Can any of you even recall how many times your smartphones have ran out of battery while you're out having drinks far away from a power socket? Having a power socket is not even a solution since i bet many of you had your smartphones ran out of battery while attending a wedding or a meeting since you obviously don't carry the wall charger with you. Portable battery packs are a valid solution to such circumstances but you really can't carry one around with you at all times since although very small they are more than what you can fit in the pockets of your shirt or jeans. A couple of years back certain manufacturers came up with a very smart idea which basically involved using several flat battery cells inside a credit-card like enclosure which you would be able to carry around you at all times whether that would be inside one of your pockets or inside your wallet. However it wasn't until recently that we began to see such solutions that feature enough battery juice to recharge most smartphones up to a full time and so since we wanted to take a look and see how far this "innovation" has progressed today we will be testing the latest Credit Card 850mAh powerbank by Sandberg


Kingston HyperX Savage 2x4GB DDR3-1866Mhz Review

Today am getting a chance to play with some new Kingston memory, this time its all about a 8GB HyperX Savage Kit. I was thinking about a good opening to announce the start of this review but Kingston has that perfectly covered. Attack the competition with HyperX® Savage memory. Its unique, asymmetrical red heat spreader is made from high-quality aluminium and has a black PCB and a diamond cut finish to make your game shine and help you stand out in the crowd. The heat spreader dissipates heat so that your system stays cool and reliable and its low profile fits under oversized CPU coolers. Built-in, hand-tuned XMP profiles mean that even noobs can overclock their platforms with simple adjustments in BIOS.