[>>]

[>>]

[>>]

[>>]

More>>

Search...

| | |
| --- | --- |
| General News | |

... 57 news stories awaiting approval
ASUS R9270-DC2OC-2GD5 review: Radeon R9 270 from ASUS

In November AMD launched the Radeon R9 270, a new graphics card available for around £140. We already tested the cards from MSI and Sapphire and today we take a closer look at the ASUS version of the R9 270 to find out which one is the best out of the three.

Deep Cool Gammaxx S40 Review

Cooling performance for non-overclocking was toward the middle of the field of test units, but when you stress the system with a mild overclock, the S40 knocks on the 100 C door, and that is a door we try to stay away from. Two things that I think would help the S40 would be a larger fan with a higher speed to move more air, like a standard square case fan, and for Deep Cool to move the heat pipes away from each other (space them out) to give each pipe better access to a clean stream of cool air."

Hands On with Dell's 27-inch P2714T Touch Monitor

When Microsoft launched Windows 8, the company gambled on consumers welcoming touch on the desktop, just as they had on mobile handheld devices, namely tablets and smartphones. It remains to be seen if that gamble will pay off, but in the meantime, peripheral makers and other hardware partners have stepped up with products built to take advantage of Windows 8's touch friendly interface. That includes Dell, which sent us its 27-inch P2714T Touch Monitor to test drive. The P2714T brings support for 10 points of multi-touch input, so if you want to get up close and friendly with two hands, it won't wig out on you. Multi-touch support also means you and a friend can play touch-oriented games, and with 27 inches of elbow room, it's not only possible but feasible...

Top 5 Liquid Cooling CPU Heatsinks - At A Glance

"Frostytech's Top 5 Liquid Cooling Heatsinks Charts rank the best self-contained liquid cooling thermal solutions we've tested, by lowest temperature and lowest noise output.Quickly discover the current Top 5 Self-Contained Liquid Cooling Heatsinks according to FrostyTech. The list is broken down by lowest temperature and quietest operation. HOW IT WORKS: The #1 Rank is considered the current Top self contained liquid cooling heatsink, #10 is considered the 10th BEST. Only self-contained liquid cooling heatsinks that Frostytech has tested in its labs are included in these charts"


XFX Radeon R9 280x DD Black Edition OC 3GB Review

We've just posted a new article on our website that your readers may enjoy. A news post would be highly appreciated and we always post affiliate news daily, so please send us your articles as well!

NVIDIA CES 2014: Tegra K1 Debutes With 192 GPU Cores

NVIDIA's Jen-Hsun Huang took the stage at CES 2014 and after covering a number of other NVIDIA innovations over the past year, NVIDIA unveiled its latest mobile chip. Not Tegra 5 -- NVIDIA appears to be dropping the five altogether -- but Tegra K1 (codenamed Logan). According to Jen-Hsun, one of the advantages of the Tegra K1 chip is that it offers the same programming capabilities as the conventional NVIDIA GK104 GPU. The Unreal 4 engine will be coming to mobile as a result, which makes sense, given the new core's capability. What's more impressive, however, is that the new mobile chip will comprise 192 Kepler cores, which is over a 2.5X increase from the current generation Tegra 4 SoC. The big news of the evening from NVIDIA was that we'd soon see two SKUs for Tegra K1 -- a quad-core Cortex-A15 32-bit chip at 2.3GHz with 192 Kepler GPU cores, or a dual-core Denver core at up to 2.5GHz and a whopping seven-way superscalar architecture...

Intel reportedly places 28nm chip orders with TSMC

Intel has contracted Taiwan Semiconductor Manufacturing Company (TSMC) to manufacture its forthcoming Atom mobile processor series codenamed SoFIA, and also placed orders for entry-level baseband chips with Globalfoundries and United Microelectronics (UMC), according to industry sources.

SteelSeries Rival @ LanOC Reviews

When it comes to mice, SteelSeries over the past few years has basically stuck with a single design that they have used on multiple mice. We first saw it with the Xai and later the Sensei but they have also used it on various branded mice and a smaller version on the Kinzu as well. When SteelSeries announced that they were bringing out a new mouse design with the Rival I was very interested, but also a little worried about messing with a good thing. After a short wait, we finally have the Rival in hand and can put it through its paces and see how the new design performs."

ASUS GeForce GTX 780 Poseidon Platinum (air) Review @ ocaholic

With the new GeForce GTX 780 Poseidon Platinum, ASUS introduced a very interesting and unique product into market. A graphics card that can be chilled with air, water or both at the same time thanks to ASUS` brand new innovative hybrid DirectCU H2O cooler. Very promising on the paper we are going to have a first look at it."

Scythe Mugen 4 Heatsink Review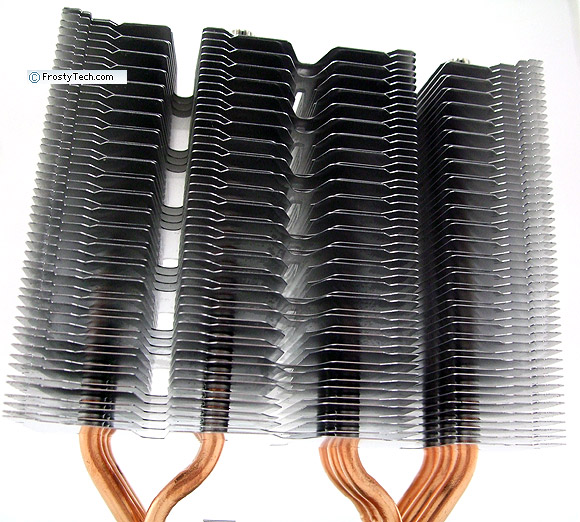 "The Scythe Mugen 4 heatsink weighs 625grams and stands 157mm tall. The heatsink is built around six 6mm diameter copper heatpipes and has a footprint of 130x112mm. A 120mm PWM fan ships with the Mugen 4 heatsink, it rotates at 1400-600RPM and produces upwards of 41.9d dBA."

Thecus N2560 NAS Server

Roughly a week ago some friends visited our testing grounds (lab as some people like to call it) to see how we do things and from all the things they saw in here what really piqued their interest was the QNAP TS-469U-RP rackmount NAS Server which has taken a permanent role as our download server, DVB-T server and surveillance station. Of course the moment our friends learned of the price tag that specific mode has (or had since it`s not widely available anymore) they were slightly disappointed since they too are looking to purchase NAS servers mainly for use as download servers and media players. Personally i also think that a NAS server used for media playback (thus placed close to your TV set) also has to be small in size and not just cost-effective something which obviously most NAS servers we`ve tested/used over the years are not. Thecus is trying to change that by introducing the latest N2560 2-Bay NAS Server which we`ve been testing for roughly a week now. Article Link: http://www.nikktech.com/main/articles/peripherals/network/nas-servers/2683-thecus-n2560-nas-server Image Link: http://www.nikktech.com/main/images/pics/reviews/thecus/n2560/thecus_n2560a.jpg A News Post Would Be Appreciated."

next-gen NVIDIA Tegra SoC

...The ThinkVision 28, which is priced at $999, is a unique product since it operates as both a monitor and an AIO system. This 28-inch panel also sports a 4K resolution as well as 10-point multitouch. As you can see in the video, there are multiple USB ports, three HDMI ports, a microSD slot, DisplayPort, Ethernet port, and more on the base. When disconnected from a PC, however, the monitor functions as an Android-based AIO system running Android 4.4 on a "next-gen NVIDIA Tegra" SoC, aka Tegra K1, though Lenovo won't confirm that. While at Lenovo's suite, we also had a chance to see the new Miix tablets, 11-inch Yoga 2, Flex 14D and 15D, and the hot new ThinkPad X1 Carbon that has been updated with Haswell, a thinner, sleaker design and a top row of remappable function buttons.

AMD FX-9590 and FX-9370 review: AMD's return to the high-end market?

It's certainly a courageous step to release new CPUs with a TDP of 220 watts, but it's not enough to really compete with Intel's Core i7. Even the 5 GHz FX-9590 is somewhat slower than the Core i7 4770K, even in multi-threaded benchmarks such as Cinebench and x264. The 4770K costs about the same, is much faster with games and only uses a fraction of the power.

GIGABYTE launches BRIX Pro featuring Intel Iris Pro graphics

GIGABYTE TECHNOLOGY Co. Ltd., a leading manufacturer of motherboards, graphics cards and PC systems, is proud to announce the next generation GIGABYTE BRIX Pro, a compact DIY PC kit that features professional CPU performance and visually stunning graphics support with the Intel i7 Core 4770R processor featuring the Intel Iris Pro graphics 5200.

Palit GTX 780 Ti JetStream

Although the Palit GTX 780 Ti JetStream doesn't vent the hot air out the case like the Nvidia reference card, it does keep the GPU a few degrees cooler, providing you have ample air-flow within your case. Additionally Palit's design is also slightly quieter and while opinions will differ, it is arguably a more aggressive looking product.



The best Guides by the best writers on the internet; PCSTATS Beginners Guides explain computers, software, and all those other wonderful things that cause you frustration.

Learn how to use your computer better, master the internet while protecting yourself, and know what to do when your hard drive kicks the bucket.



"Get the 'Stats and Stay Informed!"