| | |
| --- | --- |
| General News | |

... 41 news stories awaiting approval
FSP Aurum Xilenser 500 W @ techPowerUp

FSP is one of the key players on the PSU market, so every new product they release is of great interest. Their most recent PSU releases are the two fanless Aurum Xilense units, which come in 400W and 500W versions with modular or non-modular cabling design."

ASUS GTX 680 DirectCU II TOP Review @ Hardware Canucks

The new ASUS GTX 680 DirectCu II TOP Edition is one of the most sought-after graphics cards on the market and with good reason. It incorporates a top shelf cooling solution, high clock speeds, the potential for incredible overclocking limits and a great software stack. There really isn`t anything more we could ask of in a graphics card. * *"

Corsair Carbide 300R Mid-Tower Gaming Chassis

In a market with over a billion (give or take a couple) different chassis for under $100, finding the "right one" is easier said than done. Fortunately, there are some vendors where you pretty-well know by default that their product won't let you down. Corsair is one of those, and we're here to see if its Carbide 300R lives up to those high expectations.

EVGA Z77 FTW Motherboard Review @ Ninjalane

The EVGA Z77 FTW joins an elite group of motherboards aimed at satisfying the needs of overclocking, gaming and hardware enthusiasts. While this group is small by comparison the things they look for in a motherboard can be rather specific but really make the product better and well suited for the average user looking to build a solid system.

ASUS Transformer Pad Infinity TF700T review

We have seen quite a few ASUS tablets pass by our test lab. Still, the Transformer Pad Infinity TF700T is a special model. That's because it doesn't have the 1280x800 resolution of the Eee Pad Transformer Prime and the Transformer Pad TF300T, but an impressive 1920x1200 resolution. This is slightly more than Full HD resolution on a 10-inch display. To find out what the user experience is like and whether the higher price is worth it, Hardware.Info thoroughly tested the latest tablet by ASUS.

Crown Series CW02 HTPC chassis

The Crown Series CW02 HTPC chassis that we will be taking an in depth look at in this review is a beautiful enclosure capable of housing a full, high-end gaming system or media server and provides internal storage for up to six HDDs and comes with a built-in multifunction LCD display and remote control. The all aluminum alloy CW02 features elegant styling and is available with either a black or silver (clear) anodized finish, which is sure to blend in and compliment your other high-end, audio-video equipment.

Thortech Thunderbolt Plus 1000W PSU

The Thortech Thunderbolt Plus 1000W PSU arrived Technic3D. See you in the following Review from Technic3D the next PSU with a Display, one +12V rail (83,33A), a 135mm Fan, 12x SATA hard disk connectors and 8x PCI-e 6+2-Pin."

Canon PowerShot Elph 500 HS Review @ TechReviewSource.com

?At the top end of Canon`s wildly popular Elph compact digital camera line, sits the 12.1-megapixel Canon PowerShot Elph 500 HS. This powerhouse pocket camera features a bright, wide lens, a sharp touch-screen LCD, and excellent image quality, putting it a notch above most compact shooters.?"

Gigabyte GA-X79-UD5 Intel X79 LGA2011 Motherboard Review on PCSTATS!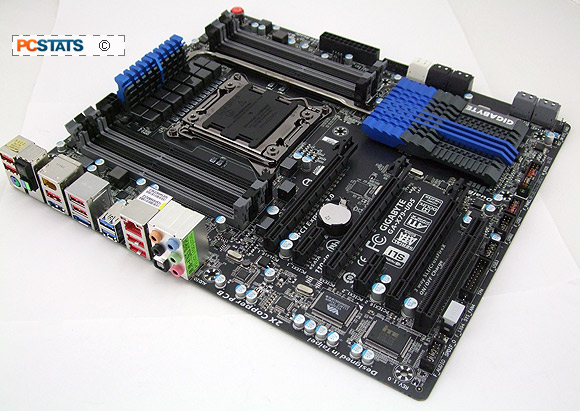 The Gigabyte GA-X79-UD5 is an awesome 'Sandy Bridge-E' motherboard for anyone in the business of content creation, yet still nimble enough to take on multi-videocard gaming and overclocking at the end of a days work. At it's core, the GA-X79-UD5 is a high end socket LGA2011 platform ideally suited to applications tuned for 64-bit operating systems, multi-core processors, plenty of RAM and tons of storage. To build a PC with this motherboard for simple web surfing would be blasphemy! ;-)


AMD Radeon HD 7970 GHz Edition 3 GB @ techPowerUp

Today AMD launches the HD 7970 GHz Edition, in a move to take away the performance crown from NVIDIA. The new card boasts clock speeds of 1050 MHz GPU and 1500 MHz memory. Price-wise the card is on the same level as the GTX 680, but is that enough to defeat NVIDIA`s single GPU flagship?"

Thecus N4800 @ Bjorn3D

Thecuss latest 4-bay NAS, the N4800, is designed for small and medium size businesses (SMB) or home users who need a powerful data file server to centralize all of their digital content. The successor to the Thecus N4200, the new unit has much beefier specs, using Intel Cedar Trail Atom D2700 processor, 2GB of DDR3, and 1 GB of SATA DOM for the OS. The device retails for $660 on Newegg: a bit on the high side, but its spec sheet is nonetheless impressive. Lets see if it can deliver."

HD 7970 Gaming Performance: AMD Catalyst 12.x Unofficial Beta (June 12) @ Ocaholic

Following we present to you our driver performance analysis on AMD`s latest Radeon HD 7970. This time we tested our benchmarking/gaming setup with the latest Catalyst 12.x Unofficial Beta from June 12. Last time we saw that the Catalyst 12.6 Unofficial Beta from June 4 did bring quite a boost in performance compared to the Catalyst 12.4 WHQL. Let`s see what happens with this new Beta driver."


Dune HD Smart H1 Media Player Review @MissingRemote

Connected media streamers, like the pair from Roku and NETGEAR that we reviewed recently, focus on providing access to IP content but generally cannot handle local media well enough (if at all) to be a viable unifying solution. Until we have enough bandwidth, and services able to deliver quality audio/video services over the Internet, those devices act as a supplement to players like the Dune HD Smart H1 that we will look at today. Locally cached content includes a diverse set of file types and formats, so H1?s support for disc-less Blu-ray, M2TS, MKV, and all of the codecs commonly found within is an essential starting point. *"