[>>]

[>>]

[>>]

[>>]

More>>

Search...

| | |
| --- | --- |
| General News | |

... 121 news stories awaiting approval
AMD Hawaii-based graphics cards

As AMD is set to announce its next-generation high-end GPU codenamed Hawaii, graphics card players including Asustek Computer, Micro-Star International (MSI) and PowerColor are expected to start mass shipping related products in October, according to sources from the upstream supply chain.

Top 5 Streaming Devices For Your TV @ ThinkComputers.org

From Blu-ray players to gaming consoles, modern home theater systems double as reliable streaming devices. Streaming has indeed become one of the most wanted entertainment media features; it is all the rage. It has come a long way since buffering, choppy, and pixilated video and audio files. Whether youre a big movie lover, a TV buff, a music aficionado, or just an all-around media junkie, here are the top 5 streaming devices for a home theater."

Lian Li PC-9N Review

The CPU and GPU idle temps for the PC-9N were as expected. Under a load is where things surprised me. I might have to rethink my view point on multiple fans. I really expected this case with just one front intake and rear exhaust to run hot. More fans are better, right? Well, not so fast. Both the CPU and GPU were kept at the low end, in fact, for the CPU it was the lowest of the cases I have tested. No top fans. No side fans. And the front 140mm fan is pulling air through what seems to me to be a rather small front vent panel. Clearly the case has adequate air flow. And with fewer fans, it is on the quiet end."

News: SanDisks Extreme II SSD reviewed

With MLC main storage and an SLC flash cache, the SanDisk Extreme II is unlike any other SSD we`ve encountered. We explore the drive`s unique design and see whether it can keep up with the fastest SSDs on the market."

Neptor NP056K Mobile Battery Pack @ LanOC Reviews

We just can?t seem to charge our gadget batteries enough these days. Whether on the go or simply during our day to day routines we are always on the lookout for ways to keep our phones and tablets from dying on us. Recently, I reviewed a portable, high capacity battery that offered the ability to charge our devices on the go and today I am back again with another. This time I take a look at the Neptor NP056K portable battery pack from Eagle Tech to see if this emerging market for pocket USB chargers is a competitive one or merely the latest fad."

CORRECTION: MSI Just Game Mousepad Review @ HiTech Legion

The MSI Just Game mouse pad is the latest addition to MSI`s gaming series of accessories. The cloth surface MSI Just Game mouse pad has had special firm-weave treatment for extended durability and smooth mouse gliding. Underneath, the Just Game mouse pad uses a full-coverage natural rubber to ensure grip even at the utmost stressful conditions in-game. Measuring 380mm long and 260 mm wide, there is enough surface area on the Just Game pad for medium to high-sensitivity mouse gamers./"

ASUS Z87-Quad Mobo with Thunderbolt 2 Ports

ASUS is excited to announce the world's first motherboard certified by Intel® with Thunderbolt™ 2 technology, the Z87-Deluxe/Quad. Based on the new Intel Z87 chipset and ready for the latest 4th generation Intel Core™ processors, the ASUS Z87-Deluxe/Quad ATX motherboard has two Thunderbolt 2 ports which allow for up to 12 simultaneously connected devices. Each port is capable of up to a 20Gbit/s transfer rate and is backward compatible with first generation Thunderbolt.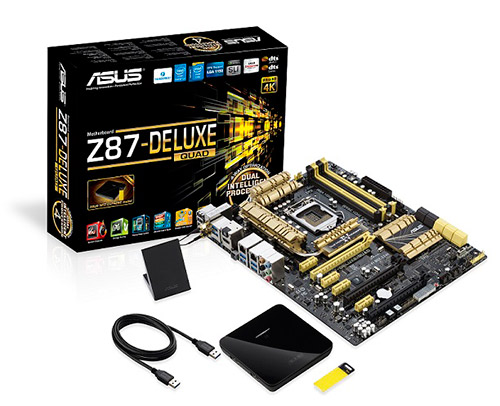 "Z87-Deluxe/Quad has been subjected to a tremendous amount of compatibility, BIOS, as well as video/audio and other tests to verify its quality and design," said Joe Hsieh, ASUS Corporate Vice President and General Manager of the Motherboard and Desktop System Business Unit. "Being the world's first certified motherboard for Thunderbolt 2 technology also means setting the standard for all of the upcoming products, which is something that ASUS has always done."

Twice the Thunderbolt Performance and Full4K Display Support
The first generation Thunderbolt standard has four separate transfer channels — two upstream and two downstream — with a maximum transfer rate of 10Gbit/s per channel. Thunderbolt 2 combines these four channels into two 20Gbit/s bi-directional channels, providing 4X the bandwidth of USB 3.0. Together with DisplayPort 1.2 support, Thunderbolt 2 enables simultaneous delivery of extremely high-resolution video to the latest 4K/2K (4096 x 2160 and 3840x2160) displays while still offering communication with other bandwidth-hungry devices such as hard drives. Additionally, the ASUS Z87-Deluxe/Quad's onboard HDMI port means that it can drive a total of three 4K UHD displays at once.
Thunderbolt 2 also supports daisy-chained connections with up to six devices on each port. With two Thunderbolt 2 ports, the ASUS Z87-Deluxe/Quad can connect to up to 12 devices at once, reducing the need for separate hubs and helping to maintain a clutter-free workspace.
Cutting Edge Accessories and Apps
The ASUS Z87-Deluxe/Quad includes a number of exclusive ASUS technologies. Dual Intelligent Processors 4 with 4-Way Optimization is an easy-to-use tuning tool that dynamically adjusts performance and cooling for reduced noise and increased efficiency with a single click. The UEFI BIOS presents a friendly graphical interface, making it easier than ever to set up shortcuts and favorites for quick access to the options that are used most often.
The ASUS Z87-Deluxe/Quad also includes the NFC Express accessory, which can automate common PC tasks simply by tapping the supplied NFC tag or NFC-compatible smart devices to the box. NFC Express can be used to securely login to your Windows user account without the need to type in a password, and also provides the ability to launch multiple applications to create a particular workflow. Using the free Wi-Fi GO! & NFC Remote companion apps for NFC-compatible smart devices, users can also wirelessly synchronize photos and videos with their PC and remotely control their system by tapping the NFC Express box.
SPECIFICATIONS*
ASUS Z87-Deluxe/Quad
2 x Intel Thunderbolt 2 ports
1 x HDMI port
4 x DIMM slots
3 x PCIe 3.0/2.0 x16 slots
10 x SATA 6Gbit/s ports
8 x USB 3.0 ports with USB 3.0 Boost
8 x USB 2.0 ports
ATX form factor

*Specifications and product availability are all subject to change without notice and may differ from country to country. Actual performance may vary depending on applications, usage, environment and other factors.
Full specifications are available at www.asus.com

ASUS Z87I-Pro Review @ Ocaholic

With the Z87I-Pro, ASUS has another, very interesting mini-ITX motherboard in its portfolio. This board is based on almost the same PCB as the Maximus VI Impact, but there are more SATA ports, whereas the worlds largest motherboard manufacturer has been saving on the additional sound module. Apart from that it`s almost a must for ASUS to equip this high-end offer with an armada of features."

ASUS Z87-PRO Motheboard

ASUS along with its ROG boards also released the more mainstream channel series of boards one of which we actually looked at already in the Z87-A. The color seems to be the big topic in the community and for good reason since ECS did a similar gold coloring on the heatsinks and components for Z77 and it did not go over well but ASUS decided to throw their hat into the ring with the god coloring in an apparent effort to symbolize the "Gold Standard" and while I've never been a big fan of gold I do think in the right system it could look nice or in a build where a window and appearance are not as important as the function. For me its all about performance but I think that also has to do with my inherent inability to make a pretty system so I just dont care. With that said we are looking at the Z87-Pro today which is the higher featured big brother to the Z87-A I had looked at before. With that lets take a look at what the PRo has to offer.

Gainward GTX 760 Phantom Review

"The Gainward GTX 760 Phantom Graphic Card arrived Technic3D. Technic3D will check the Phantom GTX 760 in the following Review with a Resolution from 2560x1600, 1920x1200, 1680x1050, the real Power Consumption, loudness, temperature, Overclocking and many more in Games against other Graphic Cards."

Seagate Laptop Thin SSHD 500GB

A few days ago we reviewed the first serious attempt by Seagate to enter the consumer SSD market with their 600 SSD model which was surprisingly good for a first attempt especially since together they also launched two extra SSD models the 600 Pro SSD and 1200 SSD both of which are considered as enterprise-class solutions. However in order to cover pretty much every user out there Seagate did not stop there and so they also released their 3rd Generation of 2.5" Hybrid drives they like to refer to as SSHD (Solid State Hybrid Drives) which much like their Momentus XT predecessor are mostly aimed towards laptop owners who want to have the best of both worlds meaning the low cost and high capacity ratio of HDDs coupled with the superior performance of SSDs. Currently Seagate has two SSHD models in the market the 1TB Laptop SSHD and the 500GB Laptop Thin SSHD which we have on our test bench today.

SilverStone ARM11SC Arm One Monitor Mount

"While we commonly associate SilverStone with manufacturing high-end computer enclosures and power supplies, recently they began venturing into the production of monitor arms/stands. The SilverStone ARM11SC is a single-monitor aluminum alloy and steel monitor arm that offers plenty of functionality and is the subject of today's Phoronix review."

TITAN Taichi TP-15TC & TP-25TC 2-in-1 USB Charger Review

The TITAN Taichi TP-15TC & TP-25TC 2-in-1 USB Charger are solidly built devices with a unique and appealing design. The YinYang theme depicts the duality approach that TITAN adopted with these adapters. Two types of output ratings for the USB ports and extra functionality as a car battery tester are the results. The units do not feel flimsy or cheap; they fit spot on in the power port of our car and pulling USB cables away never resulted on the whole thing coming off, as it used to happen with the generic charger I have been using so far. The cooling vent on the white side is a nice touch that will improve the longevity of the device."


Superphone Round-Up: Samsung, HTC, LG and More

There are a lot of really great smartphones on the market today. With various manufacturers competing for their slice of the smartphone market, there are a lot of factors to consider when shopping for one of these high-end phones. Although some consumers may find the myriad of options confusing or overwhelming, we find it exciting. After all, competition leads to better devices and features and we're the benefactors. In this product showcase, we'll take a closer look at three of the hottest phones currently on the market: the HTC One, Samsung Galaxy S 4, and LG Optimus G Pro. Not to leave all other phones out in the cold, we'll also consider a few additional superphones that have some standout features and are just rolling out to retail now, to give this trio additional competition.




The best Guides by the best writers on the internet; PCSTATS Beginners Guides explain computers, software, and all those other wonderful things that cause you frustration.

Learn how to use your computer better, master the internet while protecting yourself, and know what to do when your hard drive kicks the bucket.



"Get the 'Stats and Stay Informed!"