[>>]

[>>]

[>>]

[>>]

More>>

Search...

| | |
| --- | --- |
| Monitors | |

... 1 news stories awaiting approval
nVidia G-Sync with FreeSync Monitor Tutorial

For the technology fair CES in early January 2019, nVidia announced unexpectedly that now, in addition to its own proprietary G-Sync technology, FreeSync is now also supported. Thus, with nVidia graphics cards of the 1000 and 2000 series from now on synonymous Adaptive Sync monitors are operated with variable refresh rate. In this tutorial we explain on OCinside.de step by step how to set up a FreeSync monitor with a nVidia G-Sync graphics card.

ps 272P7VPTKEB 4K UHD Monitor Review

Today we test on OCinside.de the Philips 272P7VPTKEB UHD monitor. The Philips Brilliance P-line IPS display offers a diagonal of 27-inch, a native 4K resolution and is primarily intended for image and video editing. Of course, we also test the gaming and multimedia features of the monitor. Whether it is worth buying the monitor and if it shows weaknesses, we show in the following review.


Samsung SR75 Space Monitor

At CES 2019, Samsung revealed a stunning new monitor design - the SR75 Space Monitor. What on Earth is that? Let's find out...


Gigabyte AORUS AD27QD 27in 144Hz IPS FreeSync Tactical Gaming Monitor

We don't normally consider monitor choice to be a 'tactical' decision, but as Gigabyte is calling its new AORUS AD27QD a Tactical Gaming screen, the company is clearly implying improvements to your strategic organisational abilities with this display. Looking at the features on offer, they could be onto something.

Asus ROG Ryuo 240 AIO with OLED Display Review

Today we test the Asus Ryuo 240 AIO watercooling with addressable RGB illumination and OLED display on OCinside.de! We have tested in this review the visual appearance and of course if it can also convince regarding cooling performance, including new videos and again with 360 degree view, so that no detail is lost.

Iiyama ProLite XUB2493HS-B1 24in Professional Monitor Review

Screen sizes are increasing inexorably, but sometimes space or budgetary restrictions mean the classic 24in format is still the best choice. If you're a professional in one of these categories, the Iiyama ProLite XUB2493HS-B1 could be what you're looking for. It's a 24in Full HD screen for under £160, but uses IPS panel technology, so should provide professional-grade quality characteristics.

CES 2019 Samsung's New Monitors Are Designed for Modern Workspaces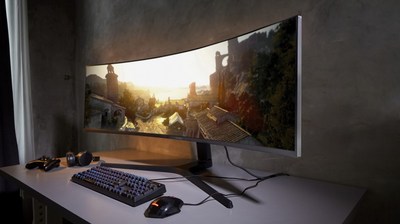 Samsung Electronics Canada recently unveiled three new monitors at CES 2019: the modern and minimalist Space Monitor, the CRG9 designed for an ultimate gaming experience and the UR59C, a stunning 4K UHD curved monitor ideal for content creators. Each monitor offers the best in Samsung technology, ranging from ultra-wide screens and lifelike colours for immersive gaming to space-saving designs to increase productivity.
Space Monitor: Modern, Minimal and Flexible Design
Samsung Space Monitor leverages its sleek design and functionality to allow users to focus on what's on the screen and not what's around it. Its unique built-in space saving solution, a minimalist fully-integrated arm, clamps to the desk and frees up desk space for ultimate user productivity. Samsung Space Monitor is also easy to set up and adjust when you aren't using it, and simple to push back and store flat against the wall. Through easy ergonomic adjustment, port access and a discreet cable management system, Space Monitor improves the form and function of any workstation or home office.
Beyond aesthetics, Space Monitor is a feature-rich, high-performance monitor. The 27-inch model offers QHD resolution for incredibly detailed, pin-sharp images, while the 32-inch model presents content in 4K UHD.
Space Monitor gives users a unique arm stand that can disappear into the back of the monitor's slim-bezel. When using the stand, Space Monitor can be easily tilted or extended from the wall. It can also be lowered to the desk surface, and Samsung's Zero Height Adjustable Stand feature provides the ultimate versatility for any type of viewing preference. The stand not only makes viewing more comfortable but also eliminates the hassle of cable management by integrating power and HDMI cords through the arm for a clean, flexible look.
CRG9 49" Gaming Monitor: Super Ultra-Wide Screen with Dual QHD Resolution
The CRG9 is the world's first high-resolution super ultra-wide gaming monitor with 32:9 aspect ratio. It offers a 120Hz refresh rate with a fast 4ms response time on a 49-inch display that minimizes image lag and motion blur to effortlessly keep up with fast-paced games. Built for a superior gaming experience, the monitor also features AMD Radeon FreeSync™ 2 HDR technology to reduce stutter, screen tearing and input latency and to ensure a rapid frame rate and smooth gaming experience.
Content truly comes alive on the CRG9, with dual QHD resolution (5120x1440) and HDR10 with a peak brightness of 1,000 nits providing superfine detail in the brightest and the darkest parts of an image. HDR10 delivers outstanding local dimming, and high-contrast HDR offers advanced spectacular highlights not available in non-HDR monitors. The monitor also leverages Samsung's revolutionary Quantum dot technology for an exceptionally wide range of accurate colour reproduction plus a 1,800mm screen curvature and an ultra-wide field of view for complete visibility.
Equivalent to two 27-inch QHD 16:9 monitors placed side-by-side, the 32:9 super ultra-wide screen also provides ultimate multitasking flexibility assisted by PBP (Picture-by-Picture) functionality, allowing two video sources to be viewed on the same screen. The CRG9 includes one HDMI port, two Display Ports, USB 3.0 and headphone connectivity options. Samsung also designed the CRG9 with a smaller stand size for convenience and flexibility in every gamer's space.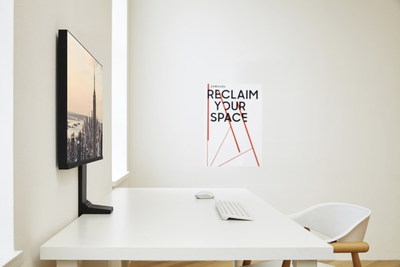 UR59C 32" Monitor: World First 32-inch Curved 4K UHD Designed for
Ideal for content creators that seek both versatility and performance, the new UR59C 32-inch monitor features a UHD curved display with a 2,500:1 contrast ratio and a full 3840x2160 4K UHD resolution with support for up to one billion colours. The 1500R curvature delivers a truly immersive experience that shines while creating content and art, watching videos or gaming, while at the same time reducing the eye strain typically associated with long periods of traditional monitor use.
Available in Dark Blue Grey, the UR59C has a super-slim design with a depth of only 6.7mm and a fabric-textured rear casing. Its 3-sided bezel-less screen is attached to a slender yet sturdy V-slim metal stand with two-prong base that encases cables and reduces its footprint on work space.
Experience all three monitors at Samsung's CES booth #15006 at the Las Vegas Convention Center from January 8-11, 2019.

Philips 49" SuperWide Dual Quad HD Curved Monitor Debuts at CES 2019

EPI announced two new high-performance monitors to add to its Philips Brilliance Collection. The Philips Brilliance 49" SuperWide Curved LCD Display with Dual Quad HD 5120 x 1440 resolution and the Philips Brilliance 32" 4K LCD Display are being unveiled at the Consumer Electronics Showcase in Las Vegas.
Both of these new monitors feature an innovative webcam that is equipped with advanced sensors for Windows Hello facial recognition which conveniently and securely logs you into your Windows devices in less than two seconds – three times faster than a password. Now, users can log-in faster and more securely with facial recognition biometric security. The secure webcam pops up when you need it and securely tucks back into the monitor when not in use. This smart upgrade ensures your privacy is secure as the camera disappears when not needed - eliminating the desire to cover your webcam with a piece of tape to feel protected.
The Philips Brilliance 49" SuperWide Curved LCD Display offers the ultimate in picture quality, screen format and user functionality. The display earned an iF Design Award and a 2018 Red Dot award in 2018 - two of the most important design awards. The new 49" display acts like two full-size high-performance monitors in one for a massive wide view without the complicated setup, ideal for content creators and financial analysts. The 1800r curved display creates a more immersive experience for gaming and the Adaptive-Sync technology allows for smooth quick refresh and ultra-fast response time. Moreover, the VESA-certified Display HRD 400 brings images to life with stunning brightness and crisp colors for a visual experience that delights the senses.
The Philips 329P9H 32" 4K LCD monitor delivers ultra-clarity, outstanding color and brilliant performance – designed for the way you work to maximize productivity. The UltraClear 4K UHD (3840 X 2160) resolution and IPS technology offer full, crisp colors and wide viewing angles, making it possible to view the display from almost any angle – including the 90-degree Pivot mode. A Smart Ergo Base delivers ergonomic display comfort that can ease the pain of long work days and can be adjusted to your preferred height, swivel, tilt and rotation angle. The PowerSensor automatically detects if a user is present and can reduce monitor brightness when they're not, which reduces energy costs up to 80 percent and prolongs the monitor's life.
Both displays have been upgraded with performance-enhancing features, including a USB-C docking station and MultiClient Integrated KVM switch. The USB 3.1 type-C docking station simplifies connecting all your peripherals, including the keyboard, mouse and ethernet cable, to the monitor. Simply connect your notebook and this monitor with a single USB C cable to watch high-resolution video and transfer super-speed data while powering up and re-charging your notebook at the same time. The MultiClient Integrated KVM switch allows you to control two separate PCs with one monitor-keyboard-mouse set up. A convenient button allows you to quickly switch between sources which is helpful for set-ups that require dual PC computing power or sharing one large monitor to show two difference PCs.
Additionally, both displays come equipped with other technologies including LowBlue Mode and the 49" has Flicker-Free technology. LowBlue Mode was developed for wellbeing and uses a smart software technology to reduce potentially irritating blue light for easy-on-the-eyes productivity. Due to how brightness is controlled on LED screens, many users experience flicker on their screen which can cause eye fatigue. Flicker-Free technology applies a new solution to regulate brightness and reduce flicker for a more comfortable viewing experience.
The new Philips Brilliance 49" SuperWide Curved LCD Display will be available in March at Amazon and NewEgg for $1299 MSRP and the new Philips Brilliance 32" 4K Display will be available in February at Amazon and NewEgg for $799 MSRP.


Acer Predator XB273K

Acer just unveiled the Predator XB3 and Nitro XV3 gaming monitors! The Acer Predator XB273K supports NVIDIA G-SYNC, while the Acer Nitro XV273K supports AMD FreeSync. Here are the full details!


AOC 27V2Q 75Hz IPS Monitor Review

The AOC 27V2Q is a monitor with a very simple premise: it's really thin. The LCD panel is just 7.9mm at its top edge and expands to only 18mm at its bottom edge. Combined with impressively narrow bezels round the screen, this makes for a very svelte looking device.

Arctic Z2-3D Dual Monitor Arm Review

"When you make the jump from a single monitor to dual monitors you'll notice that a lot of real estate on your desk is taken up by these monitors and their stands. Also many monitor stands are junk and do not offer much in terms or adjusting viewing angles of your monitor. That is where a monitor arm comes in, it removes the stand giving you back that room on your desk and offers far more adjustment. Today we have the Z2-3D monitor arm from Arctic. It supports two monitors up to 27-inches, offers tilt, swivel, and rotation adjustments, and even comes with a USB 3.0 hub. Let's get some monitors on the Z2-3D and see what it can do!"

AOC I1601FWUX Portable 16in USB-C monitor review

Until the halcyon days of foldable and rollable displays arrive, we're pretty much stuck with whatever display size is integrated into our laptops for viewing on the go – or are we? One solution is to add a secondary, portable display, such as the USB-powered 16in AOC I1601FWUX we are looking at today. Great for presenting to clients wherever you are, multi-tasking, watching a movie on the train/plane, or even using at home if you fancy some extra screen real estate anywhere in your house, a sizeable portable monitor can enhance your work and play. Join us as we find out if AOC's new model is the one to go for.



The best Guides by the best writers on the internet; PCSTATS Beginners Guides explain computers, software, and all those other wonderful things that cause you frustration.

Learn how to use your computer better, master the internet while protecting yourself, and know what to do when your hard drive kicks the bucket.



"Get the 'Stats and Stay Informed!"