[>>]

[>>]

[>>]

[>>]

More>>

Search...

| | |
| --- | --- |
| Monitors | |

... 2 news stories awaiting approval



AOC AGON AG273QX 27in 165Hz Gaming Monitor Review

If we needed any more evidence that 2,560 x 1,440 is fast becoming the new sweet spot for gaming monitors, the fact that we've been sent two models with this resolution in the space of a few weeks merely confirms it. Hot on the heels of the TUF Gaming VG27AQ we see the AOC AGON AG273QX, which has a broadly similar specification, but with a few significant differences.


ASUS TUF Gaming VG27AQ 27in 165Hz Gaming Monitor Review

Full HD might have been the sweet spot for a gaming monitor a few years ago, but things have moved on. Now, a lot of graphics cards can comfortably handle higher resolutions, and 2,560 x 1,440 has become a more sensible mainstream option. But you still want high refresh ability and adaptive sync. Enter the ASUS TUF Gaming VG27AQ. This 27in screen offers a 2,560 x 1,440 resolution, 165Hz and FreeSync adaptive sync that is certified NVIDIA G-Sync Compatible.

AOC 24G2U 24in 144Hz Gaming Monitor Review

Curved screens may be gaining traction, but there's still plenty of reasons why you might want to opt for a more traditional flat monitor. Price is just the beginning, since curvature adds a premium. Panel type is another, because most curved screens use VA technology rather than IPS or TN, due to the fact that the latter are harder to bend while maintaining image quality. So there's lots of life left in a standard 24in flat screen, particularly one like the AOC 24G2U that offers solid gaming abilities for a decent price.

AOC U2790PQU 27in 4K Professional Monitor Review

Not long ago, you'd need to spend close to a grand to get a 4K monitor. But as with all things in computing, the prices have been falling steadily. With the AOC U2790PQU you can enjoy 27in of 4K goodness for less than £300. Surely there must be a catch?

Arctic Z2-3D Gen3 Review

On OCinside.de we test today the Arctic Z2-3D Gen3 Monitor Arm. To stand out from the crowd, it promises excellent ergonomics and an almost limitless adjustability of the monitors. It also has a few additional features on board. In the following review, we'll show you what these are and whether it's convincing and hope you enjoy reading it.

ADATA Unveils Double Capacity DDR4-2666 U-DIMM

ADATA Technology (Taiwan Stock Exchange: 3260.TWO), a leading manufacturer of high-performance DRAM modules, NAND Flash products, and mobile accessories is pleased to announcenew capacity 32GB per DIMM of ADATA DDR4-2666 U-DIMM and DDR4-2666 SO-DIMM modules. Made with the latest advancements in soldering and manufacturing, the ADATA DDR4-2666 U-DIMM and SO-DIMM 32GBwith a single slot has tested and provided excellent performance and support the latest Intel® and AMD platforms.U-DIMM 32GB will give discerning users, such as gamers and graphics professionals, the ability to break the memory limitations of two-slot platforms. For general laptop users, ADATA offers DDR4-2666 SO-DIMM 32GB.

Acer Predator X35 vs Asus PG35VQ

The Acer Predator X35 packs the same specs as Asus' ROG PG35VQ which we recently called the best monitor we'd ever tested, because it uses the same panel. It's a 35-inch ultrawide 3440 x 1440 VA panel with up to a 200 Hz refresh rate, 1800R curvature, proper HDR and G-Sync Ultimate support.

LG 27GL850 Review: Fast IPS for Gaming

The LG 27GL850 is currently one of the most popular and hotly requested gaming monitors in the market, but what makes it so special? It is the first IPS monitor that claims to hit TN-level response times. Combine that with a 27-inch panel size, 2560 x 1440 resolution and 144 Hz refresh rate with adaptive sync, it's positioned as the perfect monitor for gaming.

Asus ROG Strix XG438Q Review: A Massive 4K 120Hz Gaming Monitor

Today we're checking out the latest large format gaming monitor from Asus, the ROG Strix XG438Q which brings several cool technologies together in a single (huge) package. This is a 43-inch 4K panel at 120 Hz using VA technology combined with DisplayHDR 600 certification and FreeSync 2 HDR support.

AORUS CV27Q Tactical Monitor

"GIGABYTE has launched a "true 1500R" curved monitor, the AORUS CV27Q Tactical Gaming Monitor. The CV27Q uses a 27-inch QHD (2560x1440 resolution, 16:9 ratio) 1500R curved VA panel equipped with Black Equalizer 2.0 technology, and the upgraded ANC 2.0 technology. The gamers will be amazed by its 1500R super immersive feel and the tactical features that it brings to the game. The Black Equalizer 2.0 technology works by dividing the screen into 1,296 subareas and equalizes each subarea individually, so gamers can see clearer the dark areas without having overexposure in the bright areas. This feature doesn't help only in gaming but it's also great for watching movies. An ideal solution for users who want to combine gaming and media entertainment.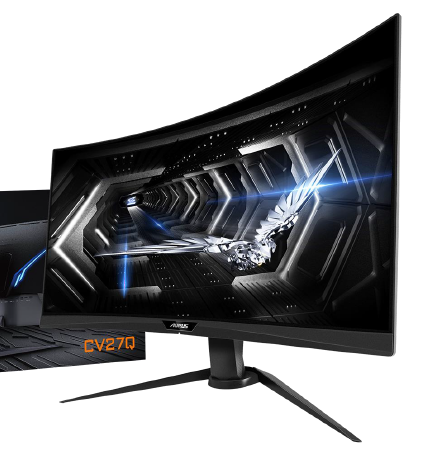 Since the launch of the AORUS tactical gaming monitor series, the exclusive Active Noise Cancelling (ANC) feature has always been the best tactical advantage that gamers love the most. Using an exclusive IC design with microphone array, the ANC feature cancels the ambient noise making the communication with your teammates much better than before. The upgraded ANC 2.0 provides 120 dB signal-to-noise-ratio (SNR) and supports high impedance headphones up to 600 ohm(O). Now users can plug in their high-end headphones to the monitor and enjoy the crystal sound that ANC 2.0 provides. The AORUS CV27Q uses a true 1500R curved panel which is on par with the natural curve of the human eye. As a result, users experience a stronger and immersive feel compared to an 1800R curved panel. The CV27Q not only provides a great visual quality but it surrounds you with an amazing sound experience at the same time.
The AORUS CV27Q supports 1ms (MPRT) response time and 165Hz refresh rate, along with 90% DCI-P3 and an 8-bit panel for a sharper picture quality. Moreover, the AORUS CV27Q supports AMD Radeon FreeSync 2 HDR technology. This technology provides LFC (Low framerate compensation) techniques and brings the HDR quality to the next level.
The AORUS CV27Q sports a digital LED lighting solution at the back side and it comes with an adjustable, in 3 dimensions, metal stand. The CV27Q has a built-in power board so users can avoid using a traditional, chunky power adaptor. Furthermore, the CV27Q follows the same innovative tactical features as the other AORUS tactical monitors featuring GameAssist, AORUS Dashboard and all the AORUS tactical features. Last but not least, the display alignment function helps the users to align their multiple-monitor setups perfectly.

Iiyama ProLite XB3288UHSU-B1 31.5in Professional Monitor Review

Although Iiyama is making some inroads into the gaming market, its core focus is still the professional user. The ProLite XB3288UHSU-B1 is another screen that's solidly focused on graphics work and business, with a 31.5in diagonal and 4K resolution. However, unlike most of ProLite range, it uses a VA panel rather than IPS.

Philips Brilliance 329P9H 31.5in Monitor Review

One of the promises of USB-C was that it could be the "one cable to rule them all" for hooking a notebook to a monitor. The bandwidth available is enough for 4K video, and the power delivery potentially sufficient to power and charge a laptop. But not all USB-C connections offer this ability. Fortunately, the Philips Brilliance 329P9H includes USB-C that meets all the requirements. So you can dock your notebook with a single wire, and that's not the only cutting-edge feature this screen has to offer.



The best Guides by the best writers on the internet; PCSTATS Beginners Guides explain computers, software, and all those other wonderful things that cause you frustration.

Learn how to use your computer better, master the internet while protecting yourself, and know what to do when your hard drive kicks the bucket.



"Get the 'Stats and Stay Informed!"