[>>]

[>>]

[>>]

[>>]

More>>

Search...

| | |
| --- | --- |
| Monitors | |

... 1 news stories awaiting approval
This is NOT a proper monitor stand!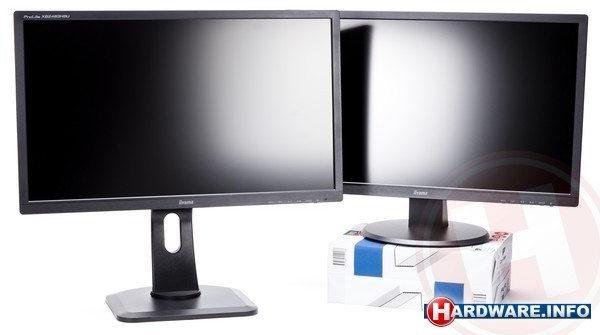 Today's comparison round-up at Hardware.Info is something few publications really pay attention to and admittedly, we don't regularly do so either. Still, if you want to use more than one screen at a time, whether for productivity or gaming, you are going to be looking at a monitor stand sooner or later. So we looked at some too, to give some idea of what's available in the market if you want to use three screens – and threw in a couple of other models we received as well. We have models from specialists such as Newstar and Ergotron, but also XFX and SilverStone representing more well-known brands amongst hardware enthusiasts.

ASUS Zen AiO Pro Z240IC Review: 4K All-In-One With Guts And Glitz

It's been quite some time since we last looked at an all-in-one PC. Although there is clearly a niche market for AiOs, the product segment has always kept a consistent rythm in all facets of computing - consumer, enterprise and SMB. These types of systems appeal to style-conscious users and businesses that need computing utility with good looks, that blends in and stays out of the way. And though many are not powerhouses, a few do catch our enthusiast eye and one of those few is the Asus Zen AiO Pro Z240IC, which Asus is billing as "The pinnacle of Windows all-in-one PCs." That may be a stretch and certainly a bold claim, but the Zen AiO Pro also looks pretty strong on its rap sheet, with a 4K display, discrete NVIDIA graphics and Intel's new Skylake 6th generation Core Series processor. So we brought one in to kick the tires.

Dell S2716DG G-SYNC gaming monitor

Dell and the term "gaming monitor" haven't been used together in a long time. The 27" S2716DG aims to change that with NVIDIA's G-SYNC and a high quality TN panel.


AOC U3277PQU 32-inch 4K display review

The AOC U3277PQU is a high-end 4K display, with a large 32-inch screen and a specification suited to graphic design work and gaming alike. It has a 10-bit IPS AHVA panel, built-in speakers, a picture-in-picture mode and a fully flexible stand – for a relatively reasonable price.

Acer Predator X34 Monitor Review: G-Sync Meets Ultrawide

Acer's Predator X34 has a curved UQHD (3440 x 1440) AH-IPS panel and garners reasonable gaming cred with a 100Hz vertical refresh rate, G-Sync and an interesting design. Should Geforce owners be drooling or is this one a hard pass?

Dell UltraSharp U2715K

Today we don't have a comparison test (rest assured, many more of those in the near future), but a single product review of a singular product indeed. Currently the Dell UltraSharp U2715K is the only way to get 5K resolution on your desktop if you're not a Mac user. Even though the screen has been on the market for a while now, review samples have been few and far between in these parts, so we were very pleased to get one to play with for a while. Fortunately, it did not disappoint – in fact, I'm still sad to have parted with it…

12K (Triple 4K Monitors) SLI & Crossfire Graphics Card Review

Following on from our highly popular '12K' (Triple 4K Monitor) Upgrade, we have new graphics cards which we can update the results with. Since the original article, things got a bit hectic and cards were coming and going extremely quickly. This meant that we didn't have enough time in one sitting to correctly configure and run the tests as the second (or even third) card needed to be sent on to another media. We are now happy to bring you a long-awaited update featuring graphics cards such as the R9 Fury, R9 Nano and SLI GTX 980Ti's. The list still isn't complete with gaps such as SLI Titan X and CrossFire R9 Fury, but once we get these cards in for long enough, we will carry out another update.

Ultra Wide Quad HD: with 3440x1440 pixels

Looking for a big screen without running into the scaling issues that can come with UHD? Look no further than Ultra Wide Quad HD: with 3440x1440 pixels, these 34-inch monitors are not exactly small, but they do offer a lot of working space, all at a pleasing pixel density of 110 ppi. They're wider than ye olde 'normal' WQHD screen, but the height is the same. The only answer that remains is: which one to get? Curved or not? IPS or VA? Those questions are answered in our most recent round-up featuring no less than 9 of these splendid screens. For your delectation, only at Hardware.Info

Acer Predator XR341CK FreeSync monitor

Acer's curved Predator XR341CK brings leading-edge innovation to AMD's FreeSync monitor range. At over $1000, it isn't inexpensive but the feature set and awesome color reproduction may make up for the price.

Philips 272G5DYEB 27-inch G-Sync display review

The Philips 272G5DYEB is a 27-inch G-Sync display with a focus on fast response times and high performance. It offers G-Sync up to 144Hz, incorporates a TN panel and a 1ms response time, with a 1080p native resolution. It's also considerably more affordable than some of the more high-end G-Sync displays.

AOC Q2577PWQ 25? IPS Monitor Review

I've never really been a fan of buying a monitor, I tend to only look at three key aspects; screen size, resolution and the overall appearance. While that is generally a good way to choose a monitor, there are a multitude of other features that require your attention depending on your intended use. If you are a gamer or avid video editor, the response time and refresh rates would be of key interest to you to ensure that there is little input lag from your input device and that there is little screen tearing. Professional photograph editors may be less interested in those features, where the contrast ratio, brightness and available colours are more important.

Nixeus NX-VUE24A 144Hz FreeSync monitor

There are dozens of monitor supporting AMD's FreeSync technology but the Nixeus NX-VUE24A seems to be unique. It offers awesome performance, great image quality and a truly low price.

Philips Brilliance 241P6EPJEB IPS monitor review

The 2410P6EPJEB is a 24-inch IPS display with a 1080p native resolution. It is aimed at a professional market and therefore offers a lot more than a typical entry-level display, with a flexible stand, integrated USB hub and a wide range of inputs.

Samsung SM951

This is it. This is the day we have been waiting for. Ever since we feasted our eyes on the NVMe version of the Samsung SM951, we've been begging Samsung to release this as a consumer product. Bonus points if it was powered by their 3D VNAND technology. It took them a while, but they came through, officially announcing the 950 PRO exactly one month ago, and launching them today! Not only will we dive into the performance of this new model, we will also include its results in our new Latency Distribution and Percentile testing.

Acer XR341CK is one of the best iterations

Today we are looking at one of the monitors that promises to change how you view productivity and gaming. The Acer XR341CK continues the momentum of a new aspect ratio of monitors, 21:9. Otherwise known as UltraWide displays, they are available in both 2560x1080 and 3440x1440 resolutions, though our testing model today uses the latter, larger option. This Acer has a slight curve to it as well, just enough to be enjoyable without changing viewing angles for the primary user. With a 34 inch diagonal measurement, IPS panel technology and AMD FreeSync variable refresh rate support, the Acer XR341CK is likely to be our new favorite monitor for AMD Radeon users.



The best Guides by the best writers on the internet; PCSTATS Beginners Guides explain computers, software, and all those other wonderful things that cause you frustration.

Learn how to use your computer better, master the internet while protecting yourself, and know what to do when your hard drive kicks the bucket.



"Get the 'Stats and Stay Informed!"