| | |
| --- | --- |
| CPU / Processors | |

... 25 news stories awaiting approval

Huge Intel CPU Bug Allegedly Causes Kernel Memory Vulnerability

If the reports are accurate, it appears that Intel might have a pretty severe chip-level security bug on its hands that cannot be simply swatted away with a microcode update. The bug affects all modern Intel processors dating back at least a decade as well as both Windows, Linux and Mac Operating Systems...

Complete List Of CPUs Affected By Meltdown / Spectre

BILLIONS of CPUs around the world, including those powering smartphones, are affected by Meltdown and/or Spectre. Find out if your desktop, mobile or smartphone CPU is one of them! Don't forget to BOOKMARK & SHARE!

AMD teases 7nm Vega for machine learning in 2018

This product will target the machine learning market, with hardware and platform optimizations key to that segment. AMD mentions "new DL Ops", or deep learning operations, but the company didn't expand on that. It could mean it will integrate Tensor Core style compute units (as NVIDIA did on the Volta architecture) or it may be something more unique. AMD will integrate a new IO, likely to compete with NVLink, and MxGPU support for dividing resources efficiently for virtualization.

AMD Ryzen Desktop CPU with Ryzen Graphics Coming Feb 12

Though AMD might not use the term APU anymore, that's what we are looking at today.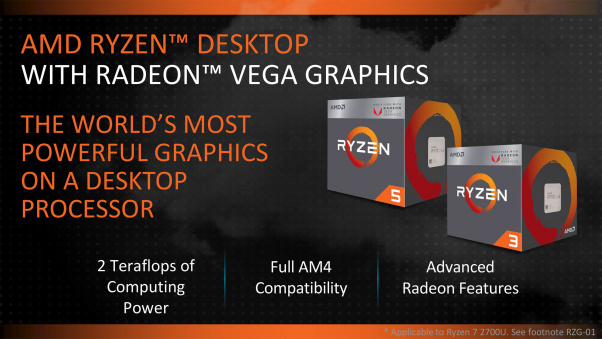 The Ryzen + Vega processor (single die implementation, to be clear) for desktop solutions will begin shipping February 12 and will bring high-performance integrated graphics to low cost PCs. Fully titled the "AMD Ryzen Desktop Processor with Radeon Vega Graphics", this new processor will utilize the same AM4 socket and motherboards that have been shipping since March of 2017. Finally, a good use for those display outputs!

AMD Drops Ryzen CPU Prices By Up to 30 Percent

AMD announced today a price drop for most of its Ryzen processor lineup, making the company's multi-core-focused parts even more competitive to Intel in terms of cost-to-performance. While not every Ryzen and Threadripper processor is seeing a price reduction, many parts are being reduced by up to 30 percent.

AMD Announces 2nd Generation Ryzen CPUs

Details are expectantly short, but what we know is that these parts will move from a 14nm process technology to 12nm from GlobalFoundries. AMD is calling the design "Zen+" and this is NOT Zen 2 – that is coming next year. You should expect higher clocks for Ryzen 2000-series processors and improvements to Precision Boost that will enable more consistent and gradual clock speed shifts in workloads of interesting like gaming.

Intel launches new Core processors with integrated Radeon RX Vega M GPUs

Intel has unveiled the eighth-generation Core processor with Radeon RX Vega M Graphics. With features and performance crafted for gamers, content creators and fans of virtual and mixed reality, it expands Intel's portfolio thanks to its optimization for small form factors such as 2-in-1s, thin and light notebooks, and mini PCs, according to the vendor.

Intel NUC Goes Hades Canyon – Check Out The NUC8i7HVK and NUC8i7HNK @ Legit Revi

Intel has just released the most power NUC model they have ever come up with and it is so powerful that Intel is calling it a VR-capable system! This impressive feat was due to the fact that it is powered by the newly announced 8th Gen Intel Core i7 processor with Radeon RX Vega M graphics. The new Intel NUC (formerly code-named Hades Canyon) will come in two versions: NUC8i7HVK and NUC8i7HNK. Read on to find out the specifications, prices and release dates!

eighth-generation Core CPUs with Radeon RX Vega

Intel is revealing the full details of its eighth-generation Core CPUs with Radeon RX Vega M graphics onboard as CES gets fired up. Join us as we explore the ins and outs one of the company's most intriguing products to date.

Intel Launches 8th Gen Core Processors With AMD Radeon RX Vega

Intel and AMD rocked the tech industry late last year, when the pair announced that some forthcoming Intel Core processors would feature integrated Radeon graphics. We had heard rumors of the two rivals working together in such a fashion for well over a year, but it seemed like such a far-fetched idea that we didn't lend much credence to the potential. Well, here we are at CES 2018, and Intel is giving us more details on its 8th generation Intel Core processors with integrated Radeon RX Vega M graphics...

AMD Announces 2nd Gen Ryzen And Threadripper Processors, 7nm Vega Mobile GPUs At

AMD is getting out in front of the impending influx of CES-related announcements and unveiling a number of upcoming chip products for the new year.

After ramping 10 new product lines in 2017 -- if you consider its entire breadth of CPUs, GPUs, and semi-custom APUs -- AMD is readying more new and/or updated products for 2018, including next-generation Ryzen and Threadripper desktop processors covering every market segment from mobile to HEDT, and an array of Vega-based graphics products that target new markets and form factors...



The Intel, AMD & ARM CPU Bug!

Let's take a look at what we know so far about this speculative execution CPU bug, how it affects you, and what we can do about it. We will also share with you details of the Meltdown and Spectre exploits that have successfully targeted this CPU bug.

AMD's Ryzen 5 2500U mobile APU

The Tech Report Podcast returns with Editor-in-Chief Jeff Kampman and esteemed guest David Kanter on the line. We hold a wide-ranging discussion of fairly recent happenings in the world of PC hardware revolving around results from our review of AMD's Ryzen 5 2500U mobile APU (code-named Raven Ridge).