| | |
| --- | --- |
| CPU / Processors | |

... 10 news stories awaiting approval
AMD Ryzen 7 CPUs @ LanOC Reviews

So by now even most of the gamers and geeks that I know that don't even follow hardware launches have been talking about AMDs RYZEN launch. It's an almost unprecedented launch and there are a few reasons for it. While Intel has been chugging away with their yearly CPU launches on their mainstream chips, the every two year release of new CPU sockets. AMD has been running on various revisions of their Bulldozer microarchitecture and the AM3+ platform for the past 6 years. For a lot of the younger enthusiasts, this actually goes back to before they could afford to build a custom PC. Add to all of that the recent dominance by Intel in the higher end market and you have a lot of people foaming at the mouth to pick up something from AMD that can compete. Well after months of hype, today is the day that we can finally sit down and check out the new CPUs and the new AM4 platform. AMD sent over all three of the newly launched CPUs, the flagship 1800X, the 1700X, and the 1700. Before you run out and pick one up, check out how it performed for us and make a point to check out a few other independent sources as well so make sure it is what you were hoping.

AMD's Ryzen CPUs are here

AMD's Ryzen CPUs are here. Join us as we review the Ryzen 7 1700, Ryzen 7 1700X, and Ryzen 7 1800X to see whether they're all they're cracked up to be.

Charts CPU Performance Content Creation: 15 CPUs tested - AMD Ryzen 7 1700X

These days there are basically two different groups of customers who demand lots of processing power: content creators and gamers, while this 2D performance comparison is targeting content creators. After having had a look at the following pages you'll have an overview on how fast recent CPUs are in regarding a variety of programs, may it be video encoding, rendering, ...

AMD Ryzen 7 1800X CPU Review: The Wait is Over

Many things in life are best done quickly. Tearing out a bandage, asking somebody out you had a crush on for a while, etc. but buying a high-end CPU is not one of them. Buying a high-end CPU is an investment with expectations that it will run for many years and handle all the latest workloads that are placed in …


AMD Ryzen 7 1800X CPU Review

The wait is finally over for what seems to be one of the most eagerly-anticipated pieces of computer hardware in recent history. Four years in the making and over 2 million engineering hours put into bringing it to life, AMD's Zen is finally here. Leading the pack for AMD's new Zen-based processors are three eight-core, sixteen-thread Ryzen 7 SKUs. Fabbed on Global Foundries' 14nm FinFET process and sporting a transistor count of 4.8 Billion, the new AM4-based chips are targeting prosumers who would have otherwise been tempted onto Intel's High-End Desktop (HEDT) platform.

AMD Ryzen 7 1800X Processor First

We cannot yet reveal how fast the AMD Ryzen 7 processor really is… but we can give you a first look at the AMD Ryzen 7 1800X processor!

How To Decode The AMD Ryzen Model Numbers

In this article, we will not only teach you how to decode the AMD Ryzen model numbers, we will also reveal what other models are most likely coming out of the AMD factories. Let's go!

AMD Ryzen 7 1800X, 1700X, And 1700 Reviews And Benchmarks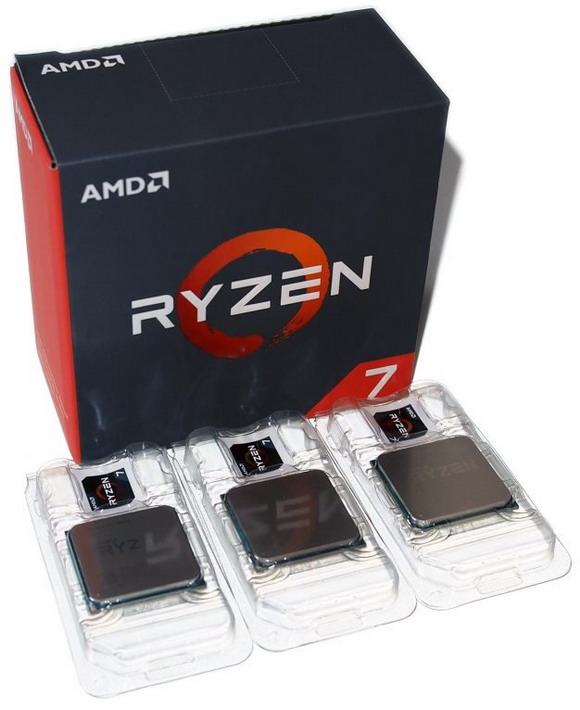 The AMD Ryzen 7 family of processors are finally here. The anxious anticipation for a more powerful competitor to Intel CPUs that has worked many PC enthusiasts into a frenzy -- the likes of which we haven't seen in over a decade -- has finally come to an end. Today, we can present you all with the independent Ryzen benchmarks and technical details you've all been waiting for. Power, performance profiles and overclocking – we've got it all on tap...

Ryzen 7 1700X

The wraps are off AMD's first round of Ryzen CPUs: the Ryzen 7 1800X, the Ryzen 7 1700X, and the Ryzen 7 1700. Check out these chips' specs, pricing, and availability info in AMD's first official Ryzen release.

Introducing The AMD Ryzen 7 CPUs!

The new AMD Ryzen 7 CPUs are here! Come and check out the key specifications, performance and value proposition of the new AMD Ryzen 7 processors!


AMD Demos Ryzen 7 Benchmarks Beating Intel

AMD President and CEO, Dr. Lisu Su, took to the stage at AMD's Ryzen Tech Day and opened the event with some official speeds, feeds, pricing information, and benchmark scores from the company's upcoming Ryzen series processors. To date, we've seen a number of leaks with related data and benchmarks, but the numbers and information we'll be presenting here are straight from AMD – they are the real deal, not rumors or speculation. And we've got a couple of surprises and new pieces of information to share as well...

Windows 10 vs. Ubuntu Linux OpenGL Benchmarks With A Core i7

"This week I've published Windows 10 vs. Linux NVIDIA gaming benchmarks and a Radeon Software Windows 10 vs. RadeonSI/RADV Linux comparison with a variety of interesting games. For this third article on the topic of Windows 10 vs. Linux performance are a few Intel HD Graphics 630 benchmark results."

Intel's Sandy Bridge chips

The question of whether it's worth upgrading from Intel's Sandy Bridge chips accompanies every new TR CPU review. For one TR contributor, the arrival of Kaby Lake finally motivated him to make a move. See what the upgrade to a more modern platform did for him.

Intel Core i3 2100 Sandy Bridge vs. Core i3 7100 Kabylake

"At the end of January I published my initial Core i3 7100 Linux benchmarks while for those still on older Sandy Bridge hardware and thinking of upgrading to a Core i3 Kabylake, here are some interesting comparative benchmarks. For these weekend tests are raw performance and performance-per-Watt metrics for the Core i3 2100 Sandy Bridge to the Core i3 7100 Kabylake processors."