[>>]

[>>]

[>>]

[>>]

More>>

Search...

| | |
| --- | --- |
| CPU / Processors | |

... 0 news stories awaiting approval

AMD FX-8320E @ LanOC Reviews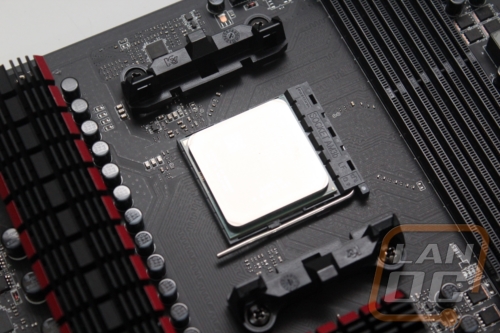 This past September AMD introduced a refresh of their FX CPUs that included a few new more power efficient CPUs along with a major pricing restructure to update the lineup. While I had the chance to test out most of the lineup there were a few that weren't included. Recently AMD sent over one of the CPUs that I missed the FX-8320E. With the FX-8320E being a budget focused gaming CPU AMD also sent along with it a motherboard that matched its low price point and gaming focus, the 970 Gaming from MSI. Paired together you can get them for just a few dollars more than an i5-4670K with no motherboard or any of the 2011 socket CPUs. With 8 cores and a turbo clock speed of 4 GHz it should still be performer, but of course there really is only one way to find out, let's check it out.

AMD essentially tweaks its 2 year old Piledriver

"Although some may think these are nothing more than high binned chips, AMD has tweaked these for both performance and power consumption. All 3 CPUs offer 8 cores, and with the lower TDP can be used on mid-range motherboards. This allows users already running an old FX 4XXX or 6XXX on a mid-range 970 or 990 motherboard a simple upgrade path to 8-cores."

Core i7 5960X

The Core i7 5960X I will be looking at in this review is Intel's first 8-core desktop processor, which sets it as the cream of the crop of the chipmaker's desktop line of processors. This fully unlocked beast of a processor comes loaded with 2.6 billion 22nm Tri-Gate 3-D Transistors that fit into a large 17.6mm x 20.2mm die and eight physical cores that translate into 16 processing threads thanks to Hyper Threading. It also boasts an impressive 20MB L3 cache and no fewer than 40 PCI-E 3.0 lanes. The 5960X has an out of the box base clock of 3.0GHz that bumps to 3.5GHz with Intel's Turbo Boost 2 Technology."

AMD's Kaveri APUs

We return to AMD's Kaveri APUs with a look at the 3.5GHz (3.9GHz Turbo) A10-7800 featuring an integrated Radeon R7 GPU, HSA, AMD TrueAudio Technology, Mantle support and a configurable TDP to make for a low power yet high performing solution for under $170 USD.

AMD FX 8320E processor review

Join us in a review on the budget AMD FX 8320E processor today. Honestly you will not find a cheaper 8-core processor. The very affordable (125 EURO / 139 USD) CPU as offers heaps of value, it will have a base clock of 3200 MHz, and can Turbo towards 4000. And that makes the FX series a tiny multi-threaded beast. You can read our review right here at Guru3D of course.

Intel Core i7 5960X Extreme Edition

"It's good to finally have Intel refresh the Extreme line up and take that step up to an eight core processor to do it. There are distributed computing crunchers just salivating at the performance potential that comes along with the added four threads that can be brought to bare in their crunching farms. But alas that's not the only place you are likely to see massive performance gains. When it comes to content creation and video editing, the Core i7 5960X is going to deliver that next level of performance when it is able to fully utilize all of its cores simultaneously. In my testing I found that when utilized, the eight core 5960X is by far the fastest solution when compared to a Core i7 4960X, Intel's Haswell quad core mainstream offerings, and the best that AMD currently has to offer. When it cannot utilize all that core compute power and run in single thread mode it is hampered by the low clock speed, and does not deliver the impact that I see when pushing all eight cores; this is pretty much the expected outcome."

CES 2015: Intel unveils new Broadwell-based processors

Intel has unveiled the fifth-generation Intel Core processor family built on Intel's 14nm manufacturing process during CES 2015. The CPUs provides the foundation for interactive experiences with Intel RealSense technology, Intel Wireless Display (Intel WiDi) and voice assistants.


Intel's Haswell-E i7 5960X

Intel's Haswell-E is finally here. In this review we take a look at the i7 5960X which is the 8-core, 16-thread flagship of this lineup.

AMD FX-8370 and FX-8370E 8-Core CPU Reviews

It has been more than a year since AMD launched its last major update to the top end FX processor line -- the FX-9590. The company has been quiet in the face of Intel's high-end launches, but today AMD is shipping a new CPU that's aimed at multi-core performance enthusiasts who don't want a furnace sitting on their motherboards, and prefer more modest power consumption and quiet computing. The new FX-8370, FX-8370E, and FX-8320E are familiar in many ways. These cores are still based on the older Piledriver architecture that debuted in 2012, they can still process two threads per module and four modules total for eight CPU cores, and they still rely on AMD's Socket AM3+.

Intel Core i7-5960X CPU Review: Haswell-E Debuts

We have been eagerly anticipating the release of processors based on Intel's Haswell-E microarchitecture for quite some time. After about three years of incremental performance improvements at the ultra-high end, as Sandy Bridge-E was eventually replaced by similarly clocked Ivy Bridge-E based processors, the rumored specs of Haswell-E were enticing. Unlike Sandy Bridge-E and Ivy Bridge-E, which maxed out at 6 cores (12 threads) with desktops variants, Haswell-E would be an 8-core machine (16 threads), featuring execution units based on Intel's latest microarchitecture. Assuming similar clocks, the speculation was that the additional cores and newer microarchitecture would translate into significant performance and efficiency gains, which would be welcome improvements to say the least. Well, we can stop speculating now, because Haswell-E is here. Today, Intel is officially launching the Core i7-5960X Extreme Edition and we've had the opportunity to take it for a spin in an array of brand new X99-based motherboards...

AMD FX-9590 AM3+ Processor Performance

The newest installment of AMD FX CPUs is finally upon us. September 2014 marked the release of the a few new FX CPUs, including the FX-8370, the FX-8370E, and the FX-8320E. One of the side-effects of AMD's release is a price drop in their existing CPUs, including the flagship FX-9590 CPU. In this article, Benchmark Reviews takes a look at the CPU that sits atop the FX line, the AMD FX-9590 AM3+ Processor.

Intel Core M Broadwell Architecture Preview

Intel's latest processor design and manufacturing effort marks a first for the semiconductor industry. No other semiconductor manufacturer in the world is building chips at the level of Intel's 14nm (nanometer) process node; even large memory manufacturers like Toshiba and Samsung are just now hitting 19nm. As we've reported previously, the processor Intel is rolling out for its first volume production vehicle at 14nm is code named "Broadwell." And, as we learned in a recent meeting at the Intel's Hillsboro, Oregon development and fab center, the first processor family based on Intel's Broadwell microarchitecture, will be known as Core M. Broadwell and the Intel Core M family is what Intel refers to as a "tick" in their product design cadence, where a 'tick" generally marks a die shrink and a "tock" marks a new microarchitecture. The last tick we saw from Intel was their 22nm Ivy Bridge design, then came Haswell's tock. Broadwell and Intel's Core M family are a shrink and optimization of Haswell at 14nm, but Intel took the opportunity to engineer in a few new features as well...

AMD Kaveri Update: A10-7800 APU Review

AMD updated its family of Kaveri-based A-Series APUs for desktop systems today. We first took an official look at Kaveri back in January, when we evaluated the A8-7600 APU. That particular APU is being re-launched today at a new price point, but AMD is also introducing a couple of new APUs as well, namely the A10-7800 and the A6-7400K. As their names suggest, the A10-7800 is a somewhat higher-end APU than the A8-7600 we initially evaluated, and the A6-7400K is a lower-end variant with fewer cores. We've got an A10-7800 in hand and have run it through an array of benchmark to show you what its performance looks like in comparison to a few competing chips...

Intel 20th Anniversary Edition Pentium G3258 Processor

Intel 20th anniversary Pentium G3258 sort of rekindles that spark of the old days or sort of bring nostalgia (but with Haswell architecture) for those older enthusiasts and end-users in the PC master race. This processor was along with the Devil's Canyon lineups.



The best Guides by the best writers on the internet; PCSTATS Beginners Guides explain computers, software, and all those other wonderful things that cause you frustration.

Learn how to use your computer better, master the internet while protecting yourself, and know what to do when your hard drive kicks the bucket.



"Get the 'Stats and Stay Informed!"