[>>]

[>>]

[>>]

[>>]

More>>

Search...

| | |
| --- | --- |
| CPU / Processors | |

... 16 news stories awaiting approval
Intel Core i7-5960X "Haswell-E" Processor

"We have been hearing about Intel's next-generation Haswell-E processors for some time now and they have finally arrived. For people running older HEDT (high-end desktop) systems it has been quite a while waiting around for an upgrade. The Haswell-E HEDT (high-end desktop) lineup is at hand and it is made up three high end enthusiast processors, the Core i7-5960X, Core i7-5930K, and Core i7-5820K. Today we are going to be taking a look at the flagship processor of this group or as I call it the big daddy of the bunch, the Core i7-5960X. This extreme edition processor features 8 cores, 16 threads, 20 MB of L3 cache, a 40-lane PCI-Express root complex and DDR4 support. This will be Intel's first 8-core desktop processor as well as the first consumer platform to support DDR4 memory, so it is a very exciting time for people looking to upgrade to the newest offering. The Core i7-5960X will have a base frequency of 3.0 GHz and a turbo frequency of 3.5 GHz. This processor is not for the faint of heart though; it has an MSRP of $999! ThinkComputers is excited to get this tough guy on the test bench and see what he can do!"

Pentium J2900 CPU Review @ Hardware Secrets

Recently, we analyzed the ASRock Q2900M motherboard, which brings an on-board Bay Trail-D Pentium J2900 CPU. In this article, we will compare the performance of this processor to other three low-cost, low-TDP CPUs that we reviewed recently: the Sempron 2650, the Celeron J1800, and the A4-5000 to see whether the Pentium J2900 is faster than its competitors or not."

Intel Announces 5th Gen Core Mobile Processors

The Consumer Electronics Show is about to get underway, and Intel is leading the pack with a set of CPU announcements. It has been six months since the company took the lid off its first 14nm processor, the Core M, but that CPU is designed for the ultramobile, low-power market. Consumers who wanted to tap Intel's 14nm products in more mainstream notebook hardware had to wait a bit longer until the Q1 2015 time frame. This new SoC is a "tick" in Intel's tick-tock plan, which means it's mostly a die shrink of the existing Haswell architecture -- at least, on the CPU side. On the GPU side, there's a bevy of improvements and advances, and the video decoder block has been beefed up with dual bit stream decoders in the high-end (GT3) hardware...

Core i7-5930K vs. Core i7-5820K

There is a variety of customer groups, which demand as much power as possible from their computers in order to accelerate processes in order to become more efficient and in the end increase revenue or add additional value to their projects. Especially in the field of content creation, which includes editing pictures and videos or even rendering a complex scenery with beautiful effects, will benefit largely from fast processors as well as a powerful underlying system architecture. With this series of articles we're going to compare two processors with every single article. The CPUs tested are being run at stock clocks as well as overclocked and apart from that we will also vary the memory frequency. It is our goal to show in depth which CPU is how much faster or slower than another one.

Athlon 5150 CPU Review

"Recently, we reviewed the Sempron 2650, which is a low-TDP CPU (or APU), comparing it to the "Bay Trail-D" Celeron J1800 CPU, since both are the most inexpensive dual-core desktop processors from AMD and Intel, respectively. We also tested the A4-5000, and the Pentium J2900, which are quad-core CPUs for the same market segment. Today, we bring you the review of the Athlon 5150, a quad-core processor that also competes in the same market share. Let's check if is it faster than the other low-cost processors we tested so far."

Intel i7 4790K Devil's Canyon Processor Review

Intel talked a lot about the Haswell Refresh processors codenamed Devil's Canyon, and they were very excited about it . The newer Haswell (codename: Devil's Canyon) came with certain improvements in comparison to earlier processors. Difference was mostly on the physical side of the processor. Intel used a 'next generation thermal interface material' in the hopes that it would please enthusiasts and overclockers who found that older model Haswell processors used a thermal paste under the integrated heatsink, though many would have preferred to see Intel using solder.The second difference was to provide more capacitors for the processor to enable smooth power delivery for the processor's die. When the Haswell processors came out and overclockers started experimenting, It was reported that because of this implementation, it created a hot spot on the chip, which was one of the reason that affected overclocking. Intel assures that extra capacitors and the new thermal interface will provide a better overclocking potential to its users.

AMD Athlon 5350 Review

Moving away from the mainstream computing, AMD bring a modern twist to entry level computing in the form of the AM1 platform. Based around the FS1b socket, which is essentially a more compact version of the sockets many will recognise distinctly as AMD.

: AMD FX-8320E AM3+ Processor Performance Review

AMD released a slew of new FX-series CPUs in September, 2014, including the FX-8370, FX-8370E, and the subject of our review, the FX-8320E. This is the low end of AMD's eight-core FX series of enthusiast CPUs, and the "E" suffix marks it as a low-power variant; nonetheless, AMD touts it as a viable CPU for a gaming system. Benchmark Reviews will run this CPU through our gauntlet of tests to see how true this is.


AMD FX-8320E @ LanOC Reviews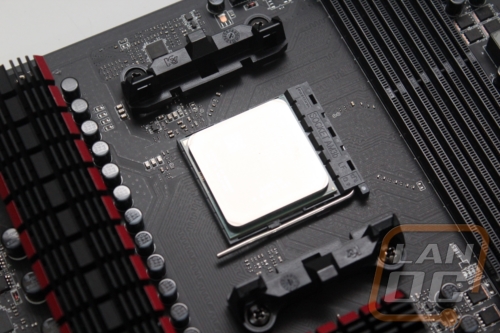 This past September AMD introduced a refresh of their FX CPUs that included a few new more power efficient CPUs along with a major pricing restructure to update the lineup. While I had the chance to test out most of the lineup there were a few that weren't included. Recently AMD sent over one of the CPUs that I missed the FX-8320E. With the FX-8320E being a budget focused gaming CPU AMD also sent along with it a motherboard that matched its low price point and gaming focus, the 970 Gaming from MSI. Paired together you can get them for just a few dollars more than an i5-4670K with no motherboard or any of the 2011 socket CPUs. With 8 cores and a turbo clock speed of 4 GHz it should still be performer, but of course there really is only one way to find out, let's check it out.

AMD essentially tweaks its 2 year old Piledriver

"Although some may think these are nothing more than high binned chips, AMD has tweaked these for both performance and power consumption. All 3 CPUs offer 8 cores, and with the lower TDP can be used on mid-range motherboards. This allows users already running an old FX 4XXX or 6XXX on a mid-range 970 or 990 motherboard a simple upgrade path to 8-cores."

Core i7 5960X

The Core i7 5960X I will be looking at in this review is Intel's first 8-core desktop processor, which sets it as the cream of the crop of the chipmaker's desktop line of processors. This fully unlocked beast of a processor comes loaded with 2.6 billion 22nm Tri-Gate 3-D Transistors that fit into a large 17.6mm x 20.2mm die and eight physical cores that translate into 16 processing threads thanks to Hyper Threading. It also boasts an impressive 20MB L3 cache and no fewer than 40 PCI-E 3.0 lanes. The 5960X has an out of the box base clock of 3.0GHz that bumps to 3.5GHz with Intel's Turbo Boost 2 Technology."

AMD's Kaveri APUs

We return to AMD's Kaveri APUs with a look at the 3.5GHz (3.9GHz Turbo) A10-7800 featuring an integrated Radeon R7 GPU, HSA, AMD TrueAudio Technology, Mantle support and a configurable TDP to make for a low power yet high performing solution for under $170 USD.

AMD FX 8320E processor review

Join us in a review on the budget AMD FX 8320E processor today. Honestly you will not find a cheaper 8-core processor. The very affordable (125 EURO / 139 USD) CPU as offers heaps of value, it will have a base clock of 3200 MHz, and can Turbo towards 4000. And that makes the FX series a tiny multi-threaded beast. You can read our review right here at Guru3D of course.

Intel Core i7 5960X Extreme Edition

"It's good to finally have Intel refresh the Extreme line up and take that step up to an eight core processor to do it. There are distributed computing crunchers just salivating at the performance potential that comes along with the added four threads that can be brought to bare in their crunching farms. But alas that's not the only place you are likely to see massive performance gains. When it comes to content creation and video editing, the Core i7 5960X is going to deliver that next level of performance when it is able to fully utilize all of its cores simultaneously. In my testing I found that when utilized, the eight core 5960X is by far the fastest solution when compared to a Core i7 4960X, Intel's Haswell quad core mainstream offerings, and the best that AMD currently has to offer. When it cannot utilize all that core compute power and run in single thread mode it is hampered by the low clock speed, and does not deliver the impact that I see when pushing all eight cores; this is pretty much the expected outcome."

CES 2015: Intel unveils new Broadwell-based processors

Intel has unveiled the fifth-generation Intel Core processor family built on Intel's 14nm manufacturing process during CES 2015. The CPUs provides the foundation for interactive experiences with Intel RealSense technology, Intel Wireless Display (Intel WiDi) and voice assistants.



The best Guides by the best writers on the internet; PCSTATS Beginners Guides explain computers, software, and all those other wonderful things that cause you frustration.

Learn how to use your computer better, master the internet while protecting yourself, and know what to do when your hard drive kicks the bucket.



"Get the 'Stats and Stay Informed!"