| | |
| --- | --- |
| CPU / Processors | |

... 3 news stories awaiting approval
News: AMD reveals 2014 APU roadmap for tablets convertibles

We already know that AMD`s next-gen Kaveri APU is coming to mobile systems. However, the chip will only fit into power envelopes ranging from 15W to 35W. For the tighter TDPs suited to tablets and convertibles, AMD has a couple of other, lower-power chips plannedand it announced them today at its APU13 event in San Jose. These low-power APUs are called Beema and Mullins, and they`re successors to today`s Kabini and Temash offerings. AMD says they deliver twice the performance per watt of their predecessors and are scheduled for release in the first half of 2014."

AMD Spills more Kaveri Beans: AMD APU13

Kaveri will be made up of 4 ?Steamroller? cores, which are enhanced versions of the previous Bulldozer/Trinity/Vishera families of products. Nearly everything in the processor is doubled. It now has dual decode, more cache, larger TLBs, and a host of other smaller features that all add up to greater single thread performance and better multi-threaded handling and performance. Integer performance will be improved, and the FPU/MMX/SSE unit now features 2 x 128 bit FMAC units which can ?fuse? and support AVX 256."

Intel Core i5-3570K vs Core i5-2500K Gaming-Performance @ Ocaholic

Maybe some of you are curious to see how close a Core i5-2500K can come to a Core i5-3570K. Obviously this article should not be seen as some kind of buying advice it`s more about illustrating that the CPU isn`t the most important piece of hardware when it comes to gaming performance. And that`s exactly what you will notice when checking out all the results we gathered."


Falcon Northwest Tiki: Haswell and Titan Team Up

Falcon Northwest is a big name in a very niche market of luxury PCs. The company is known for special touches like custom cases (think FragBox) and mind-blowing, artist-rendered panel images. The company has also built the rest of its reputation on blazing PC performance. Falcon Northwest recently shipped its Tiki to take on the other small form factor rigs we've tested of late. The Tiki is small enough and light enough that it could be your next LAN-party rig, but it's really meant for your desk. And although it's much, much smaller than your old full- or mid-tower system, it's going to draw a lot more attention, by virtue of its statuesque design.


DS214play with Intel Atom Evan Sport processor

The DS214play is equipped with the 1.6 GHz Intel Atom Evan Sport CPU. The processor has an integrated video encoder which allows the NAS to transcode video files in real-time so they can be sent to media players and mobile devices. They demonstrated the DS214play in combination with an Apple TV, which only supports a limited amount of file types. In this case, a 1080p HD film was converted to H.264 in 1080p which ran perfectly on the Apple TV.

ARM Introduces the Mali-T700 GPU Family: ARM Refreshes Too!

The T760 is the top end product from ARM when it comes to advanced graphics capabilities and performance. It is completely redesigned from the T600 series and is poised to be a leader in performance in its particular market. It includes up to 16 unified shader cores (though that number is up to the licensees discretion) and a host of advanced features that improve both performance and power consumption. The T700 architecture is based on the very power efficient tiling mode rendering, which was spearheaded by Imagination Technologies some 17 years ago. Tiling is very efficient in terms of memory accesses, and therefore more efficient with power when using similar process technologies as compared to an immediate mode renderer."

AMD Richland vs. Intel Haswell

Today we are going to compare current graphics cores available in the new desktop processors for Socket FM2 and LGA 1150 platforms. In our today's test session we will have AMD Radeon HD 8670D, HD 8670D, HD 8570D, HD 8570D and HD 8470D from A10, A8 and A6 processors of the Richland family and Intel HD Graphics 4600 from Core i5 processors of the Haswell generation.

Core i5-4670K, Core i5-4670, Core i5-4570

Let's meet the entire lineup of fourth generation desktop Core i5 processors based on the new Intel Haswell microarchitecture in our new extensive performance review.

Intel Core i7-4770K vs Core i7-2600K Gaming-Performance @ Ocaholic

Especially gamer see themselves confronted with the question which is the best CPU for their system from a performance as well as a price perspective. This is meanwhile the sixth article in our CPU Gaming Performance series of articles, where we compare the gaming performance of two CPU`s in recent games. Obvisously you will see the performance difference and we will also point to the price of these chips. Last but not least you will get an overview which CPU is most suitable for the type of gaming PC you want to build."

Intel Core i3 4130

The Intel Core i3 4130 is a Haswell processor with HD Graphics 4400 and a dual-core part with Hyper Threading that retails for about $130 USD. While we have been amazed by the performance of high-end Core i7 Haswell CPUs, how`s this budget-friendly processor? Here`s a review of the Core i3 4130 CPU running Ubuntu Linux and compared to a variety of other processors."

All Core i7 Models @ Hardware Secrets

The Core i7 is a CPU series manufactured by Intel aimed athigh-range computers. In this tutorial, we will present a series of quick reference tables for you to compare the main differences between all models released to date."

Overclocking The Ivy Bridge Extreme Core i7 4930K

The X79 is a favorite platform here in the Ninjalane Labs, we use it on our video card test benches and always have a system ready for multi GPU overclocking when multithreaded performance is important.

AMD + Microsoft Windows 8.1 = 10% Boost

AMD shot us this interesting little update today; "Today, AMD published a new blog on the collaboration between Microsoft and AMD for great performance and user experience in Windows 8.1. The blog contains some interesting data points surrounding the performance differences we have observed between when AMD launched the latest A-series of APU's and now, combining the enhancements our driver team have delivered with the work Microsoft has achieved with Windows 8.1.

Please note that the AMD A10-6800K offers a heterogeneous compute advantage of up to 13% against the >60% more expensive competitor product - and a gaming performance advantage of nearly 50%. Windows 8.1 is a free update for Windows 8 users, and can be installed through the Microsoft Store, meaning any consumer with an AMD Accelerated Processing Unit (APU) based PC can increase performance by nearly 10% simply through installing the Windows 8.1 update, and AMD's latest Catalyst driver."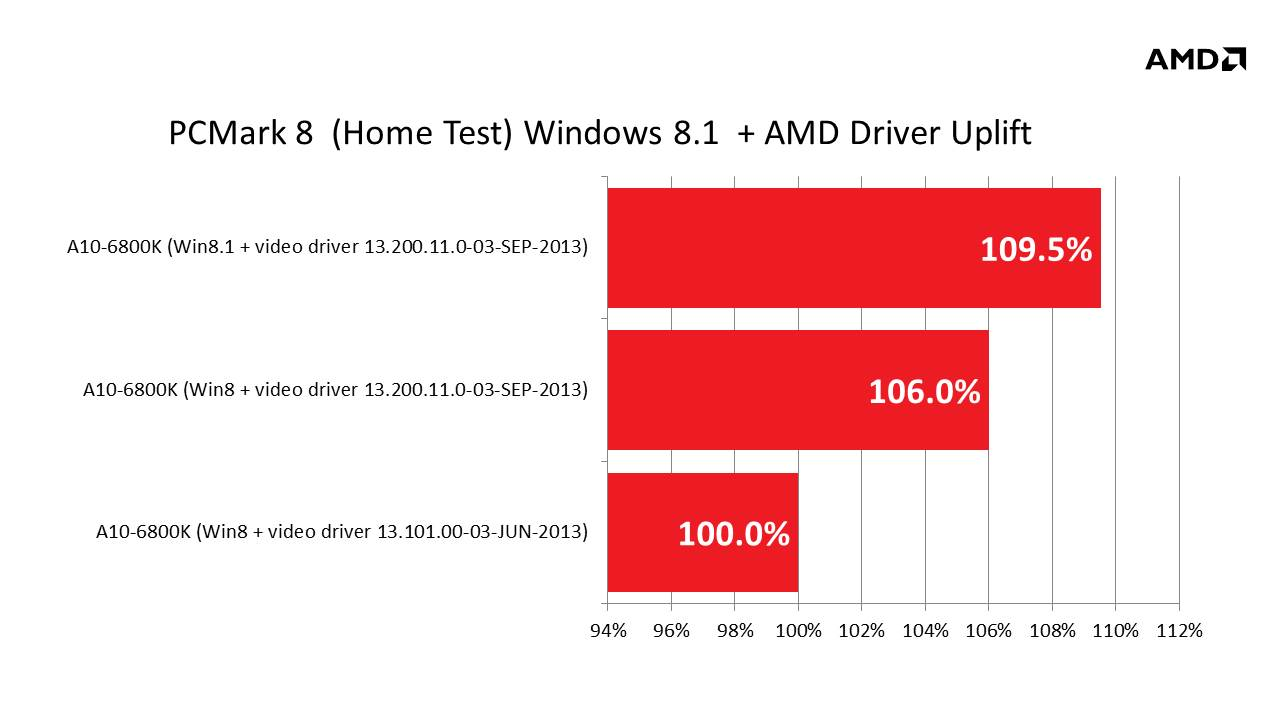 All AMD FX CPU Models @ Hardware Secrets

The AMD FX is the mid-range and high-end CPU family from AMD, using either the Bulldozer or the Piledriver microarchitectures. Let`s take a look at the main specifications of all models released so far."