[>>]

[>>]

[>>]

[>>]

More>>

Search...

| | |
| --- | --- |
| CPU / Processors | |

... 4 news stories awaiting approval
CPU Performance Content Creation: 7 CPUs tested

These days there are basically two different groups of customers who demand lots of processing power: content creators and gamers, while this performance comparison is targeting content creators. After having had a look at the following pages you'll have an in-depth overview on how fast recent CPUs are in this area.

Intel Core i7-6950X vs Core i7-5960X - 2D Performance

There is a variety of customer groups in need of as much processing power as possible. Especially in the field of content creation, which includes editing pictures and videos or even rendering a complex scenery with beautiful effects, performance improvements quickly translate into higher income by the end of the month. With this series of articles we're going to compare two processors. The CPUs tested are being run at stock clocks as well as overclocked and apart from that we will also vary the memory frequency. It is our goal to show which CPU is how much faster or slower than another one.

AMD "Summit Ridge" Desktop Processor Revealed.

The AMD Zen core architecture has been along awaited, because it is the first fresh design that was not derived from AMD's existing Bulldozer architecture. Built around the SMT (simultaneous multithreading) microarchitecture, AMD Zen will offer much better core performance at the cost of a larger die.

Intel Genuino 101 Review

The Genuino 101, or Arduino 101 if you're in the US, is Intel's collaboration with the Arduino project. If you're not familiar with it, the Arduino has attempted to do for hardware design what Linux and Open Source in general have done for software – open it up to everyone to be a creative producer rather than just a consumer. Since the project's inception in 2005, hundreds of thousands of boards have been sold, with the total at 700,000 by 2013, and it's likely to be in the millions by now. So when a heavyweight like Intel comes on board, too, you know Arduino "maker culture" has come of age.

7th Generation AMD A-Series APUs Revealed

The "Bristol Ridge" family consists of 35- and 15-watt versions of AMD FX, A12, and A10 processors, while "Stoney Ridge" family will power the 15-watt A9, A6 and E2 processors. We were present at the Westin Taipei, when Jim Anderson, Senior Vice President and General Manager, Computing and Graphics Business Group, AMD unveiled the 7th Generation AMD A-Series APUs. Check it out!

CPU Performance Content Creation: 8 CPUs tested

These days there are basically two different groups of customers who demand lots of processing power: content creators and gamers, while this performance comparison is targeting content creators. After having had a look at the following pages you'll have an in-depth overview on how fast recent CPUs are in this area.

Intel, AMD new CPU platforms target January 2017 launch

ket watchers originally expected Intel and AMD to launch their new CPU platforms in the third and fourth quarter, respectively, to help boost PC demand in the second half, but both CPU makers have recently postponed their launch schedules to January 2017 at CES 2017 since the upstream supply chain still has serious inventory issues, and market demand has been slow.

Core I7 6950X Extreme Edition Broadwell-E

"The single biggest hurdle when running higher voltages and clock speeds is thermal management. A nice air cooler or even some of the nicer AIO kits are going to be fully overwhelmed with the thermal load displaced by the Core i7 6950X when overclocked and over volted. I had to resort to a full on water cooling setup to reach the observed 4.34GHz and 4.28GHz speeds I ran in my testing. Usually the hefty 240mm radiator I use for overclocking processors is sufficient to handle the typical load. Not so with this beast. I had to back up and put in a second radiator to handle the load discharged into the liquid. By doing so, I was able to keep the processor from throttling and bouncing off the 99 °C max temperature before the chip could throttle. Overall, most of your usual overclocking tools and methods that we have worked with over the past few generations of Intel processors work well with this generation of Intel's Extreme series chips. The new flexibility adds some wrinkles, but nothing that cannot be easily overcome. The Intel Core i7 6950X Broadwell-E processor is one hell of a processor."

Intel Announces Xeon E7 v4 Processors For Mission-Critical Computing

Back in March, Intel launched its Xeon Processor E5 v4 family of products, based on the Broadwell-EP core. We had the chance to evaluate a dual Xeon E5-2697 v4-based system with a total of 36 cores (72 Threads) and discussed the changes and new features in Broadwell-EP at the time. As powerful as that 36-core system was, the E5 v4 family is not Intel's top-end server offering. That designation belongs to the Xeon E7 v4 product family being announced today, which typically features more cores and cache and support for additional sockets...

Intel Core i7-6950X Broadwell-E Review

Meet Broadwell-E: Hide Your Credit Card: Intel has officially unveiled Broadwell-E, which consists of four processors covering 6, 8 and 10-core configurations. These chips differ quite a bit in terms of specifications and pricing, all the more reason to explore them in better detail.

latest generation of CPU and GPU cores

This leaves ARM as the only real player in town when it comes to the mobile marketplace. This does not mean that ARM is ready to rest on their laurels when it comes to developing new technologies and licensing them out. Their licensing agreements also provide impetus for ARM to continue to innovate. Companies such as Qualcomm and AMD which have the ISA level licenses can innovate on core designs and graphics to differentiate their parts from those that only license specific cores."

Intel Core I7 6950X Extreme Edition Broadwell-E CPU

"While you have a bit of financial pain moving to the latest and greatest Extreme Edition processors, you are guaranteed a specific performance window for doing so. In my testing, I found there were very few scenarios where the Core i7 6950X did not exceed the performance of the previous generation Haswell-E Core i7 5960X. In just about every test, the additional core count and Turbo Boost speeds helped out performance. From rendering tasks to gaming, the Core i7 6950X does a great job leveraging the core count of the processor. Where the largest performance gaps were found were in the single threaded applications where the lower base core clock is to blame. That all can be fixed with some overclocking of the core and ring bus. Overclocking does indeed add another layer of performance to the equation with by core overclocking the ability to modulate the amount of core clock speed you can bring to the party for heavy AVX based loads. That's just another layer to peel back and explore in our Core i7 6950X overclocking article coming soon."

Intel Broadwell-E Core i7-6900K & 6950X Review

Intel's High End Desktop (HEDT) platform has long been the last bastion of the enthusiast in Intel's lineup. Dominating performance, flexible overclocking, and more cores than you can shake a stick at have drawn a stark contrast between it and mainstream or performance-class platform, a status quo which came into effect in 2011 when Sandybridge vastly simplified overclocking on a mainstream CPU. Haswell-E's launch in 2014 solidified that stranglehold on the enthusiast as the first generation to support DDR4 and as many as eight physical CPU cores and sixteen threads. Broadwell-E, launched today at Computex2016, takes new steps to feature yet more cores, and sees the debut of a new price bracket for the flagship Extreme Edition CPU.

Athlon X4 845 CPU

"Today I am going to test the Athlon X4 845 CPU, on an Gigabyte F2A88X-UP4 motherboard, against two other new CPUs – the Athlon X4 880K and the A10-7890K APU with a set of DDR3 RAM at 2133 MHz. The comparison CPUs are both multiplier unlocked and have higher base and turbo speeds as default, plus they both leverage a 125 W cooler. All of these factors will give the newer CPUs a definitive advantage so I don't expect the Athlon X4 845 to perform better, just consistent with its speed and design."

Intel i7-6950X Broadwell-E CPU Review

Today we are going to get a chance to review Intel's next processor in their High-End Desktop (HEDT) platform. Broadwell-E, specifically the i7-6950X, brings us our first 10 core CPU which isn't based on the Xeon or Opteron platforms. Typically this brings with it lower clocks speeds, or high pricing. Broadwell also arrived on the scene with some slight Instructions Per Clock (IPC) improvements over Haswell/Haswell-E based CPUs. Those increases likely will not go away with Broadwell-E. Take those improvements, plus the additional cores, and you have a CPU ready to do a whole lot of things at once."

Core i7-6950X CPU Tested!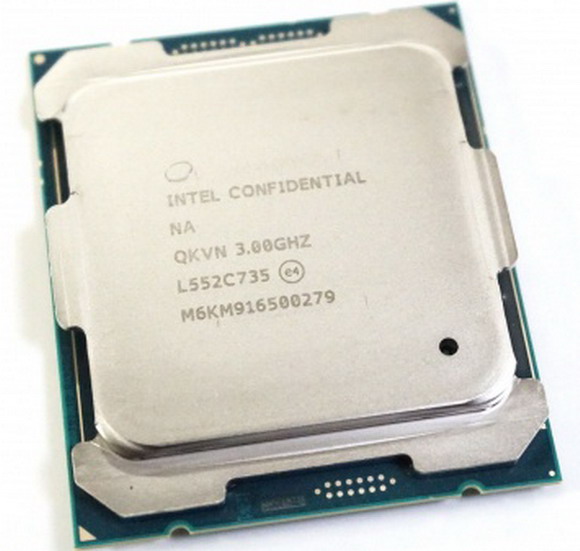 "First, let's talk about the positive side of the Core i7-6950X. It is clearly and without a shred of doubt, the fastest consumer processor on the market. With the inclusion of Turbo Boost Max Technology 3.0, Intel was able to improve single threaded performance enough to keep it within striking distance of the Core i7-6700K using Skylake, all while jamming in 10-cores for maximum performance on multi-threaded workloads. If you do video rendering, encoding or 3D work, the processing capability of this CPU will be a godsend. It's also great that it still uses the X99 chipset and most motherboards that exist will support the new Broadwell-E processors with only a firmware update."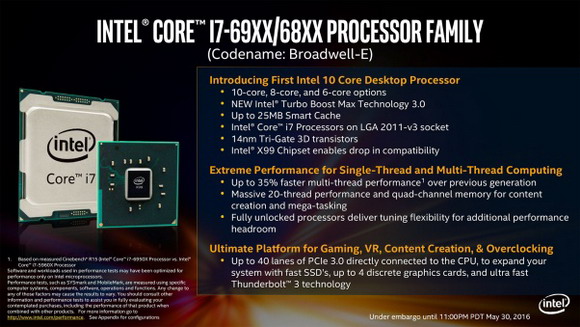 The best Guides by the best writers on the internet; PCSTATS Beginners Guides explain computers, software, and all those other wonderful things that cause you frustration.

Learn how to use your computer better, master the internet while protecting yourself, and know what to do when your hard drive kicks the bucket.



"Get the 'Stats and Stay Informed!"