[>>]

[>>]

[>>]

[>>]

More>>

Search...

| | |
| --- | --- |
| Memory | |

... 6 news stories awaiting approval

Crucial Ballistix Elite 16GB (2 X 8GB) DDR4-3600 Memory

"Performance wise these new DDR4 modules are living upto the reputation the Ballistix Elite modules are renowned for. Looking through the performance we can clearly see a winning combination here along with the backing of an industry leader in memory devices."


ADATA XPG SPECTRIX D60G DDR4 Memory Module

"ADATA Technology, a leading manufacturer of high-performance DRAM modules, NAND Flash products, and mobile accessories today announces the launch of the SPECTRIX D60G DDR4 memory module. The XPG SPECTRIX D60G DDR4 memory features a unique dual RGB light diffuser design that gives it the largest RGB surface area of any memory module! What's more, it sports a wide frequency range from 3200-4133MHz and supports Intel® XMP 2.0 profiles for easy overclocking.

The D60G sports more RGB lighting per mm2 than any other memory module out there, which equates to over 60% of the module's surface area. The fully exposed light diffusers are extra-wide for maximum effect, and combined with a mesmerizing multi-colored flow effect users will outshine their competition! The unique avant-garde styling of the D60G will also turn heads. It includes XPG's signature X-light design with a diamond-inspired, multi-faceted surface that is a cut above the rest.

Users can customize their gaming experiences with programmable lighting effects! They can set up patterns, pulse speed, lighting intensity, and more. Control is hassle-free with the XPG RGB Sync app. If users already have an existing RGB light control software from a major motherboard maker, they can use that too.

The D60G is built with high-quality chips and a metal heat sink for excellent signal integrity, reliability, and stability, which effectively extends the lifespan of the memory module. What's more, Intel® Extreme Memory Profiles (XMP) 2.0 make overclocking a snap and enhance system stability. Instead of adjusting individual parameters in BIOS, users can do it right through their PC's operating system.


Apacer NOX RGB DDR4 Hits the Market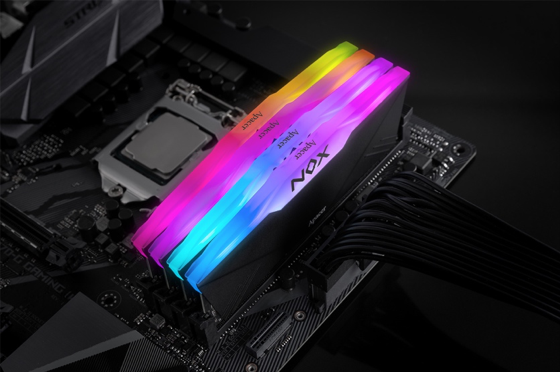 "Apacer releases an all-new DDR4 desktop PC gaming memory with ultra-wide angle RGB lighting effects, built specifically for desktop gaming, overclocking and MOD enthusiasts. Designed with unique RGB lighting, high-class aluminum alloy heat sink, and based on the world's best industrial memory module and storage technologies, this state-of-the-art memory solution uses ICs that were meticulously selected for high gaming requirements and supports Intel® XMP 2.0 for one-button overclocking. NOX RGB DDR4 has a mysterious, minimalist design for top gamers to unleash mysterious forces and enjoy ultimate gaming and overclocking experiences!
NOX RGB DDR4 uses high-class aluminum alloy heat sink with the best heat dissipation and a mysterious-black minimalist style to provide extreme performance for gamers. Through Apacer's industrial memory module technology and manufacturing capabilities, the meticulously selected ICs maintain high stability under high speed performance while ensuring compatibility with the major motherboard brands. It supports the Intel® XMP 2.0 over-clock technology and allows Intel platform motherboards to exert top-end over-clocking performances without manual adjustments on BIOS parameters.
NOX RGB DDR4 has passed compatibility certifications of most mainstream motherboard manufacturers, ensuring that the product can operate stably on the motherboards listed on QVL. In order to satisfy different needs of gamers, single-channel and dual-channel packages are provided from 4GB to 32GB, as well as four different speed range options from the 2400 MHz 1.2 V of 16-16-16-36 to the 3200 MHz 1.35 V of 16-18-18-38. It includes all outstanding performance advantages of DDR4 such as low latency, low power consumption, low temperature, high stability and reliability etc."


Ballistix Sport LT DDR4 3200 MHz 2x8 GB

We are reviewing Ballistix Sport LT DDR4 16 GB 3200MHz CL16. It is another kit from this Micron subsidiary, following in the footsteps of Ballistix Tactical Tracer RGB (32GB) 2666 MHz DDR4 and Ballistix Sport AT Gaming memory (32GB) 3000 MHz DDR4. This time around there's no RGB lightning or TUF styling. It's also the fastest RAM that we have tested at Guru3d so far, as it's rated at 3200 MHz.

ADATA UV350 USB flash drive

"ADATA Technology, a leading manufacturer of high-performance DRAM modules, NAND Flash products, and mobile accessories is pleased to announce the launch of the ADATA UV350 USB flash drive. The UV350 flash drive features an understated, elegant look with a capless design that does away annoying caps. A hanging hole at the end makes for easy attaching to keychains and lanyards for excellent portability. The drive comes with up to 64GB of storage space and USB 3.1 for hassle-free storage of photos, music, video, and everything else.
The glossy surface finish of the UV350 is stylish and elegant, and along with a tail-shaped hanging hole, it presents a refined and understated design that's ideal for the busy business professional. The hanging hole lets users easily fasten it to just about anything ultimate portability. What's more, with a capless design, fumbling around with and misplacing annoying caps is a thing of the past.
Featuring USB 3.1 the UV350 sports transmissions speeds of up to 5Gb per second, plug and play capability, and is backward compatible with USB 2.0 devices. Users won't need to worry about sufficient storage space when capturing 4K videos and hi-res photos with up to 16GB, 32GB, or 64GB capacities. The UV350 works with all types of devices including PCs, tablets, stereos, TVs, car audio systems, game consoles, and more. Meanwhile, plug and play capability means users can transfer files quickly and effortlessly. As with all ADATA USB flash drives, the UV350 comes backed by a 5-year warranty."

Corsair Dominator Platinum RGB DDR4-3200 32GB Memory Kit Review

"When it comes to high performance memory Corsair's Dominator Platinum has always been at the top of our list. These modules are made with a custom 10-layer PCB, hand-picked memory chips, and Corsair's patented Dual-Path DHX cooling technology. Up until now Dominator kits were not given the RGB treatment, but Corsair has recently released Dominator Platinum RGB modules. These modules are a bit different than your typical RGB kit, they feature new Capellix RGB LEDs, which are brighter and use less power than typical RGB LEDs you see in other memory. The kit we are taking a look at today is the CMT32GX4M4C3200C14, which is a 32GB (4x8GB) kit running at 3200 MHz with timings of 14-14-14-34 at 1.35V. Read on as we see what this kit can do and check out those new Capellix RGB LEDs!"




Crucial 2x8GB DDR4-2666 SODIMM Memory Kit Review

" By replacing the single-channel 16GB stock DDR4 2400MHz solution with a dual-channel DDR4 2666MHz kit, our DELL Inspiron 7577 became snappier in usual Windows applications and some productivity benchmarks have seen increases as well! Besides Ashes of the Singularity CPU Benchmark, PCMark benchmark suite clearly shows an improvement in Windows OS performance, by leaving the rest of the components running at stock. "

Geil Super Luce RGB 16GB DDR4

"Geil is making Super Luce kits that are optimized for both AMD and Intel platforms with speed bins from 2133MHz to 4133MHz on the Intel side in modules sizes from 4GB to 16GB. This gives the consumer a maximum capacity in the kit of 32GB, although you can use multiple kits to reach the supported maximum on your motherboard. Priced at $189, this specific kit is available from your favorite e-tailers."


Samsung EVO Plus 512GB MicroSD Card Review

Samsung introduced its blazing fast EVO Plus UHS-I MicroSD cards last year, featuring capacities from 64GB to 256GB and write speeds approaching 90 megabytes per second. We were impressed with the 128GB sample we test drove, but Samsung has now expanded the lineup with a 512GB variant and sent one over to us for another look. The additional capacity is very welcome for videographers recording hours of footage. Granted, all that space is only useful if the card's write speeds are able to keep pace. The latest iteration advertises the same 100 MB/s read speeds and 90 MB/s write speeds as the rest of the lineup, but we want to see how it holds up in the real-world...



The best Guides by the best writers on the internet; PCSTATS Beginners Guides explain computers, software, and all those other wonderful things that cause you frustration.

Learn how to use your computer better, master the internet while protecting yourself, and know what to do when your hard drive kicks the bucket.



"Get the 'Stats and Stay Informed!"