| | |
| --- | --- |
| Memory | |

... 0 news stories awaiting approval
Team Group T-Force Night Hawk 3000 MHz DDR4

Team Group sent us their newly released T-Force Night Hawk 3000 MHz DDR4, which comes with a new look, and other features not common to today's DDR4. T-Force is Team Group's latest focus on bringing something a little bit different for any memory-related gear, including memory and SSDs.

Crucial Ballistix Elite 16GB DDR4 3200Mhz Memory Kit Review

We wrote some time ago when we first started to test DDR4 memory that it wouldn't be long before DDR4 memory speeds would have a 1:1 speed ratio with the CPU. Well, it didn't take long at all and we have seen these speeds for the last 12 months at least. It may be a throwback to the days of the Front Side Bus (FSB), but it was always a goal to have 1:1 CPU/memory speeds, however unachievable.

Patriot Presents New 256GB LX Series microSDXC Card

Patriot, a leading manufacturer of SSDs, computer memory, flash storage solutions, mobile accessories and gaming peripherals, today announced the addition of a 256GB capacity to its LX Series line of microSDXC cards.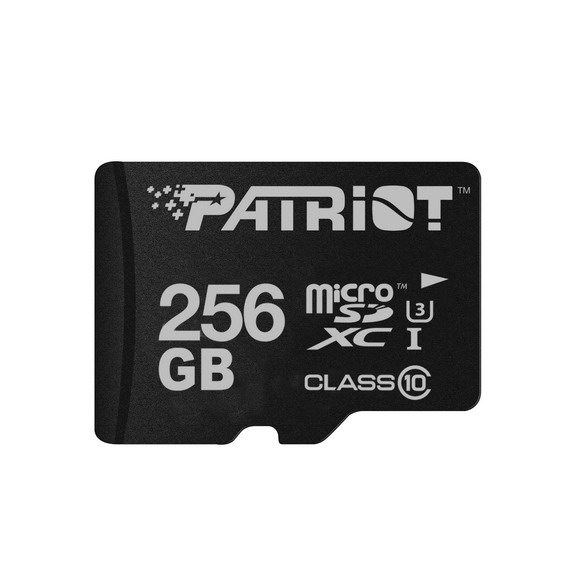 Utilizing the latest 3D NAND technology, allowing for more storage in a dime-sized form factor, the 256GB LX Series is capable of capturing hours of 4K UHD and Full HD video and thousands of high-resolution images. Ideal for support of the latest action camera, drone and Android™ smartphone or tablet, the 256GB LX delivers users top of the line performance coupled with an unbeatable amount of storage. With the infinite possibilities of cinematic production, thanks to drone technology, the new 256GB LX series fulfills a need for longer hours of video production with professional image quality.

The 256GB LX Series microSDXC is Class 10, U3 qualified, allowing for sequential speeds of up to 90MB/s read and up to 80MB/s write for the quick capture of images and speedy transfer of data from camera to computer. Backed by a 2 year warranty and Patriot's award-winning customer service, the 256GB LX Series is a top rate choice for consumers looking for an affordable way to expand the onboard storage of their smartphone and tablet or are looking for more action packed moments while recording on their GoPro.

Patriot's 256GB LX Series microSDXC card will be available today, in stores and online, for a starting MSRP of $199.99 USD


Crucial Ballistix Tactical DDR4-3000 32GB Memory Kit Review

Crucial's Ballistix memory is known by gamers and enthusiasts and has been around for what seems like forever. When it comes to DDR4 Crucial has three different Ballistix lines, Ballistix Elite, Ballistix Tactical, and Ballistix Sport. We've already taken a look at Ballistix Elite and Ballistix Sport DDR4 kits so that leaves us with the Ballistix Tactical kit which we are taking a look at today. Ballistix Tactical sits in between the Elite and Sport kits in Crucial's product stack. The kit we are taking a look at today is the BLT4K8G4D30AETA kit, which is a 32GB (4x8GB) kit that runs at 3000 MHz with timings of 15-16-16-35 at 1.35V. These kits has a nice lower profile heatspreader as well so CPU clearance should not be an issue. Let's get this kit in our test system and see what it can do!"

G.Skill Trident Z 3200 MHz C14 32 GB

G.Skill has long been a bastion of affordable high-performance memory, and their Trident Z line-up is the ultimate version of what DDR4 they have on offer. Featuring a large heatsink ready for some abuse, G.Skill's Trident Z sticks now can also be had in other colors!



Avexir Raiden Green Tesla 16GB 2666MHz DDR4 Memory Review

Today we review the Avexir Raiden Series Green Tesla 2666MHz DDR4 Memory 16GB Kit. There are a lot of DDR4 kits on the market and they vary greatly in speeds, capacity, and design. If you want something a little visually different, Avexir have their Raiden Series using world exclusive patented technology of plasma tubes to mimic lightening effect.







Lexar Professional 1000x microSDHC UHS-II 32GB Card Review

The 32GB version of the Professional 1000x microSDHC card from Lexar is able to deliver performance as advertised and it can be used with both mainstream and high-end devices as camcorders, action cameras, tablets, smartphones, laptops, drones, PCs and many more. The UHS-II standard is using a different pin-layout, but for backwards compatibility we can see the classic gold-plated contacts in order to operate with UHS-I-compatible devices or even non-UHS-I devices, in the case it will operate at Class 10 speeds."