| | |
| --- | --- |
| Memory | |

... 13 news stories awaiting approval
Ballistix Sport LT 16GB Red DDR4 2666Mhz Memory Kit Review

We have had a lot of Ballistix's DDR4 memory in the Hardwareslave offices to review over the years, and we get good performance, speeds, and compatibility. These memory modules have been black, grey or silver, but now we have some nice shiny red DIMMs to test. Fair enough, a red memory heatsink will not make the memory any faster, but with one of the most common system colours available from Ballistix, you know they should have colour to match most systems.


Optane Memory is mostly unchanged

We are just about to hit two years since Intel and Micron jointly launched 3D XPoint, and there have certainly been a lot of stories about it since. Intel officially launched the P4800X last week, and this week they are officially launching Optane Memory.
"There's a bit to digest in this chart, but let me walk you through it. The ranges tapering off show the percentage of IOs falling at the various Queue Depths, while the green, red, and orange lines ramping up to higher IOPS (right axis) show relative SSD performance at those same Queue Depths. The key to Optane's performance benefit here is that it can ramp up to full performance at very low QD's, while the other NAND-based parts require significantly higher parallel requests to achieve full rated performance. This is what will ultimately lead to a much snappier responsiveness for, well, just about anything hitting the storage. Fun fact - there is actually a HDD on that chart. It's the yellow line that you might have mistook as the horizontal axis :)."

Intel's Optane Memory

Intel's Optane Memory is the company's latest attempt to boost the pokey performance of systems that rely on a hard drive alone for their storage space. We explore why Optane might prove to be a success in storage caching where the company's past efforts have fallen short.


Intel Optane Memory Arrives With Crazy Low Queue Depth Performance

Intel Optane technology is something that we've been talking about and waiting on for years to reach the client market and it appears that we are finally just weeks away from that important milestone! Intel Optane technology is a unique combination of 3D XPoint memory media, Intel Memory and Storage Controllers, Intel Interconnect IP and Intel software. Intel Optane technology is coming to market in consumer Solid-State Drives, Data Center solutions and even as add-in M.2 system accelerator cards! Today, we'll be focusing on Intel Optane Memory, which would be the add-in M.2 add-in accelerator card.

Corsair Vengeance RGB DDR4 memory review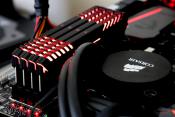 Join us as we check out the all new RGB series Vengeance DDR4 memory from Corsair. Not only do these puppies look awesome, they are properly spec'd as well. We received a 4x8GB DDR4 3000MHz CAS 15 DRAM kit from Corsair, so that is 32Gb at your disposal for dual and even quad-channel memory configurations.

Corsair Vengeance RGB DDR4 Review

"The Corsair Vengeance RGB DDR4 3000 Memory with RGB-LED arrived Technic3D. Technic3D will see as good they are on Windows 10 and the Asus Maximus VIII Hero Mainboard. You can see 3.416 MHz (1,45V) with 17-19-19-37 and more in the following Review."

32GB Corsair Vengeance RGB DDR4-3000MHz

Corsair has jumped on the RGB band wagon with its new Vengeance RGB memory. The 32GB kit we were sent consists of 4x8GB modules and is rated at DDR4-3000MHz which is a perfectly decent speed. The reviewer's guide also puts the CAS 15 timing front and centre, a point we shall return to later.


Team Group Dark 16GB DDR4 Review

While many brands are jumping into the RGB lighting trend of virtually all PC hardware you can think of today, some would still prefer less or no lighting at all in their gaming PC. The Team Group Dark DDR4 memory features a beefy four-piece heat spreader and low working voltage of around 1.2V to 1.4V. The kit we will be testing is a 16GB (2x8GB) kit at 3000Mhz.

Patriot Viper Elite and Viper 4 Review on Technic3D

The Patriot Viper Elite and Viper 4 Memory arrived Technic3D. Technic3D will see as good they are on Windows 10 and the Asus Maximus VIII Hero Mainboard. You can see 3.400 MHz (1,35V) with 16-18-18-36 and more in the following Review."

Crucial Ballistix Tactical 32GB DDR4-3000 Memory Kit Review

"The Crucial Ballistix Tactical 32GB memory kit composed of 8GB BLT8G4D30AETA sticks has proven itself as being very capable, since we were able to run it up to 3333MHz, by only altering the memory timings a bit and at the same time we have left the voltage at the default of 1.35. Unlike some of the later designs from other manufacturers that do feature RGB lighting, the Tactical series does sport a simpler solution, with low height military-style heatsinks that allow good clearance for massive CPU heatsinks."


Patriot LX Series micro SDXC Class 10 256 GB Flash Memory Review

Much like Mary Poppins bag of wonders, Patriot too has a method of fitting a substantial amount of goodness in a small space with the release of their 256GB LX Series SDXC class 10 memory card. Featuring an impressive 256GB of storage and boasting this as an "ultra high speed" card for QHD video production and high resolution photos. However, …