| | |
| --- | --- |
| Memory | |

... 5 news stories awaiting approval

News of the Crucial MX100 SSD was leaked on Tuesday

The word is out that Crucial will be launching a new SSD in the early June 2014 timeframe called the Crucial MX100 SSD. The new MX100 will be a competitively-priced, 2.5" SSD based on Micron's new 16nm chips, and will be the successor to the Crucial M500 drive. The high-performance Crucial M550 drive will also remain part of the Crucial SSD product line-up.

We're excited to share that PCSTATS has been fully briefed on the new Crucial MX100 by the Crucial SSD product marketing team and have a review sample in hand that we're now rigorously testing. Once the MX100 drive is officially announced, we'll have a complete product overview and benchmarks to share with you directly. Stay tuned for the full scoop here!

Avexir Blitz 1.1 Series Memory Review

"Avexir isn't the first name in computer memory that likely comes to mind for most of you, but most enthusiasts are well aware of what this small company has been able to produce in its short existence… especially its Core and Standard series. Avexir has released the new Blitz 1.1 series of memory for use in enthusiast class machines. It should prove popular to the extreme overclocker or to those who just want some good looking memory to add that extra touch."


Xtreem 32GB PC3 17000 DDR3 2133 Memory Kit Review

The latest Xtreem 32GB C11 DDR3 2133 memory kits from Team Group come with beefy heatspreaders in two different colors and have proven really overclockable, being able to reach speeds up to 2400MHz while keeping the voltages at safe levels.

Kingston DataTraveler R3.0 G2 64GB USB 3.0 Flash Driv

Description: Accidents happen to all of us especially when we least expect them and so it's always a good idea to store all our sensitive data inside rugged storage media devices that can offer a considerably higher level of protection compared to regular everyday ones. Unfortunately as we speak manufacturers have seem to focus most of their resources for the design of rugged PHDs (Portable Hard Drives) and not so much in the design of rugged USB flash drives. As a matter of fact the last and perhaps best quality rugged USB flash drive I've ever used was designed and manufactured by Corsair roughly 5 years ago and let me tell you that it was no coincidence that they named it the Survivor GT (the casing was made by alloy used in aircraft). Cost however always plays a huge role when designing a USB flash drive and so most manufacturers seem to favor rubber coated casings that offer both shock and water resistance at a fraction of the price. The DataTraveler R3.0 G2 is the latest USB Flash Drive by Kingston that features such a casing and with us today we have the highest capacity 64GB model.


Kingston HyperX Predator KHX28C12T2K2/8X Review

These modules are most certainly using Hynix MFR series ICs in a single-sided configuration. With this configuration, you get the ability to run high clock speeds with loose primary timings to get you there. With this set, I was able to hit 3024MHz stable enough to run through the benchmark suite and some quick Prime 95 testing. By using the 125MHz strap and tweaking the timings along with the voltage on the DIMMs and memory controller, surpassing 3000MHz came pretty easily. Getting further really needs some in-depth tweaking of the voltages and timings. Unfortunately, performance starts suffering even more so than with the timings setup on the 2800MHz XMP profile. A secondary profile is available that sets the DIMMs at 2666MHz with tighter primary timings using the same 1.65v applied voltage."


Kingston HyperX Fury White 2 x 4GB PC3 15000 Memory

"After giving this set of HyperX Fury modules in white a good run, I found the overclocking margin available was more than sufficient to allow these modules to play in a much deeper pool when it comes to maximum memory speeds. At 2666MHz, using timings of 12-13-13-32, these module see an overclocking boost of 800MHz. Yes, 800MHz over the rated 1866MHz! That is some pretty serious overclocking for a set of modules priced at only $79 USD. However, the required timings to do so cause performance to drop off in benchmarks at the upper range, though the reduction in performance is not really felt in day-to-day tasks."


ADATA XPG 64GB SDXC UHS-I Speed Class 3 U3 Memory Card Review

If you are a camera enthusiast that is looking for a new memory card you should be looking closely at the UHS Speed Class symbols on the cards that you are considering purchasing. Back in November 2013, the SD Association came up with a new high-performance specification and speed class symbol that was specifically designed to support a capturing images and video on the most demanding 4K2K video cameras. The new Ultra High Speed (UHS) Speed Class 3 (U3) symbol will indicate products capable of recording 4K2K video and will be exclusively for SDXC UHS-I and UHS-II memory cards. Today, Legit Reviews will be looking at the ADATA XPG 64GB SDXC UHS-I U3 memory card. This will be our first chance to check out a UHS-I U3 card!"

Crucial Now Sampling Next-Generation DDR4 Server Memory

New Crucial DDR4 server memory is up to twice as fast and delivers double the memory bandwidth over DDR3 technology when it was introduced (1066 MT/s and 8.5GB/s with DDR3 vs. 2133 MT/s and 17GB/s on DDR4).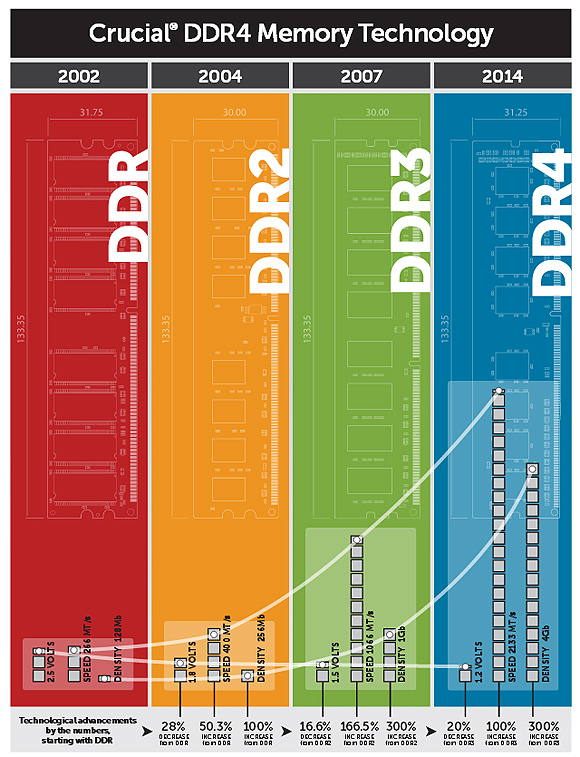 Crucial DDR4 server memory leverages the latest advances in technology and is up to 40 percent more energy efficient than DDR3 memory when it was introduced.
Crucial, a leading global brand of memory and storage upgrades, is now sampling DDR4 server memory through its new Technology Enablement Program. Aimed at channel partners who are currently developing or evaluating DDR4-capable platforms, the program provides early access to select Crucial server DDR4 modules and relevant technical resources, as well as notification of new modules as they become available. The Crucial Technology Enablement Program comes on the heels of Micron's recent ramp up in DDR4 production. More information on the enrollment process can be found at www.crucial.com/usa/en/memory-ddr4-info.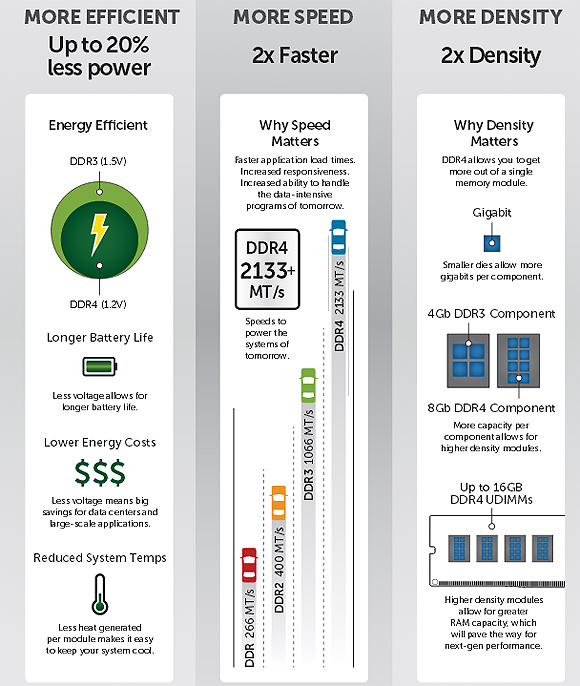 Designed to enable next generation enterprise environments, Crucial DDR4 server memory delivers data rates that start at 2133 MT/s (up to twice as fast as DDR3 when it was introduced) and is expected to get even faster as the technology matures. What's more, when used with Intel® Xeon™ processor E5-2600 v3 product family-based systems, Crucial DDR4 server memory doubles memory bandwidth from 8.5GB/s to 17GB/s. Additionally, Crucial DDR4 memory uses up to 20 percent less voltage than DDR3 technology, operating at 1.2V compared to 1.5V for standard DDR3 memory, and delivers up to a 40 percent reduction in power usage.
"Memory is one of the biggest limitations when it comes to enterprise server environments. Many memory-dependent server applications are crucial to the day-to-day operations of a business, but they require higher densities of memory and increased performance," said Michael Moreland, worldwide product marketing manager, Crucial. "Crucial DDR4 memory enables servers to perform faster and run more efficiently than ever before, reducing power and cooling expenses along the way­ – essential for meeting the ever-increasing workload demands of data centers."
All Crucial DDR4 DRAM modules are backed by a limited lifetime warranty.** For more information on Crucial DDR4 memory or the DDR4 Technology Enablement Program, please visit www.crucial.com/usa/en/memory-ddr4-info

Kingston DataTraveler Workspace 32GB OTG USB 3.0 drive Review

This is the first time I am taking a look at an On-the-Go USB 3.0 drive. For those who do not know, OTG drives contain a pre-installed operating system. For those who wish to use the system with a secure OS or an OS of their choice, all you have to do is connect the drive to a system, boot the system through the drive, and the pre-installed operating system will boot up.

Silicon Power 32GB Superior microSDHC UHS-1 Flash Card Review @ Madshrimps

The new Superior 32GB UHS-1 microSDHC cards from Silicon Power are the new high-speed variants while keeping the same footprint. The current model has rated speeds of 90MB/s reads and 45 MB/s writes and succeeds to distance itself quite a bit from the Class 10 variants. The new cards can be used in old readers too (are backwards compatible) but this way we will not be able to benefit from the enhancements these offer."

Nvidia GPU Technology Conference

GTC — Today during his opening keynote at the Nvidia GPU Technology Conference, CEO Jen-Hsun Huang offered an update to Nvidia's GPU roadmap. The big reveal was about a GPU code-named Pascal, which will be a generation beyond the still-being-introduced Maxwell architecture in the firm's plans.