[>>]

[>>]

[>>]

[>>]

More>>

Search...

| | |
| --- | --- |
| Memory | |

... 1 news stories awaiting approval
P550 M.2 2280 SATA 6Gb/s solid state drive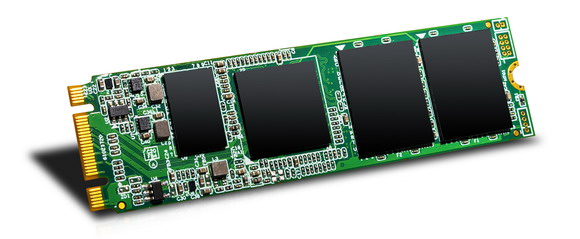 "ADATA Technology, a leading manufacturer of high performance DRAM modules and NAND Flash products, today launched the Premier SP550 M.2 2280 SATA 6Gb/s solid state drive. As the market presence of slim laptops and ultrabooks continues to grow, M.2 form factor SSDs are increasingly the preferred main storage choice due to limited internal chassis space. This applies to factory installs as well as user upgrades. Loaded with advanced features and technologies, the extremely light Premier SP550 M.2 2280 provides high speed performance alongside superior stability and efficiency to those delivered by mechanical 2.5" drives, resulting in a powerful yet affordable solution.
Compact size with high speed and density While the Premier SP550 M.2 2280 measures just 22x80x3.5mm, it is available in up to 480GB and upgrades slim laptops and ultrabooks without compromising performance. Its maximum read/write speeds are 560/510MB per second, with 4K random read at up to 75K IOPS thanks to a high quality SMI controller and SLC caching technology. The latter allows the Premier SP550 M.2 2280 to operate in simulated SLC (single-level cell) mode for a performance boost. DRAM cache buffer functionality (where the SSD uses system RAM as a temporary, ultra-fast cache) also enhances read/write performance by as much as double that of solid state drives that lack a DRAM cache.
As with all ADATA SSDs, every Premier SP550 M.2 2280 purchase qualifies for free downloads of the ADATA SSD Toolbox software suite as well as data and operating system migration utilities. This range of value-added software makes drive backup and management effortless. SSD Toolbox allows users to monitor and manage the Premier SP550 M.2 2280, with drive status, wear level, and lifespan information. Data migration utilities are especially helpful for users making the move from HDD to SSD, designed for simple and quick backup and migration of the contents of entire drives, including the operating system.
MSRP SP550 M.2 SSD 120GB $49.99 / 240GB $79.99 / 480GB $119.99"

G.SKILL Announces DDR4 3000MHz CL14 128GB(8x16GB) Memory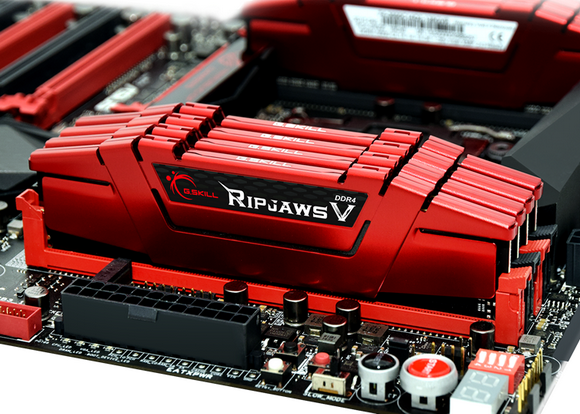 "G.SKILL International Enterprise Co., Ltd., the world's leading manufacturer of extreme performance memory and gaming peripherals, is delighted to announce the world's fastest DDR4 128GB (8x16GB) 1.35V kit at 3000MHz CL14, designed for high capacity and low latency for the Intel X99 platform. After releasing the ultimate DDR4 3200MHz 64GB(4x16GB) kit for Intel Skylake & Z170 platform in mid-December 2015, G.SKILL has continued the development of high speed DDR4 16GB module for Intel X99 platform. Today, G.SKILL is excited to announce the release of a colossal memory kit of DDR4 128GB (8x16GB) ultra-capacity at the extreme speed of 3000MHz with CL14-14-14-34 ultra low CAS Latency. It's truly one of the highest-end DDR4 solutions available for building the ultimate workstation for content creation, 3D rendering, scientific calculation, or other professional applications.
This new ultimate DDR4 3000 128GB kit will come with the latest Intel XMP2.0 standard designed for Intel X99 quad channel memory platform. The following screen shows this ultimate DDR4 kit on the Intel Core i7-5820K processor and ASUS ROG RAMPAGE V EXTREME motherboard under a stress test environment."

G.SKILL Demos DDR4-3333MHz 128GB Memory at IDF 2016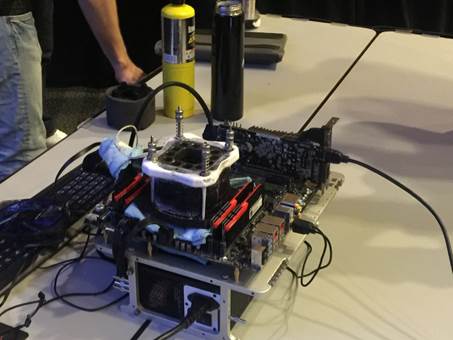 G.SKILL International Enterprise Co., Ltd., the world's leading manufacturer of extreme performance memory and gaming peripherals, displays two super-large capacity DDR4 memory kits at ultra-high speeds with amazingly low CAS latencies at the Intel Developer Forum 2016 this week in San Francisco, including the Trident Z series DDR4-3333MHz CL14 128GB (8x16GB) and DDR4-3333MHz CL13 64GB (8x8GB) memory kits. Both kits are featured with high performance Samsung DDR4 8Gb components and operate on the latest Intel X99 platform with Broadwell-E processors.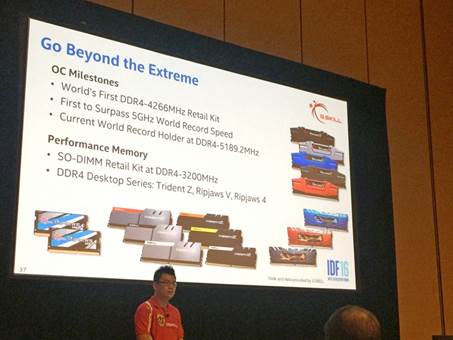 .SKILL is dedicated to pushing the performance limit of DDR4 kits to new heights with the latest platform generations. With the launch of Broadwell-E in May 2016, G.SKILL is pushing a 128GB (8x16GB) kit of the high end Trident Z series to a blazing DDR4-3333MHz frequency at a very tight timing of CL 14-14-14-34. Featuring the Intel Core i7-6800K processor and ASUS ROG Rampage V Edition 10 motherboard, this is one of the highest performance memory kits with such massive capacity.
On a similar platform, featuring the Intel Core i7-6800K processor and ASUS X99-Deluxe II motherboard, G.SKILL also demonstrated an 8-module kit at 64GB (8x8GB) memory capacity at DDR4-3333MHz CL13-13-13-33. This milestone displays the awesome achievement of combining high frequency, high capacity, and ultra-low latency.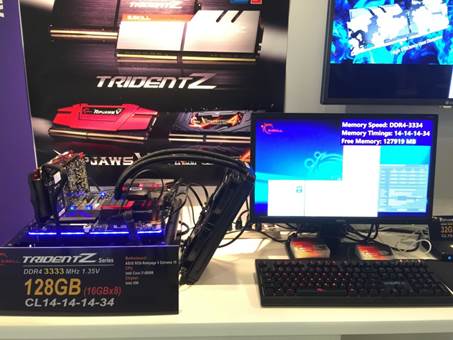 Building upon the leading overclocking technology from desktop memory, G.SKILL is also able to showcase extremely fast SO-DIMM DDR4 memory at DDR4-3333MHz CL16-18-18-43 32GB (2x16GB) on the Intel Skull Canyon NUC mini-PC system, which would prove useful for increasing performance on the integrated graphics of this portable system.

Besides the extreme DDR4 demo in the technical showcase, G.SKILL participated in the "Overclocking Innovation" technical session, co-hosted with Intel and ASUS, to share the latest memory overclocking technologies, particularly on the Broadwell-E platform and high density DDR4 memory, to worldwide tech medias, hardware developers, and industry analysts. Additionally, a new 5731.78MHz world record for highest CPU frequency was achieved live during the session by Elmor, a renowned extreme overclocker from ASUS, using G.SKILL Trident Z DDR4 memory, ASUS ROG Rampage V Edition 10 motherboard, and Intel Core i7-6950X processor. The score has been validated by HWBOT.ORG, the world's leading overclocking organization. Please refer to the link below:

Corsair Dominator Platinum 3200MHz DDR4 64GB

"If I break it down, you get a set of modules that have been through an extensive binning process that hand selects the memory ICs being used on these modules. There is a custom designed, cooling optimized PCB that those memory IC's are mounted to so that we can enjoy a trouble free user experience. The DHX cooling solution on these modules is easily up to the task of keeping the modules cool with minimal airflow. The heat spreader and DHX cooling fins are designed to use convective cooling in the absence of any airflow over the modules. In most cases there will be some airflow, be it from the chassis cooling fans or the CPU heat sink fans. With a fan blowing over the modules they never got warm to the touch, even with an applied 1.45v to stretch the cooling capabilities. A bit of airflow from a chassis fan directed over the modules does the trick. Ultimately the cooling capacity of the modules can improve the overclocking potential of the modules."



G.SKILL Ripjaws V 32GB 3000MHz DDR4

"The F4-3000C15D-32GVR 32GB DDR4 memory kit from G.SKILL does come with a rated speed of 3000MHz and is composed of two 16GB modules; since we are talking about overclocking modules, these also feature a custom designed heatsink of 42mm height so compatibility should not be an issue even with more massive CPU coolers."


Corsair Vengeance LED 32GB DDR4 Review

Today we'll be taking a look at Corsair's new Vengeance LED DDR4 kit courtesy of the "white" edition. Along with the lighting we have a newly designed heatspreader and a 10-layer PCB which Corsair claim enhances the signalling for assistance in the overclocking and reliability departments. The kit we're testing out offers 32GB (4x8GB) of capacity and is rated at 3200MHz.




Crucial Ballistix Sport LT 2400MHz 32GB White Memory Kit Review

The Crucial Ballistix Sport LT White 2400MHz memory kit is not the fastest out there, but the 32GB memory quantity should suffice for many high-end PC configurations, for running demanding games, multimedia content or even digital content production. Their unique white-PCB look fits right in when we need to build an all-white setup and the Micron chips also give a bit of overclocking headroom."

Kingston 512GB SDXC Card Review (Class 10 UHS-1) - Size Matters

The Kingston Class 10 UHS-1 512GB SDXC Card is a great addition to the avid photographers tool chest. Its high-capacity and value is matched with transfer speed highs of 92MB/s read and 82MB/s write which is well above posted specifications. Not only will this card be excellent for professional photography needs, but also, it will provide stutterless recording of 1080p HD and 3D videos as well. Adding to that the fact that the Kingston 512GB SDXC Card comes with a lifetime warranty, and finding anything else with this performance, value and guarantee anytime soon just may be rather difficult. For now though, there is no doubt whatsoever where the Kingston 512GB SDXDC Card will be calling its new home!

G.Skill TridentZ 3866 MHz 2x 4GB DDR4

Intel's Skylake loves high-speed DDR4. G.Skill loves making it. The G.Skill F4-3866C18D-8GTZ is one of those high-speed kits, topping out at a crazy 3866 MHz, a whole 1733 MHz above the Skylake base memory specification. Can our CPU make it that high? Does your motherboard even support such speeds? G.Skill's 3866 MHz TridentZ kit definitely pushes the limits.

Samsung EVO+ 256GB MicroSD Memory Card Review

The Samsung EVO+ 256GB has been rated for read and write speeds of up to 90MB/s. With 256GB at your disposal, users can now record up to 12 hours of 4K UHD video or 33 hours of Full HD video or store up to 55,200 photos without needing to change or replace the memory card.



The best Guides by the best writers on the internet; PCSTATS Beginners Guides explain computers, software, and all those other wonderful things that cause you frustration.

Learn how to use your computer better, master the internet while protecting yourself, and know what to do when your hard drive kicks the bucket.



"Get the 'Stats and Stay Informed!"