| | |
| --- | --- |
| Memory | |

... 3 news stories awaiting approval
Netgear Arlo Smart Home Security Camera Kit Review

Having an indoor/outdoor high-definition home security system was once something reserved for rich people that had more money than they knew what to do with. In recent years the price on home security cameras and systems has greatly dropped and the average Joe can now afford and get the peace of mind that a security system brings. Even though you can afford to purchase a home security system do you really want to get up on a ladder and run all the data and power lines across your house? That has been one of the major road blocks for home security systems as they've been a pain in the butt to install and people have been avoiding them altogether. Netgear hopes to change all that with a new entirely wireless self-monitored home security system called Arlo.

Kingston HyperX Cloud II Review @ Vortez

In the summer of 2014, Kingston`s HyperX team released their rebranded QPad QH-90 headset called `Cloud`. With a refreshed appearance, added details, finishing touches at an aggressive price point, it was well received and has become a firm favourite. Continuing on with its success, the HyperX team have announced the arrival of the Cloud II that is due to hit the stores on February 9th."

Crucial's DDR4-2133 32GB memory kit

Crucial's entry level 2133MHz kit may not have a cool heatsink design or extreme clock speeds but it is one of the lowest priced 32GB DDR4 kits available and it overclocks just as well as higher-end offerings.


Kingston HyperX Cloud II Pro Gaming Headset Review: Cloud and Clear

Two years ago, I walked into the Emperor's Ballroom in Caesar's Palace hotel in Las Vegas Nevada wearing khakis and a golf-shirt, feeling woefully underdressed for the venue as I did not exactly pack a ball gown nor do I look good in one. The room had high ornate coffered ceilings, triumphal arches, elaborate carpeting and real marble floors, all …

Silicon Power Jewel J06 64GB USB 3.0 Flash Drive Review

If you happen to need lots of storage capacity while on the go then the smart and most affordable thing to do is either to get an 2.5" portable hard drive or one of the larger 3.5" desktop drives (although the first is obviously preferable thanks to size and the lack of need for an external power supply the 2nd can offer much higher capacities at least currently). The last and least affordable solution is to get one of the highest capacity USB flash drives available in the market but since that's really not a valid choice for most people lower capacity models can offer good value for your money and can even get you out of tough situations. The Jewel J06 is one of the latest USB 3.0 flash drives to hit the market by our friends over at Silicon Power and we just happened to take the 64GB variant for a spin not long ago.

Transcend MTS800 128GB M.2 SSD Review @HiTech Legion

"Transcend is no stranger to the world of digital storage, with the new MTS800 128GB M.2 SSD showing off their ability to downsize. The MTS800 M.2 uses Transcend's TS6500 controller combined with 20nm Micron MLC NAND to pack full size performance and features into a very small package. The MTS800 boasts sequential read and write speeds of 560/160 MB/s with no slow-downs caused by incompressible data."

G.Skill Ares 8GB 2400MHz Dual Channel Memory Kit Review

Choosing the right memory kit for your system is a fairly mundane task, for most people it is just about getting the right amount of memory and at a good price. While price and capacity are important increasing attention has been paid to the frequency and aesthetics of memory kit designs in recent years. The frequency jump for DDR3 has reached its conclusion now that DDR4 is upon us and you could almost say that 1866MHz is the new mainstream speed while 2400MHz is no longer as "premium" as it used to be. Simply put high frequency DDR3 kits (2133 and upwards) have become very affordable to most consumers. We've also seen picky aesthetic characteristics like black PCBs and nicely designed heatspreaders become mainstreamed, great for system builders who like to keeps things tidy and colour-matched. Today we are looking at a memory kit which epitomizes the convergence of those two trends: the G.Skill Ares 8GB 2400MHz kit. Offering 2400MHz at 1.65 volts with CL11 latencies this G.Skill kit is well suited for many current platforms like Intel's LGA 1150 Haswell or AMD's FM2+ Kaveri, particularly AMD's FM2+ APU platform where faster memory means better integrated graphics performance. G.Skill are marketing this memory kit for Z97 users though and with the blue and black colour scheme this certainly makes sense: MSI and ASRock offer a number of blue and black motherboards such as the MSI Z97S SLI PLUS and the ASRock Z97 Extreme6. In true G.Skill fashion these memory kits also have the benefit of a lifetime warranty and competitive pricing so let's take a closer look at the G.Skill Ares 8GB 2400MHz dual channel memory kit in this review.

HyperX Predator DDR4 Memory Review

"The HyperX Predator memory we are going to be looking at today not only offers fast speeds of 3000MHz out of the box, but also offers the efficiency of lower voltage; we can see some great potential with additional performance once overclocked. We will be comparing results from Kingston's (HyperX) previous line up from its DDR3 series to see if these claims line up."

Kingston Technology E50 Enterprise 240GB SSD Reviewed

"While Kingston's E100 (Enterprise) SSDs have the high end consumers covered, their more affordable E50 series helps bring costs down considerably. The E50, which we'll be checking out today, offers many enterprise level features including integrated AES 256 bit encryption. In a collaborative effort with my good colleagues at Puget Systems, we tested some Kingston E50 240GB SSDs on a capable LSI SAS controller to see how they perform."

Mushkin Announces NEW STRIKER line of Solid State Drives

Mushkin Enhanced MFG, an industry-leading designer and manufacturer of high-performance and mission-critical computer storage products, today announced at CES 2015 its new STRIKER series of solid state drives. Boasting top-tier performance specifications, the STRIKER 2.5" SSD is an important step forward for Mushkin to offer the most well-rounded SSD lineup - producing solutions for high value, performance, and capacity.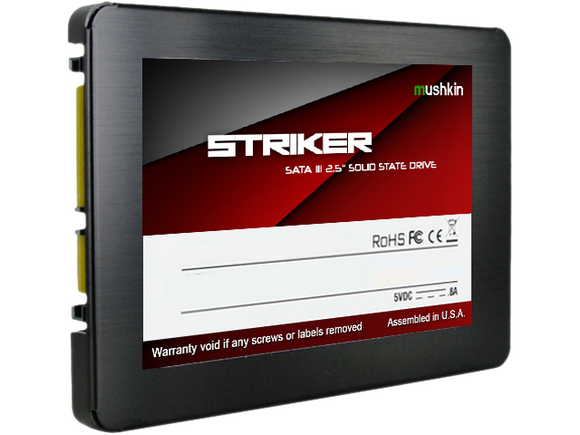 The STRIKER SSD provides sequential read and write throughput of up to 565 and 550MB/s respectively, with random performance of up to 90,000 4K IOPS. Launching in 240-960GB capacities, the new STRIKER SSD series will be available at retail channels in Q1 2015. "Mushkin is committed to giving our customers the best performing and most reliable SSDs and our new STRIKER family of drives delivers," said Brian Flood, Director of Product Management at Mushkin. "With an ever-increasing demand for greater performance, the new STRIKER drives provides the ultimate combination of speed and reliability for today's demanding applications."



Crucial Ballistix Sport DDR4-2400 Memory Review

In the world of computer components, RAM is rarely ever a hot-topic, unlike processors and graphics cards that see new products come to market every couple of months, with new product generations every year. RAM is essentially always RAM; not much changes very often. Having said that, the last few months have been historic, as computer memory is more exciting than ever. Why? Next-generation DDR4 memory standard has reached mass-market availability and consumers want to know what, if anything has changed. Well, today we're going to try to answer some of your questions as we get the pleasure of reviewing Crucial's Ballistix Sport DDR4-2400 32GB quad-channel memory kit.

Patriot SuperSonic Rage XT 128GB USB 3.0 Flash Drive

Storage capacity needs increase on a daily basis and with them so does demand and thus in the end those two result in more competition between companies and lower prices (at least most of the time). Think about it, just two years ago i was running around carrying an 16GB USB flash drive with my keychain while now i have attached a permanent 32GB one which i sometimes replace with an 128GB one if i need to carry way too much data with me. The good news is that unlike a year ago today there are plenty of USB 3.0 compatible 128GB flash drives for one to choose from in the market and so we took it upon ourselves to get our hands on as many as we can to check and see what you can expect in terms of read & write performance. Today on our test bench we actually have a familiar drive and more specifically the highest capacity model from the SuperSonic Rage XT line by Patriot Memory.

G.Skill RipJaws 4 16GB 2800MHz

"G.Skills Ripjaws 4 modules performed well in the comparison testing exceeding the performance of the comparison modules in almost every test at the XMP 2.0 rated speeds and timings. That in and of itself, is a reason to get a set of modules with tighter timings in the speed bin of your choosing. At 2800MHz, the G.Skill modules are at the extreme end of the spectrum if I was looking at DDR3 modules, but in DDR4 modules, it is right in the module of the G.Skill lineup that has X99 certified kits up to 3333MHz as long as your pocket can handle the hit for modules rated that high."