[>>]

[>>]

[>>]

[>>]

More>>

Search...

| | |
| --- | --- |
| Memory | |

... 0 news stories awaiting approval
Crucial Announces 8Gb-based DDR4 Server Memory - Computex 2015


New modules provide significant cost advantage compared to current 4Gb-based DDR4 modules

Crucial, a leading global brand of memory and storage upgrades, is now sampling Crucial DDR4 2400MT/s 8Gb-based RDIMM, LRDIMM, and ECC UDIMM server modules through its Technology Enablement Program. Engineered to enable higher density modules, 8Gb-based DDR4 memory allows for increased performance, bandwidth, and energy efficiency.

Higher density modules, when combined with the next DDR4 speed increase of 2400MT/s, create greater channel bandwidth and channel density, as well as increased energy efficiency. Ultimately, these benefits provide more value per gigabit than current 4Gb-based offerings. Taken together, the increase in density, bandwidth, and value deliver a lower total cost of ownership for users.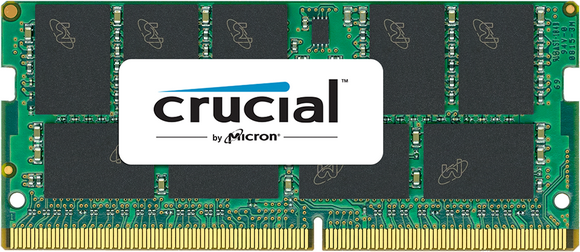 "Our 8Gb-based modules will enable the next-generation of energy efficient servers to more readily keep up with the ever-increasing memory density and bandwidth demands of virtualization, HPC, and big data applications," said Michael Moreland, worldwide product marketing manager, Crucial. "These modules can play a significant role in nearly any server strategy, no matter whether it is a new installation of a single server or the scale-up or scale-out of an existing deployment."
Designed for the next-generation processor product families, Crucial 8Gb-based server memory is extensively tested to mission-critical standards and is backed by a limited lifetime warranty.1 The Technology Enablement Program provides channel partners who are currently developing or evaluating DDR4-capable platforms early access to Crucial DDR4 8Gb-based RDIMMs, LRDIMMs, and ECC UDIMMs. The new modules are expected to available in late July and will be included in the Reliance Program.

ADATA at Computex 2015!

ADATA® Technology, a leading manufacturer of high-performance DRAM modules and NAND Flash products, will unveil its extreme performance XPG line: new SSDs (Solid State Drives) and DDR4 memory module solutions, the new Apple series of products, Type-C mobile accessories and ruggedized products. Come witness history at ADATA's "Aspire, Empower, Transform" theme on show June 2-6 at COMPUTEX TAIPEI 2015, Taipei World Trade Center, in Nangang Exhibition Hall 1F Booth #J0806.
The New XPG Series for Gamers - Taking Your Performance to a New Level!
ADATA will flaunt its extreme performance XPG line of products, including the winner of the Taiwan Excellence Gold Award, the XPG Z1 DDR4 Gaming DRAM. Never satisfied with staying in one place, ADATA's newest XPG Z2 is now set to break another world record at 4034 MHz in the DDR4 gaming memory class. ADATA will also show the latest SX930 gaming SSDs featuring SLC cache technology and premier MLC flash that boost overall speed and stability. To give visitors an extremely fast and playful gaming experience, ADATA will hold a Special Force 2 Challenge game in its XPG display zone and will give away SSD and DRAM prizes every day.
Your Complete SSD and DDR4 Superior Performance Provider
ADATA will show off its full line of high performance SSDs and DDR4 memory modules for Cloud / IoT and for consumers. Powered by Marvell's controller, ADATA's PCIe SSDs can reach sequential speeds up to 3000MB/s, coming with a greatly improved lifetime due to advanced LDPC (low density parity check) technology. ADATA will also showcase live demos of Power Loss Protection (PLP) for SSDs. PLP helps to completely save your data during an abnormal power shutdown. ADATA PLP SSDs come in various form factors that allow them to be widely used in enterprise servers or industrial PCs. For consumers, the new TLC-based Premier Series SP560 / SP550 SSDs offer a way to transform tech newcomers into PC enthusiasts. Armed with the most advanced error correcting technologies, ADATA lights the path to higher endurance with TLC-based SSDs.
To face the crossroads of DRAM transition, ADATA also provides comprehensive DDR4 memory modules, including high density 16GB per DIMM DDR4 U-DIMM for desktops and DDR4 SO-DIMM for laptops. On the server and enterprise side, prepare to be amazed by high density memory solutions, such as DDR4 VLP R-DIMM, VLP ECC-DIMM, and ECC-DIMM.
Apple Series, Mobile Accessories, and Ruggedized Series
For connecting and sharing a better digital life, ADATA offers its new Apple and mobile accessories series. This new array of made-for-Apple products includes the UE710 Lightning OTG flash drive, the external HDD HD710A for Mac, various Lightning cables, Lightning card reader both for iPad and iPhone, battery case for the iPhone 6, and memory modules for MacBook. ADATA will also show off its latest mobile accessories with the new Type-C interface destined for linking various mobile devices, including the new MacBook and the Chromebook Pixel. ADATA's new UC350 Type-C OTG flash drives, Type C flash drive UV160 and various Type-C cables provide convenient sharing. Last but not least, ADATA will also show the best of its heavy-duty ruggedized products. See the award-winning HD720 Waterproof / Dustproof / Shock-Resistant External Hard Drives rated to the highest industrial standards: IP68 and military grade shock-proof products that can pass a 1.22m drop test.

Patriot EP Pro microSDHC/SDXC 4K Capable Card - Computex 2015

Patriot, a leading manufacturer of USB Flash, mobile accessories, computer memory and SSDs, announced the release of the latest addition to its 4K capable cards, the EP Pro micorSDXC Class 10, UHS-I U3 card.
Compliant with the latest SD Association specifications for Class 10 UHS-I U3 cards, it is perfect for 4K recording. The Patriot EP Pro microSDXC Card reaches speeds of up to 95MB/s read and 80MB/s write. Capable of capturing a range of video and still images the EP Pro microSDXC can shoot video in Full HD, Ultra HD and 4K2K as well as capture continuous still image shooting in HD. Ideal for the extreme sports enthusiast, outdoorsmen and professional photographers the EP Pro microSDXC Card is the ideal choice for the latest action camera, Android™ smartphone or tablet.
"The EP Pro microSDXC Card will provide customers with the fastest in the industry performance for the abundance of 4K capable, UHD enabled multimedia devices available on the market," Said Meng J. Choo, Product Manager at Patriot. "Customers will now be able to unlock the potential of their top-shelf devices."

4K capable devices are becoming more readily available on the market and consumer demand continues to rise, the EP Pro microSDXC card offers users a viable, cost efficient solution for all of their outdoor, action packed adventures. Available in both 32GB (SDHC) and 64GB (SDXC) capacities, every moment will be captured in the blink of an eye and stored within seconds due to the EP Pro's record response time. Users can share their images and videos without delay by transferring stored data to their desktop, tablet or 4K TV and experience the record write speeds of the EP Pro microSDXC. The EP Pro microSDXC card will be available in July of 2015.

Super Talent at Computex 2015

Super Talent Technology will be showcasing its updated product portfolio June 2–6 at Computex 2015 in Taipei, Taiwan. Products being showcased will be brand new solid state drives, DDR4 DRAM, USB designs, and a USB 3.1 Portable RAIDDrive.
Super Talent's DuraDrive SSDs are used extensively for In–Vehicle–Infotainment (IVI) systems that are found in many automobiles. DDR4, the successor to DDR3 memory, provides higher data rates, lower power consumption, and the potential for increased module density for the future of memory. The USB 3.1 Portable RAIDDrive uses two M.2 SSDs set up in RAID 0 to provide extremely high performance for a handheld storage device.
Super Talent will have knowledgeable experts available to elaborate product features and answer any questions that there may be. The Super Talent booth is located in the Nangang Convention Center, Booth J1211.

G.SKILL Showcases the Ultimate DDR4 Memory - COMPUTEX

G.SKILL International Enterprise Co., Ltd., the world's leading manufacturer of extreme performance memory and solid state storage, displays the highest frequency DDR4 3800MHz kit and the largest DDR4 128GB kit running at a full 3000MHz CL14. The New Heights of quad channel DDR4 Speed: 3800MHz After the announcement of the DDR4 3666MHz kit in May 2015, G.SKILL continued pushing DDR4 speed to new heights. At Computex this year, G.SKILL demos the ultimate DDR4 3800MHz 16GB(4x4GB) kit on two live demo systems with GIGABYTE GA-X99-SOC-Champion and ASRock Fatal1ty X99M Killer motherboards!

No compromises on performance! G.SKILL has managed its DDR4 128GB kit, based on unbuffered 16GB DDR4 modules with Samsung 8Gb Chips, at an ultra-high 3000MHz frequency with low timings of CL14. This luxury premium memory kit is displayed on the ASUS ROG Rampage V Extreme motherboard with the Intel Core i7-5960X processor.

Demonstrating the extreme limit of 16GB modules with Samsung 8Gb Chips, G.SKILL also showcases a total of 64GB with four modules of 16GB running at 3333MHz, surpassing even the latest 8GB-module based 64GB capacity memory kits. Installed on the ASUS ROG Rampage V Extreme motherboard with the Intel Core i7-5960X processor, this is possibly the most diverse high-end system setup ever.

Mushkin Ventura Ultra 120GB USB 3.0 Flash Drive Review

Solid state drives (SSDs) have many things in common with their "distant" cousins the typical flash drives but performance was never really one of those things mainly due to USB connectivity limitations (both hardware and software ones). This obstacle as some of you know was left behind not too long ago with the arrival of new USB 3.0 compatible controllers and the UASP (USB Attached SCSI) compatible driver found in Windows 8/8.1 since these two marked the day when manufacturers could actually squeeze the same parts found in every day SSD models inside tiny enclosures and expect similar performance results with increased capacity. Casual users have very little use for such drives however so unfortunately not many "portable" SSDs exist in the market as we speak but with the release of the T1 by Samsung and the Ventura Ultra by Mushkin (which we have here with us today) things are starting to get very interesting.

HyperX 32GB DDR4 Fury Memory Review

"Today we are looking at the HyperX's new budget friendly lineup: the Fury series DDR4 memory. The HyperX Fury not only offers fast speeds of 2666MHz out of the box, but also offers the efficiency of lower voltage; with that in mind… we can see some great potential with additional performance once overclocked. We will be comparing results from Kingston's (HyperX) previous line up from its DDR3 series all the way up to HyperX Predator DDR4 series we previously tested."

Lexar JumpDrive P20 64GB USB 3.0 Flash Drive Review

Lexar is no stranger to USB Flash Drives and at CES 2015 they announced a whole slew of SuperSpeed USB 3.0 Flash drives that would bring new levels of performance as well as some new features to the Lexar product lineup. The new 2015 Lexar JumpDrive offerings include the JumpDrive P20, JumpDrive S75, JumpDrive S25, JumpDrive S35 and JumpDrive S55. Today we get a chance to look at the Lexar JumpDrive P20, which is the premier drive and one of the fastest USB Flash drives on the market with speeds of up to 400 MB/s read and 270 MB/s write.

Patriot's Viper 4 DDR4 16GB quad channel memory kit

On our review bench today is Patriot's Viper 4 DDR4 16GB quad channel memory kit with stock clocks of 3000MHz and latencies of 16-16-16-36 using 1.35v right out of the box. We test to see how well the kit is positioned as a potential companion for Intel X99 motherboards typically geared toward enthusiasts.



G.SKILL Ripjaws 4 3000MHz

We recently looked at a kit of G.SKILL Ripjaws 4 2666MHz and they were screaming-good both in speed and overclocking, and had nice, tight timings as well. We went back to the G.SKILL well and pulled out a G.SKILL Ripjaws 4 3000MHz kit so we can get a direct comparison between 2666MHz and 3000MHz at the same timings! It's not often that we get to review RAM with the same timings at different speeds, but we lucked out and have it for you to scope out. How much difference will we get with a 334MHz advantage on the faster G.SKILL Kit? Read on to find out.



AMD Details High Bandwidth Memory (HBM) DRAM Tech

High Bandwidth Memory is designed to address a number of limitations of current GDDR5 memory implementations. On many of today's graphics cards, a relatively large number of GDDR5 chips are necessary to offer sufficient capacity and bandwidth. The need to use a relatively large number of chips means a significant amount of PCB real estate is consumed by the memory and its associated voltage regulators. In addition, routing the traces required for a wide memory interface on a high-end graphics card significantly increases the complexity of the design. The power requirements for an off-chip interface are typically higher than an integrated solution as well...

LEXAR JumpDrive M10 & M20 Review

The JumpDrive M10 and M20 are flash-based USB 3.0 drives which offer up to 128GB/64GB of capacity. While the M20 provides the added bonus of supplying micro USB functionality for use with mobile devices such as smartphones or tablets, both JumpDrives promise to offer great value for money.



The best Guides by the best writers on the internet; PCSTATS Beginners Guides explain computers, software, and all those other wonderful things that cause you frustration.

Learn how to use your computer better, master the internet while protecting yourself, and know what to do when your hard drive kicks the bucket.



"Get the 'Stats and Stay Informed!"