[>>]

[>>]

[>>]

[>>]

More>>

Search...

| | |
| --- | --- |
| Memory | |

... 6 news stories awaiting approval
Kingston 32GB Data Traveler Micro Duo 3C

"Kingston's Data Traveler Micro Duo 3C is not going to be the fastest drive out on the market, but that is not what it is built for. It is built to provide unparalleled interoperability between many different platforms and operating systems using the USB 3.1 standard, while being backwards compatible with older USB standards. As far as performance goes, it hits all the right results and over-delivers against the rated speeds for the drive. From a functionality perspective, you will need a USB 3.0 or USB 3.1 port on your chosen device to maximize the performance potential of the drive. Available for use with Windows, Linux, Chrome, and MAC OS X devices, Kingston has the majority of the market covered with compatibility for USB 3.1/3.0 and USB 2.0 functionality. Not a bad scenario when you get down to it."

The RAM Disk Guide Rev. 2.1.

The RAM disk has been around since the 1980s, but it has never been popular due to the high cost of computer memory. It is now making a comeback, partly because RAM is now cheap and plentiful and partly because solid state drives (SSDs) are fast replacing hard disk drives as the storage medium of choice. SSDs are not only much faster than hard disk drives, they are silent and virtually impervious to vibration and shock. The downside though is their limited lifespan. That's where the RAM disk comes in - it allows the user to reduce wear and tear on the SSD by shifting some of the work to it. There are, of course, pros and cons to the RAM disk, and this guide will guide you through it all. On top of that, we will teach you how to make full use of your RAM disk.

Patriot EP Series Micro SD Card (32 GB) Review

When it comes to flash storage, it seems as though each day we see a significant milestone reached, especially when it comes to the reduced size of today's flash modules. As this trend continues, camera and camcorder manufactures quickly adapt to allow these new modules to be used, which in turn allows for more physical space inside of the camera and camcorder for greater capabilities. And if it's not the increasing of space within the unit, it's the reduced physical size of the camera or camcorder. Today we are looking at the Patriot EP Series Micro SD Card, a minuscule SD card which can be used in most of today's action cameras and camcorders.

Kingston HyperX Predator DDR 3000C15 Quad-Channel Memory Kit Review

August 2014, Intel launched its high-end X99 platform, a brand new socket in need of DDR4 modules. DDR4 warrants massive bandwidth plus they can also pack a far higher density per stick. All this goodness is available at your disposal while requiring a mere 1.2-1.35Volts. Only drawback, as with each new technology was at launch the high retail price; half a year later these prices have stabilized and even the high end kits are becoming more and more affordable. Today we have a look at one of the HyperX enthusiast kits: the 3000C15 quad channel kit, the fastest kit in their DDR4 Quad Channel ready X99 lineup. Will the out of the box speeds satisfy the hunger of this enthusiast reviewer or is there more under the hood?

Kingston HyperX Cloud II Gaming Headset

The Kingston HyperX Cloud II gaming headset are well built and should provide for years of enjoyment. The sound quality is very good for music and movies, and the virtual surround does a good job to simulate that you are in the game. I am never overly convinced by surround sound headsets, but these do work rather well. I found the headset to be very comfortable, and they should be adjustable to suit users with all sorts of head sizes and shapes.

G.Skill Ripjaws V 3600 MHz DDR4 (2x 4 GB)

Intel's new Skylake platform comes with DDR4 at increased memory speeds, and the first to help us investigate the benefits of high-performance DDR4 is G.Skill's latest design, the Ripjaws V. Wrapped in a new look, these ultra-fast 3600 MHz modules push the limits of your Skylake CPU.

The Kingston HyperX Fury 16GB 1866MHz DDR3 Memory

"The Kingston HyperX Fury memory kits are all plug and play memory, but is also compatible with AMD systems. While you can change the frequencies in the BIOS manually, Fury is essentially "no fuss" plug and play without the need for BIOS or memory profile selection. Only one internal SPD profile is available so it should be as easy as powering up the system, and watching your settings flash at the BIOS boot up screen. The Kingston HyperX Fury 16 GB 1866 MHz DDR3 kit offers simplicty, higher frequencies, more memory bandwidth, a very attractive design, and an value oriented price point. Let's put them to the test!"

Kingston DataTraveler Locker+ G3 32GB

"Since USB flash drivers were released they have become invaluable for transferring data from computer to computer. From simple photos to important documents USB flash drives make it easy for anyone to move their data. One thing that is often overlooked when it comes to these devices is security. Well Kingston has a great solution to that problem with their DataTraveler Locker+ G3. This USB 3.0 flash drive features hardware encryption and password protection to keep all of your data on your drive safe and secure. Let's take a look and see what this drive is all about!"

Silicon Power Blaze B50 128GB USB 3.0 Flash Drive Review

Much like everything else in the PC market storage media have evolved a lot compared to even just 10 years ago both in terms of performance and capacity. Just imagine that 10 years ago the highest capacity and performance USB 2.0 flash drive one could find in the market (and i had) was just 4GB and could reach speeds up to 33MB/s read and 10MB/s write whereas now we have many 128/256GB models in the lab capable of reaching speeds up to 450MB/s for both read and write and as many of you are aware there are even 1TB models available in the market like the Predator by Kingston and the T1 by Samsung. Of course not everyone can afford the high-end 512/1TB drives and honestly i don't think they really have to since even 128GB is not something the majority of consumers will ever fill with data they need to carry around with them. Still prices for 128GB USB 3.0 flash drives have reached an all-time low and thus today we'll be taking a look at the latest model by Silicon Power, the Blaze B50.

GeIL EVO POTENZA 16GB 2400MHz Memory Kit Review

GeIL, or Golden Emperor International Limited, are certainly not a new player in the technology industry even if many people in the "West" have not heard of them. GeIL Memory are veterans of the DRAM industry having made memory products since 1993. GeIL as a broader company also make power supplies under the Thortech Power brand and they make peripherals under the EpicGear brand. Today we are looking at GeIL's EVO POTENZA memory kit described as a product for "hardcore gamers". More specifically we have the 16GB 2400MHz kit from GeIL which boasts a lifetime warranty, a beautiful white and black design and full native Intel Z77/Z87/Z97 support with XMP profiles. You can of course use the RAM with other platforms but with such a high frequency those platforms are recommended most.


Kingston DataTraveler 4000 G2 64GB USB Flash Drive

"Kingston has developed a very useful Managed Solution USB flash drive that makes transporting data easy and secure. That solution is the DataTraveler 4000 G2 64GB USB 3.0 flash drive. It offers built in AES encryption, management interface and a physical design that renders the device unrecoverable if opened. We found a room of white hat (and a couple gray hat) cyber security specialists willing to help put it to the test."


Toshiba FlashAir III Wireless SD Card Review

As the previous FlashAir 32GB card we have tested, its latest version comes with about the same features, but we have improvements on the transfer rates, while we have seen that the wireless speeds have remained the same. Regarding the wireless interface, we can obtain similar speeds as with the previous version, but keep in mind that multiple factors can affect the wireless transfer speeds like the number of available 2.4GHz networks in the area, shielding inside the camera we are using FlashAir on, performance of the Wi-FI adapter from our desktop/laptop/tablet and so on.

G.SKILL Demos DDR4 4266MHz and DDR4 4133MHz Memory Kits at IDF 2015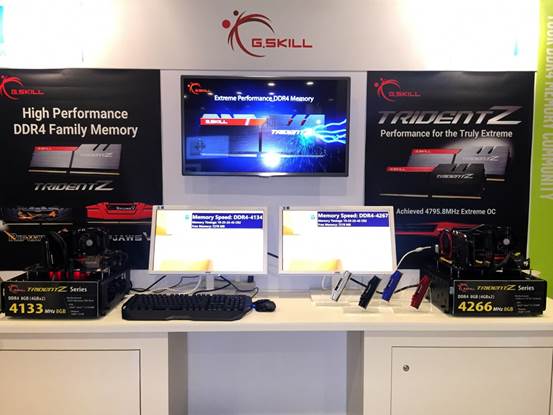 G.SKILL International Enterprise Co., Ltd., the world's leading manufacturer of extreme performance memory solid state storage, power supplies, and gaming peripherals, demos two ultra-fast DDR4 memory kits at DDR4 4266MHz 8GB (2x4GB) and DDR4 4133MHz 8GB (2x4GB) extreme speed at the Intel IDF 2015 event this week.
Featuring the latest 6th Generation Intel Core processors and Z170 motherboards, G.SKILL is pushing dual channel DDR4 speed to new heights. The DDR4 4266MHz 8GB (2x4GB) kit is demoed on the Intel Core i7-6700K processor and ASRock Z170 OC Formula overclocking motherboard, while the DDR4 4133MHz kit is demoed on the Intel Core i7-6700K CPU and ASUS ROG Maximus VIII Hero motherboard. Both kits represent the fastest DDR4 memory speed ever seen on live air-cooling demo systems.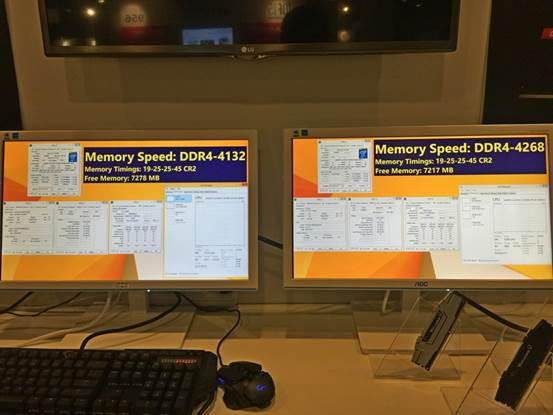 We are truly excited to demo such extremely high memory speed on live demo systems, since DDR4 4000+MHz speeds were traditionally only achievable under extreme overclocking on liquid nitrogen cooling," says Frank Hung, Product Marketing at G.SKILL. "We see amazing performance potential for the new DDR4 memory technology on the newest Intel platform, and very excited to see where it will take us in the near future."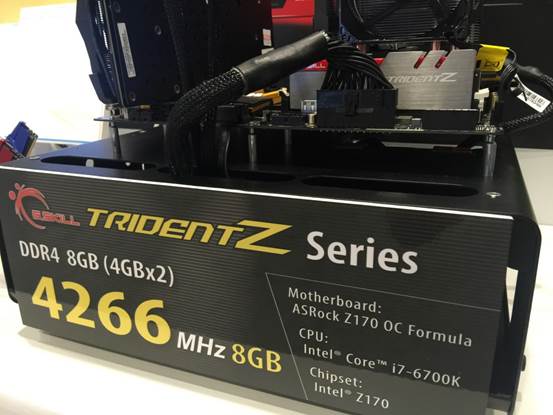 Super Talent Updates its DDR4 LRDIMM Module Density to 64GB


Super Talent Technology, a leading manufacturer of NAND Flash storage solutions, announces its 64GB density DDR4 LRDIMM modules. Super Talent's quad rank 64GB DDR4 load reduced DIMM modules targeted for server environments which allow more DIMMs per channel to be used in order to take advantage of an increased memory capacity. A buffer chip replaces the register on these modules in order to help minimize loading on a system and increase speeds. Density Part Number 64GB F21LQ64GS Currently platforms running the Haswell–EP are able to take advantage of these modules and at three DIMMs per channel, bandwidth speed gap is increased while latency tax from increasing the DPC has been reduced. This is the advantage of using LRDIMM because as DIMMs per channel increase, LRDIMM offers the lower latencies because it is able to run at higher speeds. All modules are quality tested in house and are built to JEDEC standard specifications with high quality components. DDR4 offers modules up to double the density and speed of previous generation's DDR3 DRAM while using up to 20% less power which makes it a highly efficient solution for enterprise workloads.



The best Guides by the best writers on the internet; PCSTATS Beginners Guides explain computers, software, and all those other wonderful things that cause you frustration.

Learn how to use your computer better, master the internet while protecting yourself, and know what to do when your hard drive kicks the bucket.



"Get the 'Stats and Stay Informed!"