[>>]

[>>]

[>>]

[>>]

More>>

Search...

| | |
| --- | --- |
| Memory | |

... 0 news stories awaiting approval
HyperX Savage 128GB USB 3.1 Drive @ LanOC Reviews

With cloud storage I would forgive you if you haven't thought to much about USB thumb drives recently, I know I have for the most part only been using thumb drives in a few situations where I used to do all of my work directly off of one. The thing is there are situations where the cloud just doesn't work. A good example of this is with large files but it also can be important when security is a concern and also for installing windows and device drivers. Because of that I have kept a Kingston DataTraveler HyperX drive around. I keep movies and TV shows on it and keep it with my laptop normally because the SSD on my laptop is limited in size. Recently though Kingston introduced a new USB drive in their HyperX brand, the HyperX Savage. They dropped the DataTraveler branding all together and they jumped up to USB 3.1. Today I'm going to take a look at it and find out how it compares to its older brother.

CES 2016 - Patriot Releases the Hellfire M.2 and PCIe AIC SSDs

Patriot, a leading manufacturer of SSDs, computer memory, flash storage solutions, mobile accessories and gaming peripherals, today announced the release of their latest solid-state drive offerings, the Patriot Hellfire M.2 PCIe SSD and the Hellfire PCIe AIC (Add-in Card).

Hellfire M.2 PCIe SSD

The Hellfire will be Patriot's first M.2 PCIe SSD, and an impressive one at that. With a Gen 3 x 4 interface and NVMe 1.2 compliant, the Hellfire M.2 will reaches speeds of up to 2,500MB/s read and 600MB/s. Designed with the needs of content creators, gamers and PC enthusiasts in mind the, Hellfire will lower latency while increasing the productivity and response times of any PC, laptop or notebook.

The Hellfire M.2 will be released in capacities of 240GB, 480GB and 960GB in a M.2 2280 form factor to fulfill the high performance storage needs of consumers looking to upgrade their systems. Powered by the Phison 5007 controller and MLC NAND, the Hellfire will be your weapon of choice when battling those latency bottlenecks.

Hellfire PCIe AIC SSD

In addition to the Hellfire M.2, Patriot will also launch the Patriot Hellfire PCIe AIC for those looking for the ultimate performance boost to their PC. The Hellfire PCIe AIC with a Gen 3 x 4 interface is Patriot's top of the line choice for a storage solution. With sequential read speeds of up to 3000MB/s and write speeds of up to 2200MB/s the Hellfire PCIe AIC smokes the competition to position itself as Patriot's premium performance drive.

With varying speeds between capacities, the Hellfire PCIe AIC will be available in capacities of 240GB, 480GB and 960GB to meet the market needs of every demographic. Also utilizing the Phison 5007 with MLC NAND , the Hellfire PCIe AIC will set your system ablaze.

"We are very excited to get into the PCIe storage space," said Les Henry, VP of Engineering at Patriot. "With the launch of Intel's latest Skylake Processor, we are seeing more motherboards available in the consumer market that support PCIe devices. Along with the launch of Microsoft Windows 8.1 and Windows 10, which supports PCIe storage devices without the need for additional drivers, we feel this will be the future trend and will allow users to take full advantage of the PCIe storage speeds."

Availability: The Patriot Hellfire drives will be available for purchase at the end of Q1.

Toshiba 16GB TransMemory U401 USB 2.0 Flash Drive Review

While the Transmemory U401 has a more professional look and durable aluminum body, we were not too happy about its overall performance, especially the one involving writes. The product is falling behind the U201 and the low performance even for an USB 2.0 drive makes it unpleasant even when transferring a lot of small files.

Crucial Ballistix Tactical 32GB DDR4 4x 8GB DDR4-2666 Review

Today we are testing a brand new 32 GB DDR4-2666 Crucial Ballistix Tactical Kit on OCinside.de, consisting of four 8 GB DDR4 modules or two 16 GB DDR4 kits with two 8 GB modules each. The four DDR4 modules can be used optimally for both X99 systems in quad channel mode, as well as for Z170 PCs in dual channel mode. The Crucial Ballistix Tactical DDR4-2666 8 GB CL16 memory modules have XMP 2.0 profiles for easy load of higher rates and are equipped with heat spreader. We have overclocked the DDR4 modules again up to the limit with different voltages, this time with an Intel Core i5-6600K CPU on an ASRock Z170 OC Formula motherboard. Let us begin with the Crucial Ballistix Tactical DDR4 32 GB RAM review.

EVGA 2800 SuperSC DDR4 Memory Review: Exploring Speeds Up To 2800MHz

EVGA decided to branch out this year. No, not with AMD graphics; the company's GPU offerings are still very much based on reference cards from Team Green. Yet, in an effort to expand their product lines, the largest North American vendor of NVIDIA graphics cards now offers their own branded memory modules in both DDR3 and DDR4 flavors, spanning 10 different SKUs. Today, we're checking out the burliest DRAM module set on offer—the High Performance 2800 SuperSC DDR4 Series 16GB kit (4x4GB). Many DIY builders still using older platforms and DDR3 are wondering if they'll see concrete benefits from a move to a newer platform and DDR4. Newer DDR4 memory is indeed more efficient, faster and made with higher density chip components so you can get higher densities of memory per module...


Toshiba 16GB TransMemory U201 Mini USB 2.0 Flash Drive Review

The TransMemory U201 Mini USB 2.0 USB Flash Drives were not made to break any records, but are built in a miniature size in order to be fit easily on our keychain for transferring small files. While the product is able to offer good read speeds for an USB 2.0 drive, the write speeds are a bit lacking so it will take quite some time to load larger files onto it.

Kingston HyperX Savage 128GB USB 3.1

"Over the past few years USB speeds have really increased! We were stuck on USB 2.0 for quite a long time maxing out at 480 mbps. Not that long ago we were introduced to USB 3.0 which was a significant upgrade up to 5 gbps, which is 10 times the speed of USB 2.0. Just this year we have another upgrade to USB 3.1 which doubles the speed up to 10 gbps. With USB 3.1 with have a whole slew of new devices and of course some of those include flash drives. These make transferring and carry data with you extremely easy. Today we are taking a look at Kingston's HyperX Savage 128GB USB 3.1 flash drive. This drive features read and write speeds of 350MB/s and 250MB/s respectively, a pretty cool design and a 5-year warranty."

Toshiba 16GB TransMemory U201 Mini USB 2.0 Flash Drive Review

The TransMemory U201 Mini USB 2.0 USB Flash Drives were not made to break any records, but are built in a miniature size in order to be fit easily on our keychain for transferring small files. While the product is able to offer good read speeds for an USB 2.0 drive, the write speeds are a bit lacking so it will take quite some time to load larger files onto it.

PNY AnarchyX 2800MHz DDR4 16GB (4x4GB) Quad Channel Memory Kit Review

Prior to the release of Intel's Z170 platform, DDR4 memory prices remained extremely high compared to DDR3 equivalents and required the use of other expensive components designed primarily for professionals. Thankfully, DDR4 prices have plummeted and usually cost the same as DDR3 capacities or slightly less in some cases. So why consider DDR4? Firstly, the latest standard in computer memory operates using lower voltages and capable of reaching frequencies in excess of 3200MHz. Granted, this doesn't make a difference in most gaming tasks, but it's useful for rendering, video editing and other workloads. Additionally, the price variation between 2400MHz and 3000MHz is still relatively small and well worth your consideration.

G.SKILL Trident Z 4000MHz DDR4 Memory Kit Review

G.Skill has one of the largest and most respected DDR4 memory kit lineups on the market and they are always trying to develop and release faster memory kits for enthusiasts. The G.Skill Trident Z series of memory was designed specifically to offer extreme performance applications and feature the best Samsung DDR4 ICs that G.Skill could purchase. G.Skill than sorted/binned all the Samsung IC's that they purchased and came up with 11 different speed grades ranging from 2800 MHz to 4266 MHz with regards to 8GB (2 x 4GB) dual-channel DDR4 memory kits that we are going to be focusing on today. With that many speed grades available it basically forces the enthusiast to purchase a memory kit by the price of the kit as most of the sorting fun was done at the factory. The kit that we will be reviewing today is the G.Skill Trident Z 4000MHz 8GB (2x4GB) memory kit that is sold under part number F4-4000C19D-8GTZ for $209.99 shipped.

G.Skill TridentZ 3200MHz DDR4 16GB (2x8GB) Dual Channel Memory Kit Review

G.Skill is one of the most respected memory vendors in the technology industry and synonymous for selecting premium ICs to set world records. For example, back in August, Chi-Kui Lam overclocked G.Skill's Ripjaws 4 memory made from Samsung ICs to attain an astonishing world record of 4795.8MHz. Additionally, the data from HWBOT in August shows 7 Skylake world records were set on Ripjaws 4 memory kits. This exemplifies the overclocking potential of G.Skill modules and strict binning process. In most scenarios, consumers simply enable Intel's Extreme Memory Profile and avoid manual overclocks to maximize compatibility. Additionally, in gaming tasks, the difference between 2400MHz and higher frequencies is minimal. Nevertheless, if the price difference between 2400MHz and 3000MHz+ is small, there's no reason not to pay the extra for higher bandwidth modules out of the box.

VisionTek 256GB and 512GB USB3 thumbdrives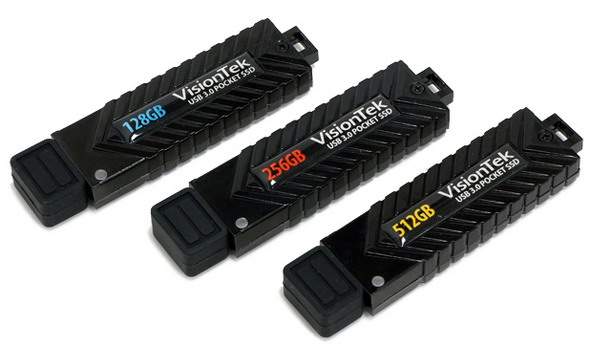 VisionTek Products LLC, (VisionTek®) http://www.visiontek.com, a leading manufacturer of award-winning, high-performance upgrades and accessories for PCs and Macs, today announced an expansion to the VisionTek USB 3.0 Pocket SSD line of thumb drive-sized Solid State Drives.

The Pocket SSD line is ideal for creative professionals, IT power users, and performance enthusiasts seeking ultra-fast media and large file transfers. Available in full density storage capacities of 128 gigabyte (GB) with an SRP of $89.99, 256 GB with an SRP of $149.99, and 512 GB with an SRP of $279.99, the 3.0 Pocket Drive will launch in North America later this month.

Sleek, Portable Storage for All Types of Data and Devices

The next generation of VisionTek USB 3.0 Pocket SSDs combines a sleek portable design and ultra-fast read/write demands, all without compromising large capacity requirements. The VisionTek USB 3.0 Pocket SSD can be plugged into any computer's USB 3.0 port to save or share work files, movies, images, music libraries, and more.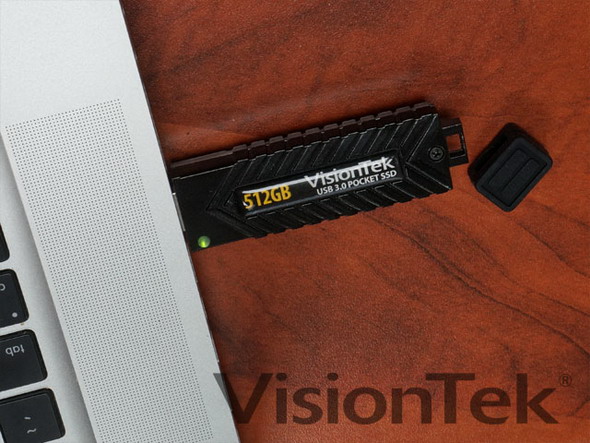 The speed, reliability, and storage capacity of the VisionTek USB 3.0 Pocket SSD rivals internal SSDs, exceeds standard USB flash drive speeds, and demolishes the read/write speeds of external hard disk drives. They can be used with nearly any Windows®, Mac® OS X®, and Linux® based system with a USB 3.0/2.0 interface.
Fastest, Smallest, and Most Durable Portable SSD
The VisionTek USB 3.0 Pocket SSD is similar in size to a standard USB thumb drive, but that's where all similarities end. The aircraft-grade aluminum housing contains a fully functional Solid State Drive with a multi-chip design utilizing high endurance MLC NAND that delivers consistent 450MB/s reads and 155MB/s writes, which makes it possible for file transfers to and from the VisionTek USB 3.0 Pocket SSD to be done 20 times faster than standard USB 2.0 flash drives or external hard disk drives.*
"Launching the VisionTek USB 3.0 Pocket SSD in full-capacity versions was a high priority for us," said Mark Bilson, Executive Vice President of VisionTek. "We opted to expand the line fully, offering 128GB and 256GB, and adding a 512GB version as well, allowing for customers who have larger storage capacity needs to take full advantage of this fantastic, portable form factor."
Designed in USA and Built for Reliability and Endurance
All three models of the full-capacity VisionTek USB 3.0 Pocket SSD are designed in the US and built with the same award-winning technology as VisionTek's other internal SSDs. The technology's design architecture employs a USB to SATA bridge, connected to an SSD controller for the highest speed, durability, and reliability. Data refresh technology ensures data integrity and the redundant storage elements produce some of the longest life expectations in its class.
VisionTek's USB 3.0 Pocket SSDs are launching immediately at Amazon.com, with expanded availability later in the month at leading resellers and distributors across North America. For more information on the new line of portable SSDs from VisionTek, as well as their existing line of 2.5" and PCIe SSDs and accessories, visit www.visiontek.com/solid-state-drives.html.






The best Guides by the best writers on the internet; PCSTATS Beginners Guides explain computers, software, and all those other wonderful things that cause you frustration.

Learn how to use your computer better, master the internet while protecting yourself, and know what to do when your hard drive kicks the bucket.



"Get the 'Stats and Stay Informed!"