| | |
| --- | --- |
| Memory | |

... 0 news stories awaiting approval
AMD Ryzen - Single-Rank Versus Dual-Rank DDR4 Memory Performance

After finishing up our DDR4 memory scaling article on an AMD Ryzen processor with an AMD X370 chipset powered board we were left wondering if memory performance and scaling was similar on different AMX X370 motherboards from different manufacturers. We gathered up the MSI X370 XPOWER GAMING TITANIUM ($299.99), GIGABYTE GA-AX370-Gaming 5 ($194.99) and ASUS ROG Crosshair VI Hero ($254.99) motherboards as the three boards that we were going to try out. Looking at the 'big 3' motherboard markers should give us a pretty good idea if there are any big differences to be had with regards to the memory subsystem.

Toshiba OCZ VX500 @ LanOC Reviews

When it comes to SSDs most people these days are starting to focus on NVMe drives or at least M.2 drives. There is still interest and need for SATA drives as well though. A lot of the SATA drives have been focused on cheaper TLC based NAND but there is still a need for MLC NAND and that's where the OCZ VX500 that was introduced last fall has been hanging out. It's designed as a replacement for the OCZ Vector 180. They have dropped the Barefoot 3 controller and moved to a Toshiba based TC358790. That combined with the MLC NAND has me excited to finally take a look at the VX500 and see how it performs and where it fits in today's marketplace.

Corsair Dominator Platinum DDR4-3200 16GB Memory Kit Review

When it comes to memory Corsair is always at the top of the list for most people, especially their Dominator Platinum Series. This series is widely regarded as the best high-performance memory out there. The reason for that is because for the Dominator Series Corsair hand-picks the ICs used for the best performance and overclockability. Dominator memory also features Corsair's Patented DHX cooling technology. Today we are taking a look at the CMD16GX4M2B3200C16 kit which is a 16 GB (2x 8GB) kit that runs at 3200 MHz with timings of 16-18-18-36 at 1.35V. Lets get this kit in our test system and see if it lives up to the hype!"


Ballistix Sport LT Red 32GB 2666MHz DDR4 Memory Kit

The Sport LT 2666 32GB DDR4 kit from Ballistix can be easily overclocked in order to squeeze even more performance out of the system. With this particular model, while working a bit with the timings and voltage, we were able to reach even 3200MHz, which is a big step from their stock frequency. Surprisingly, even with the voltage at 1.35V (they are intended to run at 1.2V at the recommended speed of 2666Mhz) and a half an hour of Memtest, the modules barely became warm so the heatspreaders are doing a really great job cooling the ICs."

Samsung EVO Plus 128GB MicroSDXC Memory Card Review

When the Samsung 128GB Pro+ Class 10 microSDXC memory card came out in March 2016 it had wicked fast sequential speeds of 95 MB/s Read and 90 MB/s Write with an MSRP of $129.99. Over the past year the price on that card designed to be used by prosumers in action cameras, DSLRs, high-end smartphones, and Tablet PCs has fallen down to $84.00 shipped. We have a feeling that price might drop a little more as today Samsung introduced the equally impressive Samsung Pro EVO Plus 128GB microSDXC memory card. This brand new model in the more affordable thanks to the lower $99.99 MSRP and features sequential transfer speeds of up to 100 MB/s Read and 90 MB/s Write. That makes the Samsung EVO Plus the fastest microSDXC solution offered by Samsung...


Ballistix Sport LT 16GB Red DDR4 2666Mhz Memory Kit Review

We have had a lot of Ballistix's DDR4 memory in the Hardwareslave offices to review over the years, and we get good performance, speeds, and compatibility. These memory modules have been black, grey or silver, but now we have some nice shiny red DIMMs to test. Fair enough, a red memory heatsink will not make the memory any faster, but with one of the most common system colours available from Ballistix, you know they should have colour to match most systems.


Optane Memory is mostly unchanged

We are just about to hit two years since Intel and Micron jointly launched 3D XPoint, and there have certainly been a lot of stories about it since. Intel officially launched the P4800X last week, and this week they are officially launching Optane Memory.
"There's a bit to digest in this chart, but let me walk you through it. The ranges tapering off show the percentage of IOs falling at the various Queue Depths, while the green, red, and orange lines ramping up to higher IOPS (right axis) show relative SSD performance at those same Queue Depths. The key to Optane's performance benefit here is that it can ramp up to full performance at very low QD's, while the other NAND-based parts require significantly higher parallel requests to achieve full rated performance. This is what will ultimately lead to a much snappier responsiveness for, well, just about anything hitting the storage. Fun fact - there is actually a HDD on that chart. It's the yellow line that you might have mistook as the horizontal axis :)."

Intel's Optane Memory

Intel's Optane Memory is the company's latest attempt to boost the pokey performance of systems that rely on a hard drive alone for their storage space. We explore why Optane might prove to be a success in storage caching where the company's past efforts have fallen short.


Intel Optane Memory Arrives With Crazy Low Queue Depth Performance

Intel Optane technology is something that we've been talking about and waiting on for years to reach the client market and it appears that we are finally just weeks away from that important milestone! Intel Optane technology is a unique combination of 3D XPoint memory media, Intel Memory and Storage Controllers, Intel Interconnect IP and Intel software. Intel Optane technology is coming to market in consumer Solid-State Drives, Data Center solutions and even as add-in M.2 system accelerator cards! Today, we'll be focusing on Intel Optane Memory, which would be the add-in M.2 add-in accelerator card.

Corsair Vengeance RGB DDR4 memory review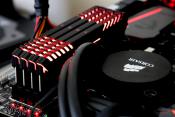 Join us as we check out the all new RGB series Vengeance DDR4 memory from Corsair. Not only do these puppies look awesome, they are properly spec'd as well. We received a 4x8GB DDR4 3000MHz CAS 15 DRAM kit from Corsair, so that is 32Gb at your disposal for dual and even quad-channel memory configurations.

Corsair Vengeance RGB DDR4 Review

"The Corsair Vengeance RGB DDR4 3000 Memory with RGB-LED arrived Technic3D. Technic3D will see as good they are on Windows 10 and the Asus Maximus VIII Hero Mainboard. You can see 3.416 MHz (1,45V) with 17-19-19-37 and more in the following Review."

32GB Corsair Vengeance RGB DDR4-3000MHz

Corsair has jumped on the RGB band wagon with its new Vengeance RGB memory. The 32GB kit we were sent consists of 4x8GB modules and is rated at DDR4-3000MHz which is a perfectly decent speed. The reviewer's guide also puts the CAS 15 timing front and centre, a point we shall return to later.