[>>]

[>>]

[>>]

[>>]

More>>

Search...

| | |
| --- | --- |
| Memory | |

... 4 news stories awaiting approval
Toshiba Develops World's First 256Gb, 48-layer BiCS FLASH

Toshiba Corporation today unveiled the new generation of BiCS FLASH™, a three-dimensional (3D) stacked cell structure flash memory[1]. The new device is the world's first[2] 256-gigabit (32gigabytes) 48-layer BiCS device and also deploys industry-leading 3-bit-per-cell (triple-level cell, TLC) technology. Sample shipments will start in September.
BiCS FLASH is based on a leading-edge 48-layer stacking process that surpasses the capacity of mainstream two dimensional NAND Flash memory while enhancing write/erase reliability endurance and boosting write speeds. The new 256Gb device is suited for diverse applications, including consumer SSD, smartphones, tablets and memory cards, and enterprise SSD for data centres.
Since announcing prototype BiCS FLASH technology in June 2007, Toshiba has continued development towards optimisation for mass production. To meet further growth in the Flash memory market in 2016 and beyond, Toshiba is proactively promoting migration to BiCS FLASH by rolling out a product portfolio that emphasises large capacity applications, such as SSD.
Toshiba has a long-standing commitment to flash memory, and is currently readying for mass production of BiCS FLASH in a new Fab2 at Yokkaichi Operations, its production site for NAND flash memories. Fab2 will be completed in the first half of 2016.

DDR4 Memory Scaling on Intel Z170

Shortly ahead of the Intel Z170 platform launch we heard that the memory controller Intel developed for Skylake was amazing and that the new Intel Core i7-6700K and Core i5-6600K could come close running DDR4 4000 MHz memory kits in dual-channel. Just days before Intel launched their two new K-Skus that are aimed at enthusiasts and gamers we noticed that G.Skill released a dozen new dual-channel DDR4 memory kits with speeds ranging from 2133 MHz to 4000 MHz. Obviously, the memory controller used on Skylake is rumored to be good, so we asked G.Skill if we could get one of their news kits of memory in to investigate on our own. G.Skill graciously sent over a RipJaws V 8GB (4GB x 2) 3600MHz DDR4 memory kit over for us to play around with and we ran it from DDR4-2133 all the way up to DDR4-3866 to see how performance changed with the additional bandwidth!

Silicon Power Blaze B50 128GB USB 3.0 Flash Drive Review

Much like everything else in the PC market storage media have evolved a lot compared to even just 10 years ago both in terms of performance and capacity. Just imagine that 10 years ago the highest capacity and performance USB 2.0 flash drive one could find in the market (and i had) was just 4GB and could reach speeds up to 33MB/s read and 10MB/s write whereas now we have many 128/256GB models in the lab capable of reaching speeds up to 450MB/s for both read and write and as many of you are aware there are even 1TB models available in the market like the Predator by Kingston and the T1 by Samsung. Of course not everyone can afford the high-end 512/1TB drives and honestly i don't think they really have to since even 128GB is not something the majority of consumers will ever fill with data they need to carry around with them. Still prices for 128GB USB 3.0 flash drives have reached an all-time low and thus today we'll be taking a look at the latest model by Silicon Power, the Blaze B50.

MyDigitalSSD 240GB SATA m.2 SSD Review

As computers become ever smaller, their storage devices shrink as well. The Next Generation Form Factor (NGFF), also known as m.2, provides not only a smaller envelope for storage devices to fit in, it defines new PCI-E based interfaces as well as the legacy SATA 6G interface. MyDigitalSSD's Super Boot Drive is equipped with Toshiba toggle NAND and a Phison PS3109 controller, and is Benchmark Review's test subject for today.

Crucial Ballistix Sport 2400MHz 32GB DDR4 Memory Kit Review

With DDR4 prices being driven down in preparation for the launch of a mainstream chipset supporting the memory type, now can be considered a good time to bag a high density quad-channel kit. Combining a quartet of 8GB DIMMs in a quad-channel configuration with an operating frequency of 2400MHz and CL16 timings, how will Crucial's Ballistix Sport set of memory perform in our testing?

Kingston FCR-HS4 Memory Card Reader Review

We have been big fans of Kingston's last universal card reader, the FCR-HS3. Now that the FCR-HS4 is out, are there performance improvements beyond a color scheme change?

Lexar JumpDrive M20 Mobile USB 3.0 Flash Drive Review

The last USB 3.0 OTG flash drives we have tested were sporting a smaller footprint and also needed extra protective covers for avoiding damages to their connectors. In this case, the chassis is indeed bigger but no extra accessories are needed, while we can switch from one interface to another just by working with the slider.

Crucial Showcasing BALLISTIX SPORT LT DDR4 WHITE Modules at Gamescon

Crucial is unveiling a complimentary white digital camo heat spreader and unique white printed circuit board (PCB) option as part of its Crucial Ballistix Sport LT DDR4 memory offering this week at gamescom. Sport LT DDR4 modules are available at Crucial.com in 4GB and 8GB densities. Additionally, 16GB densities and 64GB kits will be available starting in September 2015, as will the white Ballistix Sport LT modules.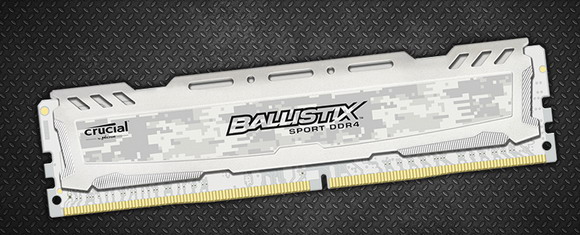 Crucial, a leading global brand of memory and storage upgrades, today announced it is unveiling a complimentary white digital camo heat spreader and unique white printed circuit board (PCB) option as part of its Crucial® Ballistix® Sport LT DDR4 memory offering. The modules, which will be showcased in conjunction with gamescom in Cologne, August 5th – 9th, offer the same DDR4 performance and proven reliability that gamers have come to expect from Crucial.
Designed for mainstream users who simply want to get more performance out of their systems, Crucial Ballistix Sport LT DDR4 memory delivers fast speeds and increased bandwidth. A new addition to the current Ballistix Sport DDR4 lineup, Sport LT modules feature a covert digital camo design, which will be available in both white and gray, and an integrated heat spreader. Whether gamers want plug-and-play installation or Intel® XMP 2.0 profiles to achieve DDR4 speeds of 2400 MT/s, Ballistix Sport LT memory delivers seamless, affordable performance.
Ballistix Sport LT DDR4 modules are available at Crucial.com and through select global partners in 4GB and 8GB densities, as well as kits up to 32GB. Additionally, 16GB densities and 64GB kits will be available starting in September 2015, as will the white Ballistix Sport LT modules. All Ballistix memory is backed by a limited lifetime warranty.

Crucial Ballistix Elite DDR4-2666 MHz 4x 4 GB

Crucial's latest has spent some time being punished in my memory testing rig, stretched to the limits and back again. Before giving it a chance to rest, I put Crucial's Ballistix Elite DDR4 through the paces. With a big black heatsink, this kit not only looks mean; Crucial's Ballistix Elite DDR4 packs a good punch, too!

KLEVV NEO DDR3 16 GiB 2133 Review

"The KLEVV DDR3 16 GiB 2133 Memory arrived Technic3D. Technic3D will see as good they are on Windows 7 64 Bit and the Asus Maximus VI Extreme Mainboard. You can see 2.829 MHz (1,75V) with 14-15-15-40 (2T) and more in the following Review."

Intel And Micron Jointly Drop Disruptive, Game-Changing 3D XPoint

"This is something many people thought was impossible," exclaimed Intel Senior Vice President Rob Crooke. During an invite-only press conference, Crooke along with Micron CEO Mark Durcan revealed a radically new class of storage and memory architecture called 3D XPoint (pronounced "Cross Point"). To say this is a game-changer would be the understatement of the year. Get this: 3D XPoint is 1000 times faster than NAND, boasts 1000x the endurance of NAND, and is 10 times more dense than conventional memory. Consider that existing NAND flash storage is 1000 times faster than traditional mechanical hard drives. We'll give you a minute to process that.

Kingston HyperX Fury 2400 MHz DDR 4 Memory Review

At stock speeds I was able to tighten up the timings quite a bit and bring the kit into the CR1 realm. This showed a nice boost in performance across the benchmarks that I performed. The system was completely stable at both the tighter timings and the overclocked frequency of 3000MHz.

HyperX Fury 32GB Kit (4x8GB) DDR4 2666MHz CL15 Review

"It been a long time since I have reviewed Kingston Memory that was actually overclockable. That was then and this is now. The Kingston HyperX DDR4 Fury line is not only low profile to fit under those pesky low heatsinks but there is room for tweaking."

PNY GTX 960 XLR8

"To start with, I have to say I am impressed with what PNY has brought to the table with its GTX 960 XLR8. There is not a single game in my testing where it fell below 35FPS at 1920x1080 using moderately high settings. Running at the stock clock speed (for this card at least), it was a higher performer than the GTX 960 comparison card, and in some games better than the R9 285. From a performance perspective, the card is spot on. Of course, you can use NVIDIA's ecosystem to tune and tweak the settings to get the highest FPS possible, using tools like GeForce Experience that has a library of settings for a plethora of the most popular games being played today. If tweaking the settings does not offer enough performance, you can add a second GTX 960 XLR8 in an SLI configuration to get that FPS fix."

Crucial 16GB Ballistix Elite 2666MHz

Random Access Memory (RAM) is one of those items that a lot of computer users love to have a lot of. And in reality, you can never have too much RAM for your computer systems. What our Operating System (OS) doesn't fully use, we will find a way to use, while optimizing our computers at the same time. The one thing that limits our amount of memory usage isn't so much our computers, but our wallet. How much money can we afford spend on our memory? So the need exists for us to find a large amount of memory that is not only fast, but also affordable enough for us to purchase and use for our computers.




The best Guides by the best writers on the internet; PCSTATS Beginners Guides explain computers, software, and all those other wonderful things that cause you frustration.

Learn how to use your computer better, master the internet while protecting yourself, and know what to do when your hard drive kicks the bucket.



"Get the 'Stats and Stay Informed!"