| | |
| --- | --- |
| Memory | |

... 3 news stories awaiting approval
Patriot Viper Elite and Viper 4 Review on Technic3D

The Patriot Viper Elite and Viper 4 Memory arrived Technic3D. Technic3D will see as good they are on Windows 10 and the Asus Maximus VIII Hero Mainboard. You can see 3.400 MHz (1,35V) with 16-18-18-36 and more in the following Review."

Crucial Ballistix Tactical 32GB DDR4-3000 Memory Kit Review

"The Crucial Ballistix Tactical 32GB memory kit composed of 8GB BLT8G4D30AETA sticks has proven itself as being very capable, since we were able to run it up to 3333MHz, by only altering the memory timings a bit and at the same time we have left the voltage at the default of 1.35. Unlike some of the later designs from other manufacturers that do feature RGB lighting, the Tactical series does sport a simpler solution, with low height military-style heatsinks that allow good clearance for massive CPU heatsinks."


Patriot LX Series micro SDXC Class 10 256 GB Flash Memory Review

Much like Mary Poppins bag of wonders, Patriot too has a method of fitting a substantial amount of goodness in a small space with the release of their 256GB LX Series SDXC class 10 memory card. Featuring an impressive 256GB of storage and boasting this as an "ultra high speed" card for QHD video production and high resolution photos. However, …


GeIL Evo X 16 GB DDR 4 3000 Review

The GeIL Evo X 16 GB DDR 4 3000 Memory with RGB-LED arrived Technic3D. Technic3D will see as good they are on Windows 10 and the Asus Maximus VIII Hero Mainboard. You can see 3.248 MHz (1,45V) with 20-20-20-40 and more in the following Review."

G.Skill TridentZ RGB DDR4 (3600 MHz) memory review

We test the all new RGB series TridentZ DDR4 memory from G.Skill. It's fast at 3600 MHz, it's cool and runs XMP 2.0 memory profiles on Intel platforms as well. Join us as we review not just some of the fastest clocked bars of memory, its among the most cool looking ones as well.


GeIL Super Luce DDR4-3000 16GB Memory Kit Review

There are quite a lot of different choices when it comes to choosing DDR4 memory for your next build. It has been a while since we've taken a look at memory from GeIL. They have actually sent us their entire DDR4 lineup, so today we will be starting with their Super Luce DDR4-3000 16GB Memory Kit. This high performance memory kit runs at 300 MHz with timings of 15-17-17-35 at 1.35V. We received the version of memory that has the frost white heatspreader with blue light bar. The light bar features GeIL's own patented iLUCE Thermal-beaming Technology, which will pulse the light bar based on the temperature of the memory. Let's take a look and see what this memory can do!"


Team Group T-Force Night Hawk 3000 MHz DDR4

Team Group sent us their newly released T-Force Night Hawk 3000 MHz DDR4, which comes with a new look, and other features not common to today's DDR4. T-Force is Team Group's latest focus on bringing something a little bit different for any memory-related gear, including memory and SSDs.

Crucial Ballistix Elite 16GB DDR4 3200Mhz Memory Kit Review

We wrote some time ago when we first started to test DDR4 memory that it wouldn't be long before DDR4 memory speeds would have a 1:1 speed ratio with the CPU. Well, it didn't take long at all and we have seen these speeds for the last 12 months at least. It may be a throwback to the days of the Front Side Bus (FSB), but it was always a goal to have 1:1 CPU/memory speeds, however unachievable.

Patriot Presents New 256GB LX Series microSDXC Card

Patriot, a leading manufacturer of SSDs, computer memory, flash storage solutions, mobile accessories and gaming peripherals, today announced the addition of a 256GB capacity to its LX Series line of microSDXC cards.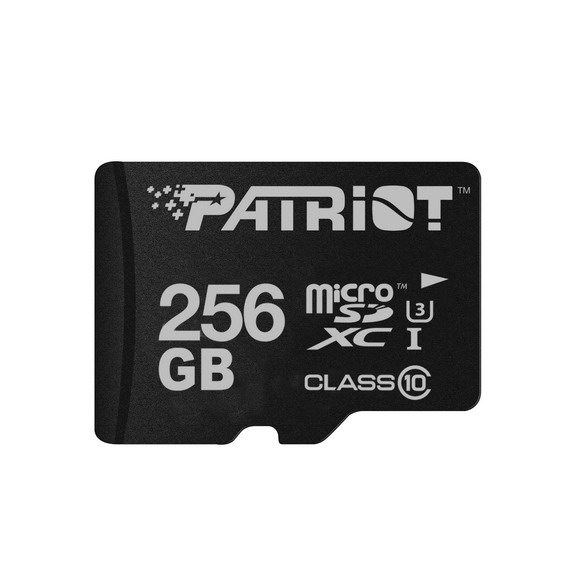 Utilizing the latest 3D NAND technology, allowing for more storage in a dime-sized form factor, the 256GB LX Series is capable of capturing hours of 4K UHD and Full HD video and thousands of high-resolution images. Ideal for support of the latest action camera, drone and Android™ smartphone or tablet, the 256GB LX delivers users top of the line performance coupled with an unbeatable amount of storage. With the infinite possibilities of cinematic production, thanks to drone technology, the new 256GB LX series fulfills a need for longer hours of video production with professional image quality.

The 256GB LX Series microSDXC is Class 10, U3 qualified, allowing for sequential speeds of up to 90MB/s read and up to 80MB/s write for the quick capture of images and speedy transfer of data from camera to computer. Backed by a 2 year warranty and Patriot's award-winning customer service, the 256GB LX Series is a top rate choice for consumers looking for an affordable way to expand the onboard storage of their smartphone and tablet or are looking for more action packed moments while recording on their GoPro.

Patriot's 256GB LX Series microSDXC card will be available today, in stores and online, for a starting MSRP of $199.99 USD


Crucial Ballistix Tactical DDR4-3000 32GB Memory Kit Review

Crucial's Ballistix memory is known by gamers and enthusiasts and has been around for what seems like forever. When it comes to DDR4 Crucial has three different Ballistix lines, Ballistix Elite, Ballistix Tactical, and Ballistix Sport. We've already taken a look at Ballistix Elite and Ballistix Sport DDR4 kits so that leaves us with the Ballistix Tactical kit which we are taking a look at today. Ballistix Tactical sits in between the Elite and Sport kits in Crucial's product stack. The kit we are taking a look at today is the BLT4K8G4D30AETA kit, which is a 32GB (4x8GB) kit that runs at 3000 MHz with timings of 15-16-16-35 at 1.35V. These kits has a nice lower profile heatspreader as well so CPU clearance should not be an issue. Let's get this kit in our test system and see what it can do!"

G.Skill Trident Z 3200 MHz C14 32 GB

G.Skill has long been a bastion of affordable high-performance memory, and their Trident Z line-up is the ultimate version of what DDR4 they have on offer. Featuring a large heatsink ready for some abuse, G.Skill's Trident Z sticks now can also be had in other colors!