| | |
| --- | --- |
| Memory | |

... 2 news stories awaiting approval
DDR4 Roundup

"Technic3D have five DDR4-Kits in a Roundup. Technic3D will see as good they are on Windows 10 and the Asus Maximus VIII Hero Mainboard. You can see Kits from Corsair, Crucial, G.Skill and KLEVV."

Mushkin IMPACT 256GB USB 3.0 Flash Drive Review

With the latest IMPACT 256GB USB 3.0 Flash Drive Mushkin has made it possible for all consumers to get a crazy fast compact drive for the same price as others (equally fast) with just half its capacity.

Kingston MobileLite Wireless G3 and Mobile Wireless Pro 64GB

"Well, I can honestly say that after reviewing the MobileLite Wireless G3 and Pro from Kingston I am sold on them. I really ended up utilizing the devices with my phone and tablets a lot more than I expected, and the Pro has become a part of my everyday kit for work and travel when I leave the house. I even find myself using it to watch movies on the couch at times. They are very convenient and practical."

Patriot Viper Elite DDR4-3000 16GB Memory Kit Review

"Patriot entered the DDR4 arena with their Viper 4 Series DDR4 memory. We reviewed both a quad channel kit for X99 and a dual channel kit for Z170. Now Patriot has unveiled the Viper Elite DDR4 memory, which is set to be their best and highest performance DDR4 memory available. This memory is available in dual channel 8GB and 16GB kits with speeds ranging from 2133 MHz all the way up 3200 MHz. It also features one of the coolest looking heatspreaders that we've seen in a long time! The kit we are taking a look at today is the PVE416G300C6KRD which is a 16GB (2x8GB) kit with speeds of 3000 MHz. It has official timings of 16-16-16-36 at 1.35V and is designed to perform best on Intel Z170 systems. Let's get this memory in our test system and see what it can do!"

Toshiba EXCERIA PRO M401 64GB microSDXC Card Review

"The EXCERIA PRO M401 from Toshiba has left us with a very good impression regarding its performance, not only matching the rated speeds (and even exceeding the read one) but also succeeding to beat our previous Silicon Power 32GB SDXC card. While the speedy PRO M401 does not have a 128GB variant we can find it with 64GB, 32GB and 16GB capacities, all bundled with the data recovery solution from LC Technology."


Patriot Releases New 200GB microSDXC Cards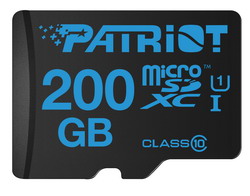 Patriot, a leading manufacturer of consumer flash storage solutions, computer memory, SSDs, gaming peripherals and mobile accessories, today announced the release of the 200GB LX Series and 200GB Instamobile microSDXC. A natural evolution fueled by the ever growing and dynamic storage needs of today's mobile device users, these new high capacity cards offer an almost limitless storage solution for large HD movies, pictures, music, and productivity files.

Consumers will never miss a moment while on the go. These large capacity cards enable Android™ smart phone and tablet users to capture life's precious moments in stunning high definition while expanding the storage space of their device. Capable of recording over 18 hours of 1080p HD video and capturing up to 36,000, 3MB photos, users will never have to worry about running out of storage space on their action camera or mobile device.

These Class 10, UHS-1 cards feature speeds of up to 90MB/s read and 40Mb/s write for faster data transfer rates of large files and HD video recordings. Patriot's LX Series and Instamobile microSDXC cards are the perfect storage solution for smart phone and action cameras such as the GoPro®, Sony® HDR-AS200V, Galaxy S7 and S7 Edge. The large capacity and fast transfer speed of these 200GB microSDXC cards means users will never be held back by the limitations of the onboard storage of their mobile device.

Both the LX Series and Instamobile 200GB microSDXC come with an SD adaptor for use with DSLR cameras and the seamless transfer of files to a device or laptop. Backed by a 5 year warranty and Patriot's award-winning customer service, these microSDXC cards are the top rate choice for consumers looking for an affordable way to expand the onboard storage of their smartphone or are looking for more action packed moments while recording on their GoPro. Offering the best price for performance on the market in this category, Patriot's 200GB LX series microSDXC and Instamobile microSDXC cards will be available March 21, 2016 online and in stores, worldwide, such as Fry's Electronics, Amazon and Alternate. Prices may vary between regions, see store for details.

Toshiba EXCERIA M301-EA 128GB microSDXC Card Review

"The M301-EA series is another mainstream storage solution for people which need to record precious moments with their smartphone or digital camera, but also for recording Full-HD content without the need of deleting previous content thanks to the 64GB and 128GB large capacities. The card performances are very similar to the N301 and the product is backed by a 5-year warranty."

Razer Wildcat Gamepad Review

The Xbox One controller is a fantastic product, having taken the best parts of the 360 gamepad while improving key areas – but is there room for further tweaks? Today we are taking a look at Razer's spin on the Xbox One controller in the form of the Razer Wildcat, offering additional reprogrammable buttons, an improved design and enhanced build quality.

Kingston DataTraveler Mini 128 GB USB 3.0 Review

Kingston DataTraveler Mini provides large storage space in a thin form factor. The DTMini USB 3.0 is a capless flash drive with an aluminium housing with a lanyard/keychain loop on the other end. The drive is with a five-year warranty, which is great considering most cost-effective drives are usually with a three-year warranty.

Mushkin Redline DDR4 3000MHz 16GB (4x4GB) Quad Channel Memory Kit Review

The Mushkin Redline series is engineered to provide magnificent reliability and low latency while utilizing impressive memory speeds well beyond the DDR4 standard. Each Mushkin kit undergoes a rigorous testing procedure to reduce the possibility of hardware failure and backed by a generous lifetime warranty. This gives the purchaser peace-of-mind and ensures their investment is protected. On another note, Mushkin use high-quality ICs to maximize performance by finding the perfect balance between frequency and latency.

Lexar JumpDrive M20c USB Type-C Flash Drive Review

"The reversible design of the M20c is pretty handy when transferring a lot of data between devices and the product is available with 16GB, 32GB or 64GB. When comparing with the previous USB Type-C drive, we have got better performances especially in the writes area, now nearing 40MB/s. Lexar backs the drive with a three-year limited warranty, is compatible with both PC and MAC systems, but also backwards compatible with older USB 2.0 devices."


Patriot Supersonic Magnum 2 USB 3.1 Flash Drive Review

"When Intel Z170 motherboards came out we were introduced to USB 3.1. USB 3.1 doubles the speed of USB 3.0 from 5 gbps to 10 gbps! With all of these new motherboards offering USB 3.1 connectivity we are starting to see many new USB 3.1 devices. Today we are taking a look at Patriot's latest USB 3.1 flash drive, the Supersonic Magnum 2. This drive has advertised read and write speeds of 400 MB/s and 300 MB/s respectively, making it one of the fastest flash drives currently available. Today we will be taking a look at the 256GB version, which happens to be the lowest capacity that Patriot offers. Let's take a look and see just how fast it is!"

Verbatim 16GB Store 'n' Go Mini Metal USB 3.0 Flash Drive Review

"The saying, bigger is better, is that true? Well Verbatim would like to counter that statement by introducing their Store 'n' Go Mini Metal USB by saying smaller is better. The Verbatim Store 'n' Go Mini Metal USB flash drive aims to be that tiny shockproof flash drive that surprises based on its large capacity, speedy USB 3.0 performance, and affordability for the masses. Read on to see how well Verbatim executes with their Store 'n' Go Mini Metal USB."

Silicon Power Mobile C80 Dual Flash Drive

"Mobile C80 USB Flash Drive from Silicon Power is incorporating the Type C connector for compatibility with the latest mobile devices on the market, but also features the regular Type-A USB 3.0 port on the opposite side for general purpose. While the read speeds hover around 130MB/s when transferring large files, the writes hover around 11MB/s which should be enough when saving a backup of our photo collection from our newly-purchased smartphone."