[>>]

[>>]

[>>]

[>>]

More>>

Search...

| | |
| --- | --- |
| Memory | |

... 2 news stories awaiting approval
Kingston DataTraveler 2000 Encrypted Flash Drive Review

Kingston is one of the most well known memory and USB flash drive manufacturers around the world. They are constantly keeping up with technology and foreseeing the needs of users. Recently at CES 2016, they announced their latest flash drive, the DataTraveler 2000. The DataTraveler 2000 has several interesting factors that might make it one of the best secure flash drives around. Read on to find out more!

GeIL Super Luce DDR4-3000C16 16GB Review

With their Super Luce series of DDR4 memory, GeIL has kits in its portfolio, which offer good looking design at a reasonable price. On the following pages we're going to have a look at what these modules can do performance wise and whether they can convince in terms of quality.

Patriot Viper 4 3400MHz 8GB

"After taking some time to play with these modules, I have found that they deliver good performance across the entire test suite. In the majority of the tests run, this set of Patriot Viper 4 DIMMs usually performed just lower than the top performer in the comparison field. Not a bad showing indeed. Running at 3400MHz with decent timings of 16-18-18-36 out of the box shows that speed does equal performance when all other things are equal. In the gaming test, this kit from Patriot showed the largest overclocking performance gain during the gaming benchmark. Before jumping off the deep end, I should temper that statement some by saying that the maximum increase at 1920 x 1080 was a 1.3 FPS gain."

Kingston HyperX Savage 128GB USB 3.1 Gen 1 Flash Drive

Flash drives make it extremely convenient to transport and share data. With large USB 2.0 drives copying data was painstakingly slow. With USB 3.0, the transfer rate increased and so did the size of the drives. Kingston has released their 1st generation of USB 3.1 called the HyperX Savage. The drive is available in 64GB, 128GB, 256GB, and 512GB and …

G.Skill Trident Z 3400MHz CL16 16GB DDR4 Review

Only the highest of memory speeds are worthy of G.Skill's Trident series branding, so it should come as little surprise to see that the starting point for the vendor's Trident Z DDR4 sets is a lofty 2800MHz. Today we are taking a look at a dual-channel 16GB Trident Z kit clocked at 3400MHz with a CAS Latency of 16.

PQI iConnect mini: The world's smallest iPhone flash drive

PQI, the world's leading brand of peripheral storage accessories for portable devices, announces the availability of the revolutionary iConnect Mini Lightning flash drive for Apple devices. The iConnect mini features an incredibly large storage space for its small size and is very accessible with its main features available via a single button press. The iConnect mini will be available to buy soon on Amazon.

The iConnect Mini measures at an astoundingly small size of only 44.6mm x 12.6mm x 8mm, (approx. 1 ½" x ½" x ¼"), or roughly equivalent to the size of an average person's thumb. Yet, the iConnect Mini still offers storage capacity up to 128GB, which is made possible through PQI's exclusive COB 3.0 technology.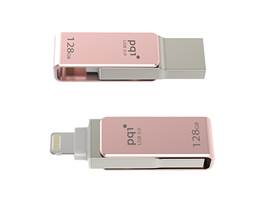 The iConnect Mini offers a one button photo and video back-up function, allowing the user to back up all photos and videos stored on an iPhone, iPad, or iPod within a matter of minutes. This feature can be performed manually or automatically. When the iConnect Mini is attached to an iPhone, it can automatically save all images and videos directly to the device, so that the iPhone storage capacity is not impacted and remains untouched. For added security, the iConnect Mini supports the Apple Touch ID security, using an individual's unique finger print to prevent others from accessing or altering any of your images and videos.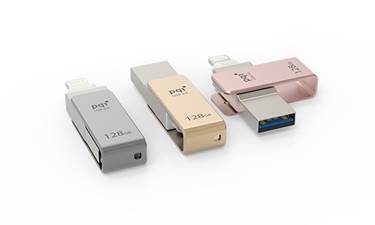 "Independent research has reported that the average iPhone owner uses their camera app at least 3 times a day. With the average picture size from an iPhone 6S at nearly 3MB, and the most popular iPhone storage capacity being only 16GB, it's easy to see why 64% of iPhone users want more storage space." proclaimed PQI Global CEO, Spencer Chiu. "The iConnect Mini's tiny size makes it easier to carry it in your pocket or on a keychain to dramatically increase your storage capacity and avoid the dreaded, "Cannot Take Photo", prompt when you are trying to use the camera app on your iPhone."

The iConnect Mini is an ideal companion for owners of iPhones with a lightning connection as it provides up to 128GB* of added storage, backs-up photos and videos with Apple Touch ID protection, and easily transfers content quickly between your iPhone and a computer or tablet through its high speed USB 3.0 connection.

The iConnect Mini expands your iPhone's storage capacity, especially on the lower capacity 16GB iPhones. The iConnect mini allows you to take more high-resolution 12 megapixel photos, live photos, 4K videos, and store them directly in its memory without using up precious storage on the iPhone's internal memory. The iConnect Mini has an extendable Lightning connector that allows it to stay connected to an iPhone without needing to remove the exterior protective casing.

The iConnect Mini allows the user to backup images and videos with the push of a single button. The iConnect Mini is so fast that it can back-up over 1,000 pictures captured through the iPhone camera and transfer it to the iConnect Mini in just over 4 minutes.

iConnect Mini lets you easily transfer and share files on all your devices without needing to interface through iTunes or iCloud. Share content stored on your iPhone directly to your computer or from your computer on to your iPhone, via the iConnect Mini with dual-interface USB3.0 and Apple-certified Lightning connector. Easily back-up your data from your iPhone to your Mac or PC, or transfer media and other files from your Mac or PC onto your iPhone.

The sleek and modern design of PQI iConnect Mini is made to match your iPhone with matching metallic finish to pair it with your gold, grey and rose gold device. The 360 rotating cap conveniently protects the connector when not in use and can be attached to a keychain or carrier for easier transport and storage.

The PQI iConnect Mini are engineered to meet Apple's design specifications and are MFI (Made for iPhone/iPad/iPod) Certified.

For more information on the PQI iConnect Mini please visit http://www.pqigroup.com/prod_in.aspx?mnuid=1286&modid=138&prodid=1291

Check out our PQI iConnect Mini Video: https://youtu.be/l2cgeQifA6c

G.SKILL Announces New DDR4-3200MHz 128GB (16GBx8) Memory Kit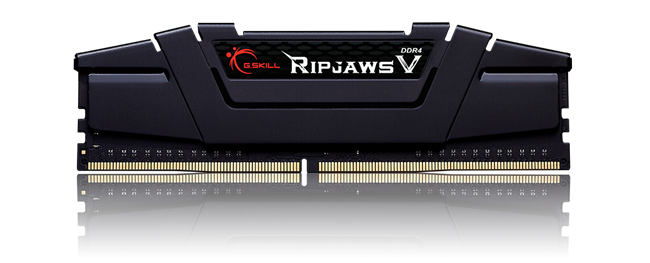 G.SKILL International Enterprise Co., Ltd., the world's leading manufacturer of extreme performance memory and gaming peripherals, is truly excited to announce yet another breakthrough in high-performance, high-capacity DDR4 memory kit by taking a full 128GB (16GBx8), the maximum supported capacity on an X99 motherboard, to an searing speed of DDR4-3200MHz CL14-14-14-34 under 1.35V.
Not only does this massive memory kit manage to max out on supported capacity at high speeds, its latency is also improved to CL14-14-14-34, which is also more efficient than the standard DDR4-2133MHz latency of CL15-15-15-35. At this point, there's nowhere else to go but faster.
Equipped with XMP 2.0 profiles, this massive memory kit has an easy setup and installation. The following screenshot exhibits the DDR4-3200MHz 128GB (16GBx8) memory kit running comfortably on a MSI X99A GODLIKE Gaming motherboard with an Intel® Core™ i7-5960X processor, even after 42 hours of testing.
The DDR4-3200MHz 128GB (16GBx8) kit is the latest addition to the G.SKILL Ripjaws V series, and will be available via G.SKILL authorized distribution partners by the end of February 2016, at a starting price tag of $1069.99 USD.


TridentZ, Ballistix Sport LT, Vengeance LPX DDR4 Review

Today we'll be observing the performance from three of the most popular DDR4 kits currently gracing the market. Each kit bears a different frequency, capacity and CAS timings; which should present us with an interesting investigation. In our hands is the G.SKILL TridentZ 16GB 3200MHz kit – recently released specifically for the Z170 chipset, we also have Crucial's Ballistix Sport LT 16GB 2400MHz, the lowest frequency kit being tested – but the most affordable solution out of the pack. And finally we have Corsair's renowned Vengeance LPX 32GB 3000MHz kit, which will help us to discover whether a combination of large capacity and frequency is of significant advantage.

HyperX Savage 128GB USB 3.1/3.0 Review

Kingston has earned a reputation with its HyperX brand over the last few years. Today, we are taking a look at the HyperX Savage 128GB USB drive, which supports first-generation USB 3.1 technology and promises 'blazing fast' read and write speeds. How does it hold up? Let's find out!

Crucial Ballistix Sport LT White DDR4 Memory Review

Memory, it's often the most generic part of your system, along with a PSU. Not that all system builders would go for any old RAM, but it can be intangible performance for the cost, especially for DDR4 modules these days. If you are an Intel fan, and you are planning a system, then you need to be including DDR4.


Kingston CompactFlash Ultimate 600x 64GB Memory Card Review

There are quite a few different types of memory cards on the market and thanks to Lexar and their Professional Workflow series I'm able to test almost all of them now. Today I'm starting off our new memory card reviews by taking a closer look at Kingston's CompactFlash Ultimate 600x card with a capacity of 64GB. Kingston also offers the CompactFlash Ultimate 600x as a 32GB model for those that don't need as much storage and would like a lower purchase price.

Toshiba 16GB TransMemory U401 USB 2.0 Flash Drive Review

While the Transmemory U401 has a more professional look and durable aluminum body, we were not too happy about its overall performance, especially the one involving writes. The product is falling behind the U201 and the low performance even for an USB 2.0 drive makes it unpleasant even when transferring a lot of small files.

Kingston SSDnow V300 240GB SSD Review

2016 is almost here and i still remember the time 7-8 years ago when the very first commercial solid state drives (SSDs) made their appearance in the market and gave everyone a glimpse into the future of computers. Today i don't know if things changed as much as we had all hoped back then especially since mechanical disk drives are still the dominant storage media in the market but noone can deny that things have changed for the best. For example where a few years back one would have to update the CPU and RAM of a system to improve its responsiveness now people need just an SSD. However not all has been good in this industry since i bet many of you may still remember some cases where certain manufacturers were accused of using the old "bait and switch" marketing trick with their SSD models. Among those was Kingston and they were accused of replacing the 19nm NAND flash modules found in their first batches of the SSDNow V300 SSD line with lower-performance 20nm asynchronous ones. We did test one of the early V300 models (120GB) back then but since i always heard about this bait and switch trick i decided to take a look at one current SSDnow V300 model to see if what I've been hearing for roughly 3 years now is true.

AData Premier SP550 240GB SSD

With a price of just $80 and performance numbers that -on paper at least- look extremely competitive, is the AData Premier SP550 the budget SSD to get?



The best Guides by the best writers on the internet; PCSTATS Beginners Guides explain computers, software, and all those other wonderful things that cause you frustration.

Learn how to use your computer better, master the internet while protecting yourself, and know what to do when your hard drive kicks the bucket.



"Get the 'Stats and Stay Informed!"