| | |
| --- | --- |
| Video Cards | |

... 19 news stories awaiting approval
Sapphire NITRO+ Radeon RX 580 Limited Edition Video Card Review

The AMD Radeon RX 500 series was released this week and the new Polaris based graphics card series consists of the Radeon RX 580, RX 570, RX 560 and RX 550. These cards are mostly all based on the Polaris architecture found on the RX 400 series as they use the same cores. AMD tinkered under the hood of the Polaris GPU a bit and took advantage of improvements in the manufacturing process to get higher clock speeds than they could get last year when the RX 400 series was launched. AMD didn't send over any reference models this time around, so we were given the Sapphire NITRO+ Radeon RX 580 Limited Edition graphics card. This is a factory overclocked model and just happens to be the fastest Radeon RX 580 that you can buy today from Sapphire.

NVIDIA Editor's Day conference

Augmented and virtual reality technology was everywhere this year, not just in controllers and headsets but with elements to add greater immersion. These technologies have been pushed further than ever, and I'm sure we will be seeing a lot more as time goes on! A lot of companies are focusing on immersion, making people feel more like they really are in another world. There is a lot of work being done with haptic feedback, as well as the audio and visual components, but a few companies have taken a different approach to increasing this immersion."

MSI GTX 1080 11Gbps Gaming X+ 8G @ LanOC Reviews

So this week has been mostly filled with information on the AMD 500 series launch but today Nvidia taking the NDA off of their updated GTX 1080's that were introduced at the same time as the GTX 1080 Ti. The new GTX 1080's now have 11Gbps memory, just like the 1080 Ti. MSI sent over the GTX 1080 Gaming X+ for me to check out so today I'm going to run it through our recently refreshed test suite and see how it compares to the GTX 1080 Ti and the original GTX 1080 as well. Being an aftermarket card it should run cooler and quieter than the two Founders Editions that I tested, but how does it all translate to in game performance. I test at 1080p, 1440p, and 4k to see just how they all compare.

ASUS ROG Strix Impact Mouse Review

Ambidextrous mice definitely split opinion - some love their slim bodies, or the fact that they can be used in either hand, while others decry the lack of ergonomic design. Whatever your opinion, there is definitely a market for ambidextrous mice, so today we are looking at the new ASUS ROG Strix Impact. It boasts Aura lighting, a PMW 3310 sensor and an ultra-light body. Could this be the perfect ambidextrous mouse?

Gigabyte Aorus GeForce GTX 1080 Ti 11GB Review

NVIDIA shook up the top of the graphics card market a couple of weeks back with the release of the GeForce GTX 1080 Ti. In its stock, Founder's Edition form, the GeForce GTX 1080 Ti proved to be the fastest consumer-class graphics card available, but that didn't stop NVIDIA's board partners from quickly announcing custom versions packing even more horsepower. Case in point: The beastly Gigabyte Aorus GeForce GTX 1080 Ti 11GB we will be showing you here. The Gigabyte Aorus GeForce GTX 1080 Ti 11GB is the first, fully-custom, factory-overclocked (and ready to rock) GTX 1080 Ti to hit the lab, and we've just finished putting it through its paces...


MSI GS73 STEALTH PRO-009 (GTX 1050 Ti)

MSI looks to offer something new with the GS73 Stealth Pro 009 with its unique 120Hz 1080p display paired with high-end components. This sleek and powerful unit seeks to stealthily dispatch its opponents. The question is does it succeed?

ASUS ROG Gladius II Review

You've probably noticed the current shift towards RGB-everything in the PC market, with ASUS heavily towing the line; some love it, some loathe it, but it's here to stay and is being adopted rapidly. ASUS seem keen to update their product line to incorporate their "ASUS Aura" branding across the board.


MSI GT83VR Titan SLI Review: GTX 1080 SLI!

Do you want the most powerful gaming laptop money can buy? Do you also have a spare $5,000 just lying around? Look no further than the MSI GT83VR 7RF Titan SLI, a monster gaming laptop with dual GeForce GTX 1080s inside. This is, quite simply, the most powerful gaming laptop we've tested at TechSpot.

MSI - Sapphire and ASUS Radeon RX 570 and 580 reviews

MSI - Sapphire and ASUS Radeon RX 570 and 580 reviews
AMD today releases the series Radeon RX 500 graphics cards. We have three reviews ready, locked and loaded for you to check out:
You can check out the reviews by clicking on any of the links.
Review: ASUS ROG Radeon RX 580 STRIX 8GB
Joins us as we review the ASUS Radeon RX 580 STRIX with 8GB graphics memory. This three fan cooled mainstream graphics card series will allow you to play your games in both the Full HD 1080P range as well as gaming in WQHD (2560x1440) range. As always ASUS ROG has a few tricks up their sleeves.
You can read the full review here.
Review: MSI Radeon RX 580 Gaming X 8GB
In this article we review the MSI Radeon RX 580 GAMING X armed with 8GB. This TwinFrozr VI cooled mainstream graphics card series will allow you to play your games in both the Full HD 1080P range as well as gaming in that popular Wide Quad HD (2560x1440) range at a 269 USD price bracket.
You can read the full review here.
Review: Sapphire Radeon RX 570 Nitro+ 4GB
This review covers the Sapphire Radeon RX 570 Nitro+ graphics card. This Nitro+ edition has a massive cooling block slapped on top of it. And while the GPU is similar to that of the Radeon RX 470, a higher boost frequency will bring this card towards RX 480 performance levels.
You can read the full review here.

ASUS RX 570 STRIX Gaming OC 4GB Review

AMD is looking to keep the ball rolling with new GPU releases until the new Vega architecture arrives later this year. One of the methods AMD is doing this by is refreshing its existing GPU range to stay competitive, both the RX 470 and RX 480 are being refreshed to produce the RX 570 and RX 580.

Sapphire RX 580 Nitro+ Limited Edition 8GB Review

While AMD's Ryzen has disrupted Intel's long-running hegemony in the CPU market, AMD has been relatively subdued in the GPU market of late resulting in Nvidia's continuing dominance of market share, particularly at the mid-range and beyond. AMD has today taken steps to change this with two "new " GPUs for its RX 500 series, the RX 570 and RX 580, hoping to attract new customers in the mid-range market.

AMD Radeon RX 500 Series Tech Report.

Adam Kozak, Radeon Product Marketing Manager, reveals the key features of the AMD Radeon RX 500 Series (Polaris Refined) graphics cards. Check them out!

Radeon RX 500-series cards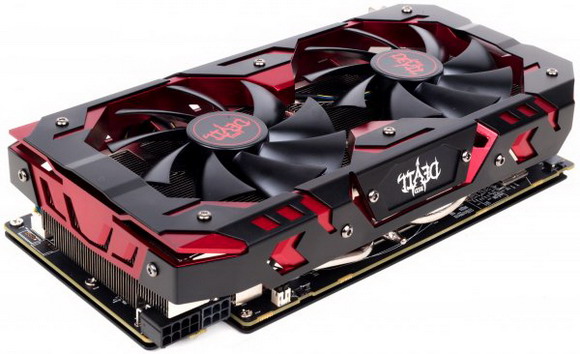 Just under a year has passed since AMD released its Radeon RX 400-series graphics cards, and now the company is back with an improved 14-nm process at its disposal and a new series of Polaris GPUs fabricated on the new tech. We put a couple Radeon RX 500-series cards to the test to see what a clock bump buys the Polaris architecture.

Radeon RX 580

"The Radeon RX 580 will live a complicated life. One side of the fence will forever see it as only the rebrand of the Polaris-based RX 480 cards released in the middle of 2016 while another will see it as a very mild upgrade and replacement for a series of cards that got AMD and the Radeon brand back into the competitive cycle. In many ways, both are correct. Don't be confused by the numbering scheme – this could have very easily been called the "Radeon RX 485" and offered the same differentiation factors and performance improvements and we would have all been satisfied. But the naming decision aside, the RX 580 (and the rest of the 500-series) will offer users slightly better performance than the RX 400-series equivalent, at the same price points. And because AMD isn't trying to pull a fast one on any of us by telling us how great and amazing the RX 580 is compared to the RX 480, I'll give them a pass. If you were looking at the RX 480 yesterday, you should be looking at the RX 580 today."