[>>]

[>>]

[>>]

[>>]

More>>

Search...

| | |
| --- | --- |
| Video Cards | |

... 2 news stories awaiting approval
BIOSTAR GEFORCE GAMING GTX 950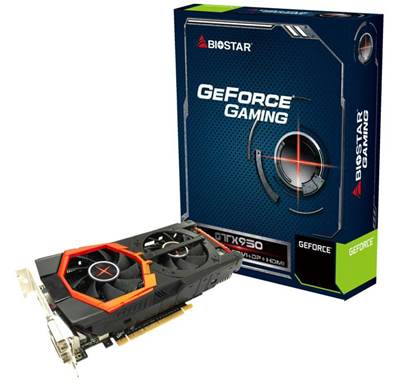 BIOSTAR announces its latest graphics card designed to tackle the needs of gamers with competitive performance. BIOSTAR GeForce GTX 950 features 2GB of GDDR5 memory, with 768 CUDA cores, and support for NVIDIA PhysX and DSR Technology. Game in silence with the Low noise output via its heat pipe cooling design, and be prepared for the latest titles with its complete DirectX 12 support.
The BIOSTAR GeForce GAMING GTX 950 features NVIDIA's 2nd-generation Maxwell GPU which boasts highly-improved performance-per-watt versus other cards. With performance intended for 1080p gamers, the GTX 950 is the perfect lightweight card for MOBA gamers featuring various optimizations to improve your gaming experience while delivering the best performance-per-watt that only the latest-generation Maxwell GPU can offer. Armed with 768 CUDA cores and complimented by 2GB 128-bit GDDR5 memory, this card brings stunning visuals with support for up four monitors: dual-DVI, DisplayPort and HDMI supported.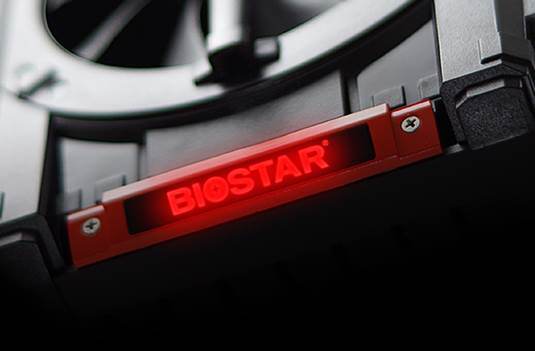 Complimented by the full-array of NVIDIA-exclusive features like GeForce Experience, Dynamic Super Resolution (DSR), Multi-Frame SuperSampling, native PhysX acceleration and other visual improvements is support for DirectX 12; be ready for the next-generation of blockbuster games with the BIOSTAR GeForce GAMING GTX 950.

Sapphire Radeon R9 380X Nitro Video Card Review

AMD launched this week what is likely their last desktop graphics card of 2015, the AMD Radeon R9 380X. AMD is hopeful that this card at the $229 price point (£185 inc. VAT for our readers in the UK) will be just what gamers will be looking to purchase this winter now that most of the big name games have come out for the holiday gaming season. All the usual AMD board partners will be releasing cards, but we were sampled the Sapphire Radeon R9 Nitro OC 4GB...

Club3D R9 Nano 4GB HBMv1 Graphics Card Review

eTeknix has fought hard over the last few months to be able to bring you the Fiji articles that we have, some may have been a little late, but we have managed to get them out to you one way or another. Stock levels of the Fiji core and HBM have been extremely limited, so AMD had to make the tough decision to only allow an severely limited number of media samples and plumb the rest to the consumer market.

SuperNOVA line, the 650P2, 750P2 and 850P2

EVGA recently introduced three new Platinum certified power supplies in their popular SuperNOVA line, the 650P2, 750P2 and 850P2. All three power supplies are 80 Plus Platinum certified for high efficiency and feature all modular cables, high-quality Japanese brand capacitors, and a quiet 140mm cooling fan (with the ability to operate in silent, fan-less mode at low to mid power levels). And in addition to delivering excellent performance with quiet operation, these new power supplies are backed by a 10-year warranty!

AMD Radeon R9 380X Technology Report

On the 18th of November, 2015, we participated in an AMD conference call on the new AMD Radeon R9 380X graphics card. We took the opportunity to record the call and merge it with the presentation slides for your convenience. So join us as we find out what the new AMD Radeon R9 380X graphics card offers to gamers eager to power Fallout 4 and Star Wars Battlefront!

Asus R9 380X Strix OC @ LanOC Revews

When it comes to picking out a video card for your PC, I think we would all go with the top end cards if it was possible. But the truth is when we are picking out our components it is all a balance. We have to make sure that no one component gets the biggest portion of the budget, the card has to fit the budget, and it also has to fit with your other components. In other words, you wouldn't go with a Fury if you could only afford a power supply that would power an R7 370. Because of that it is nice to have options and for the most part AMD has done a good job filling in the gaps. The one glaring omission though has been the lack of a 380X to match the 370X and 390X's in their product line. Well today they have filled that gap. So today I'm going to dig into the Asus R9 380X Strix and find out what sets the 380X apart from the competition as well as the 380 and 390 that it sits between.

AMD Radeon R9 380X Review: Mainstream GPU Speed Boost

AMD is poised to make a lot of noise as we head into the holiday shopping season. The Radeon Technology Group has already announced its Radeon Software Crimson Edition, which completely revamps the company's GPU software suite, and promises improved stability and performance. And that insane, dual-Fiji powered graphics card we had the opportunity to show you back during E3 in June, probably isn't too far off either. Today though, it's the mid-range GPU market that's getting a shot of adrenaline.

ASUS Radeon R9 380X Strix 4GB

Today AMD launches their Radeon R9 380X, which is built on the company's fully unlocked Tonga silicon with 2048 shaders. In terms of price and performance the card sits right in the middle of GTX 960 and GTX 970, where it is supposed to capture market share from the green team.

ASUS Strix R9 380X DirectCU II OC Review

For many gamers the sweet spot for graphics cards is around the £200 mark. Over the years this has been a truly competitive sector with both AMD and NVIDIA vying aggressively for market share. With this specifically in mind AMD have just updated their range, releasing the R9 380X which the company claim will hit retail at £199.99 inc vat. So how does it stack up?

Radeon R9 380X

AMD has launched its new Radeon R9 380X, a midrange contender featuring the latest revision of the Tonga GPU that comes equipped with 2048 stream cores, 128 texture units, and 32 ROPs. The factory overclocked XFX edition on our review bench today comes with a 970+ MHz GPU clock and 4GB GDDR5 memory running at up to 1425 MHz. The card is also intended to beef up AMD's midrange selection, offering support for DirectX 12, FreeSync, Virtual Super Resolution, and Vulkan and Mantle technology.

AMD Radeon R9 380X Review

Although the Radeon R9 380X is based on the latest Graphics Core Next architecture, at its roots you will find a graphics card that is almost four years old now, the venerable Radeon HD 7970. Debuting back in 2012, the 7970 ran for a cool $550 and was at the time AMD's flagship part. The R9 380X starts at $230, but does it deliver?

R9 380X using our famous frame-time-based metrics

AMD's Radeon R9 380X graphics card brings a more volcanic Tonga GPU to the under-$250 graphics card party. We tested the R9 380X using our famous frame-time-based metrics to see how this card compares to its natural competitor from Nvidia, the GeForce GTX 960 with 4GB of RAM.

Sapphire Radeon R9 380X NITRO 4GB review

In this review we look at the new Radeon R9 380X from AMD, armed with a beefed up Tonga slash Antigua GPU and 4GB this product might interest many of you at a decent price of 260 EURO. This is a graphics card that will perform excellent in 1080P but does shows good numbers in WHQL (2560x1440) as well. Join us, as we review the Nitro edition from Sapphire.

ASRock Z170 OC Formula Motherboard Unboxing Video

Today, a new unboxing video for the ASRock Z170 OC Formula Intel LGA1151 motherboard with many overclocking features is published on OCinside.de (German, English transcription). The detailed ASRock Z170 OC Formula motherboard review is coming soon as well.

Zotac GeForce GTX 980 Ti AMP Extreme 6GB

Zotac's GeForce GTX 980 Ti Amp Extreme is one of the fastest custom-design GTX 980 Ti cards out there, yet comes at a relatively affordable price increase - unlike its competitors like MSI Lightning or ASUS Matrix.

AMD R9 Nano 4GB (HBMv1) CrossFire Review

Here at eTeknix, we strive to give the consumer the best possible advice in every aspect of technology. Today is no different and we are excited to bring you the CrossFireX review of the highly anticipated R9 Nano 4GB graphics cards. The R9 Nano is the third release in the Fiji GPU core range and the third official graphics card to utilise High Bandwidth Memory (HBMv1). We've been impressed with the performance of the Fiji range so far with the fully unlocked R9 Fury X providing a good alternative to the NVIDIA GTX 980Ti, the R9 Fury providing a good step up from the R9 390X and the GTX 980 and the R9 Nano being the perfect option for small form factor builds. A single R9 Nano provides the perfect balance of performance, power consumption and mobility, but will combining two still be a worthwhile option? When we test in CrossFireX, we aim to use two identical graphics card to ensure that everything is as similar as possible. When using the same cards, you can almost guarantee the same cooling capabilities, power draw, core clock and other variables. This then gives us the best possible outcome for maximum performance as the computer does not need to compensate for any differences.



The best Guides by the best writers on the internet; PCSTATS Beginners Guides explain computers, software, and all those other wonderful things that cause you frustration.

Learn how to use your computer better, master the internet while protecting yourself, and know what to do when your hard drive kicks the bucket.



"Get the 'Stats and Stay Informed!"