[>>]

[>>]

[>>]

[>>]

More>>

Search...

| | |
| --- | --- |
| Operating System | |

... 2 news stories awaiting approval
The SSD Optimization Guide Ultimate Windows 8 (And Win7) Edition

The SSD Optimization Guide Windows 8 (and Win7) Ultimate Edition is the most elaborate and detailed SSD optimization guide available to date. It provides eight pages of specific instruction to detailed optimization tips that are explained in a simple to follow manner. In addition, this Guide provides a tweak never seen in any guide prior, yet used in the review and enthusiast community on a regular basis, not to mention links for TONS of free software that reviewers use on a daily basis!"

Embracing Windows 8 With A New PC System Build

One of the perks of working at a place like HotHardware is that we have access to some of the hottest hardware around. So when I decided to dive into Windows 8 head-first a few months ago, I thought I'd give the OS as much breathing room as possible and install it on a freshly built, ultra high-end rig. Building myself a second system for Windows 8 while tweaking and getting accustomed to the OS's new interface, and whatever other quirks popped up, would help me remain semi-productive before making the actual transition to the new machine. Before I show you the hardware I used for the build and discuss some of the issues that I had to contend with along the way, I want to be clear that this is not some sort of build guide or recommended spec sheet. Just because a particular piece of hardware was a good fit for my build doesn't mean it'll suit your needs. Then again, if the hardware I use serves me well-considering the beating I put on my rigs-it'll likely work out for you all, too. So that has to count for something...


Windows 7 & Windows 8 vs. Ubuntu 13.04 & Fedora 18

Last month Phoronix published Intel OpenGL benchmarks showing Windows 8 outperforming Ubuntu 13.04 with the latest Windows and Linux drivers from Intel. I also showed that even with the KDE and Xfce desktops rather than the default Unity/Compiz desktop to Ubuntu, Windows 8 still was faster on this Intel Ivy Bridge platform. The new benchmarks to share today from this Intel Ultrabook are the Windows 8 and Ubuntu 13.04 results but also with performance figures added in from Microsoft Windows 7 Professional Service Pack 1 x64 and Fedora 18."

Preview: A guide to Windows Blue / Windows 8.1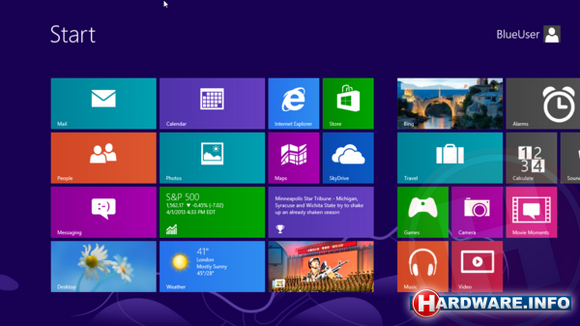 "Windows Blue, or Windows 8.1 as it will potentially be called, was recently leaked. We couldn't help ourselves, and installed one of the leaked versions in a virtual environment so we could try it out. On the following pages we'll give you an impression of this significant update of Windows 8, build version 9364. Windows Blue is an early version, so it's perfectly possible that things you see here will not appear in the final release.
While this is an early build, it still feels more thought-through than the current official version of Windows 8. At the same time, it doesn't do anything to bridge the gap between Windows 7/Vista/XP and the new environment, it remains a big transition."

What is Windows Blue? @ TechReviewSource.com

If you`ve been following the tech press at all, you`ve no doubt heard the term Windows Blue, referring to the internal code name for the next version of Microsoft`s desktop-and-or-tablet operating system. Microsoft is keeping mum about the next version of its Windows desktop operating system, but the usual leaks and rumor have started trickling out."

Windows 8 Outperforming Ubuntu Linux With Intel OpenGL Graphics

In our benchmarks of Microsoft Windows 8, we have found that Intel`s Windows OpenGL driver is generally superior to that of their open-source Linux graphics driver. Some progress has been made, but in today`s testing of an ASUS Ultrabook bearing an Ivy Bridge processor, Linux has a ways to go for some games in matching the Windows binary performance and features."

Did Windows Blue Blow it?

"After Microsoft's Windows 8 was widely criticized by users and tech experts alike, the tech giant is prepared to release an updated version in the form of Windows Blue. The revamp is slated to be released this year, but last week screenshots of the latest build were posted to a Polish tech forum. Tech Expert Karl Volkman of Chicago's SRV Network, Inc., weighs in on the leak.

"Windows 8 was not well received by the public, which makes this Microsoft's chance to regain some relevance in the industry," says Volkman. "Windows Blue brings a lot to the table, including a larger focus on tablet and mobile use as opposed to desktop. We'll have a clearer picture of Windows Blue's capabilities upon its release, but from the leak it's safe to say there are many improved features."

The Windows Blue leak shows a Start screen that offers options to personalize the Live Tile appearance. It also includes increased control over color preferences, new style settings options, and an additional view that allows more options for viewing apps side by side. The leaked screenshots appear to make it easier for tablet users to change preferences without resorting to the desktop Control Panel. In addition, Internet Explorer 11 also appeared in the leak of the new build, although with little detail.

"There is still a lot of speculation surrounding Windows Blue, but the initial leak seems to be promising for better usability and customization," continues Volkman. "From the new version we can see Microsoft is heavily invested in improving the tablet experience, inevitably furthering the demise of the desktop."

Karl Volkman, the Chief Technology Officer of SRV Network, Inc. in Chicago, Illinois, is an IT Professional with over 30 years of experience."

Microsoft Surface Windows 8 Pro Review @ TechReviewSource.com

Tablets with mobile operating systems like Android, iOS, or Windows RT are perfectly adequate if your tasks center on the Internet. But if you need compatibility with older x86 programs in a slate tablet form factor, then you need one running Windows 8. Of the handful introduced lately, the Microsoft Surface Windows 8 Pro is the one to beat."

Two months with Windows 8 review

With Windows 8, Microsoft is steering its operating system into a radically different direction. In the last ten years we've seen a shift from desktop PCs to notebooks, and now some are prophesising the end of the PC era as smartphones and tablets are becoming increasingly commonplace. While Microsoft is the dominant player in the x86 operating system market, the software giant has had little success with smartphone and tablet products, these markets are largely dominated by Apple's iOS and Google's Android operating systems. With its back against the wall, Microsoft decided to make a major gamble by making massive changes to the user interface of Windows 8 to make it more usable on touch-based mobile devices.

Windows 8 Review @ Rage3D.com

We play around with Windows 8 and see if there`s an advantage or disadvantage to the inplace upgrade preserving applications, documents and settings, vs. going all out for a clean, new, UEFI and GPT install from scratch."

Windows 7 Media Center

"Enough about software, let's talk about Hardware. Hardware wise, building a Home Theater PC is a completely different animal compared to building a gaming rig or distributed computing machine. Simply put, we're building a PC that will connect to a TV, be controlled by a remote control and pump audio and video to your home theater. Normally important factors like cost, performance and heat, take a back seat in a HTPC, to two often ignored factors, power efficiency and noise. Things like cost, performance and heat generally are not an issue with a HTPC because we don't need use cutting edge components to do what we want. We just need a solid machine that can run for long periods of time without breaking the bank in power costs. I liken it to a game machine being a thoroughbred racehorse and a HTPC being a work horse that just does what needs to be done without a whole lot of fuss."

Windows 8 vs Windows 7: CPU performance

Two things are clear. AMD's claim that its processors should run better with Windows 8 seems to be unsubstantiated, at least the benchmarks do not confirm this. Secondly, just like the gaming performance, there is no noteworthy difference between CPU performance in Windows 8 compared to Windows 7.

Ceton Echo Windows Media Extender Review @MissingRemote

The form factor has changed significantly as well, to a sleek device around the size of most modern home theater streamers, but the functionality promised (i.e. small, quiet, efficient MCX) when used with WMC has not. This is an important point to note when examining the Echo on its own, because much of the previous coverage also included mention of Cetons Q (a TiVo like device) which, had it survived the summer, could have provided additional capability beyond what is possible from the standard MCX experience. With firmware releases bringing new functionality and fixes every few days it has proved difficult to nail down a definitive snapshot of the Echos long term capabilities; as retail availability is now upon us it is time to build on our first lool."

Intel NUC DC3217BY Review w/ Windows 8 @ Legit Reviews

I was able to get the Intel NUC fully assembled and installed Windows 8 in well under 30 minutes. Everything flowed together nicely and this DIY system was easy and fun to put together. The Intel NUC isn`t designed to replace everyone`s desktop PC, but it has enough performance to satisfy the needs of the average PC user. Having an entire PC in a 4 x 4 x 2 cube is pretty darn impressive and it allows you to..."

SysAdmin Corner: Getting More From Windows @ Techgage

As a non-Windows user whos forced to use Windows on regular occasion, there can often be problems or limitations about the OS that can cause you to throw your hands up in frustration. Ive been there. But in this quick article, Im going to talk about some free apps that will help you introduce some new-found power to the OS."



The best Guides by the best writers on the internet; PCstats Beginners Guides explain computers, software, and all those other wonderful things that cause you frustration.

Learn how to use your computer better, master the internet while protecting yourself, and know what to do when your hard drive kicks the bucket.



"Get the 'Stats and Stay Informed!"