| | |
| --- | --- |
| Operating System | |

... 0 news stories awaiting approval
News: Microsoft shows Windows 10 preps public preview build for tomorrow

Yes, the next version of Windows is called Windows 10and Microsoft gave the first public demo of it at a press event this morning. The company also announced the Windows Insider Program, as part of which folks will be able to grab a Technical Preview build of the new OS starting tomorrow."

Windows 10 Operating System Demonstrated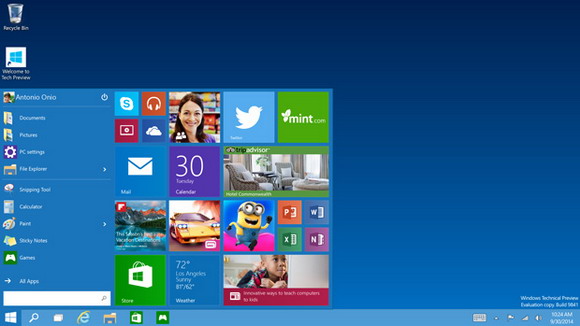 "Yes, the next version of Windows is called Windows 10—and Microsoft gave the first public demo of it at a press event this morning. The company also announced the Windows Insider Program, as part of which folks will be able to grab a Technical Preview build of the new OS starting tomorrow."

A Tour Of The New Phoronix Office For Linux Benchmarking

As most Phoronix readers know, earlier this summer I relocated from the high-tax, corrupted, crime-ridden Chicago to Indiana and with that Phoronix Media migrated. While my office configuration is slowly coming along and evolving, here`s a look at things with most of the day-to-day setup now established. It`s quite a different setup from the last Phoronix office tour two years ago. Like the last tour, this article is also to serve as some other recommendations I have about various products that otherwise wouldn`t get (any or much) coverage on Phoronix but are worthy of a shout-out to Linux users and computer enthusiasts."


Testing 60+ Intel/AMD/NVIDIA GPUs On Linux With Open-Source Drivers

With Thursday marking the ten year anniversary of launching Phoronix.com and also the six-year anniversary since the public 1.0 debut of the Phoronix Test Suite, there`s a lot of interesting articles that I`ve been working on to celebrate these two milestones. For your viewing pleasure today is easily the largest graphics processor comparison that`s ever happened at Phoronix... I`ve tested over 60 GPUs from the Intel HD Graphics, AMD Radeon, AMD FirePro, and NVIDIA GeForce series to see how their performance is when using the very latest open-source Linux graphics drivers on Ubuntu."

NVIDIA On Ubuntu 14.04 Has Some New Advantages Over Windows 8.1

At the request of many Phoronix readers here are the updated benchmarks comparing the performance of several NVIDIA GeForce graphics cards under Ubuntu 14.04 Linux to Windows 8.1 with all of the latest updates for each operating system. While the NVIDIA graphics driver code-base is largely shared between platforms, many Linux gamers will be pleased to note that the Linux performance has begun advancing beyond the frame-rates offered under Microsoft Windows."

NVIDIA Fermi/Kepler GPUs Are The Best Bet For Ubuntu 14.04 Nouveau

In my testing of Ubuntu 14.04 LTS with the Linux 3.13 kernel and Mesa 10.1 for the open-source graphics driver stack provided by Nouveau for NVIDIA GeForce graphics hardware, only the Fermi and Kepler GPUs are running reliably. While these newer NVIDIA GPUs are running stable with Ubuntu 14.04, the performance is still a wreck due to lack of reclocking."


WildStar: DevSpeak and Customisations with Kaeyi Dream @ HardwareHeaven.com

As an MMO veteran I feel customisation is everything. Whether its character, gear, class or housing; I just love it! I can`t get enough. I like the idea that I as a player can put my personal touch on something I potentially will invest hundreds of hours on. MMO`s (especially RPG`s) count on the player having a very close relationship with their playable character, a bond that keeps them coming back for more and more. That bond wouldn`t be as prevalent if we all were forced to use the same character, look the same, play the same class and live in the same house."

Ubuntu Now Often Leads Windows 7 On Intel SNB Graphics Performance

Most of our recent Windows vs. Linux performance comparisons have been done using Windows 8 (e.g. AMD Kaveri: Windows 8.1 vs. Ubuntu Linux, SteamOS vs. Windows 8.1, NVIDIA GTX TITAN: Windows 8.1 vs. Ubuntu 13.10, etc). However, for changing things up a bit and looking also at the state of mature graphics drivers, being benchmarked today is the Ubuntu 14.04 Linux performance with the latest open-source Intel HD Graphics driver code compared to Windows 7 Pro x64 with its latest Intel graphics driver when using HD Graphics 3000 Sandy Bridge hardware."

NVIDIA 2013 Linux Graphics Driver Year-In-Review

For the ninth year in a row I am issuing year-in-review articles concerning the state of NVIDIA`s (and separately, AMD Catalyst) Linux graphics driver and the accomplishments the driver`s made in the past calendar year along with benchmarks of all notable driver releases this year. NVIDIA`s made a lot of progress on the Linux front this year, especially for any Linux gaming stakeholder, so let`s get started on our 2013 NVIDIA Linux Year-In-Review."


NVIDIA Optimus On Ubuntu 13.10 Linux vs. Windows 8.1

With having picked up an ASUS Zenbook Prime UX32VD recently that features Intel HD Graphics 4000 and the discrete NVIDIA GeForce GT 620M graphics, I decided to run some benchmarks seeing how the currently available Linux solutions for supporting NVIDIA`s Optimus technology are comparing to Windows 8.1. The benchmarks in this article compare the performance of this Core i7 3517U ultrabook between its stock operating system to Ubuntu 13.10 with its stock open-source packages, to using DRI PRIME, and then lastly using the Bumblebee solution with the NVIDIA binary driver."

Mad Catz Tritton Kunai Headset for iOS

"Mad Catz makes multiple versions of the Tritton Kunai headset for different devices. Today we have the opportunity to review the version compatible with various iOS devices. Officially certified to meet Apple's standards, these are said to deliver a comfortable, high-quality audio experience for mobile gaming, phones, and tablets. The Tritton Kunai features 40mm drivers and swiveling ear pads with provided memory foam padding. The in-line controls are supposed to make on the fly volume adjustments, answering calls and controlling music from the attached media device easy. Available in Blue, Green, Orange and Black, will this Apple compliant headset gain the attention of computer enthusiasts? Read on to find out."

Intel Linux Driver Almost Neck-And-Neck With Windows 8.1

Intel released a big Windows graphics driver update that for Haswell hardware now provides OpenGL 4.2 support -- while the Intel Linux driver just hit the milestone of OpenGL 3.3 support. To see how the latest Windows and Linux Intel graphics drivers compare, I ran some new benchmarks on Windows 8.1 against Ubuntu 13.10 to see how the performance pans out in various OpenGL game benchmarks and other graphics workloads."

ASUS Transformer Book T100 Windows 8.1 Hybrid Review

The Asus Transformer Book T100 packs an impressive list of features into a diminutive chassis and companion keyboard dock. After working with system, it's clear that Asus is hoping to capture lightning in a bottle, for the second time. It's been six years since Asus launched the first Eee PC and kicked off a miniature revolution in mobile computing. Eee PC models weren't fast, they weren't particularly well-featured, and they didn't have the best displays. Even so, these lightweight boxes were the harbingers of the netbook bonanza that kicked off in earnest with the launch of Intel's Atom processor. The Transformer Book T100 isn't a netbook but it's impossible to look at the system and not see netbook DNA. Don't be fooled, though. This is the evolved form, complete with Bay Trail and Windows 8.1...