[>>]

[>>]

[>>]

[>>]

More>>

Search...

| | |
| --- | --- |
| Motherboards | |

... 0 news stories awaiting approval
ASRock Fatal1ty X470 Gaming K4 AMD AM4 Motherboard Review

Today we are testing on OCinside.de another powerful ATX motherboard for the current AMD Ryzen 2000 processors with the ASRock X470 Gaming K4. We have tested and overclocked the AMD Socket AM4 motherboard with an AMD Ryzen 5 2400G processor equipped with an integrated AMD Radeon Vega GPU. In the following AMD AM4 motherboard test we explain the features of the ASRock X470 Gaming K4 Fatal1ty motherboard, show a 360 degree view and give some UEFI tips.

Aorus Xtreme Waterforce Motherboard Review

At CES 2019, Gigabyte officially launched their Aorus line up of motherboards, graphics cards, and peripherals to coincide with Intel's 9th generation of Core Processors. This included the Aorus Xtreme Waterforce. The Aorus line up replaced their very popular G1-Gaming line and was previously designated for Gigabytes high-end laptop line up. With each generation since the Aorus line up has …

Gigabyte showcases Aorus motherboards using X570 chipsets

"Gigabyte Technology has unveiled several flagship motherboards using AMD's X570 chipsets under its Aorus gaming brand at Computex 2019.

The motherboards feature 16-phase digital power design using Infineon's solution for the overclocking of AMD's new 7nm third-generation Ryzen processors.

They are also equipped with Gigabyte's Fins-Array heatsink, Direct Touch heatpipe and nanocarbon baseplate to improve the motherboards' heat dissipation.

Commenting on the global motherboard/graphics card market, executive vice president of Aorus Brand Marketing Eddie Lin pointed out that despite the weakening of the traditional motherboard market, demand from new applications including embedded devices, industrial PC (IPC) and Internet of Things (IoT), has started picking up and most players have already crossed into those markets looking for growth.

The graphics card market was seriously undermined by the quick disappearance of cryptocurrency mining demand last year. But Gigabyte's inventory has already returned to a safe level, according to industry sources."


GIGABYTE AERO 15 Classic-XA Review

Well, today we have a new laptop which delivers a double dosage of new tech – the GIGABYTE AERO 15. This laptop features the Intel Core i7-9750H, 16GB DDR4, RTX 2070, an astounding SHARP IGZO 240Hz display, all complying to the NVIDIA Max-Q Design. Does it get much better than this? Let's find out!

MSI MEG Z390 ACE Motherboard Review

Intel's Z390 platform continues to be a firm favourite with the DIY enthusiast audience, in large part because of the excellent performance delivered by the Core i9 9900K. That processor, however, is more power-hungry than its predecessors and motherboard vendors have necessarily responded with higher-end power circuitry. MSI's Enthusiast Gaming (MEG) ACE motherboard crystallises this approach with 12 phases purely aimed at powering all eight cores with overclocking.

ASUS ROG Maximus XI Apex Motherboard Review

Having used a variety of overclocking ready Z390 motherboards I can honestly say that the Apex is one of the most refined offerings and the perfect dual purpose motherboard for the hardware enthusiast looking to have a 24/7 machine that they can overclock on the weekends for them juicy gold cups.

BIOSTAR launching next AMD Ryzen generation at COMPUTEX 2019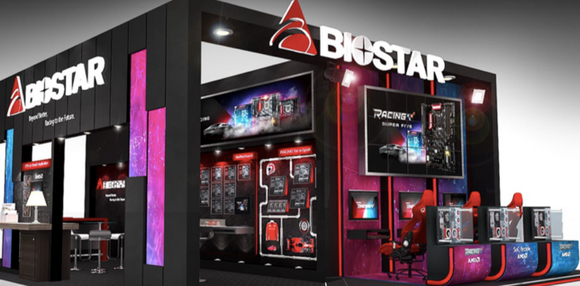 "BIOSTAR will be launching its latest gaming, home entertainment, edge computing and smart home solutions at COMPUTEX held in Taipei Nangang Exhibition Center held between May 28th and June 1st, 2019. Key launches this year will be BIOSTAR's fourth-generation RACING series motherboards for the new AMD Ryzen platform, the full portfolio of system-on-chip motherboards for home entertainment, server PCs, and edge computing, and its industrial motherboard as well as Smart home solutions. Also on show will be BIOSTAR's latest solid state drives including the M500 M.2 NVMe SSD and BIOSTAR's latest graphics cards. BIOSTAR will bring a new generation of computing solutions to COMPUTEX, taking gaming, home entertainment, business solutions to the next level.
The BIOSTAR RACING Series of high-performance motherboards feature the latest technologies for performance and aesthetics. The BIOSTAR RACING Series is geared towards gamers and power users that demand performance with great stability and reliability. BIOSTAR will be demonstrating the 4th generation RACING Series powered by the next-generation AMD Ryzen processors to highlight its capabilities in gaming, entertainment, and professional use.
Furthermore, the famous BIOSTAR SoC motherboards have All-in-One design with an efficient low-profile cooling solution making it slim and versatile for tight spaces like HTPCs and rack servers. BIOSTAR will demonstrate the diversity of its SoC motherboards line at COMPUTEX 2019, which extends from everyday home entertainment to smart home solutions and AI edge computing systems.
Throughout the exhibition, BIOSTAR will have exciting 5G gaming solutions launching with an array of activities, events, giveaways to kick start COMPUTEX 2019. Visit the BIOSTAR booth at COMPUTEX 2019, Taipei Nangang Exhibition Center, Hall 1, 4F Booth L0128 from May 28th – June 1st, 2019 to see all its latest next generation computing solutions."

BIOSTAR A68N-2100E SoC Motherboard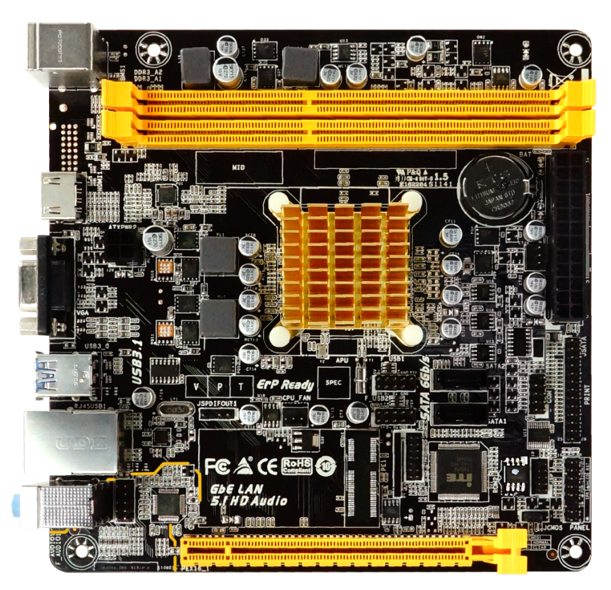 "BIOSTAR, a leading manufacturer of motherboards, graphics cards, and storage devices, introduces the A68N-2100E SoC Motherboard featuring a compact mini-ITX form-factor powered by the energy efficient AMD E1-2150 Processor and AMD Radeon™ HD8210 graphics. The BIOSTAR A68N-2100E is designed for homes and businesses that need a capable but energy efficient desktop PC for basic tasks such as browsing the internet, running office applications, and other essentials that most students and professionals use in computers today.

The BIOSTAR A68N-2100E is powered by the AMD Kabini architecture-based E1-2150 dual-core processor with an energy efficient thermal design power (TDP) of 9 watts. It supports the low-cost DDR3 memory with maximum support of up to 16GB memory, which is well suited for home and business use. Its flexible mini-ITX form factor makes it compatible to a wide selection desktop cases, HTPCs, and small-form-factor cases.

The BIOSTAR A68N-2100E comes with Realtek ALC887 5.1-Channel Audio that supports high-definition audio and S/P DIF Output Onboard Optical and Coaxial connector for transferring non-distortion digital audio output to amplifiers and professional audio devices. The A68N-2100E also supports DX11.1 and comes with an onboard HDMI connector for high-definition visuals to enjoy watching shows on YouTube and Netflix.

The BIOSTAR A68N-2100E comes with a TPM header that enables several upgrades that's perfect for data security concerned users such as schools and government offices. The connector supports a wide range of TPM modules such as biometric verification, antivirus software, firewalls, smart cards, and others.

The BIOSTAR A68N-2100E's rear I/O includes 1 x PS/2 Mouse, 1 x PS/2 Keyboard, 2 x USB 3.1 Gen1 Ports, 2 x USB 2.0 Ports, 1 x HDMI Connector, 1 x VGA Port, 1 x GbE LAN port, and 3 x Audio Jacks. The BIOSTAR A68N-2100E is a cost-effective and energy-efficient SoC motherboard for home and business use with its power-saving AMD Kabini E1-2150 dual-core processor that only draws a maximum of 9 watts. It supports low-cost DDR3 memory of up to 16GB maximum capacity, enough to configure a capable yet power efficient desktop PC. It comes with high-speed USB 3.1 Gen1 USB connectors with data transfer speeds of up to 10Gbps. It sports a compact mini-ITX form factor with a fanless low-profile cooler for maximum compatibility with desktop PC cases, HTPC cases, and other enclosures."

BIOSTAR A68N-5600E SoC motherboard

BIOSTAR, a leading manufacturer of motherboards, graphics cards, and storage devices, introduces the new A68N-5600E SoC motherboard featuring a power efficient AMD PRO A4-3350B Processor and AMD Radeon™ R4 graphics. The BIOSTAR A68N-5600E is perfect for home entertainment and everyday home computing from web browsing to office applications. Watch videos on Netflix and YouTube with high-definition and immersive visuals, thanks to the AMD Radeon graphics, and high-resolution display with HDMI support. The A68N-5600E sports an ultra-compact Mini-ITX form factor, perfect for small-form-factor PCs and HTPCs.
The BIOSTAR A68N-5600E is a compact, cost-saver and power-efficient solution made for day-to-day tasks with a built in AMD PRO A4-3350B Processor and AMD Radeon™ R4 graphics. The motherboard supports DDR3-1600MHz memory up to 16GB for excellent compatibility and comes in the compact mini-ITX form factor perfect for space saving SFF build.
Home users can enjoy high-definition content on high-resolution displays without the need of a discrete graphics card, thanks to the motherboard's built-in HDMI connector as well as HDCP support (High-bandwidth Digital Content Protection) for streaming copyrighted videos online from sources like Netflix. The BIOSTAR A68N-5600E also packs HD audio to deliver a completely immersive entertainment experience, high-definition video and audio with SPDIF connections in one compact and affordable BIOSTAR SoC motherboard.
As well as home entertainment, the A68N-5600E also offers advanced data security options for government organizations that require the highest level of data security with a TPM header for TPM modules. TPM modules are used in conjunction with other security technologies such as biometric verification, antivirus software, firewalls, smart cards, and others. The BIOSTAR A68N-5600E doesn't compromise in speed with its SATA III 6Gbps ports for fast data retrieval and data transfer. With SATA III 6Gbps and AHCI support, opening large files like high-resolution videos can be quick and easy.
The BIOSTAR A68N-5600E SoC motherboard's rear I/O include 1 x PS/2 Mouse, 1 x PS/2 Keyboard, 2 x USB 3.1 Gen1 Ports, 2 x USB 2.0 Ports, 1 x HDMI Connector, 1 x VGA Port, 1 x GbE LAN port, and 3 x Audio Jacks. The BIOSTAR A68N-5600E SoC motherboard is a compact and cost-effective solution for everyday computing needs for home, business, schools, and government agencies. The mini-ITX form factor fits in most small-form-factor PCs offering a space-saving desktop setup, perfect for HTPCs. The Radeon R4 graphics and HDMI connector offers high-definition visuals without the need of a discrete graphics card and HD audio for immersive audio for a complete high-definition audio and video setup for home entertainment PCs.

Gigabyte Z390 Aorus WaterForce Build

Gigabyte Z390 Aorus Xtreme WaterForce is the most expensive gaming motherboard we have ever heard of, with a price around £950 that makes even the MSI MEG Z390 Godlike look like a bargain buy. The key feature of the Z390 WaterForce is, as the name suggests, the monoblock that covers the CPU socket, VRMs, chipset and M.2 SSD slots. We are familiar with monoblocks made by specialist cooling companies such as EKWB, however this block is produced in-house by Gigabyte themselves.

ASUS TUF Z390-Pro Gaming

A focused, no nonsense addition to the Z390 roster, the ASUS TUF Z390-Pro Gaming promises performance, stability, and a classic TUF Gaming Alliance aesthetic. What does this motherboard have to offer beyond the ASUS and TUF branding?

EVGA Z390 FTW Motherboard Review

EVGA's motherboards have long held a strong following within the PC DIY community. EVGA maintains a relatively small motherboard portfolio by the standards of its competitors, just a handful of motherboards per chipset, containing models specifically for overclockers and gamers alike. EVGA simply does not do a "low-end" or "entry-level" motherboard for Z390, as the Z390 FTW intends to demonstrate.

Aorus Z390 Xtreme Waterforce Motherboard Review

Overall I really enjoyed using the Aorus Z390 Xtreme Waterforce. It tested well, has a nice layout and a great set of features. The waterblock is a wonderful surprise and really pushes this product beyond what a typical enthusiast would expect.

MSI MEG Z390 Godlike Motherboard Review

It may seem a bit late to the Z390 party, especially since most of the guests have already gone home. However, we've been eagerly awaiting this MSI motherboard, so we're just going to say it was fashionably late. As one of the most tricked-out motherboards this generation, this ultra-high-end solution comes with more features that I doubt even this review will be able to capture. It's not cheap, but at the same time, you're paying (a lot) more, but you're getting a lot more stuff included too. It's a bit more than your typical Fortnite 1080p gaming rig would need, that's for sure, but if you're all about the extreme, read on, as this one is going to be pretty special.




The best Guides by the best writers on the internet; PCSTATS Beginners Guides explain computers, software, and all those other wonderful things that cause you frustration.

Learn how to use your computer better, master the internet while protecting yourself, and know what to do when your hard drive kicks the bucket.



"Get the 'Stats and Stay Informed!"