[>>]

[>>]

[>>]

[>>]

More>>

Search...

| | |
| --- | --- |
| Motherboards | |

... 0 news stories awaiting approval
ASUS X570 ROG Crosshair VIII HERO Wi-Fi

"Today we are looking at the ASUS X570 ROG Crosshair VIII HERO Wi-Fi Edition. For those who are familiar with ASUS and its Republic of Gamers (ROG) series, it should be a little to no surprise to anyone that ASUS has put great care and thought into the ROG Crosshair VIII as one of the flagship X570 motherboards on the market. It isn't even the most expensive one, which makes it all that much more appealing."

ASRock TRX40 Creator Threadripper 3000 motherboard

Where all other TRX40 motherboards with the luxurious options sell at 800~1000 USD even, ASRock outs their TRX40 Creator, and the price is 499 USD. A heck of a lot of money, but features wise you still receive AX WOFO and 10 Gbps Ethernet. Worth it?

BIOSTAR A10N-8800E V6.1 Mini Motherboard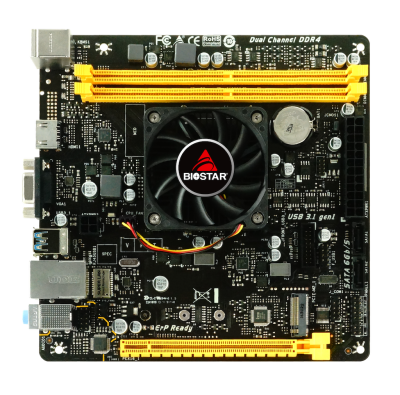 "BIOSTAR, a leading manufacturer of motherboards, graphics cards, and storage devices, is proud to present the version 6.1 of the critically acclaimed A10N-8800E SoC Mini-ITX motherboard. Introduced as a solution for edge computing almost a year ago, the BIOSTAR A10N-8800E, equipped with an AMD FX-8800P quad-core processor, offers rapid data access and computing over traditional cloud solutions, and now with even faster performance thanks to the V6.1 featuring an improved heatsink for more efficient thermal management. With its collection of awards, the BIOSTAR A10N-8800E has proven to be an excellent motherboard for edge computing applications for home, office or online gaming offering power efficiency, high performance, and affordability under the small form factor. With it's revisited CPU heatsink and bigger fan, the A10N-8800E V6.1 brings considerable performance improvements to the table. Under improved thermal management, the AMD FX-8800P is able to generate scores above the competition equivalent platform, while maintaining temperatures well below 70°C.
With its Carrizo architecture AMD FX-8800P quad-core processor and integrated AMD Radeon R7 Graphics, the A10N-8800E offers the processing performance, power efficiency and graphics to make the ideal home PC. The A10N-8800E is built to support up to 32GB of DDR4 memory at speeds of 2133MHz and is equipped with an M.2 port with 16Gbps bandwidth for high-performance PCIe NVMe M.2 SSDs. The BIOSTAR A10N-8800E V6.1 rear I/O features: 1 x PS/2 Keyboard,1 x PS/2 Mouse, 2 x USB 3.1 Gen1 (5Gb/s) Ports, 2 x USB 2.0 Ports, 1 x HDMI Port, 1 x VGA Port, 1 x GbE LAN port and 3 x Audio Jacks.

ASRock Z390 Phantom Gaming X Motherboard Review

Intel's desktop CPUs have lingered at 14nm since the arrival of desktop Broadwell in 2015 (i7 5775C) followed by desktop variants of Skylake (i7 6700K, 2015), Kaby Lake (i7 7700K, 2017), Coffee Lake (i7 8700K, 2017) and the Coffee Lake refresh (i9 9900K, 2019). To compensate for persistent delays in shrinking to 10nm Intel has changed its approach, choosing higher CPU core counts and faster frequencies through product refreshes to provide the necessary "generational" performance gains consumers have come to expect. By direct consequence motherboard vendors have faced renewed challenges to ensure that motherboards can keep up with an increasing power demand from Intel's CPUs on its mainstream platform, like the 127W TDP 5GHz 8-Core i9 9900KS. This has led to motherboard vendors refreshing designs to include higher capability power delivery systems, the ASRock Z390 Phantom Gaming X is one such example.

BIOSTAR RACING X570GTA AM4 Motherboard Review

" The X570GTA motherboard from BIOSTAR is a cost-effective product that comes with both modern and legacy interfaces, for a wider range of applications, but we won't recommend it for overclocking purposes. The M.2 PCI-E 4.0 slot offers support for ultra-fast storage, but we would have preferred a second one under the PCIe 4.0 x16 slot as well. The chipset fan is surprisingly silent at stock settings, while the board offers six SATA ports around it for additional storage. "

The ASUS TUF Gaming Alliance

ASUS offers several sub-brands, like Republic of Gamers and the TUF Gaming Alliance. The latter is a partnership with Cooler Master and other supporting brands with the purpose of guiding gamers towards a solid mainstream system through individually branded components that result in a cohesive, cool-looking final design.

ASRock X299 Taichi CLX

Intel fires back with an HEDT refresh that promises higher clocks and significantly lower prices! ASRock is ready with the new ASRock X299 Taichi CLX. The X299 Taichi CLX boasts a powerful VRM, 2.5 Gb/s LAN, and a sleek modern aesthetic! How will it perform when paired with a new Intel i9-10900X?

Ryzen 9 3950X on Good and Bad B450 Motherboards

As we anticipated when we reviewed AMD's new flagship 16-core Ryzen 9 3950X, rather than testing it on the very high-end Gigabyte X570 Aorus Xtreme, we want to see how it does on budget AMD B450 boards. Maybe this combo doesn't make sense right now, but it will in the future as a potential upgrade for many AM4 owners.

ASRock X570 Taichi AM4 Motherboard Review

" The X570 Taichi AM4 motherboard from ASRock does incorporate the latest technologies and thanks to the latest AGESA microcode updates it does allow the Ryzen 3000 series to run at optimal boost speeds. While we consider that the latest AMD processors do run optimally at stock settings (by boosting depending on the usage conditions, which can be also named as automatic overclocking), enthusiasts can also use the UEFI settings for improving the system performance even more. "

GIGABYTE TRX40 Threadripper Motherboards Revealed!

GIGABYTE is often the first to announce new motherboards, and they are right on the dot with the new AMD TRX40 chipset! Here is EVERYTHING you need to know about the four new GIGABYTE TRX40 motherboards for the 3rd Gen Ryzen Threadripper processors!

ASUS ROG Crosshair VIII Hero

"When it comes to AMD motherboards the Republic of Gamers Crosshair boards have always been some of the best out there. If you didn't know ASUS actually launched the Republic of Gamers line with the Crosshair AM2 motherboard and the first AM4 motherboard I ever reviewed was the ROG Crosshair VI Hero. Two generations later we have the X570 chipset which brings with it quite a lot of performance and features. The ROG Crosshair VIII from ASUS features a very sleek design, USB 3.2 connectivity, two PCI-Express 4.0 M.2 slots, a load of USB 3.1 ports, 802.11ax WiFi plus 2.5G LAN, a 7+1 power phase design, and of course RGB lighting. Is this the ultimate board for your Ryzen 3000 series build? Read on to find out!"

Asus ROG Maximus XI Formula – VRM cooling by EKWB

Asus currently lists 52 ROG motherboards in its impressive line-up of which 11 use the Z390 chipset to support Intel 9th Gen. Coffee Lake. The ROG Maximus XI Formula sits at the top of that particular stack and has been designed to address the vexed issue of VRM cooling, thanks to the use of a CrossChill III VRM hybrid cooling block made by EK water blocks. The board looks impressive and has a list of features as long as your arm, however it also costs a hefty amount of money.

ASUS ROG STRIX X570-E Gaming Motherboard Review

ASUS' AM4 offering at the £300 price point is the ROG STRIX X570-E Gaming. Given the ROG treatment, ASUS deploys the usual affair of premium features and compliments them with an impressive 16-phase power delivery system, solid M.2 cooling shrouds, and 2.5 Gigabit Ethernet. If that last point gets your networking brain ticking, there's also 2.4Gbps-capable Wi-Fi 6 via an Intel adapter.

MSI MPG X570 Gaming Edge WiFi

"The MSI MPG Gaming Edge WiFi edition, which is aimed at filling the gap between a basic budget setup and something on the higher end. MSI has a long history of releasing many variations using the same chipset to fill all the needs of each type of build. From the truly basic motherboard like the MPG Gaming to the extreme heavy hitter GODLIKE series, rest assured that each one maximizes its targeted price point. The Gaming Edge is no exception and carries many of the desired traits, like RGB lighting and overclocking. This motherboard has a bit of everything and doesn't break the bank."

ASRock X570 Phantom Gaming ITX/TB3

With power hungry chipsets and powerful CPUs, the new X570 chipset has a slew of design challenges to overcome to squeeze the most out of the new platform. The ASRock X570 Phantom Gaming ITX/TB3 promises to harness that performance in a tiny Mini-ITX package.

ASRock X570 Steel Legend Review

ASRock's Steel Legend range has usually sat somewhere between the budget and enthusiast sectors, aiming to strike that, often difficult to find, balance between too few features and prohibitive pricing. The pricing aspect, they appear to have covered reasonably well, so we can focus on the features within the review.



The best Guides by the best writers on the internet; PCSTATS Beginners Guides explain computers, software, and all those other wonderful things that cause you frustration.

Learn how to use your computer better, master the internet while protecting yourself, and know what to do when your hard drive kicks the bucket.



"Get the 'Stats and Stay Informed!"