[>>]

[>>]

[>>]

[>>]

More>>

Search...

| | |
| --- | --- |
| Motherboards | |

... 0 news stories awaiting approval

MSI X299 SLI Plus motherboard

"The MSI X299 SLI Plus is a budget friendly way to get into the high performance LGA 2066 socket, while offering great features. For testing in this review I will be using the Intel Core i5-7640X which has an unlocked multiplier, runs at 4 GHz, and features quad cores and threads."

Asus ROG Strix Z370-F Gaming @ LanOC Reviews

Well, the Coffee Lake launch is here and to support Intel's new CPUs we also have new motherboards. As I write this I have two boards in the office that I have been testing, the first being the Asus ROG Strix Z370-F that I used to test the two CPUs for the review. Asus's boards have been solid and this one doesn't look to be any different. As a Strix board, it has Asus's now standard color neutral layout that uses black and gray, RGB lighting, and the angular Strix look. Today I'm going to take a look at its features, confirm that it performs well, check out the UEFI, and then talk a little about where it sits in the market and find out if it is worth picking up.

ASUS Crosshair VI Hero board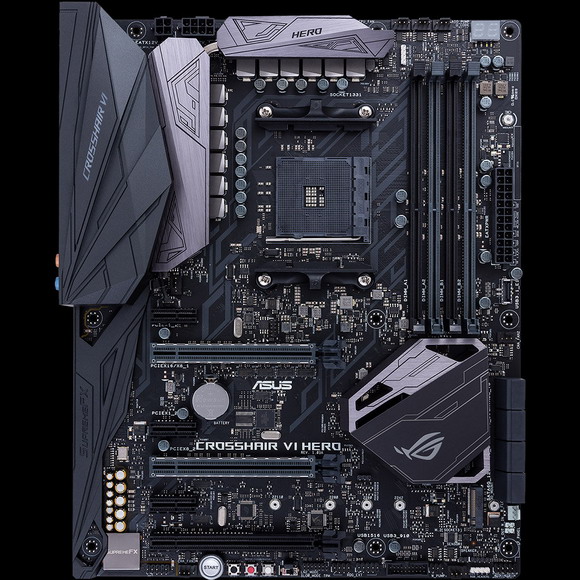 The ASUS Crosshair VI Hero board features a black PCB with a plastic armor overlay covering the board's rear panel and audio subsystem components. ASUS added RGB LED backlighting to the rear panel cover and chipset heat sink to illuminate the board and ASUS ROG logos, as well as under board lighting along the sound PCB separator line. ASUS designed the board around the AMD X370 chipset, offering support for AMD's Ryzen processor line and Dual Channel DDR4 memory running at a 2400MHz speed. The Crosshair VI Hero motherboard can be found in the wild at an MRSP of $254.99

Asus ROG Rampage VI Apex @ LanOC Reviews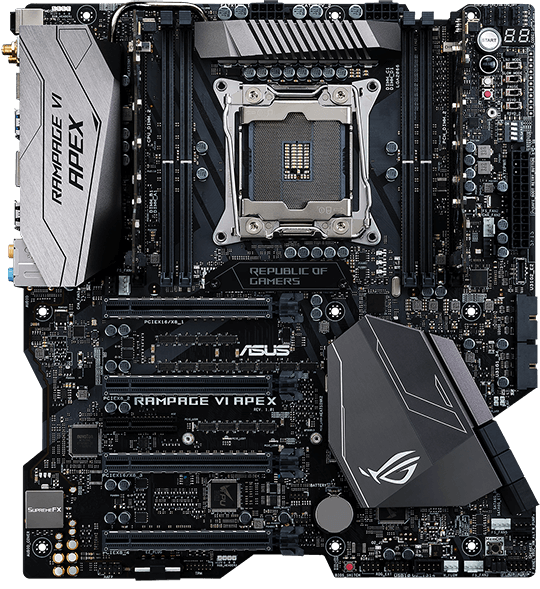 Well, we are far enough past the original X299 launch that the refined and crazier motherboards are starting to come out. This isn't anything new, Asus especially likes to take more time for their crazy boards, not just rushing everything out to make it to launch day. In this case, it also gives them the chance to tweak things, like work on the VRM cooling that was found to be an issue with a lot of the X299 boards after the launch. This works out timing wise as well given Intel finally launching their last few high-end Core-X CPUs. In fact, Asus sent this board over specifically to test with that launch. Well with that out of the way I can finally also take a closer look at the board itself. You know the Rampage VI Apex is something special when it stands out even when compared to the Prime X299 Deluxe. So let's check it out.


ASUS Prime X299-A Preview

The Prime X299-A is basically ASUS' entry-level motherboard when it comes to their X299 offerings. One might be tempted to assume that the vendor has been saving money everywhere but this board comes with a capable power design as well as RGB backlight, which illuminates the PCH as well as a generally good looking and attractive design.

ASUS Prime Z370-A Motherboard Review

"With the launch of Intel's 8th Generation desktop processors last week and the need for a new chipset (Intel Z370) we have a slew of new motherboards on the block. ASUS has quite a few different Z370 motherboards available right now, from their higher-end Republic of Gamers (ROG) brand to their more affordable Prime series. I am actually a huge fan of the Prime Series. It gives you all of the great features you expect on a motherboard, without many of the extras that cost more and you simply don't make use of. Today we are taking a look a the new ASUS Prime Z370-A Motherboard. This ATX motherboard has great features including dual M.2 slots, USB 3.1 Gen 2, 2-way SLI and 3-way CrossFire support, and even some cool RGB LEDs. You are going to get all of this for $174.99. Add an affordable "Coffee Lake" processor and you have the makings of a pretty awesome system. Let's dive in and see what this motherboard is all about."

MSI X299 Gaming M7 ACK

"Overclocking was fairly painless with the X299 Gaming M7 ACK and allowed me to reach up over 4.6GHz on the Core i9 7900X and step over the 5GHz boundary on the Core i7 7740X. The key to overclocking on eight-core and higher chips from Intel is to keep the voltage as low as possible to minimize the thermals. Short-term, a quality AIO will get the job done, but for the long-term you will need to go with a custom water setup. Even so, I found the motherboard was easy to overclock with both manual tuning and by using the EZ OC button to dial up the preset I wanted. MSI uses its Military Class 6 build components to ensure you have a stable long lasting power circuit that should prove to be fine as long as you do not abuse it. Much like everything else while overclocking, you pay your money you take your chances. I find manual tuning to be the way to the highest overclock and MSI's Click BIOS continues to get more granular in the quest to deliver performance while not going off the deep end."

ECS LEET Z370-Lightsaber motherboard

ECS is pleased to announce the new LEET Z370-Lightsaber motherboard supporting Intel 8th generation Core "Coffee Lake" LGA 1151 desktop processors. for more details please refer to attached files , thanks .
Elitegroup Computer System (ECS), the global leading motherboard, Mini-PC, Notebooks and mobile device manufacturer, is proud to announce the new LEET Z370-Lightsaber motherboard supporting Intel 8th generation Core "Coffee Lake" LGA 1151 desktop processors.
ECS Elitegroup Z370-Lightsaber is built in the ATX form-factor, supporting up to 64GB of dual channel DDR4 memory rated at 3200MHz+; three PCIe 3.0 x16 slots and three PCIe x1 slots for expansion. For storage slots, two M.2 32Gb/s Gen3 slots with one slot also supports SATA, and six SATA 6Gb/s ports that supports RAID 0/1/5/10. For users requires faster storage options, the board also supports Intel Optane technology for PCIe SSDs as well.
On the power & audio side, the motherboard comes with DiGi Power – Digital power designs with durable chokes and MOSFETs, offering more stable power delivery and more stable overclocking across the board, and Superior Audio - Featuring Realtek ALC 1150 8-channel(7.1) HD Audio along with Independent power delivery for the audio chip to avoid electromagnetic interference, onboard audio amplifier, Nichicon capacitors and golden audio connectors to provide an exceptional audio experience.
In addition, the motherboard offers a total of fifteen USB ports (two USB 3.1, six USB 3.0, seven USB 2.0) with lightning USB technology, offering better and faster transfer rates via USB devices, Multi-BIOSes, easy buttons for hassle free CPU OC, and LED illumination lighting that is adjustable via bios.

11 New ASUS Z370 Motherboards Revealed!

Here are the details and specifications of 11 new ASUS Z370 motherboards you can pair with your Intel Coffee Lake processor of choice!. Find out which motherboard is best for you!

MSI Z370 Gaming Pro Carbon AC Review

In our hands today, we have the MSI Z370 GAMING PRO CARBON AC which, as its name suggests supplies us with 802.11ac functionality straight out of the box. Along with the WiFi capabilities, this board also arrives with dual M.2 slots, trademark MSI features like Audio Boost 4 and MYSTIC LIGHT RGB functionality.

ASUS Rampage VI Apex Overclocking Motherboard Review

The ASUS ROG Rampage Vi Apex comes from a long line of overclocking motherboards that symbolize the epitome of what a high-end motherboard should be. Of course, these days, the lines between high-end, gaming, overclocking and mainstream all tend to blur.

ASRock Z370 Extreme4 Review

In the spotlight today we have the ASRock Z370 Extreme4. As has always been the case, Extreme4 moves in as a mid-range option, carrying strong features and hopeful performance. Some of these features include, dual M.2 slots, USB 3.0 and 3.1 headers and NVIDIA SLI/AMD Crossfire support.


ASUS ROG Strix GL753VD Review

Packing a 7th generation Core i5 processor along with 12GB of DDR4 memory, the Strix GL753VD should certainly be able to handle any kind of office or media editing workloads you can throw at it; pair that with M.2 storage, an NVIDIA GTX1050 and a 1080p display and this laptop aims to sensibly smash its way through games.



The best Guides by the best writers on the internet; PCSTATS Beginners Guides explain computers, software, and all those other wonderful things that cause you frustration.

Learn how to use your computer better, master the internet while protecting yourself, and know what to do when your hard drive kicks the bucket.



"Get the 'Stats and Stay Informed!"