[>>]

[>>]

[>>]

[>>]

More>>

Search...

| | |
| --- | --- |
| Motherboards | |

... 3 news stories awaiting approval
SuperMicro C7Z170-OCE (LGA1151) Motherboard Review

SuperMicro is one of the most respected names in the server industry and synonymous with unparalleled reliability. Whether you're after a rackmount, blade server system or workstation motherboard, there's nothing on the market which manages to enthuse such a sense of rock solid stability. Recently, the company has taken their server roots and impeccable reputation into enthusiast consumer motherboards. This allows them to retain the server framework while offering more ostentatious motherboard designs. Additionally, SuperMicro's highly refined production line results in a low RMA rate and each product evokes such a premium feel. While their previous attempts have been a little rough around the edges, it's clear to see the rapid progress in terms of motherboard layout and visual exuberance. Typically, motherboard manufacturers opt for the gaming themed red and black colour scheme because it caters towards the core demographic and maximize sales.

China market: Asustek launches low-cost motherboards

With Asustek Computer launching the Red Flag series motherboards, looking to compete against China-based vendors such as Colorful for China's mid-range and entry-level motherboard segments, Colorful has also prepared a series of motherboards to counter, according to sources from the upstream supply chain.

ASUS B150 PRO GAMING/AURA Motherboard

Is overclocking and multi GPU support really necessary? That's the question ASUS' B150 PRO GAMING/AURA asks since it has a bunch of high end features but lacks support for those two elements.

ASUS ROG Maximus VIII Hero Alpha Review

Maximus VIII Hero Alpha looks identical to the standard Hero and an initial observation confirms the same theme has been implemented and a majority of the same features utilised. However, Alpha brings with it a number of significant improvements over its sibling with dual 32Gbps U.2 ports for NVMe storage, up to 3 PCI Express RAID devices, 802.11ac WiFi, RGB Strip headers and the Intel USB 3.1 controller.

Z170I GAMING PRO AC motherboard

The Z170I GAMING PRO AC motherboard is poised to be a tiny powerhouse for SFF builds or for those of you looking to focus on "less is more." If you are looking to make the jump to an Small Form Factor build, or you want to update an existing build you won't want to miss this feature rich Mini-ITX motherboard.

ASRock Z170 Extreme4 Motherboard Review

ASRock is a relatively new motherboard manufacturer, and it shows in their designs. They are more willing to come up with edgier designs, with a particular emphasis on marketing-friendly features. Today, we are going to take a look at one of their Intel Z170-based motherboards – the ASRock Z170 Extreme4.

MSI X99A Godlike Gaming Review

The X99A Godlike Gaming is MSI's latest and greatest X99 based motherboard. It comes with numerous features such as for example an RGB backlight and a nice looking cover plate. Appartenly we're rather curious to find out how this monster performs.

Biostar Hi-Fi A88ZN Mini-ITX Mainboard Review

"The Biostar Hi-Fi A88ZN Mainboard arrived Technic3D. We check the Mini-ITX-Mainboard with AMD A88X chipset functions and Performance in the following Review with a AMD A10-6800K CPU on Windows 10 64 Bit."

ASRock E3V5 WS Workstation Motherboard Unboxing Video

Today, a new unboxing video of the ASRock E3V5 WS Intel LGA1151 workstation motherboard is published on OCinside.de in German with English subtitles. The detailed ASRock E3V5 WS motherboard review with Intel Xeon E3-1230 v5 processor is coming soon as well.

ASUS ROG Maximus VIII Impact

"This mini-ITX form factor board comes packed with software and hardware features that rival, if not surpass, larger boards. ASUS built the Maximus VIII Impact around the Intel Z170 Express chipset with support for Skylake CPUs and DDR4 dual channel memory; offering a solid starting point for a small form factor, extreme-gaming builds."

X99 Charts: 14 Boards - MSI X99A Godlike Gaming

So far we've tested 14 X99 motherboards and we have to say that sometimes we got quite interesting results. What we've also done is, we have added results gathered with Right Mark Audio Analyzer in order to chek the quality of the onboard audio.

Premium Mini-ITX board from Asus

The last time we looked at a premium Mini-ITX board from Asus' Republic of Gamers series, we came away impressed. Can the Z170 Maximus VIII Impact win our hearts and wallets again?

ASRock H110M-STX and H110M-STX MINI

According to Tom's Hardware, one of the top picks of this year's CES (Consumer Technology Tradeshow 2016) is ASRock's mini-STX motherboard and mini-STX building block PC. Currently both models are powered by Intel H110 chipset, including the motherboard H110M-STX and H110M-STX MINI PC. This new form factor is smaller than your ordinary mini-ITX builds, yet still holds adequate room for a standard CPU fan, which makes it perfect for a powerful SFF sized mini-PC.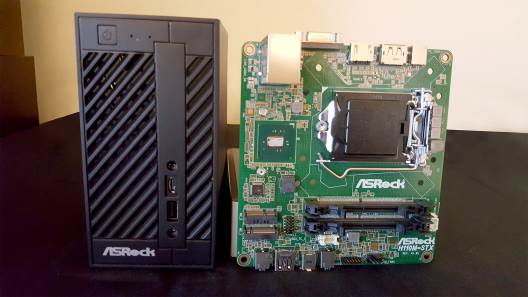 The world's first STX model that supports a standard Intel box fan. Read more about ASRock H110M-STX and H110M-STX MINI PC at Tom's Hardware .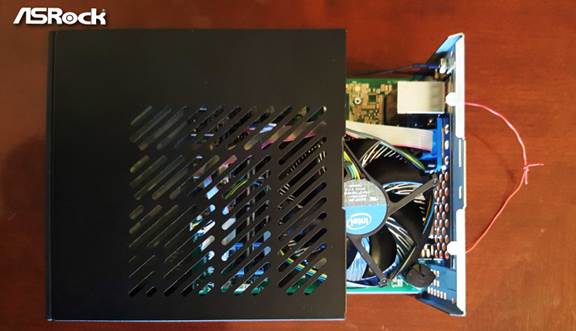 ASRock H110M-STX MINI PC is mainly targeted for educational and commercial purposes. Users will have the freedom of choosing their own Intel 6th generation processors, as well as the right to cram in a standard Intel box fan. While the whole setup is much smaller and power efficient than traditional desktop systems, it is also way more powerful than the current NUCs in the market.

Supermicro C7Z170-OCE Review

Supermicro is well-known in the server market. Meanwhile the manufacturer also has a focus on the overclocking/gaming sector and it is their approach to bring server-grade quality to the table. Therefore the C7Z170-OCE could be an interesting product and we're certainly curious what it can do in our review.

GIGABYTE - 5 New High-End Desktop Motherboards with X170, X150 Chipsets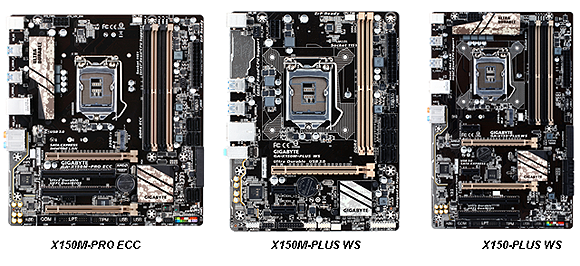 GIGABYTE TECHNOLOGY Co. Ltd., a leading manufacturer of motherboards and graphics cards, is proud to launch a whole new series of High-End Desktop (HEDT) motherboards with the X170 and X150 series, based on Intel® C236 and C232 chipset. In addition to supporting the new Intel® Xeon® E3-1200 v5 processor and ECC DDR4 memory (for select motherboards), the new motherboards are also compatible with Intel® 6th Gen. Core™ i3, Pentium™ and Celeron™ processors.
These new high-end desktop motherboards will bring support for Xeon Processors to users who desire a professional solution whether it's for Photography, Designing, Video Streaming and more. "I know GIGABYTE is providing the best HEDT experience with the X170 and X150 Motherboards, combining performance, stability and durability," commented Henry Kao, Vice President of GIGABYTE's Motherboard Business Unit.
Intel Xeon E3-1200 v5 support with Intel C230 Series Chipset
This new generation of Xeon processors is based on the 14nm process technology and designed with the new Skylake microarchitecture. Among the main features of this new product family is the adoption of the DDR4 memory technology, which brings a significant memory speed and capacity boost over the previous generation (up to 64GB at 2133MHz compared to 32GB at 1866MHz with the previous generation). Additionally, the Intel® C230 Series chipset delivers improved manageability, increased I/O bandwidth, and enhanced processor graphics.
With the introduction of the X170-Extreme ECC, X150-PRO ECC and X150M-PRO ECC, users can benefit from ECC memory (Error-correcting code). Utilizing specialized memory chips on the RAM modules, it can eliminate small data discrepancies and prevent data corruption to ensure reliability for critical applications while helping to reduce system crashes.
Designed to deliver the best expansion connectivity, the first PCIe lane of the new X170 and X150 workstation motherboards from GIGABYTE is a direct x16 Gen.3 lane to the processor, which offers 128Gb/s of unrestricted bandwidth to your graphics cards for better performance when running GPU intensive applications.
Select GIGABYTE's X170 and X150 motherboards are equipped with Intel's latest USB 3.1 controller, offering the best USB performance to date. Delivered over the new reversible USB Type-C and widely adopted Standard-A connector, USB 3.1 offers transfer speeds of up to 10Gb/s (twice the speed compared to its previous generation) and backwards compatibility with USB 2.0 and 3.0 for better compatibility over a wider range of devices.
Additionally, GIGABYTE brings to the user PCI-Express connectivity for SSD devices with support for PCIe Gen.3 x4 M.2 connectors. Delivering up to 32 Gb/s data transfer speed per connector, the M.2 SSDs provide an ideal storage solution as it also supports RAID modes. Also compatible with NVMe drives such as the Intel 750 2.5" drives via an M.2 to U.2 adapter, this solution can bring the fastest storage solution to improve data transfer speeds, system boot up time and game load time, providing the user with a smooth and pleasant experience.
The X170-Extreme ECC motherboard features the Killer™ E2400 Gigabit Ethernet Controller, the world's most advanced networking detection and prioritization technology for consumer and enthusiast users. The E2400 provides additional intelligence by automatically detecting and prioritizing specific website traffic in addition to networked applications and games. The adapter delivers industry-leading latency performance, offering more powerful network control, improved latency, reduced jitter and virtually eliminates video freezes so users can play, watch and stream games all at the same time.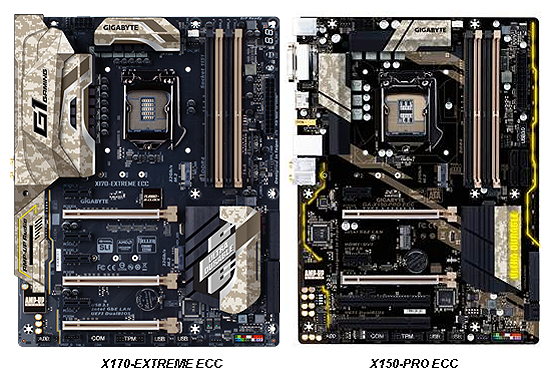 ASUS RoG Maximus VIII Extreme

The ASUS Maximus VIII Extreme is the RoG's current flagship board for Skylake processors. Do its performance, overclocking and features match up to a staggering price.



The best Guides by the best writers on the internet; PCSTATS Beginners Guides explain computers, software, and all those other wonderful things that cause you frustration.

Learn how to use your computer better, master the internet while protecting yourself, and know what to do when your hard drive kicks the bucket.



"Get the 'Stats and Stay Informed!"