| | |
| --- | --- |
| Motherboards | |

... 8 news stories awaiting approval
Gigabyte G1.Sniper A88X

With the G1.Sniper A88X Gigabyte fills the gap between D3H and UP4. The gaming board with socket FM2 + is placed between the overclocking and upscale middle class. Our test shows how gigabyte transfers its gaming-concept to FM2+

ASRock FM2A88X EXTREME6+ @ Hardware Secrets

The FM2A88X EXTREME6+ is the first socket FM2+ motherboard from ASRock, based on the most high-end chipset for this new platform, the A88X. It is targeted to the forthcoming FM2+ Kaveri APUs, but it is also compatible with socket FM2, second-generation APUs from AMD, codenamed Trinity. Let`s see what this motherboard has to offer."

MSI Z87 XPower

Still, if money is no object or you simply must have the most extreme Z87 motherboard available, then the Z87 XPower is without question going to be amongst a select few boards at the top of your list. Having spent a few weeks playing with the MSI Z87 XPower we have really enjoyed the experience, and with no real flaws to speak of we highly recommend it to all extreme system builders.

ASUS Gryphon Z87 Review

With the Gryphon Z87, ASUS has expanded their TUF Series line-up by an mATX motherboard. This board features an attractive price point and separately available there is the so called Armor Kit, which improves the looks and adds some other additional features. Overall this sounds like a flexible concept and definitely have to take a close look at what ASUS is offering here.


ASUS Z87 Motherboard Roundup October 2013 @ HardwareHeaven.com

For some time now ASUS haven`t been shy to release a wide range of boards for each socket/CPU. In fact some of their product families are well into the double digits in terms of different models. Size, features, price, performance... all can be tweaked to offer a range that meets the needs of every consumer. And that goes for the high end boards too, under the Republic of Gamer branding. So today we take a look at what they offer there in the form of the Maximus VI Extreme (ATX), Hero (ATX), Gene (mATX) and Impact (mini-ITX)."

ASUS talks Rampage IV Black Edition

"The advance of tablets and CPUs with powerful integrated graphics has had an impact on the entry-level segment. The sales of entry-level graphics cards have been going down for a while now. The high-end segment is going strong, however, the market for graphics cards $ 200 and over has increased over the past year, and we expect the increase to continue in 2014."

Gigabyte Z87X-UD4H Review

For what the board is, it is virtually perfect. There is always room to want more, but this board didn`t leave me feeling like I was missing out on anything. If there are any features you want that aren`t provided, there are higher end Gigabyte motherboards that have them, but for a strong general purpose board this is hard to beat. The only things a user could realistically miss are: IEEE 1394 headers and Wi-Fi. IEEE 1394 isn`t nearly as common as USB and Wi-Fi is a premium feature (that is offered on higher end Gigabyte boards). The software worked almost perfectly; it required an update but after that it worked without any problems! The only bug I noticed was incorrect memory frequency being reported but that didn`t affect performance. The board was completely stable; the only time I ever had a crash was when the pushing the CPU with too low of voltages!"

MSI Z87 MPOWER MAX Review @ Vortez

MPOWER MAX is an attractive high-end Intel Z87 motherboard which focusses primarily on overclocking as a key attribute. Boasting a burly 20 phase digital power design, do we have a record breaker in our hands?"


MSI Z87 MPower LGA 1150 Motherboard Review

The "M" series motherboards from MSI have gained a lot of recognition recently being an upper quality not-so-high-priced motherboard for the computer hardware enthusiast. However while MSI brings us some of the best hardware you'll find on the current market seemingly goes a bit off course with firmware and software.

Toshiba Electronics Launches Miniature 600V Superjunction Power MOSFETs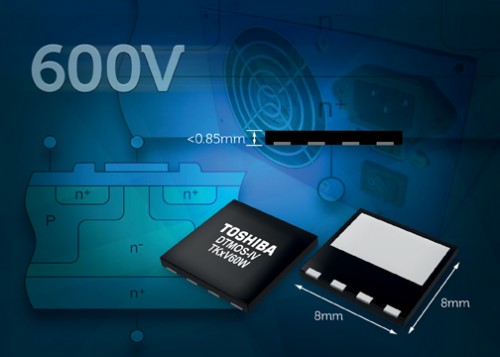 Toshiba Electronics Europe (TEE) has announced that its next-generation superjunction (SJ) DTMOS-IV power MOSFET technology is being made available for the first time in small outline, low-profile DFN packaging. New 600V DTMOS-IV MOSFETs in a DFN package will be ideal for high-speed switching in power supplies, lighting ballasts and other applications requiring a space-saving alternative to more conventional D2PAK and DPAK devices.

Offering current ratings from 9.7A to over 30A, the new devices in the TKxV60W family of 600V MOSFETs have ultra-low on resistance (RDS(ON)) ratings from 0.38? to just 0.098?. A leading RDS(ON)*Qg figure of merit ensures high-efficiency switching while a low output capacitance (Coss) supports optimised operation at light loads. Each device also incorporates an additional sense pin for direct driver connection.

Toshiba's DTMOS-IV process delivers MOSFETs that exhibit a better temperature coefficient of RDS(ON) than alternative devices. This allows efficiency benefits to be realised even during high-temperature operation. As with other devices in Toshiba's DTMOS-IV family, the new DFN MOSFETs have an optimised gate-drain capacitance (Cgd) that delivers improved dv/dt switching control. Support for lower dv/dt ratings also helps to reduce the tendency to ringing in high-speed switching circuitry.

At 8mm x 8mm the DFN package has an outline that is 20% smaller than a D2PAK package. A profile of only 0.85mm is almost three times lower than a traditional DPAK and over five times lower than a D2PAK.

Toshiba uses the deep trench process in its DTMOS-IV fourth generation single-epitaxial superjunction MOSFET. This allows closer trench pitch compared to the third-generation (multi-epitaxial) process, leading to a 30% better on-state resistance for a given die area.

Gigabyte F2A85XN-WIFI

The Gigabyte F2A85XN-WIFI is a great little Mini-ITX board that provides a strong hardware and software feature set along with excellent performance. In terms of pricing it might be a little spendy for a small A85X motherboard, but with its only competition coming from the Asrock FM2A85X-ITX which is also priced at $105, we certainly cannot knock it in terms of value.

Gigabyte Z87M-D3H Review

We review the Gigabyte Z87M-D3H, a mATX Z87 motherboard with good overclocking options that would make for a great small form factor gaming PC.

Gigabyte G1.Sniper B5 review: affordable gaming motherboard

The G1.Sniper B5 is an affordable Haswell motherboard in Gigabyte's gaming line. Partially due to the fact it uses the Intel B85 chipset, Gigabyte was able to keep the price below £100. But were they able to keep the gaming DNA intact?

Gigabyte G1 Sniper A88X Gaming Motherboard Review @

Admittedly as enthusiasts we often look for motherboards that offer the most expandability because we want to run multiple graphics cards, custom network controllers and the best audio card money can buy. These are the things that make a good gaming system and just happen to be available on the Gigabyte G1 Sniper A88X.