[>>]

[>>]

[>>]

[>>]

More>>

Search...

| | |
| --- | --- |
| Motherboards | |

... 8 news stories awaiting approval
GIGABYTE G1.Sniper 2: A Preview

GIGABYTE has a new motherboard in the G1.Killer series. The G1.Sniper 2 is the successor to the G1.Sniper board, and is designed for gamers like every other board of the G1 line. However, the G1.Sniper 2 comes even more loaded, featuring 32nm Sandy Bridge support. Gamers can finally enjoy the full power of the Sandy Bridge architecture with loaded features of the G1.Killer line of boards. Keep reading to see what this board's got, and be sure to read our upcoming full review of this board.

Gigabyte Z68X-UD4-B3 Review

With the Z68X-UD4-B3 Gigabyte presents its midrange model regarding Intels Z68 chipset. The board itself comes with the new color scheme as well as a long feature list of which for example a 16 phase power design is part of. For us this is reason enough to take a closer look at this board in order to show what it can and what it can't.

GIGABYTE G1.Assassin 2 (Intel X79) Motherboard Preview

I`m a big fan of the G1 series from GIGABYTE. I get that some of the design decisions aren`t for everyone, but the bottom line is that in the feature department the G1 series are one of the most stacked series on the market. With more and more people pulling away from separate sound and networking cards, the addition of high end components in these areas on board are appreciated. The latest addition to the G1 series from GIGABYTE comes in the form of the new G1.Assassin 2 and of course carries the much anticipated X79 chipset that we`ve been waiting for what feels like forever now. While we`re still just a little bit out from NDA, there`s as usual a lot of things we can`t tell you when it comes to the performance side of things, nor can we tell you some of the particular technologies implemented on the board."

ASUS F1A75-M PRO @ PureOverclock

ASUS, a full line motherboard manufacturer, has been busy with both AMD socket AM 3+ and now socket FM1 motherboards. Let`s dive in a see what the F1A75-V PRO brings to the table with these APUs from AMD coupled with groundbreaking on-die graphics processor 6550D."

Sockel 1155 Charts - updated Gigabyte Z68X-UD4-B3

In our comparison tables you find benchmark values regarding numerous motherboards. Furthermore we do not comment the benchmark values. The idea and also the goal is to present to you a market overview which helps you choose the right motherboard.

Gigabyte GA-990FXA-UD7 Motherboard Review

We found that the installation of this board was slightly grievous as it is a few centimetres longer than most other ATX boards so we were unable to use our cases cable management holes as the board covers them, but despite this there was nothing untoward to report and once in the case, we found that all the connectors were well placed and felt very securely attached to the board, further reaffirming our view that this is looking to be one of the most well made bits of kit we have been fortunate enough to get our hands on.

GIGABYTE G1 Sniper 2 Intel Z68 Review

The first Intel Z68 motherboard to be released under the G1-Killer moniker is the G1 Sniper 2 just a week ago. The G1 Sniper 2 has an interesting feature-set including early support for PCI-E 3.0, a dedicated Network Processing Unit from networking professionals Bigfoot and other elements to entice gamers. It's time to lock n' load, reconnaissance style. Let's take a look at GIGABYTE's latest G1 Killer Intel Z68 motherboard.

Sapphire Pureblack P67 Hydra Review

"Sapphire are GPU manufacturers at their heart, but they've been known to dip into other markets in the past few years; perhaps one of the most interesting ones being motherboards. Today I'm looking at their latest foray into the mobo game, the Sapphire Pureblack P67 Hydra. It's got 4 PCIe ports, an onboard post and CPU temperature readout and some nice onboard power switches. Lets get investigating."

ECS A75 Series Motherboards, the Best AMD APU Platforms

ECS has launched A75 series motherboards which include Black Deluxe A75F-A, A75F-M and A75F-M2. ECS A75 series motherboards based on the latest AMD A75 chipset supporting AMD Vision APU are ready for high-performance graphics computing. For example, ECS A75 series motherboards with the latest A8 APU which contains 8 cores and ATI HD 6650D graphics power could all achieve the A level Performance of Street Fight IV and averagely over 9900 points.
Accelerated Processing Unit (APU), the whole new concept of combining CPU and GPU together presents strong power on graphics computing with multi-tasking computing ability. ECS has amazed the market with ECS HDC series with AMD dual-core processors E-350 or single-core processor E-240 APU on board. Now, ECS continually presents A75 series motherboards to greet the new era of APU.
ECS A75 series motherboards equip with USB 3.0, SATA 6 Gb/s and eSATA 6 Gb/s natively supported by A75 chipset. Of course, all A75 series motherboards have multi-output for its famous graphics power. All ECS A75 series motherboards are ready for DirectX® 11 and UVD 3. ECS Black Deluxe A75F-A even passes the super burn test with 50? to make sure the quality and steady. With extreme data transmission speed equipments, powerful graphics performance, and elegant layout design, ECS A75 series motherboards are ready to sweep across the market as the best APU platforms.



All ECS Motherboards with Solid Capacitors for CPU Power


Elitegroup Computer Systems (ECS), the world's leading motherboard, graphics card, barebone system, notebook and mobile device manufacturer designs its products with the best quality standard for its users' benefit. Due to the CPU occupying the most power consumption during PC computation, the CPU area requires more durable components to support it.
Therefore, ECS has adopted the usage of solid capacitors around the CPU power area for all series motherboards taking into consideration the balance of the user's budget and product quality to achieve the best cost/performance.
Compared to traditional electrolytic capacitors, solid capacitors have 1000 times more electric conductivity to offer better performance. The CPU area normally generates higher temperatures because of increased power consumption. Solid capacitors have the following features: 10% lower temperatures, higher temperature durability for longer life span and reliability.
ECS guarantees equipping its motherboards with real solid capacitor components unlike some manufacturers who use traditional electrolytic capacitors covering them with a pretend solid capacitor shell. ECS not only looks after your pocket but also ensures the quality of its motherboards on every detail to earn its users' trust.

E350N-USB3 motherboard

Gigabyte has sent us a preview sample of its upcoming E350N-USB3 motherboard, a slick little Mini-ITX design that features AMD's new Zacate accelerated processing unit.

GIGABYTE Bundles Z68XP-UD3-iSSD Motherboard featuring 20GB Intel SSD

SSD Bundle Enables Users to Effortlessly Take Advantage of Intel Smart Response Technology for an Instant System Performance Boost
GIGABYTE, a leading manufacturer of motherboards, graphics cards and computing hardware solutions today announced the new GIGABYTE Z68XP-UD3-iSSD motherboard based on the Intel® Z68 Express chipset and pre-bundled with the 20GB Intel® Solid-State Drive 311 Series. The included mSATA-based single level cell (SLC) solid-state drive (SSD), allows users to take advantage of the performance benefits of Intel® Smart Response Technology straight out of the box. The package is expected to be available to end-users in early June from selected online retailers internationally. (PCSTATS full 19-page review of the Gigabyte GA-Z68XP-UD3-iSSD motherboard and the bundled in 20GB mSATA SSD is available to read right here )
"We are thrilled to deliver the world's first motherboard to come pre-bundled with an Intel SSD 311," commented Richard Chen, VP of Worldwide Sales and Marketing at GIGABYTE. "Our customers realize the performance benefits that Intel Smart Response Technology has to offer, and the Z68XP-UD3-iSSD is the easiest way for them to instantly take advantage of the performance boost."
"By offering the Intel SSD 311 Series, optimized for Intel Smart Response Technology, with GIGABYTE's Z68XP-UD3-iSSD MOTHERBOARD, we can bring the benefits of increased system responsiveness to more users," said Pete Hazen, director of marketing for Intel's Non-Volatile Memory Solutions Group. "A bundle such as this offers users an easy, plug-and-play entry into the quicker response environment of caching with an SSD."
Intel® Smart Response Technology
GIGABYTE Z68 series motherboards are equipped with the much anticipated Intel® Smart Response Technology, allowing users to experience system performance similar to SSD-only systems. Intel® Smart Response technology works by using intelligent block-based caching of frequently used applications to improve system performance and responsiveness. In fact, GIGABYTE Z68 motherboards with Intel® Smart Response Technology are able to outperform hybrid drive systems by more than 4X (PC Mark Vantage HDD test score) and deliver a 60% performance improvement over HDD-only systems in PC Mark Vantage Suite.
GIGABYTE is displaying the GA-Z68XP-UD3-iSSD package at Computex 2011. To find out more about the GA-Z68XP-UD3-iSSD, please visit: http://www.gigabyte.us/products/product-page.aspx?pid=3896#ov and keep an eye on the GIGABYTE Tech Daily Blog.

BIOSTAR's TZ68A+ Intel Z68 motherboard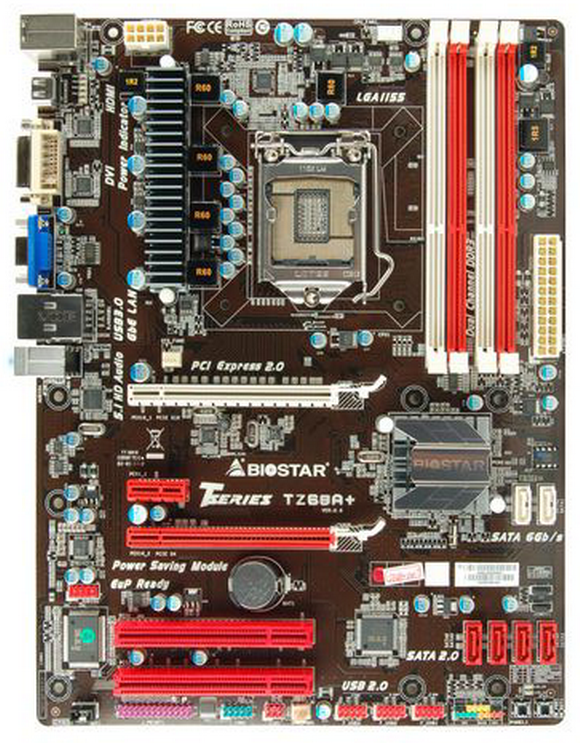 BIOSTAR MICROTECH INT'L CORP., A professional manufacturer of motherboards, introduces Intel Z68 chipset based motherboard that supports Intel 2nd generation Sandy Bridge processor family, it is special designed for advanced gamers and overclocking fans. BIOSTAR "TZ68A+", the only solution supports both built-in graphics and external overclocking among Intel Sandy Bridge processors; it is also equipped with Lucid Virtu GPU Virtualization - a dynamic switching between built-in processor graphics and high-end 3D performance discrete graphics cards. Moreover, it also fully supports Intel Smart Response Technology - enabling SSD like performance with HDD capacity.

BIOSTAR "TZ68A+", is ATX form factor with black color PCB design; it adopts Intel's latest Z68 B3 stepping chipset and BIOSTAR exclusive BIO-Remote2 & Charger Booster utilities. For the on board power supply, "TZ68A+" uses a 5-phase power supply design with 100% X.D.C solid capacitor.

For the memory, "TZ68A+" provides 4 DIMM slots supporting dual-channel DDR3 2133 (OC) and features a one-phase power supply independently. For storage, it provides 4 x SATA2 and 2 x SATA3 disk interfaces. For the extended slots, "TZ68A+" provides 2 x PCI-E x16 2.0 display card slots, supporting dual-card mode. Furthermore, various IO interfaces are available including 2 x USB2.0, 2 x USB3.0, PS/2, HDMI+DVI+HDCP, RJ45, and 6 channel HD audio outputs.

About BIOSTAR Group
BIOSTAR was established in 1986, ranked Top 20 most valuable international Taiwanese brand in 2008 with an estimate brand value of US$ 46 million. BIOSTAR has enriched its competence in the design and manufacture of motherboards, and will continue serving its customers with the best quality and services.


ASRock PCIe Gen3 Motherboard Series To Revolutionize Desktop

a

Motherboard giant, ASRock unveils its new PCIe Gen3 Motherboard Series. The company's next-generation motherboard will be the first to work with PCI Express 3.0 specification, offering more bandwidth to enable faster communication between components inside a system. Coupled with ample amount of ASRock's exclusive features, impressive PCIe Gen3 bandwidth and ultimate hardware components, the ASRock latest Gen3 Motherboard Series is your best choice for PC solutions.

"ASRock is prioritizing PCIe 3.0 motherboard implementation. We are the first to produce the most sophisticated PCIe Gen3 motherboards." commented James Lee, V.P of ASRock Sales and Marketing. "ASRock has always been a leader in every evolutionary cycle. The latest Z68 Extreme7 Gen3 mainboard is the most powerful Gen3 appliance on the market can support Intel's revolutionary Ivy Bridge processors and full-power Nvidia 3-Way SLI technology".

When every dollar counts, you need to spend it wisely. PCIe Gen3 configuration is where the sensible money is at, and the ASRock Gen3 Motherboard Series will surly satisfy all your needs.

Herewith a quick possilbe way to eaily identify the PCIe 3.0 and 2.0 boards. With the listed PCIe 3.0 quick switch IC, users can enjoy the PCIe 3.0 brandwith by installing the PCIe 3.0 VGA card with Intel future Ivy Bridge CPU. (Note: The PCIe 3.0 lanes come from Ivy Bridge processors.)

With the listed PCIe 2.0 quick switch IC, even the PCIe 3.0 VGA card and the upcoming Ivy Bridge CPU are installed, it still can only run at PCIe Gen2 speed.

Ready to groove with the ASRock's top-shelf board Z68 Extreme7 Gen3? Coupled with all the ASRock's innovative features and the ultimate hardware enhancements, the board will serve advanced users pretty well.

The full-size ATX board comes with 1 PCIE 3.0 x16, and 4 PCIE2.0x16, supports Nvidia 3-Way ALI and AMD 3-Way CrossFireX. With Nvidia NF200 chip onboard, the Z68 Extreme7 Gen3 is capable of running dual VGA cards at PCI-E x16 / x16 mode and three VGA cards at x16 / x8 / x8 mode to get maximum graphics performance.

Equipped with Premium Gold Caps and advanced V8 + 2 Power Phase Design, Z68 Extreme7 Gen3 performs hard-rock stability. It supports 2nd Generation Intel Core i7 / i5 / i3 in LGA1155 Package, Quad channel DDR3 2133 memory, Intel HD graphics with Built-in Visuals, 6 USB 3.0, 10USB2.0 and 7 SATA3. The onboard VGA outputs include D-Sub, DVI-D, HDMI and display ports as well. Other ASRock exclusive features include XFast USB Technology, graphical UEFI BIOS, all-in-one AXTU tuning program and the support for 7.1 CH HD audio with THX TruStudio.

Digital life can be simple and easy, all you need is smart software tool. Gen3 series motherboards bundle with ASRock newest innovative technologies. XFast Charger enables users to quickly charge their mobile devices via PC by the fastest XFast Charger USB Port. The brilliant XFast LAN controls the web programs more efficiently. It can boost up the Internet speed by prioritizing internet applications and lower down the latency in games.

To personalize your digital life, ASRock Z68 Extreme7 Gen3 comes with MAGIX Multimedia Suite lets you create the personalized media environment for free, making it easier to enjoy the marvelous digital entertainments. There're 4 useful tools within this package. From music management, music creation, video editing to photo management, everything you craving for an ultimate media solution is in this all-in-one package.

The next-generation of PCIe 3.0 computers is on the way. Nothing catches users' attention more than this. Besides the premium board Z68 Extreme7 Gen3, the most thrilling Gen3 platform comes along with several models - Fatal1ty Z68 Professional Gen3 / Z68 Extreme4 Gen3 / Z68 Extreme3 Gen3 / P67 Extreme4 Gen3.

As the world top 3 motherboard manufacturer, ASRock aims to offer high-performance and best quality products to users. As the remarkable PCIE Gen3 Series that ASRock brings in, it announces the era of PCIe 3.0 is officially coming!

For more product information, please visit : http://www.asrock.com/microsite/pcie3/index.html


ASRock Launches AMD A75 Chipset-Based Motherboard Stunners

Hybrid chip architecture is a huge revolution. Say hello to the new-gen of AMD APU. Today, ASRock is confident to release their A75 Motherboard Stunners featuring the perfect integrated graphics performance to mainstream DIY market. Based on the latest AMD A75 chipset and FM1 socket, the ASRock A75 Motherboard Series support AMD's new Llano APUs. Coupled with the outstanding ASRock A75 mainboard and the exciting APU processor, ASRock is ready to rock the world with the best graphics performance ever seen on an integrated processor.
"The motherboard is the beating heart of every PC, as ASRock's motherboards can be trusted to unlock the maximum potential from your PC." commented James Lee, V.P of ASRock Sales and Marketing. "ASRock always live up to our promise! The latest A75 motherboards bring the best kits for the users who demand astonishing gaming and media-focused performance on a budget platform. The A75 boards also offer several advanced functions that include Dual Graphics technology."
Featuring AMD A75 Hudson-D3 chipset, ASRock A75 boards are wonderfully suited to the latest 32 nanometer AMD APUs and can natively support USB 3.0 and SATA3 technologies. The APU is the architecture to feature a GPU on the same silicon die as the CPU and is a perfect combination of DirexX11 technology and high performance graphics, offering powerful visual experiences similar to a discrete graphics configuration.
A75 Extreme6, the top-of-the-line board of the innovative A75 APU motherboards. It is super powerful and brings visual enhancements in the field of integrated graphics. The APU processor integrates AMD Radeon HD 65XX/64XX and DX11 graphics technology, delivering the optimized visual enjoyment to users. AMD Radeon™ Dual Graphics Technology combines the powers of APU and discrete GPU, providing significant performance boost and immersive gaming experience. Steady Video™ leverages the processing power of the GPU in order to remove shakiness from the home/online video.
Powered by V8 + 2 CPU phase design, the ASRock A75 Extreme6 improves power solution and delivers Vcore voltage to the CPU more efficiently and smoothly. The board is also marked for its versatile. PC DIYers will definitely appreciate the onboard power/reset and clear CMOS switch buttons as well as the integrated display outputs (D-Sub, DVI-D and HDMI). Moreover, the board gives decent multi-GPU options as well - 3 PCI Express 2.0 x16 slots cater for Quad CrossFireX, 3-Way CrossFireX and CrossFireX settings.
In addition to the flagship board A75 Extreme6, the much-anticipated A75 platform comes with several models - A75 Pro4 / A75 Pro4-M / A75M / A75M-HVS. All of the excellent A75 Motherboard Stunners come in a feature-rich package too is likewise impressive. The full series supports a hot of unique features such as tweak-friendly graphical UEFI, XFast USB, On/Off Play and Cyberlink MediaEspresso 6.5 Trial software. The most important feature of the bundled package is obviously the THX TruStudio™. It has been applied on all ASRock A75 Motherboard Series, bringing unparalleled audio experience. With the industry leading surround sound technology, you'll see a different A75 mainboard here.
Focus tightly to high performance and quality, ASRock has thrown everything essential to its A75 Motherboard Series. Picking an ideal board is so easy only at ASRock A75 Motherboard Stunners!
For more product information, please visit : http://www.asrock.com/microsite/a75/index.html

GIGABYTE X58A-OC: World's First Overclocking Motherboard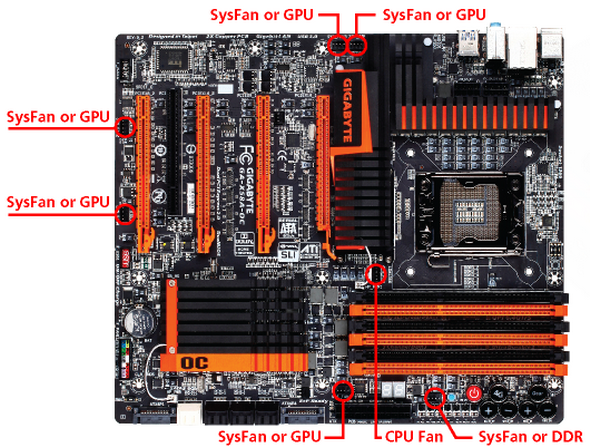 GIGABYTE TECHNOLOGY Co., Ltd, a leading manufacturer of motherboards, graphics cards and other computing hardware solutions today announced the launch of the world's first motherboard designed from the ground up for extreme overclockers, the GIGABYTE GA-X58A-OC. Its overclocking specific performance design defines a whole new category of enthusiast focused motherboards that introduces never-seen-before tweaking and insulating features.
"The GIGABYTE X58A-OC introduces some really exciting and unique overclocking technologies like the PWM frequency switcher, a full range of onboard hardware OC buttons, onboard SATA power connectors for stable multiple graphics configurations, and DualBIOS™ switcher that up until now have just been ideas discussed in private OC forums and messages," commented HiCookie, GIGABYTE In-house Overclocking Expert. "Tweaking features aside, we have also adopted high current components such as POScaps and MPFC (Max Power Ferrite Core) Chokes that allow overclockers to bench more reliably and with more power so they are able to smash more world records. As an avid overclocker myself, having the freedom to help design a board specifically for overclockers has been a dream come true, and I really hope that overclockers enjoy benching on this board as much as we enjoyed making it!"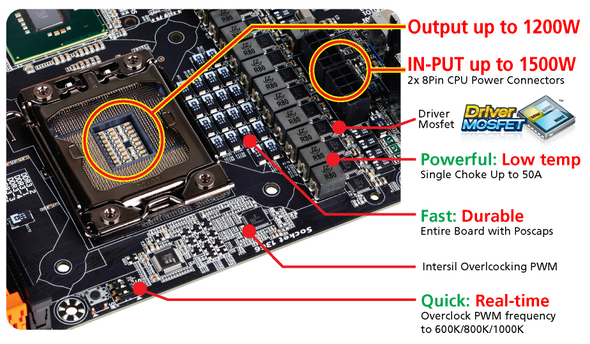 Based on the Intel® X58 chipset (Tylersburg) and supporting LGA 1366 socket CPUs such as Intel's new top of the range Core™ i7 990X Extreme Edition CPU, the GIGABYTE X58A-OC takes advantage of all the performance benefits that the X58 platform has to offer including triple channel DDR3 memory support, 6 core 12 thread CPU support, and enough PCIe Gen 2.0 bandwidth to support 4-way CrossFireX™ and 3-way SLI™ for the best graphics performance in the world.

GIGABYTE has listened closely to the overclocking community to make sure the X58A-OC has all of the overclocking features enthusiasts have been asking for, without some of the features that are unnecessary while overclocking, or can negatively impact performance - similar to a stripped down sports car where the aircon, radio, passenger seats, etc… have been removed to reduce weight. Layout was a critical aspect of the design, not only in choice of components used, but also spacing of the components so that insulation of the board is as easy as possible, while still maintaining the most efficient data pathways between the various components. GIGABYTE is also introducing 5 new main overclocking features on the X58A-OC that help to push the performance envelope of the X58A-OC even further including OC-VRM, OC-Touch, OC-PEG, OC-Cool and OC-DualBIOS™.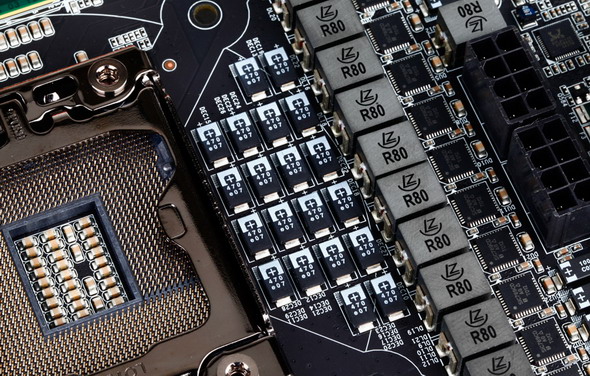 The GIGABYTE X58A-OC features a new VRM design called OC-VRM, which includes a combination of highly conductive POScaps, 50A rated MPFC (Max Power Ferrite Core) Chokes, and Driver-MOSFETs, which combined, are able to deliver higher current to the CPU, with better efficiency and lower temperature. OC-VRM also allows users to overclock the PWM frequency via an onboard switch, for real-time adjustment. When the CPU needs maximum power, users can raise the PWM frequency in order to deliver more current through this unique POScap and MPFC Choke design. In addition, GIGABYTE has specially chosen unobtrusive components and carefully designed their layout to make it easier and quicker than ever for extreme overclockers to insulate their boards.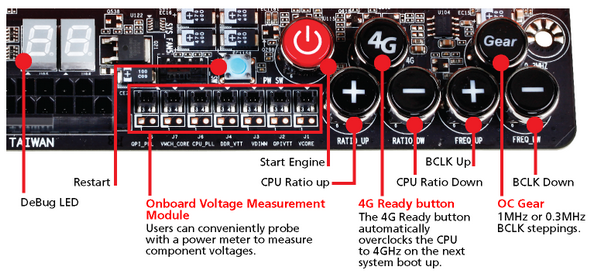 OC-Touch enables overclockers to quickly and easily get the best performance from their system. With onboard OC-Touch buttons, users are able to manually raise and lower the CPU ratio, change BCLK settings, and even change BCLK stepping to either 1MHz or 0.3MHz. These changes can be made at any time whether in the BIOS, DOS, or Windows and in real-time without the need for rebooting, so that users can quickly fine-tune to find their CPU's maximum frequency. The onboard 4G Ready button allows novice overclockers to automatically reach 4GHz, while advanced users can use it to get to 4GHz before continuing with OC-Touch to quickly find their CPU's best margin. Onboard voltage measurement modules are also included to help users to conveniently monitor component voltages.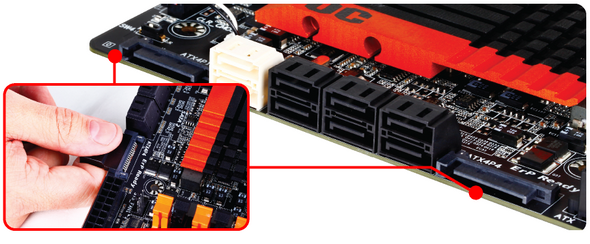 OC-PEG provides two onboard SATA power connectors for more stable PCIe power when using 3-way and 4-way graphics configurations. Each connector can get power from a different phase of the power supply, helping to provide a better, more stable graphics overclock. The independent power inputs for the PCIe slots helps to improve even single graphics card overclocking. For 4-way CrossFireX™, users must install OC-PEG to avoid over current in the 24pin ATX connector. The entire board also features POScaps, helping to simplify the insulation process so overclockers can quickly reach subzero readiness.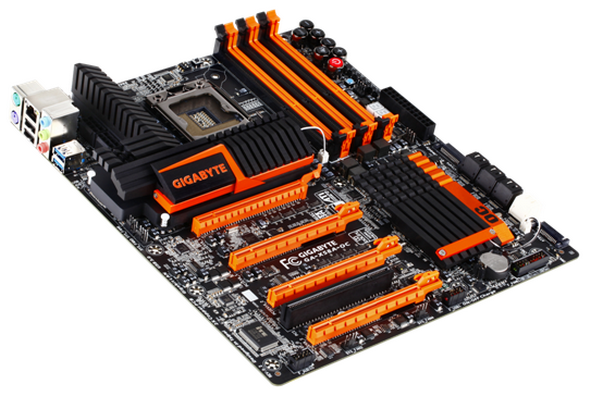 OC-Cool features a new LED lit thermal design and 7x 4-pin Smart Fan connectors to allow overclockers to easily control system-wide temperature. The OC-Cool heatpipe maximizes system convection to expel hot air out through the IO panel and optimizes passive cooling. OC-Cool LED lighting on the North and South Bridges further adds to the X58A-OC's coolness.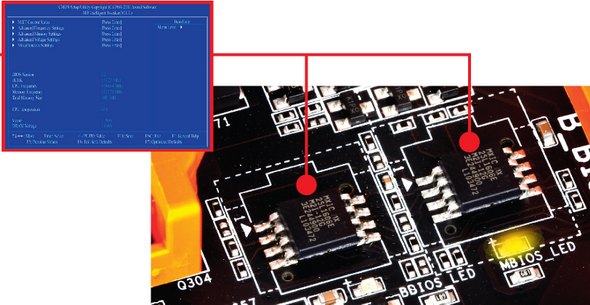 OC-DualBIOS™ features an onboard BIOS switcher and LED indicator, allowing users to select one BIOS for normal use, and another one for overclocking. It can also act as a backup BIOS in case of BIOS failure during overclocking. With two BIOSes, users are able to save up to 16 different overclocking profiles - a very useful feature when overclockers want to update to a new BIOS, but don't want to lose their original settings.
By being able to switch between 2 different BIOSes, OC-DualBIOS also allows users to test drive a new BIOS without having to update both BIOSes with the same update, helping to save time and unnecessary BIOS reflashes.
To download high resolution pictures or learn more about the GIGBYTE X58A-OC motherboard , please visit the official GIGABYTE microsite or keep an eye on the GIGABYTE Tech Daily blog. Visit www.gigabyte.us for more information.



The best Guides by the best writers on the internet; PCstats Beginners Guides explain computers, software, and all those other wonderful things that cause you frustration.

Learn how to use your computer better, master the internet while protecting yourself, and know what to do when your hard drive kicks the bucket.



"Get the 'Stats and Stay Informed!"