[>>]

[>>]

[>>]

[>>]

More>>

Search...

| | |
| --- | --- |
| Motherboards | |

... 3 news stories awaiting approval

ASUS Maximus V Extreme @ ocaholic

The Maximus V Extreme, is ASUS` new flagship model regarding Intels latest Z77 chipset. The guys over there at ASUS ROG put a lot of new features on the board. On the paper it looks like they`ve moved their flagship ROG board to another level (yet again?). So it`s quite understandable that we can`t wait to have a close look at this product."


Gigabyte Z77-D3H and Z77X-UD5H Reviewed @ Madshrimps

Panther Point, the Z77 chipset, launched simultaneously with the brand new Intel Ivy Bridge CPU`s. Supporting PCI-3.0, native USB3.0, high BCLK and RAM frequencies, but only if bundled with one of Intel`s 3d generation CPU`s. As usual, vendors launched a wide variety of boards, from low end basic OEM boards to high end gamer/overclocking versions. Choosing the right board is mainly always a matter of features, gimmicks, color schemes and surely the price tag. Today we review two of Gigabyte`s offerings: the mainstream targeted GA Z77-D3H and the high end model, the GA Z77X-UD5H."

ASUS P8Z77-V Pro @ Techarection.net

ASUS has been bringing high quality components to the PC world for the past two decades. They are not slowing down and they continue to help lead the way to a faster, more effective and efficient tomorrow. Keeping with the tradition of quality and cutting edge innovation is no small task and like few other manufacturers out there, ASUS brings it with this board. The P8Z77-V PRO is not a fancy gaming board with hot colors and a promise of record overclocking (though it is capable) but it does bring some things to the table that give it a solidity that many other boards lack. Though it has great digital power management, BIOS that are not so unfamiliar to the older generation that they feel alienated as well as some bells and whistles; its strong points are what is almost never considered. Its flexibility. So what does the P8Z77-V PRO offer that makes it stand out in a crowd of comparable boards other than the ASUS name? We will try and find out."

32 Intel Z77 motherboards tested with Ivy Bridge processors

In April we published a round-up of 20 motherboards with Z77 chipsets compatible with the new Intel Ivy Bridge processors. Those CPUs weren't available yet at the time so we had to do the tests with the previous generation Sandy Bridge processors. Almost three months have passed in the meantime, and we now have 32 Z77 motherboards in our test lab along with Ivy Bridge processors. We tested every motherboard all over again, with an up-to-date BIOS and with an Core i7 3770K Ivy Bridge processor.

ASUS P8Z77-V Intel Z77 Express LGA 1155

Already own a Sandybridge CPU? Want to update to the new Intel chipsets, and use everything offered, like triple PCIe slots? Bought a new Ivy Bridge CPU, and want a power-sipping full-sized board? ASUS has the answer, and that answer is the P8Z77-V.

G1.Sniper M3 was designed into a micro ATX

The G1.Sniper M3 was designed into a micro ATX form factor that sports Intel's latest Z77 Express chipset and supports the third generation of Intel's LGA 1155 "Ivy Bridge" processors. It is challenging to pack enough performance features and overclocking options onto a micro ATX footprint, but Gigabyte's G1.Sniper M3 has broken the code in this department. This $180 board includes a digital power phase design with auto voltage compensation, dual UEFI BIOS, and an onboard Creative Sound Core3D quad-core audio processor for rich, high-definition audio.

Motherboard vendors lower shipment growth forecast for 3Q12

Some motherboard vendors, in view of lower than expected demand in the China market, have downward adjusted their forecast shipment growth for the third quarter of 2012, a traditional peak period, from 20-25% to 10-15%, according to industry sources.

ASUS P8Z77-V Premium @ Bjorn3D

ASUS has pushed many new models onto the playing field with Z77, and with the P8Z77-V Premium, we now see the first solution Intel-certified for Thunderbolt, along with many other technical and feature advances that push ASUS even further in the forefront for the Z77 offerings."

Asus Maximus V Gene Review

I found that the Maximus V Gene was able to deliver memory speeds in excess of 2500MHz with the modules I have available. By using one of the 13 preset profiles, you can get a good feel for what your modules are capable of and then tweak a little further for better efficiency. Several boards I have tested have not been as flexible, with speeds up to even 2133MHz being unattainable, so the Maximus V Gene has some serious memory overclocking chops, reminiscent of its Extreme level brother, the X79 Rampage IV Extreme."

EVGA Z77 FTW Motherboard Review

"The EVGA Z77 FTW motherboard is compatible with the latest 28nm Ivy Bridge processors and is designed with overclockers in mind. The EVGA Z77 FTW has been packed with features in a slightly slimmer than EATX form factor at 10.3" wide. Onboard buttons, dual CMOS reset buttons, triple BIOS support, DEBUG LED, and extra CPU as well as PCI-E power connectors are just some of the conveniences available for performance tuners. Five PCI Express 3.0 x16 slots are available for some Quad-SLI action, utilizing a PLX PEX8747 bridge to circumvent the PCI-E graphics 16-lane limit of Ivy Bridge processors. A pair of extra SATA3 6Gbps ports via a Marvell 9182 controller as well as a pair of USB 3.0 ports via an ASMedia ASM1042 controller is available onboard for additional high-speed storage options. "

Thunderbolt tested with 2x SSD in RAID0 on ASUS P8Z77 vPro

We test the new Thunderbolt connector with 2x SSDs in RAID0 with the help of the ASUS P8Z77 vPro Thunderbolt motherboard and the LaCie Little Big Disk which has two Intel 320 SSDs. We RAID-0 them to stripe and check out if the 10 Gbps Thunderbolt connection can keep up. You can read all about it right here"

EVGA Z77 FTW Motherboard Review @ Ninjalane

The EVGA Z77 FTW joins an elite group of motherboards aimed at satisfying the needs of overclocking, gaming and hardware enthusiasts. While this group is small by comparison the things they look for in a motherboard can be rather specific but really make the product better and well suited for the average user looking to build a solid system.

Gigabyte GA-X79-UD5 Intel X79 LGA2011 Motherboard Review on PCSTATS!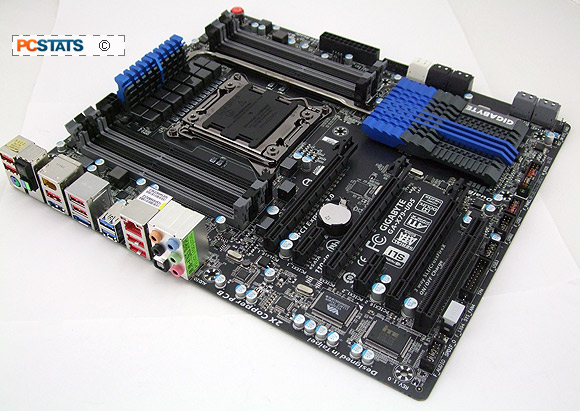 The Gigabyte GA-X79-UD5 is an awesome 'Sandy Bridge-E' motherboard for anyone in the business of content creation, yet still nimble enough to take on multi-videocard gaming and overclocking at the end of a days work. At it's core, the GA-X79-UD5 is a high end socket LGA2011 platform ideally suited to applications tuned for 64-bit operating systems, multi-core processors, plenty of RAM and tons of storage. To build a PC with this motherboard for simple web surfing would be blasphemy! ;-)

Gigabyte GA-A75M-UD2H AMD A75 Socket FM1 Motherboard Review

"Top of the list of features for the Gigabyte GA-A75M-UD2H motherboard is onboard graphics. Setting aside IGP clock speeds because these are dependent on the FM1 CPU, the GA-A75M-UD2H motherboard offers users DVI-D, DisplayPort, HDMI and Analog VGA video output. Resolutions of up to 2560x1600 are supported with all but the HDMI port (1920x1200). When it comes to packing in value, AMD always manages score one over Intel. The AMD A75 Fusion Controller Hub (FCH) features six native SATA III ports and four native USB 3.0 ports, whereas Intel has only just recently brought USB 3.0 into the fold. "



The best Guides by the best writers on the internet; PCSTATS Beginners Guides explain computers, software, and all those other wonderful things that cause you frustration.

Learn how to use your computer better, master the internet while protecting yourself, and know what to do when your hard drive kicks the bucket.



"Get the 'Stats and Stay Informed!"