[>>]

[>>]

[>>]

[>>]

More>>

Search...

| | |
| --- | --- |
| Motherboards | |

... 4 news stories awaiting approval
GIGABYTE G1 Killer Assassin 2 LGA2011 Sandy Bridge-E ATX Motherboard Review

a post to your own news section would totally be appreciated. If we`re sending our news to the wrong place, we apologize. Just send us a message with the correct address to the address below. Don`t forget that,Futurelooks kicks out one last review before we take off to CES 2012! Hope to see all our press/media friends at the party on Jan 9th! *GIGABYTE G1 Killer Assassin 2 LGA2011 Sandy Bridge-E ATX Motherboard Review * It?s been called the best looking gamer motherboard series since modding a PC became an in thing. GIGABYTE G1.Killer series has a tight hold on this market segment and doesn?t show any signs of loosening up on the rope. There are plenty of gamers thoroughly enamoured by the fine gaming features of the series such as Super Sight, Super Hearing and Super Speed. Today, we take another look at their latest Assassin 2 with its Super Shield theme featuring the new Intel X79 chipset. It?s similar to the original Assassin but with a few more updated bells and whistles. It?s time to take out those elite MSI video cards and Kingston HyperX quad channel DDR3 memory for some testing! * * *"

Gigabyte GA-X79-UD5 Intel LGA 2011 @ techPowerUp

With a brand new BIOS designed around the AMI UEFI implementation, Gigabyte has a new mid-range overclocking master, clad nearly all in black. The GA-X79-UD5 recently hit the news with the recall of previous BIOS, and the introduction of a new BIOS that boasts some serious clocking abilities. We put the new board, and the new BIOS through testing, and the results may surprise many."

Sapphire Pure Black 990FX Motherboard Review @ Hi Tech Legion

Sapphire Technologies has come back into the AMD motherboard market with their new Pure Black 990FX. Based on the new 990FX chipset, the Sapphire Pure Black 990FX is feature rich and looks to take advantage of all the new Bulldozer CPU has to offer. The Pure Black 990FX is a full ATX motherboard with incredible expansion possibilities thanks to six PCIe slots which fully support AMD CrossfireX multi-GPU. Tweaking comes courtesy of a UEFI AMI Dual BIOS and included TRIXX software. The Sapphire Pure Black 990FX tackles connectivity with USB 3.0 and 2.0, nine SATA III ports (all backwards compatible and RAID capable), dual Gigabit LAN and on board Bluetooth. Bulldozer?s power requirements are met with an 8 phase PWM design featuring Diamond Chokes and Solid Capacitors. Overclocking is aided with onboard power and reset buttons as well as diagnostic LED and voltage probe points. To complete the entertainment experience, the Pure Black 990FX offers 7.1 surround sound complete with digital out."


Intel Z68 Express with Smart Response Technology:

If you look back to our coverage of the Sandy Bridge launch, we tested the two premiere chipsets in the 6-series, the enthusiast-targeted P67 and mainstream H67. Fundamentally, the two chipsets were very similar (and are based on the same piece of silicon), but each had a specific feature set designed for its target audience. For example, the P67 offered CPU and memory overclocking and increased power and current limits, while the H67 gave users the ability to take advantage of Sandy Bridge's built-in graphics and Quick Sync media-encoding engine. P67 users that wanted to take advantage of Quick Sync and H67 users looking to do some CPU overclocking were simply out of luck. With the Z68 Express, however, prospective Sandy Bridge users no longer need to compromise...

Android 3.0 Honeycomb-based netbook

The Asus Eee Pad Transformer tablet PC is one of the more interesting Android tablets on the market in that it has a keyboard docking station that essentially allows it to convert to an Android 3.0 Honeycomb-based netbook. Add to that a power dual core 1GHz NVIDIA Tegra 2 processor and a reasonable MSRP of $399 (just the tablet, 16GB version) and the Transformer looks to be one of the best options currently for Android tablet solutions, for WiFi only solutions. We're prepping a full, detailed performance review here in the coming days but we thought it would be nice to offer a teaser with our video review and a cut from the benchmark suite of test numbers we're running.

TYAN Announces Sandy Bridge Server Motherboards

TYAN, an industry-leading server platform manufacturer, and a subsidiary of MiTAC International Corp., announces new single-socket servers that support the Intel® Xeon® Processor E3-1200 series (codename: Sandy Bridge). The S5510 and S5512 motherboards are ideal as entry-level servers for both small business and enterprise server customers. For high-density datacenter applications such as web hosting, TYAN has launched the industry-leading FM65-B5511 Micro Server.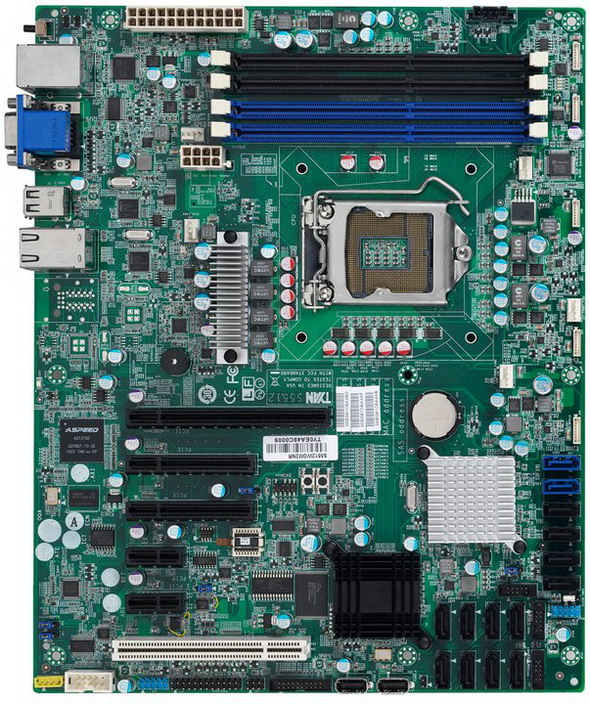 The FM65-B5511 supports up to 18 Intel® Xeon® processors in a 4U enclosure. The FM65-B5511 is based on the Micro Module Server Specification, which addresses the emerging server segment that features scale-out, single-processor nodes with higher density and lower power consumption for web services applications.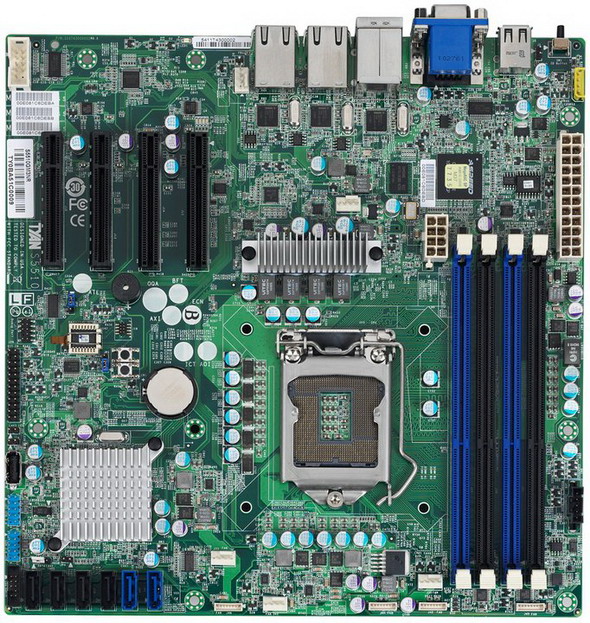 "TYAN now provides a great selection of single-processor server solutions with outstanding price/performance," said TYAN Director of Product Marketing, Kevin Hart. "The TYAN S5510 and S5512 motherboards provide higher performance and lower power consumption, as compared to the previous generation, at about the same cost."
The S5510 series is based on the Micro ATX form factor, and is available in two versions. The S5510GM3NR is a full-featured server platform based on Intel C204 chipset and features four PCI-E 2.0 x8 slots, six SATA ports with two at 6 Gb/s, three 1 G-bit network ports, and IPMI 2.0 support for out-of-band and remote management. The cost-effective S5510G2NR-LE is based on the Intel C202 chipset and features three PCI-E 2.0 x8 slots, six SATA ports at 3 Gb/s, and two 1 G-bit network ports.
The S5512 series is based on the ATX form factor and is available in four versions for rack-optimized server and small business applications. The S5512GM2NR is based on Intel C204 chipset and features five PCI-E 2.0 slots, six SATA ports with two at 6 Gb/s, two Intel 82574L Ethernet controllers, and a dedicated management port with IPMI 2.0 support.
The S5512WGM2NR provides the same features, and supports up to eight SAS ports via an integrated LSI 2008 SAS controller. The S5512GM4NR features four 1 G-bit network ports, as well as a dedicated management port, for a total of five network ports. A lower cost version is available, the S5512G2NR-LE, which features the Intel C202 chipset, four PCI-E 2.0 slots, six SATA ports at 3 Gb/s, and two 1 G-bit network ports.
The TYAN FM65-B5511 offers higher density and scalable performance with 18 removable front-loaded compute nodes, an integrated 1 G-bit or 10 G-bit switch module, and redundant (2+1) hot-swap power supplies. Each individual node supports a single Intel® Xeon® processor E3-1260L or -1220L, up to 32 GB of un-buffered ECC DDR3 memory, and two 2.5" SSD or HDD drives. Each node has two 1 G-bit network ports and features IPMI 2.0 support.
The TYAN S5510 and S5512 motherboards are available through TYAN distributors worldwide. The TYAN FM65-B5511 Micro Server will be available in late Q2 2011. OEM pricing is available upon request.

GIGABYTE LAN Optimizer Utility

GIGABYTE has released a free software application that offers user-friendly, intelligent network management. Prioritizing network-sensitive applications such as streaming media content, communications and online gaming, LAN Optimizer intelligently manages your network to deliver an optimized online experience.
"LAN Optimizer is a unique and exclusive GIGABYTE application that allows our customers to get the very best online experience by taking charge of their internet bandwidth in a way that was only available to very high-end solutions in the past," commented Henry Kao, Vice President of Motherboard Business Unit at GIGABYTE. "GIGABYTE motherboard users can now intelligently manage different types of network traffic at the touch of a button, dynamically optimizing their home network according to their needs."

LAN Optimizer offers intelligent and adaptive network analysis and management for all network traffic types. Automatic prioritization of data streams from online games, streaming media content and web browsing helps to prevent your network from being strangled by network-intensive traffic such as large data downloads. This means users can now enjoy optimized gaming, communications and entertainment connectivity, while performing multiple online tasks. In cases where an internet connection is shared, LAN Optimizer ensures that the whole family will enjoy sufficient network bandwidth, on all connected devices. LAN Optimizer is a free software application that works in conjunction with the Realtek 8111E Network LAN Controller to monitor and manage your PC's network behavior. It's simple user interface allows you to select the types of network traffic you want to prioritize, including gaming, media streaming, communications or web browsing data traffic. You can also target specific applications, choosing to prioritize or block accordingly. LAN Optimizer also features automatic management options that use adaptive networking intelligence to ensure that you are getting the best online experience possible.

See the GIGABYTE LAN Optimizer in action on GIGABYTE's MoboTV Youtube channel

BIOSTAR H67MH Motherboard

BIOSTAR Group, the world-leading manufacturer of motherboards, graphics cards, industrial computing systems and computer peripherals, announces the H67MH motherboards supporting the latest second-generation multi-core Intel Core i7, i5 and i3 processors (Sandy Bridge) for the LGA 1155 socket with TDP up to 95W. The H67MH board features the Micro ATX form-factor, is based on the Intel H67 (Cougar Point) vB3 chipset and high-quality components ensuring high reliability, performance and stability of the system under Windows XP, Windows Vista and Windows 7. The board is equipped with two DDR3 DIMM slots supporting up to 8GB dual-channel DDR3 1066/1333MHz. The board features two SATA3 6Gbps ports and four SATA2 3Gbps ports. The Intel H67 chipset delivers a complete support for the Intel® Rapid Storage Technology and allows for SATA RAID 0, 1, 5, 10. USB 2.0 ports, Realtek RTL8111E controller with support for 10/100/1000 Ethernet, high-quality 5.1-channel Realtek ALC662 HD Audio codec with S/PDIF-out provide a final look. The H67MH board supports integrated graphics of the second-generation Intel Core CPU (Sandy Bridge), supports the Intel® Clear Video Technology, an output to two displays and features a wide range of video interfaces including HDMI, DVI and VGA. The expansion slots include PCI-E x1 2.0, PCI-E x16 2.0 and two PCI slots.

BIOSTAR TZ68K+ motheroard

BIOSTAR, a world famous manufacturer of motherboards, graphics cards, industrial computing systems and computer peripherals, expanded the T Series with the TZ68K+ motherboard based on the latest single-chip Intel Z68 chipset. The new board features the ATX form-factor (305 x 230 mm) and is aimed at system integrators and individual builders of high-performance desktop systems. The BIOSTAR TZ68K+ motherboard fully supports all functional capabilities embedded into the latest version of the Intel Z68 chipset. They are a support for second-generation multi-core Intel Core i7, Core i5 and Core i3 CPUs (Sandy Bridge) with TDP up to 95W for the LGA 1155 Socket, integrated SATA 3.0 ports (SATA600) and speedy PCI Express 2.0 interfaces for peripherals. One can also arrange RAID 0, 1, 5 and 10 arrays with the Matrix RAID function and make use of the Smart Response technology that allows caching storage devices with additional flash memory. The BIOSTAR TZ68K+ boards are equipped with four DIMM slots supporting dual-channel DDR3 memory up to 16 GB including the "overclocked" DDR3-2200Mhz modules. Peripherals are supported via two PCI-E x16 2.0 slots (x16 + x4), two PCI slots and one PCI-E x1 2.0. There are two speedy interfaces for storage - SATA3 6 Gbps/s and four SATA2 3 Gbps/s connectors. The latest high-speed USB 3.0 interface is realized with the additional ASMedia ASM1042 chip, and two USB 3.0 ports supplement five USB 2.0 ones. Communication is based on the Gigabit LAN interface based on the Realtek RTL8111E chip, and the full-scale 6-channel Blu-ray-quality audio comes with the latest Realtek ALC892 codec. Supporting all modern discrete graphics with the PCI-E x16 2.0 interface including solutions based on two AMD cards in the ATI CrossFire X configuration the TZ68K+ board can fully use the power of the Intel HD Graphics core integrated into the second-generation Intel Core CPUs. At the same time, it comes with digital HDMI and DVI outputs and an analog D-sub video-out. With the supplied Virtu GPU Virtualization Software a user can flexibly manage performance and power consumption of the discrete and integrated graphics in different types of applications. Besides, the board supports the Intel Smart Response Technology (it requires update of BIOS and Intel RST Driver to the latest version). The TZ68K+ boards feature reliable solid-state capacitors and are ready for any kind of overclocking experiments in tough conditions. The universal flexible T-overclocker Windows utility which consists of several powerful tools for fine system tuning allows tuning performance of CPU, memory subsystem, and CPU cooler and north bridge fans and follows the overall system status. The board also supports the BIO-Remote2 technology for remote management of PC multimedia capabilities with Android and Apple gadgets. Besides, the Charger Booster technology allows for accelerated charging of gadgets via USB irrespective of the system status. The hardware Rapid Switch technology duplicates power and reset buttons right on the motherboard that is why there is no need to close various contacts for fast system tuning as there is a certain risk of system damage. The Rapid Debug 3 technology shows critical POST codes and a current CPU temperature on the multi-segment LED indicator. The BIOSTAR TZ68K+ motherboards will be delivered to Russian distributors in the near future.

MSI Big Bang Theory - XPower II 4-way NVIDIA SLI / AMD CrossFire Mobo

Leading mainboard manufacturer MSI announces today the official release of the Big Bang-XPower II, a flagship mainboard based on the Intel® X79 Express chipset! Featuring the latest PCI Express Gen 3 standard and 4-way NVIDIA SLI / AMD CrossFire technology with 8 slots of Quad-Channel memory to achieve extreme performance, the Big Bang-XPower II mainboard also adapts a 22-phase PWM design with Hybrid Digital Power, and incorporates dual 8-pin CPU and single 6-pin VGA power connectors to reach Xtreme Power Design. With the introduction of MIL-STD-810G certified Military Class III components, the Big Bang-XPower II comes equipped with extreme materials such as the Hi-c CAPs for CPU power supply. In terms of extreme overclocking, the Big Bang-XPower II provides PCI-E CeaseFire for easily turning on/off graphics card slots and maximizing overclocking performance. Several convenient technologies are also provided including V-Check Points, Direct OC and Easy Button 3. With extreme performances in 4 Xtremes, the Big Bang-XPower II is the optimal weapon for enthusiastic overclockers to break world records!

MSI Big Bang XPower 2 X79 Motherboard Review @ HardwareHeaven.com

MSI Big Bang XPower 2 X79 Motherboard Review @ HardwareHeaven.com MSI are expanding their range of X79 products with today`s launch of an enthusiast board which aims to be the best motherboard a consumer can buy for Intel`s new high end CPUs. We have one on our test bench and will be putting it through a selection of real world and synthetic tests."

BIOSTAR 6 Series Motherboard Fully Support Native PCIe Gen. 3

BIOSTAR Group, a world famous manufacturer of motherboards, graphics cards, industrial computing systems and computer peripherals, proudly announces that all of its 6 series motherboards pass the signal test of PCI Express Gen. 3 technology without any hardware changes at all.

To offer upgradeability on Intel platforms, BIOSTAR has enabled native support for PCI Express Gen. 3 across the range of BIOSTAR 6 series motherboards when paired with Intel's next generation 22nm CPUs. By updating the latest BIOS and Driver as the table below, users can be assured they are ready to take advantage of all the performance enhancements from tomorrow's technologies.
Note: Due to Intel 22nm CPUs are not being released in the market yet; however, BIOSTAR will continuously updating BIOS and Driver version at BIOSTAR home page until Intel officially release its next generation 22nm CPUs.


MSI's All-new X79 Series Mainboards with Military Class III Components

Leading international mainboard and graphics card manufacturer MSI today announces the official release of its X79A-GD65 (8D), X79A-GD65, X79A-GD45, and X79MA-GD45 mainboards. The new mainboards are based on Intel's latest X79 chipset and uses the LGA 2011 socket supporting the 2nd generation Core i7 processors. The X79A-GD65 (8D) features with 8 memory DIMMs, supports 16GB DDR3 memory modules, bringing maximum capacity up to a staggering 128GB! For superior quality and stability, MSI X79 series mainboards adopts Military Class III components. With DrMOS II - the next generation of DrMOS with improved double thermal protection - the lifetime of components is maximized, even in warmer environments or when the machine is heavily overclocked. MSI X79 series mainboards also feature the latest PCI Express Gen 3 bus and MSI's proprietary Click BIOS II for maximum performance and user convenience. When taking into account all of the other advanced technologies supported such as 3-Way NVIDIA SLI and 4-way AMD CrossFireX multi-GPU processing technology, THX TruStudio PRO sound, Multi-BIOS II, Control Center II, and Super Charger, MSI X79-series mainboards are simply the best choice for enthusiasts!


ASUS K53T Review: Mainstream Llano Offers Inexpensive Mobile Gaming

Price is an important part of this story. Available for $629.99, the K53T we reviewed (or, at least, the closest retail-available variant) is not an expensive piece of kit considering the level of performance available. Though the Core i5 does handily defeat the AMD A6 processor when it comes to processor performance, the Radeon 66720G is a capable combination of IGP and discrete graphics that provides the performance needed to play even the most demanding games at adequate detail settings. That?s something I can rarely say about any laptop priced under $1000."



The best Guides by the best writers on the internet; PCSTATS Beginners Guides explain computers, software, and all those other wonderful things that cause you frustration.

Learn how to use your computer better, master the internet while protecting yourself, and know what to do when your hard drive kicks the bucket.



"Get the 'Stats and Stay Informed!"