[>>]

[>>]

[>>]

[>>]

More>>

Search...

| | |
| --- | --- |
| Motherboards | |

... 1 news stories awaiting approval
Asus Sabertooth Z170 Mark 1 Motherboard

Asus' TUF series of motherboards takes a different approach towards the market when compared to the gaming, overclocking, and 'standard' line-ups each vendors has in its product catalogue. Built primarily for reliable stability through enhanced thermal management and validated industrial design, can the Sabertooth Z170 Mark 1 live up to its 'TUF' series branding?

MSI Z170A Gaming M7 Review

With the Gaming M7, MSI has a very well equipped motherboard in its portfolio, which comes with lots of features. There are for example two M.2 x4 Gen 3 slots and apart from that MSI further refined the Design of their Gaming series motherboards.

ASUS Maximus VIII Gene

"Cutting right to the chase, it's easy to see that ASUS is able to deliver an M-ATX motherboard that has all the overclocking chops the ATX form factor Maximus VIII Hero has, but in a smaller package. First, the performance delivered by the Maximus VIII Gene is going to fall in the same small envelope when running at stock speeds. That's a given in this day and age when motherboards are so well built and tuned from the factory. It's where you go from there that really makes a board such as this from ASUS' ROG product stack a worthwhile investment. If you do not plan to at least use ASUS AI Suite III or EZ Tune utility for some free CPU horsepower, you can still enjoy the rest of the features that make this board a great choice for a gaming centric build."

EVGA Z170 Classified Motherboard Review

In this review we looked at the EVGA Z170 Classified. This is their top of the line motherboard for the Skylake line of processors and supports high-end features like LN2 overclocking and 4-way SLI along with less interesting tasks like Web Surfing, Podcasting, Gaming, Livestreaming and Custom PC Builds.

Intel LGA1151 motherboard

Today we test a very special Intel LGA1151 motherboard at OCinside.de. Skylake supports DDR4 memory modules. Anyway, there are certainly some users who like to install, at least for some time, their DDR3 modules. For this reason ASRock offers this new H170 Combo motherboard. The ASRock H170 Combo motherboard can be equipped optionally either with up to four DDR3 modules or two DDR4 modules. We have tested both and done some benchmarks with two DDR4 and with two DDR3 memory modules. In addition, we will show a direct comparison of H170 vs Z170 to see if you should buy the H170 or Z170.

Gigabyte Brix S GB-BXi5H-5200

Intel NUC (Next Unit of Computing) is an initiative that Intel started in 2012 aimed to bring the powerful computing experience in a system that fit into the size of your palm. Typical NUC system takes the footprint that is no bigger than a few CD jewel case stacks on top of the each other. Yet, is capable of delivering a great user experience where average user would find it sufficient for day to day tasks. The Brix is the brand for Gigabyte's ultra compact NUC system. The current line up from the BRIX S series of ultra compact PC includes three models featuring the 5th generation Intel processor aka Boradwell. Users can select between three different processors: the Core i3-5010U, the Core i5 5200U, or the Core i7 5500U. All three models are dual-core, ultra low voltage processor with 15W TDP. They all supports hyperthreading but the Core i5 and i7 supports Turbo while the i3 does not. Otherwise, the difference lies on the clockspeed of the processor where the i3 is clocked at 2.1GHz, while the i5 is clocked at 100MHz higher but is capable of running the turbo up to 2.7GHz. The i7 model gives us 200MHz clockspeed bump over the i3 model with the ability to Turbo up to 3GHz.

smallest mini-ITX designs

The R9 Nano design screams compatibility. It has the ability to fit into virtually any enclosure (including many of the smallest mini-ITX designs), as long as the case supports a dual-slot (full height) GPU. The total board length of 6 inches is shorter than a mini-ITX motherboard, which is 6.7 inches square! Truly, the Nano has the potential to change everything when it comes to selecting a small form-factor (SFF) enclosure.

Skylake Z170 Micro-ATX Motherboards

With the launch of the new Intel socket LGA 1151 all large motherboard vendors also updated their micro-ATX models. At the moment there are nine different models available and prices span from 100 up to 210 Euro. This article will allow you to compare all these boards in order to find the one most suitable for your needs.

MSI Z170A XPower Gaming Titanium Edition

With the Z170A XPower Gaming Titanium Edition, MSI has a very well equipped motherboard in its portfolio, which comes with lots of features. There are for example two M.2 x4 Gen 3 slots. Apart from that this board comes with a great looking, unique design.

Choosing The Right Motherboard

If you want to have a PC built exactly to your specifications, you must build your own. PC manufacturers offer several machine models, but they often use generic parts that aren't for high-performance output. The computer's motherboard is the central location for attached peripherals, storage and memory. So it is critical that you get the right motherboard. Here are some tips to get it right.

MSI LAUNCHES HEAVY WEIGHT Z170A SLI PLUS MOTHERBOARD

MSI, leading in motherboard design, completes the PRO Series motherboard line-up with the launch of the all black Z170A SLI PLUS motherboard. Inheriting DNA from the critically acclaimed X99A SLI PLUS motherboard, the Z170A SLI PLUS is powerful, packed with features and styled with class.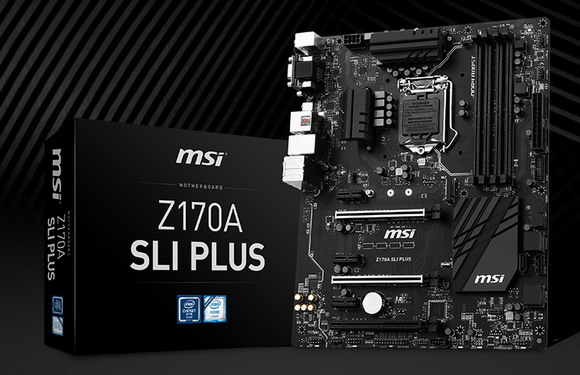 Offering an enhanced experience and the best in productivity and reliability the Z170A SLI PLUS motherboard has been configured to satisfy even the most demanding user. With twice the speed of USB 3.0, USB 3.1 Type-C is ready to connect the latest devices to with the most ease. Reward your ears with Audio Boost, powered by a Realtek ALC1150 codec and other high quality audio enhancing components. Nvidia® SLI™ and AMD CrossFire™ support, with improved Steel Armor PCI-E slots, are sure to satisfy 3D graphic and programming demands of any designer or developer. To boost performance and productivity, the Z170A SLI PLUS motherboard uses Military Class 4 components together with unique designs as DDR4 BOOST, Turbo M.2 and Click BIOS 5.
The Z170A SLI PLUS motherboard comes equipped with a high quality Gigabit network solution from Intel®. Optimized for professional and multimedia use to deliver a stable and fast network connection. Unique DDR4 Boost technology is designed with optimized traces and fully isolated memory circuitry. This design ensures the memory signals stay pure for optimal performance and stability.
Fast storage with Turbo M.2, SATA Express and Turbo U.2, delivering next generation NVMe SSD performance with transfer speeds up to 32 Gb/s. Use the award-winning CLICK BIOS 5 to tune your system to maximum performance. MSI CLICK BIOS 5 is the next generation UEFI BIOS with optimizations for Windows 10.
This motherboard comes equipped with reinforced PCI-E slots up to 4x stronger, using Steel Armor to easily support even the heaviest graphics cards in multi GPU setups. Military Class 4 components, supported by Guard-Pro, ensure the highest standard in stability and reliability, and help to let your PC run stable under various conditions. The Hi-c Caps, Super Ferrite Chokes and Solid CAPs make sure that your PC runs more stable under extreme conditions.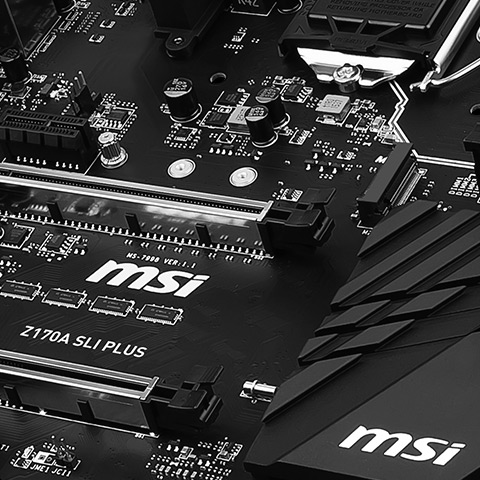 Clever solutions such as EZ Debug LED and Overvoltage Protection make the Z170A SLI PLUS motherboard easy to work with and easy to troubleshoot when needed. Benefit from great compatibility and a worry-free user experience when using Microsoft Windows 8 / 8.1 or Windows 10 with MSI PRO Series motherboards. MSI is world's first motherboard manufacturer to receive official Microsoft Windows 10 WHQL certification.

With Audio Boost we're delivering the highest sound quality through the use of premium quality audio components. So you can enjoy breathtaking, crystal clear sound through 6-channel Audio or high impendence headphones. Transferring your favorite games, audio and movies over USB has never been faster. USB 3.1 Gen2 enables lightning fast transfer speeds up to 10Gb/s, 2x faster compared to USB 3.0. Supporting professional monitors, T.V.'s, beamers and other displays, a legacy DVI and/or VGA video output is featured. Enjoy crisp clear 4K UHD (2160p ultra-high definition) video playback with HDMI or DP.

Part of the MSI PRO Series motherboards, PLUS models offer the highest quality standards with impeccable performance while offering a robust and unique look & feel. These three musketeers are your trusty companions when you demand the best performance and stability for any task. Make your life easier and boost your business with the super stable, reliable and long-lasting PLUS motherboards.

ASUS Z170-A Review

With the Z170-A ASUS have a Z170 board in their portfolio, which is available at a competitive price. Apart from that it comes with an interesting feature mix. This is reason enough for us to have a closer look.

MSI Z170A Gaming M7 Motherboard Review

In this review we looked at the MSI Z170A Gaming M7 motherboard. Gaming in the name indicates the board is part of the gaming line from MSI and designed to take advantage of everything the professional gamers want from their systems.

Z170 Charts: 11 Boards - Supermicro C7Z170-SQ

In our comparison tables, meanwhile you find benchmark values regarding 11 recent Z170 motherboards. Furthermore we do not comment the benchmark values. The idea and also the goal is to present to you a market overview which helps you choose the right motherboard.

MSI Z170A GAMING PRO (Intel LGA 1151)

MSI listens to all you gamers out there who want Intel LAN instead of KIllerNIC, and who are tired of all the dragons. The MSI Z170A GAMING PRO is the board that rids itself of the things many users complain about, adding in a new twist instead. Pro gaming for the MSI Z170A GAMING PRO?

Z170A-XPower Gaming Titanium Edition motherboard

Unique is a word I don't throw around much with motherboard reviews, but the latest revision of MSI' XPower series is nothing if not unique. The Z170A-XPower Gaming Titanium Edition features a stunning silver and black aesthetic for a look unlike any of its competition in the LGA1151 realm, featuring a silver colored PCB and black and red accents in some key areas of the board for some additional eye-catching value. The board features branding on its VRM and chipset heat sinks as well. By integrating the Intel Z170 chipset, the motherboard supports the latest Intel LGA1151 Skylake processor line as well as Dual Channel DDR4 memory. With an MSRP of $299, the Z170A-XPower Gaming Titanium Edition sits at a competitive price point for the features it offers.



The best Guides by the best writers on the internet; PCSTATS Beginners Guides explain computers, software, and all those other wonderful things that cause you frustration.

Learn how to use your computer better, master the internet while protecting yourself, and know what to do when your hard drive kicks the bucket.



"Get the 'Stats and Stay Informed!"