[>>]

[>>]

[>>]

[>>]

More>>

Search...

| | |
| --- | --- |
| Motherboards | |

... 3 news stories awaiting approval

ECS's AMD FM2+ Platform Motherboard Released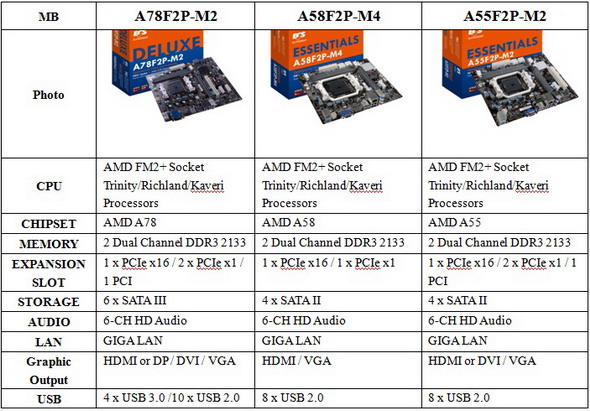 Elitegroup Computer Systems has announced a whole new range of AMD FM2+Platform motherboards---A78F2P-M2, A58F2P-M4, and A55F2P-M2, featuring the new AMD FM2+ APU socket. The FM2+ socket adds a host of powerful new features from the Kaveri Technology platform. ECS AMD FM2+ motherboards offer native support for PCI Express Gen 3.0 as well as DirectX11.1 support integrating the high performance "Steamroller" core. In addition, ECS AMD FM2+ motherboards provide native 4K resolution for ultimate visual experience.
AMD A-Series APUs with AMD Radeon™ R7 graphics are designed with game-changing new features that deliver superior computing and heart-pounding gaming performance. AMD Radeon™ graphics is based on the new intelligent computing architecture to optimize users' visual experiencewith the most advanced graphical technology.
DirectX® 11.1 is the very latest in high-speed, high-fidelity gaming and computing. Featuring technologies like Compute Shaders, Direct3D, Multithreaded Rendering and Tessellation for rich realistic graphics and fluid gameplay performance.
Support for UltraHD (4K) resolution and new video post processing enhancements for premium gaming experience with 2.6x graphics improvements.
All ECS FM2+ motherboards are certified with ECSDurathon durability technology which includes Triple Density PCB, Extreme Temperature Resistance, 1.5K Point Marathon Testing, and Superior Solid Capacitors designed to greatly improve motherboard quality, stability and longevity. With Durathon Technology, ECS AMD FM2+ motherboards go above and beyond industry standards to ensure that you have a motherboard that will last long and always continue to outperform the competition.
Additional features of new ECS AMD FM2+ motherboards include RAID 0, 1,10 support for full internal ports for a rapid storage speed, PCI-Express Gen.3 x16 bus designed to optimize the external graphical display, USB 3.0 for a faster data transfer rate, 4K resolution displays support on HDMI port, 2 DDR3 2133 MHz DIMM slots for up to 16GB RAM.

ECS announces the whole new AMD FM2+ Platform motherboards

ECS (Elitegroup Computer Systems) announced the whole new AMD FM2+ Platform motherboards: A78F2P-M2, A58F2P-M4, and A55F2P-M2, featuring the new AMD FM2+ APU socket, transcending the already strong performance FM2 motherboards by adding a host of powerful new features from the Kaveri Technology platform. ECS AMD FM2+ motherboards offer native support for PCI Express Gen 3.0 as well as DirectX 11.1 support integrating the high performance "Steamroller" core. In addition, ECS AMD FM2+ motherboards provide native 4K resolution for ultimate visual experience.




Biostar A88W Hi-Fi 3D ATX Motherboard Review

"In the past several months, the push for Home Theater PC's (HTPC's for short) has started to grow wildly. The allure of a fully modular home theater machine that does more than just play your movies or music is simply too strong for many to resist, and rightfully so. While there are many choices out there of associated hardware, with more on the way, Biostar has one now that appeals directly to the audiophile: the A88W Hi-Fi 3D. Designed with both a high-end isolated audio solution and potential for tuning an unlocked APU, this motherboard looks to be a very sensible choice for those who want a little bit from every buffet of tech; the question is, "Does it deliver finely tuned notes for enthusiasts of all kinds, or does it fall flat?" We're here to find out just that."

AAEON EMB-BT1: A Linux-Friendly Mini-ITX Atom Bay Trail Board

For those after a low-cost mini-ITX board for use within an HTPC, SOHO file server, or other low-power situations, AAEON has out an interesting board called the EMB-BT1, or more formally the AAEON EMB-BT1-A10-3825. This mini-ITX motherboard has onboard an Intel Atom E3825 Bay Trail SoC for delivering decent performance out of the six Watt SoC and having open-source-friendly graphics under Linux."

ASUS Maximus VI Gene Motherboard Review @ ThinkComputers.org

ASUSs Republic of Gamers line is just what you think it is, a line of products specifically targeted at gamers. While many PC games have full tower rigs with multiple graphics card and intense watercooling others just have a simple setup. Being a PC gamer who attends multiple LAN parties a year I made the switch to a Micro-ATX system a long time ago to make it easier for me to bring my PC to events. ASUS of course catering to gamers actually has two motherboards in their Republic of Gamers Z87 stack, the Maximus VI Gene which is a Micro-ATX board and the even smaller Maximus VI Impact which is a Mini-ITX board. Today, our review will be focusing on the Maximus VI Gene, which has quite a lot of features for gamers and overclockers alike. Lets check it out!"

MSI A88X-G45 Gaming Motherboard Review

Snippet: "The MSI A88X-G45 Gaming board is a standard ATX form factor motherboard that is targeted at mainstream users. The MSI A88X-G45 Gaming motherboard features the FM2+ slot which is compatible with the AMD "Kaveri" APUs but is also backwards compatible with chips that fit into the FM2 slot."

Biostar Hi-Fi A88W 3D (AMD FM2+)

We take our first look at AMD's FM2+ platform with a value-oriented product from Biostar that boasts some upgraded audio abilities. The Biostar Hi-Fi A88W 3D comes with the focus and feature set that has become Biostar's calling, as the company has its own take on entry-level enthusiast designs.

Gigabyte Z87X-UD7 TH Motherboard

Let's take a look at the Z87X-UD7 TH, a high-end socket LGA1150 motherboard from Gigabyte, that offers two Thunderbolt 2 ports, five PCI Express 3.0 slots, WiFi IEEE 802.11ac, Bluetooth 4.0, and much more.

ASUS H87-PRO Motherboard

The ASUS H87-PRO is an entry-level motherboard, compatible with socket LGA1150 processors and based on the Intel H87 chipset. It brings six SATA-600 ports, six USB 3.0 ports, and only one PCI Express 3.0 x16 slot. Let's take a good look at it.

Asus X79 Deluxe Motherboard Review

Looking at a $325 price tag may seem steep compared to the Z87 platform but we have seen some X79 motherboards priced over $400 making it a fair value. Taking Asus attention to detail and the prowess of the performance here, the Asus X79 Deluxe easily earns Hardware 360's Editors Choice Award.


MSI Z87I Gaming AC (LGA 1150) Mini-ITX Motherboard

The mini-ITX trend continues to gain ground in the desktop market as enthusiasts look to make cooler, sexier and more compact systems. To an extent the shift towards more compact form factors and designs is the desktop market's response to the increasing pressure from popular mobile form factors like the tablet and the ultrabook. However, while that may be true to an extent, mini-ITX just makes sense for a number of a reasons. If you're only going to use a single graphics card, a pair of memory modules and a handful of SATA devices then why bother with ATX or even micro-ATX. That is especially relevant these days when mini-ITX boards have absolutely everything you could need, and then a little more. That's exactly what we have on offer today as we're taking a look at MSI's Z87I Gaming AC motherboard. This is MSI's first mini-ITX "Gaming Series" branded motherboard and it has all the hallmarks of a gaming-orientated motherboard – a Killer NiC, high quality audio components and a boat-load of connectivity options. However, it also has all the hallmarks of a solid enthusiast/overclocking motherboard as we've come to expect from most company's "Gaming" product lines. Despite its size there's full support for overclocking Haswell K series CPUs, a 6 phase VRM, support for up to 3000MHz+ RAM, MSI's OC Genie 4 and a fully decked out UEFI BIOS with lot's of overclocking and tweaking options.



The best Guides by the best writers on the internet; PCstats Beginners Guides explain computers, software, and all those other wonderful things that cause you frustration.

Learn how to use your computer better, master the internet while protecting yourself, and know what to do when your hard drive kicks the bucket.



"Get the 'Stats and Stay Informed!"