[>>]

[>>]

[>>]

[>>]

More>>

Search...

| | |
| --- | --- |
| Motherboards | |

... 6 news stories awaiting approval

GIGABYTE Announces AM4 Ryzen Support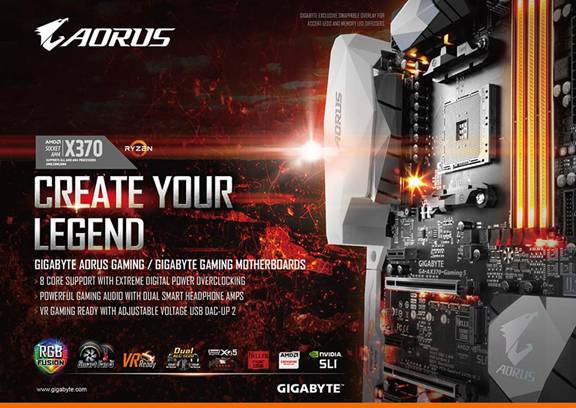 GIGABYTE has announced the rise of the AORUS Gaming Series Motherboards on the New AM4 Ryzen Platform from AMD. The AM4 Platform will host the X370, B350 and A320 Chipsets which all support the Ryzen CPUs. GIGABYTE will have all three chipsets available, each fully optimized for CPUs with 8-Cores and 16 Threads, for consumers who are interested in any segment of the platform. With user-centric features exclusive to GIGABYTE, consumers will find RGB Fusion, Smart Fan 5 and Dual Audio Chips that provides a solution like no other.
With anticipation building for the new platform, GIGABYTE has made no compromises with its innovative technologies. The fully customizable RGB LEDs from RGB Fusion will allow users to customize their system exactly the way they want. Smart Fan 5, an intuitive user interface, works in tandem with hybrid fan headers for optimum cooling performance and system protection. Moreover, RGB Fusion has made its way onto many accessories and peripherals already in the market. RGB Fusion Ready devices allow enthusiasts to control all of their RGB lit products from a single interface.
"This is an exciting time for GIGABYTE as Ryzen processors will bring new technologies and innovations that many of our consumers have longed for," said Henry Kao, Vice President of GIGABYTE's Motherboard Business Unit. "Even more so, GIGABYTE has continued to improve upon the platform adding exclusive GIGABYTE features that enthusiasts demand."
Ryzen - Powerful in Purpose. Efficient in Design.
The new GIGABYTE Gaming and AORUS Gaming Motherboards will be built with support for Ryzen. Ryzen, built on the AM4 platform, has crucial technologies that ensure users have the most efficiency when it comes to performance and power consumption. With features like Pure Power, Precision Boost, Neural Net Prediction, Smart Prefetch and an Extended Frequency Range, Ryzen is ready to address the needs and demands of gamers and enthusiasts.

MSI X370 XPower Titanium

Today we're taking a look the MSI X370 XPower Titanium, an X370 chipset motherboard that hopes to bring the best out of AMD's latest Ryzen 7 CPUs. It's almost among the most expensive of X370 motherboard offerings, targeting overclocking enthusiasts who are going to want to make use of built-in features like the 6+4-phase power delivery system and beefy power connections.

Gigabyte GA-Z270X-Ultra Gaming LGA1151 Motherboard Review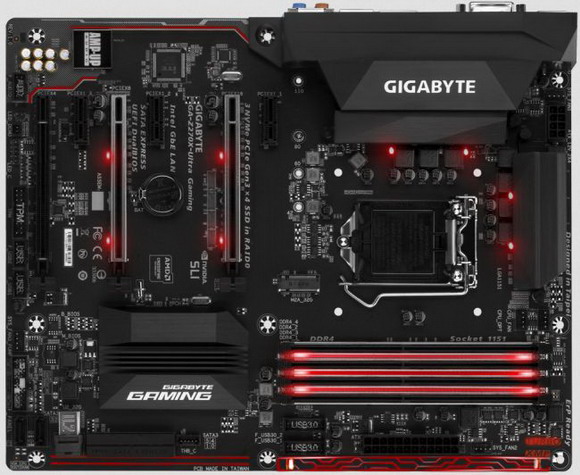 "The GA-Z270X-Ultra Gaming board comes with quite a bit of features also found on the high-end offerings of Gigabyte with the same chipset such as: UEFI DualBIOS, support for Intel's Thunderbolt 3 interface, Smart Fan 5 with Hybrid Fan Headers, the Swappable LED Overlay for more customization, RGB Fusion, USB DAC-UP 2 with adjustable voltage settings, support for Intel's Optane technology, the latest Realtek ALC1220 CODEC with 120dB SNR HD Audio and many more."


ASUS Crosshair VI Hero review

We have tested and reviewed all Ryzen 7 processors, now it is time to zoom into the motherboards. This reviews details the €289 ASUS Crosshair VI Hero. The X370 motherboard is the high-end alternative in the Ryzen motherboard spectrum. A motherboard with plenty of features and options, as well as a little RGB bling.

ASRock X370 Taichi (AMD AM4)

With AMD's new processors out now, ASRock has taken their Taichi design and applied it to AMD's X370 chipset. Ready for SLI and dual M.2 drives along with a huge list of other features, ASRock's X370 Taichi motherboard is definitely ready to bring a calming moment to your AMD Ryzen experience.

GIGABYTE Launches AMD A320 Chipset Motherboards

GIGABYTE TECHNOLOGY Co. Ltd, a leading manufacturer of motherboards and graphics cards, is proud to unveil the new AM4 A320 Chipset Motherboards.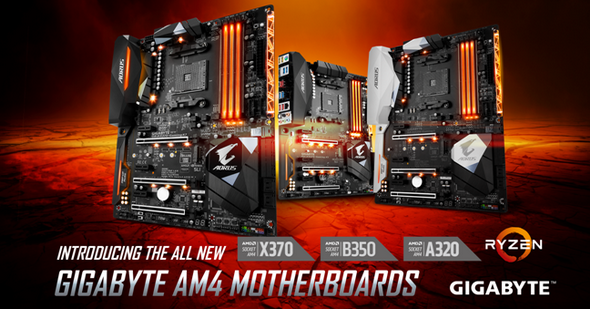 AMD's AM4 platform is now complete with the addition of the AMD A320 Chipset Motherboards that target the Essential segment of computer users. Along with the release of the A320 Chipset, AMD has also announced their New Ryzen™ 5 processors that range from the high performing Ryzen™ 5 1600X to the mainstream Ryzen™ 5 1400. Built with a 14nm process with 6-Cores and 12-Threads, operating at 3.5GHz, the AMD Ryzen™ 5 1600X processor is perfect for mainstream enthusiasts when paired with GIGABYTE's B350/A320 motherboards.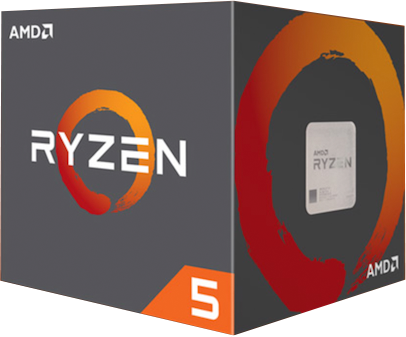 Ryzen 5 Box GraphicsGIGABYTE's B350/A320 motherboards with AMD's Ryzen™ 5 CPUs are focused towards consumers who value exceptional price-to-performance features. Along with the launch of AMD Ryzen™ 5 processor, GIGABYTE has also released brand new AX370 Motherboards such as the GA-AX370-Gaming K7 and GA-AX370-Gaming K5 that complement the current AM4 line-up with more variety & options.
"We are pleased with the demand for AMD's AM4 platform as we continue to launch and release new innovative products with AMD," said Henry Kao, Vice President of GIGABYTE's Motherboard Business Unit. "With the launch of Ryzen™ 5 and the A320 chipset, GIGABYTE will continue to provide our exclusive, innovative, and unique feature sets to these models as well."
GIGABYTE's AM4 Motherboards built on AMD's X370, B350, and A320 chipsets are now available for users to purchase at local retailers or online stores. Harness the full extent of performance that AMD Ryzen™ has to offer with GIGABYTE AM4 Motherboards.



MSI Z270i Gaming Pro Carbon AC Motherboard Review

If a Z270 Kaby Lake upgrade is on the horizon then a compact mini-ITX motherboard unlikely to be the first port of call in a market dominated by ATX. However, buyers need not be so hasty to dismiss mini-ITX motherboards of the Z270 generation since most are very well equipped, even for a power user. MSI's Z270i Gaming Pro Carbon AC illustrates this point well and is an interesting proposition for anyone looking to down-size their PC.


ASRock X370 Gaming Professional Fatal1ty review

For our next X370 review we look at the brilliant ASRock X370 Gaming Professional Fatal1ty. This enthusiast class line of Ryzen motherboard is not just stylish, it has 5 Gbps Ethernet, AC WIFI, dual M.2 slots and every feature you could wish for on the high-end Ryzen platform.

ASUS ROG Crosshair VI Hero Motherboard

With all of the hype surrounding the launch of AMD's Ryzen 7 processors, one of the most highly anticipated motherboards was ASUS's ROG Crosshair VI Hero. If you didn't know ASUS launched the Republic of Gamers (ROG) brand with the original Crosshair AM2 motherboard. With AMD making a big push with Ryzen ASUS thought it was time for a new AMD Crosshair motherboard. The Crosshair VI motheboard makes use if the new X370 chipset and features a 12-phase power design, support for 2-way SLI / CrossFire, a PCI-Express 3.0 x4 M.2 connector, ROG SupremeFX audio technology, USB 3.1, RGB lighting with two RGB headers, and much more! Is this the motherboard to get for your new AM4 build? Read on as we find out!"

ASUS TUF Sabertooth 990FX R3.0 Motherboard Review

AMD's new AM4 platform is fresh on the market but the overall investment cost is still high with the current crop of Ryzen 7 CPUs starting at more than £300. What if you have an AMD FX-series processor that you are happy with and simply want a new motherboard with a more up-to-date feature set? Maybe your current AM3+ motherboard is on its last legs and you simply want a drop-in replacement rather than a new processor, memory, and cooling hardware. We look at ASUS' TUF Sabertooth 990FX R3.0 to see if it's still a worthy option for AM3+ buyers.

ASUS ROG Crosshair VI Hero (X370) Motherboard Review

ASUS' Crosshair VI Hero is currently flying the flag for the Republic of Gamers (ROG) range on AMD's new AM4 platform. Sporting the X370 chipset and a healthy power delivery system to feed thirsty Ryzen CPUs, ASUS' premium ATX motherboard also comes equipped with RGB lighting, onboard M.2, and an internal 10Gbps USB 3.1 header.



The best Guides by the best writers on the internet; PCSTATS Beginners Guides explain computers, software, and all those other wonderful things that cause you frustration.

Learn how to use your computer better, master the internet while protecting yourself, and know what to do when your hard drive kicks the bucket.



"Get the 'Stats and Stay Informed!"