[>>]

[>>]

[>>]

[>>]

More>>

Search...

| | |
| --- | --- |
| Motherboards | |

... 2 news stories awaiting approval
15 Intel X99 motherboards review: new boards for Haswell-E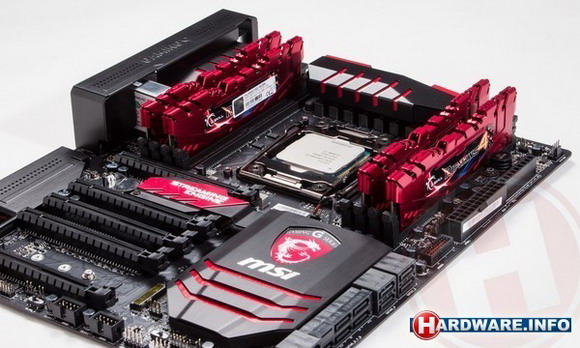 We tested no less than 15 Intel X99 chipset / Socket 2011 v3 motherboards for Intel's new Haswell-E CPUs. Our extensive roundup features a lot of benchmark and power usage tests. We also pay a lot of attention to the PCI-Express configurations and USB implementations of the boards, two of the major differences in this generation. An interesting fact is that there are some big performance differences between the X99 boards: usually when we compare boards with the same chipset they all perform roughly the same, this time around the opposite is true.

News: Gigabytes X99-UD4 motherboard reviewed

Buying into Intel`s high-end desktop platform doesn`t have to be exorbitantly expensive. Gigabyte`s X99-UD4 motherboard offers an affordable path to Haswell-E, and it doesn`t skimp on quality hardware or extra perks. We`ve taken a closer look at the board to see if the rest of it measures up."

Z97X-UD5H motherboard is one of the middle tier offerings

"The Z97X-UD5H is a solid contender for GIGABYTE in the mid-range offering category. It boasts a well thought out design with more than enough room around the integrated components for easy access. Additionally, GIGABYTE integrated their higher end power components, giving the board an edge in terms of overclocking potential and stability. Aesthetically, it would look nice in most windowed cases with its matte black coloring. The dual network controllers was another nice touch that is normally not found in a mid-range solution with both controllers offering top-notch performance. Add in the M.2 slot and SATA-Express capabilities, and you have a well rounded product.."

X99 Classified motherboard

The X99 Classified motherboard is EVGA's premier product offering for their Intel X99 chipset motherboard line. The board supports the Intel LGA2011-3 based processors along with DDR4 memory in a quad channel configuration. The X99 Classified board is a synthesis product for EVGA with all of the innovations from previous boards integrated for a superior offering. A premium product like this comes at a premium price point with an MSRP of $399.99.

MSI X99S MPower Motherboard Review

"MSI has distinguished themselves as having three major motherboard lines. The Classic Series which focuses on the mainstream, the Gaming Series which is geared towards gamers and the Overclocking Series which is made for overclockers and enthusiasts. We are very familiar with the Overclocking Series here at ThinkComputers as we reviewed the MSI Z97 MPower motherboard not that long ago. Today we will be looking at the X99 version of that motherboard the X99S MPower, which sits as the entry-level motherboard in MSI's X99 Overclocking Series. This motherboard features overclocking specific features like going through MSI's OC Certification process, MSI's OC Engine, voltage check points, and of course MSI's Military Class 4 components. On top of that you have great features like an Ultra M.2 slot with speeds up to 32 GB/s, DDR4 support, MSI's Audio Boost chip and so much more."

MSI Z97 MPOWER Review @ Vortez

MPOWER is almost identical to its bigger brother - the costly XPOWER but has a small selection of features omitted and is down-sized to the ATX form factor in a bid to allow those on a tighter budget the delight of overclocking."

ASRock X99 Extreme6 Intel LGA 2011-3 Motherboard Review

The new ASRock X99 Extreme6 motherboard in our OC-Review is tested with an Intel Core i7-5930K 6-core processor and brandnew Crucial Ballistix Sport DDR4-2400 Quad Channel memory and as befits OCinside.de, overclocked to the limit. The ASRock X99 Extreme6 offers eight DDR4 slots and similar top features, such as the recently tested ASRock Z97 Extreme6 motherboard, like e.g. HDD saver function, Ultra M.2 slot with up to 32 GB/s, Mini PCIe slot, Purity Sound 2 with digital sound output, five PCIe slots, up to ten USB3.0 ports, ten SATA3 ports, eSATA3, two Gigabit LAN ports and much more. We will see how fast the new Intel LGA 2011-3 motherboard is with the Core i7 Haswell-E processor and explain how you can overclock the X99 system.

ASUS ROG Crossblade Ranger Review @ Vortez

ASUS Republic of Gamers (ROG) products are often extreme, and highly capable and their refined aesthetic has become recognised the world over. So stepping down into the relatively lowly realms of the APU, the FM2+ platform has become an ideal opportunity to take what is currently considered to be a mainstream platform more seriously."


MSI Nightblade Z97 @ LanOC Reviews

Every time I cover something Mini-ITX I talk about how great it is that we can build these monster PCs in such a small form factor. Even so, considering how sensitive they are to heat and bad wire management its not for everyone. If you dont know about every single part on the market it can be a little harder to pick out your components for a LAN rig as well. You dont know what will fit with what, larger builds are a lot more forgiving on all of these things. Well MSI might just have the answer to all of those issues. They have put together a Mini ITX barebones for gamers who know they want a small easy to carry rig. Their Nightblade comes with a variation on their Z97i Gaming AC motherboard that I recently reviewed, a case, slim DVD drive, and 600 watt power supply. You just need to bring your SSD/Hard drive, CPU, heatsink, and video card. The question is, does the Nightblade make things easier and also how well does it perform. Today Im going to take a closer look and put it through a few tests to see what its all about."

GIGABYTE GA-X99-UD4 LGA2011-3 ATX Motherboard Review

"The GIGABYTE GA-X99-UD4 motherboard is one such board that promises to deliver stability, reliability, and performance whether doing something task intensive or playing your favorite epic game. It doesn't cost near the premium of other boards so we're curious to see how it stacks up."

Biostar A68N-5000 Motherboard Overview and Review

"A small package that packs a punch! If I had to summarize the Biostar A68N-5000 mini ITX motherboard, that would be it. With the integrated AMD A4 Fusion Quad Core processor and ATI Radeon HD8330 Graphics, this motherboard at the heart of your HTPC (home theater personal computer), or as your everyday task machine, does an exceptional job just as it is intended."

ASUS Maximus VII Formula Z97 Motherboard Review

The Maximux VII Formula appears to be another feather in ASUS hat, continuing the performance tradition of their Formula board line. From outward appearances, there is not too many obvious differences between the Maximus VI Formula and Maximus VII Formula. ASUS did such a fine job with the VIs design that they really only had to make a few tweaks at the surface level. The biggest non under-the-hood change was the update to the CrossChill VRM cooler."

BIOSTAR A68N-5000 Motherboard Review

The BIOSTAR A68N-5000 board has a pretty small footprint and offers plenty of bang for the buck. We only need to fit one or two DDR3 modules, plug in the power supply, connect the SSD/HDD and off we go, we have a fully operating machine. We are welcome to install the desired operating system on it and for ease of access now BIOSTAR have went with a fully-fledged UEFI interface, no more Aptio here! In the following article we will try to get more in-depth with this board to see what is it capable of.

ASUS X99 Deluxe Review

The X99-Deluxe differentiates itself from the rest of the mainstream range in a few subtle but important ways. The first and most obvious is the inclusion of an on-board 802.11ac wireless module, antenna and Bluetooth support, a rarity in the mainstream outside of compact form factors which have few expansion slots. Dual-Gigabit LAN also makes an appearance, as do a couple more USB 3.0 ports. Finally, there will be no scrabbling around for cables as ASUS bundle in eight SATA and an ASUS 2/3-way SLI bridge. Essentially, it's as feature complete as you could want.

ASUS X99-DELUXE Motherboard @ Hardware Secrets

The ASUS X99-DELUXE is a top mid-range motherboard for the new Intel high-end Haswell-E processors, based on the new LGA2011-v3 socket. It includes five PCI Express 3.0 x16 slots, 12 SATA-600 ports (with two SATA Express connectors), 14 USB 3.0 ports, a high-end audio controller, and an integrated Wi-Fi 802.11ac interface. Let`s take a good look at this board."



The best Guides by the best writers on the internet; PCstats Beginners Guides explain computers, software, and all those other wonderful things that cause you frustration.

Learn how to use your computer better, master the internet while protecting yourself, and know what to do when your hard drive kicks the bucket.



"Get the 'Stats and Stay Informed!"