| | |
| --- | --- |
| Motherboards | |

... 10 news stories awaiting approval
BIOSTAR GAMING Z170X Motherboard Review

The Gaming Z170X motherboard from Biostar was built on the strong foundation Z97X had and features plenty of expansion possibilities, including the new USB 3.1 Type-C port, no less than three M.2 slots, two which are hidden under the plastic shroud and one visible, plenty of SATA-Express and SATA ports, three PCI-Express 3.0 x16 slots for enabling tri-Crossfire support, the Realtek ALC898 8-channel CODEC, dual-LAN (Intel and Killer NIC) and more. We also have a set of touch-sensitive buttons which include BCLK and multiplier modifier on-the-fly, 8-phase VRM for the CPU and DDR4 memory support up to 4000MHz in UEFI.

12 AMD AM1 / Intel Bay Trail motherboard review

In April AMD introduced its AM1-platform which is meant to serve as a basis for budget PC's. Intel meanwhile introduced the desktop version of their Bay Trail chips at the beginning of this year, better known as the next generation of Atom-processors. In this article we discuss and compare 12 affordable motherboards for both platforms.



ASRock Z170 OC Formula Motherboard Review

Like most motherboard manufacturers, ASRock has an impressive line-up of new motherboards that support many of the various features of the latest Intel Z170 chipset. ASRock has over 17 Z170 motherboards geared towards different types of users. They sent over their Z170 OC Formula, which as the name implies is designed for overclocking. In fact, one of the worlds top overclockers partnered with ASRock to perfect the Z170 OC Formula, Nick Shih. Read on to see how it performs!

Gigabyte X99-SLI Motherboard Review - Welcoming & Budget Friendly!

Today we will have a look at the Gigabyte X99-SLI motherboard and its features, as well as putting it through some benchmarks to see how the board performs. At first glance we were expecting this board perform nicely on air and water, which as you will see for a budget board it performs quite well even overclocked. Gigabyte is well known for its fleets of motherboards in all series to meet the needs of the end users, from your average home user, gamer, overclocker and extreme overclocker. The Gigabyte X99-SLI caters for your average user and gamer, while overclocking rather well for those who want the bit of extra performance.

Asus Maximus VII Ranger

Z87 saw cost-effective gaming-calibre motherboards take the limelight. All of the big vendors released at least one product that provided gaming-orientated features in a cost-effective package. Asus SKU of choice was the successful Hero – a board which ticked many of the boxes and did so with an efficient price tag. The motherboard market is fierce so Asus welcomes back its Hero for Z97 and adds an even more aggressively priced variant to its Republic of Gamers (ROG) arsenal – the Maximus VII Ranger.

ASRock Z97 Extreme6 Motherboard Review

Packed to the brim with modern, high-speed storage interfaces, ASRock agrees that storage connections faster than 10Gbps are relevant in today's market. Utilised on the Z97 Extreme6, ASRock's Ultra M.2 connection routes four PCIe 3.0 lanes from an LGA 1150 CPU to provide a storage interface with up to 32Gbps of bandwidth.

MSI Z97 Gaming 5 Motherboard Review

MSI received great critical and public acclaim with its Gaming range of motherboards, based on Intel's 8-series chipsets. Aiming to repeat that success with Intel's new 9-series chipsets, we analyse MSI's Z97 Gaming 5 motherboard to see if it can set off where its predecessors left.

ASUS Maximus VIII Gene Review

With the Maximus VIII Gene, ASUS shows their next generation mATX gaming and overclocking motherboard, which is based on Intels latest Z170 chipset. Like it's predecessor this board wants to convince with a balanced feature mix that pleases overclockers as well as gamers. At this point we're very curious to find out what this small ASUS board is capable of.

Gigabyte's Z170X-Gaming 7 motherboard

Gigabyte's Z170X-Gaming 7 motherboard has more next-gen storage connectivity than you can shake a stick at, Techicolor LED lighting, and premium Creative audio. Does all of this add up to a high-end board that ticks all the right boxes? Read on to find out.

Gigabyte GA-Z170X-Gaming-7 @ LanOC Reviews

With the launch of Intel's latest chipset and the i7-6700 CPU it's no surprise that they brought along with them a long list of new motherboards from every manufacture. At the launch I took a look at one of MSIs boards. After the launch though we jumped into GPU mode and covered the latest budget cards. Past that I slipped in a vacation and then of course our 17th LAN event. With all of that past us I can finally revisit Z170 and take a look at the Gigabyte GA-Z170X Gaming 7. I'm excited to see what Gigabyte has packed into the board as far as features go and to find out how it compares to the MSI. So today I'm going to dig through the Gaming 7s features then put it to the test, let's get to it!

GIGABYTE Unveils the Z170X-UD5 TH Motherboard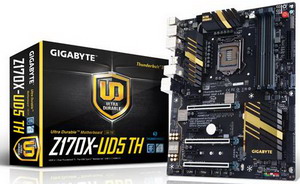 GIGABYTE TECHNOLOGY Co. Ltd., a leading manufacturer of motherboards and graphics cards, is proud to be the first to bring Thunderbolt™ 3 to the desktop PC by launching the GIGABYTE Z170X-UD5 TH motherboard with support for the 6th Generation Intel® Core™ processors.
Powered by Intel's own Thunderbolt controller the new Thunderbolt™ 3 protocol, which is available over two USB Type-C™ connectors on the back I/O of the GIGABYTE Z170X-UD5 TH, brings an unprecedented single-wire bandwidth of up to 40 Gb/s -- twice more than the previous generation of Thunderbolt! This incredible increase in bandwidth is also accompanied with support for different protocols such as DisplayPort 1.2 and USB 3.1, which is backwards compatible with USB 3.0 and USB 2.0, opening up a world of new possibilities.
Support for DisplayPort 1.2 makes Thunderbolt™ 3 a must have for any enthusiast. The Z170X-UD5 TH is able to support two displays in 4K resolution at 60 FPS or one display in 5K resolution. In addition, Thunderbolt™ 3 over USB Type-C™ has revolutionary industry-first features such as Power Delivery 2.0, and the ability to daisy-chain up to 12 devices thanks to the Z170X-UD5 TH's dual USB Type-C™ ports.
The GIGABYTE Z170X-UD5 TH packs in many features which will make your next PC the ultimate machine such as the cFosSpeed internet acceleration software over the Intel GbE LAN which will help deliver better network responsiveness and improve network performance. For optimum graphics, the Z170X-UD5 TH features support for multiple graphics cards in SLI™ or Crossfire™ configuration and includes GIGABYTE's industry leading Ultra Durable™ PCIe one piece metal shielding, giving you the peace of mind knowing that your investment is protected. Additionally, GIGABYTE's Z170X-UD5 TH supports the latest NVMe protocol over the M.2 connector which allows high-performance storage devices such as the Intel 750 Series U.2 SSD, with the use of GIGABYTE's M.2 to U.2 adaptor, to perform at their best on your system.
As the undisputed leader of quality and durability, GIGABYTE has set out to show just how tough its motherboards are with the Ultra Durable™ line of motherboards. The GIGABYTE Z170X-UD5 TH features long lifespan Durable Black™ solid capacitors rated for 10K hours and exclusive GIGABYTE DualBIOS™ technology to protect your PC's most crucial component. GIGABYTE Ultra Durable™ motherboards are for systems where failure is simply not an option.


ASUS SABERTOOTH Z170 MARK 1 Review

SABERTOOTH designs are eye-catching, feature advanced cooling, and in no way compromise the toolset that any user would be pleased to see on their performance-orientated Z170 system; the question is whether the motherboard excels in the same way it does aesthetically.

MSI Z170A Gaming M5 motherboard

Is it possible to make a competent gaming grade, feature rich Skylake motherboard for under $200? MSI's new Z170A Gaming M5 dares to ask that question.