| | |
| --- | --- |
| Motherboards | |

... 5 news stories awaiting approval
(ASUS X99-A (LGA 2011-3) Motherboard Review

Intel's current flagship consumer chipset, X99 has been around since August 2014. The X99 chipset was the first motherboard range to fully utilise DDR4 memory modules and put the much higher speeds to use. It's starting to age slightly, being around 8 months old, so let's see if this motherboard has any new tricks to bring to the game.

MSI Preparing SFF-8639 Adapter Card for Motherboards

Hot off the heels of Intel's SSD 750 series launch, and with NVMe-based SSDs beginning to gain momentum in the consumer marketplace, MSI is preparing to launch an adapter card to provide support for SFF-8639 drives to its X99 motherboards.


Intel X99 motherboard review part 2: 20 boards tested

At the end of August Intel introduced the Haswell E processors and we published a comparative test of 15 Intel X99 motherboards. Since our last test we have received another few new motherboards and we have retested some boards that did not perform optimally in our original test. In this update we introduce the new boards on the market and show the updated test results of all 20 X99 motherboards.

BIOSTAR releases the H81MDC-LSP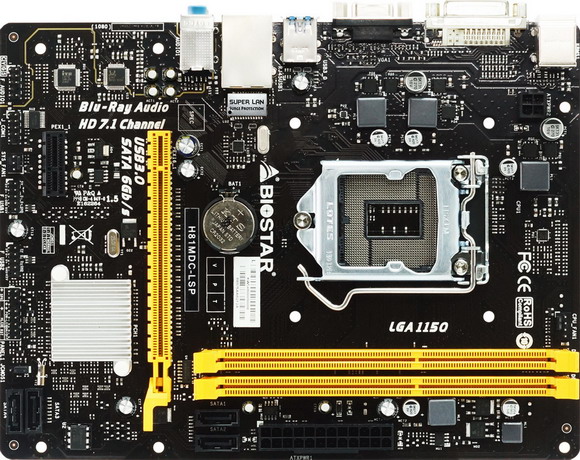 BIOSTAR has released the latest Micro-ATX Motherboard, the H81MDC-LSP. Based on the Intel H81 chipset, the H81MDC-LSP along with an upgraded sound chip and LAN surge protection. The board supports Intel 4th generation Core i7 and Core i5 processors. It features Intel single chip architecture with HD 4600Graphics, along with a new integrated memory controller that will run at speeds up to 1600MHz. The H81 chipset has two SATA 6Gb/s ports (plus four SATA 3Gb/s ports), and two USB 3.0 headers. The H81MDC-LSP supports two DIMMs for a maximum of 16Gigs of RAM. The H81MDC-LSP is a great option for small form factor systems where you rarely have more than one discrete card and two SATA drives and is a great combination for low-cost but with rich features such as HDMI video output. And being Intel based boards, they also feature Intel Rapid Start Technology and Intel Smart Connect Technology.

In addition to the normal specs, the H81MDC-LSP comes with MAGIX multimedia tools designed to enhance your music, videos and photos for free and Simplicheck, a small, intelligent tool by Simplitec GmbH that scans your PC for optimal performance. Simplicheck is based on well-proven scanning technology that has proven successful in everyday customer use.
The H81MDC-LSP is also equipped with modern high quality solid capacitors, the X.D.C (eXtreme Durable Capacitors). These are low ESR and high ripple conductive solid state capacitors that provide a stable power supply to the CPU. The life span can also be more than 6.25 times that of ordinary liquid caps. The H81MDC-LSP also has Super LAN Surge Protection which provides a LAN port with more advanced antistatic protection capabilities by adding an integrated chip to strengthen electrical stability and prevent damage from lightning strikes and electrical surges.
The boards feature the latest BIOSTAR technologies such as BIOS Flasher and BIOS Online Update for easy updating and restoration of the BIOS, as well as BIO-Remote2 for remote control of the system via Android and Apple devices.
BIO-Remote2 Technology gives users a better Home Theater environment. Users who own either Android or Apple mobile devices are able to access and control the PC remotely. Your smart device can become an intelligent and functional remote control. Moreover, BIO-Remote2 also includes both the function of mouse pad and power point presentation modes.
Lastly, the H81MDC-LSP features the Charger Booster function. It is a high powered charging solution for Apple or Android devices such as iPad, iPhone and Android phones and tablets. Charger Booster Technology is able to boost the charging time to be more efficiency and faster once any mobile device is connected to the motherboard. With Charger Booster technology, you are able to charge your devices up to 42 % faster.
The MSRP for the H81MDC-LSP is $49 USD.



Biostar Hi-Fi Z97WE Motherboard Review

While Biostar may not be the first company that springs to mind when we ask you to name a motherboard vendor, the Taiwanese board maker does have a long history of providing well-priced Intel- and AMD-based components. We take a look at Biostar's competitively-priced Z97 flagship – the Hi-Fi Z97WE.

Gigabyte, Asus and MSI X99 Boards

Intel's latest revision to its High-End Desktop (HEDT) platform is upon us and that means one thing is for sure – new processors and motherboards. Bringing the HEDT platform to the feature-rich realms of 2014, new motherboards based around the LGA 2011-v3 socket will use an X99 chipset that possesses many of the goodies found on the mainstream 9-series core logic, as well as more.

ASUS X99 Deluxe – A new look and features for ASUS X99!

When X99 started to become a reality we noticed that every manufacturer was running very late on boards and before you know it ASUS delivered with a board. This does not exactly surprise me since ASUS has a huge engineering and R&D team so getting boards out pretty quick may be a bit less of a chore than some competitors but on a new chipset/CPU launch like this sometimes the first one out of the gate can deal with the most issues. Now since ASUS was the first to deliver a board we did the launch article with it and X99 has some issues primarily based around software compatibility but overall it shows some serious brute force muscle, so now lets take a look less at the CPU/Platform and more at the features of the ASUS X99 Deluxe board.

ASUS X99 Motherboard Launch Coverage

The run-up to the launch of Intel's new X99 chipset has been very similar to that of Z97 in that nothing has been kept a secret. Everything about the new chipset, the new CPUs and the different motherboards vendors will produce has been exposed to the press in recent weeks. However, ASUS have been one of the vendors who have done a fairly good job at keeping a lid on things: leaks from the ASUS camp have been few and far between. Yet launch day is finally here so we can share all about the new ASUS X99 motherboards. We were invited to attend an ASUS X99 technical seminar in London where ASUS revealed their X99 line-up which consisted of four motherboards. These four motherboards will be the initial offerings from ASUS at launch but we may see other models launch a little later down the line. On show were three ASUS X99 motherboards that will be part of their Channel Series and a solitary motherboard from the Republic of Gamers series – the hotly anticipated Rampage V Extreme. Interestingly, the release of the ASUS Rampage V Extreme motherboard means we will probably not see an Extreme SKU on the Z97 chipset but that's a story for later on, first let's dive into each of the motherboards shown off by ASUS and then take a look at some of the new features ASUS are bringing to the market with their X99 motherboards.

Gigabyte GA-Z97MX-Gaming 5 Review

ng are the days of the SUPER TOWER chassis being the king of the gamers den, in the past few years the SFF (Small Form Factor) has taken over the market. This is not only due to the compact size of mATX and ITX but that both form factors are continuing to squeeze performance into every bit of their tiny …

Gigabyte X99-UD4 Motherboard

"When it comes to X99 motherboards we have taken a look at boards from ASUS, MSI, ASRock and EVGA. The company not on that list is Gigabyte and today we are getting our first look at one of their X99 motherboards. The X99-UD4 is set to be a more affordable motherboard in their X99 stack and is not really aimed towards gamers or overclockers, but offers a great set of features any user will appreciate. The board is part of the companies Ultra Durable line and features an all digital power design, 4-way graphics support, dual M.2 slot, SATA Express support, Intel Gigabit LAN, and the companies AMP-UP audio solution. Did I mention the board lights up too? Let's get the board on the test bench and see if Gigabyte has a winner on their hands."

BIOSTAR GAMING Z97X (Intel Z97)

"Steven takes us on a tour of BIOSTAR's GAMING Z97X motherboard. This board offers quality and performance at a good price, so come take a look."


ASUS Republic of Gamers Striker Platinum GTX 760 4GB SLI Review

It isn't very often that the ASUS Republic of Gamers brand brings a graphics card to a fairly mainstream price point. However, with the ASUS ROG Striker Platinum GTX 760 that's exactly what ASUS did – well, kind of. As you might expect it certainly will cost you a bit more than a "bog-standard" GTX 760, 20% more in fact, but you do get a fair bit more for your money. The stand-out difference is that your RAM gets doubled from 2GB to 4GB, but there's also a hefty GPU overclock and a custom ROG-styled cooling solution. This features a full aluminium backplate, the new Direct CU II design with 10mm heat pipes and the ASUS CoolTech fan design. ASUS have also upgraded the power delivery components over the standard GTX 760 reference design with their DIGI+ VRM black metallic capacitors, an 8 phase Super Alloy Power implementation and extra POSCAPs behind the GPU to filter power further.