[>>]

[>>]

[>>]

[>>]

More>>

Search...

| | |
| --- | --- |
| Motherboards | |

... 5 news stories awaiting approval
Z170 Motherboard Charts: 14 Models tested - Supermicro C7Z170-OCE

In our comparison tables, meanwhile you find benchmark values regarding 14 recent Z170 motherboards. Furthermore we do not comment the benchmark values. The idea and also the goal is to present to you a market overview which helps you choose the right motherboard.

BIOSTAR RACING Z170GT7 Motherboard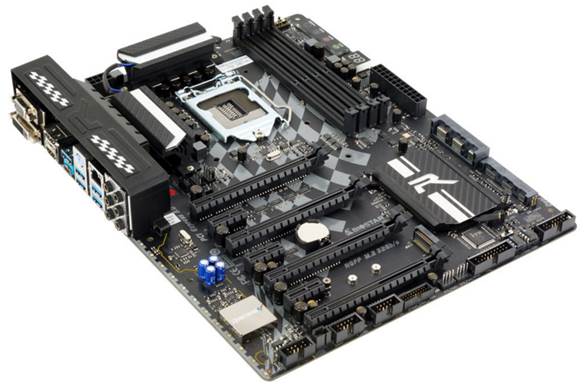 BIOSTAR is proud to introduce the flagship of the new RACING series: RACING Z170GT7 motherboard. Flaunting the new Super 5 Design Concept, the RACING Z170GT7 flaunts the best of the BIOSTAR RACING series together with its latest motherboard design features including the all new RACING IO armor, carbon-fiber design treatment on the heatsink, checkered flag PCB print on a matte black surface treatment and Titanium-color RACING audio shielding.
The BIOSTAR RACING Z170GT7 features support the latest Intel 6th-generation Core processors featuring the Intel Z170 chipset. The board supports up to four DDR4 memory modules of speeds up to DDR4-3200 (OC) with capacities of up to 64GB. Signature BIOSTAR Hi-Fi audio solution for a better listening experience than standard built-in audio. Other features include support for USB3.1 Type-C reversible connector for existing and future devices supporting the interface and also SATA Express and PCI-e M.2. Featuring more bandwidth than USB3.0, USB3.1 along with the new reversible Type-C connector allows greater bandwidth and more flexibility to use devices with your motherboard. Dual-BIOS protection allows greater security against BIOS corruption and damage from faulty BIOS update procedure. A manual switch allows toggling between BIOS chips for full control of which BIOS you want to use.
BIOSTAR Z170GT7

CPU

LGA 1151 Processor

Power

9phase

Chipset

Z170

Solid cap

100% Solid

Memory

4xDIMM, support DDR4-3200

Expansion Slot

4 x PCI-E x16 3.0
3 x PCI-E x1 3.0
1 x M.2 32Gb/s (42/60/80mm)

Audio

7.1ch Blu-ray Audio w/ Double Hi-Fi

LAN

Intel i219V

Storage

3 x SATA Express 16Gb/s

Video

DVI-D, 2 x HDMI, VGA

USB 3.1 / 3.0 / 2.0

1USB 3.1 (TYPE C )
7USB3.0 (2+5)
4USB 2.0 (4+0)

Feature

Vivid LED DJ/ Smart Ear/
BIO-Remote2 / BIOS Online Update

MSI Z170A Gaming M7 Motherboard Review

Tackling the premium gaming market, MSI outfits the Z170A Gaming M7 with a number of features that will have eager buyers licking their lips. Alongside the eye-catching red and black colour scheme, hardware features include an enhanced audio system, two high-speed M.2 slots, and USB 3.1 Type-A and Type-C ports.

SUPERMICRO C7Z170-SQ motherboard

"SUPERMICRO did their homework in designing the C7Z170-SQ motherboard, designing a board with enthusiast-friendly features and aesthetics. The black and red aesthetics were well chosen to appeal to gamers, and act to hit alot of the silk-screened chip designations throughout the boards surface. Also, the addition of a PCIe x4 capable M.2 slot as well as PCIe x4 slots instead of the normal x1 slots included by most other manufacturers are both nice touches. SUPERMICRO chose to include their hardware-based BIOS recovery tools into the board, making for an easy out should a BIOS update go awry."

GIGABYTE Z170X-Gaming 5 motherboard

The GIGABYTE Z170X-Gaming 5 is everything you could possibly want in a motherboard; great overclocking, excellent performance, tons of features and an affordable price.

MSI Z170A SLI Plus Motherboard Review

"MSI's Z170 motherboard product stack is pretty full, there are so many motherboards it is hard to narrow it down to a single board for your Z170 build. MSI has put a lot of focus on their Gaming Series that their Pro Series is often overlooked. Today we will be taking a look at a motherboard that has everything that you would want in a Z170 motherboard, without many of the extras that you won't use. With that it comes in at a price that won't break the bank. The motherboard I am talking about is the Z170A SLI Plus which features two shielded PCI-Express slots that support SLI and CrossFire, a 32 Gb/s M.2 slot, USB 3.1, and six SATA 6GB/s ports. As you can guess this board is designed for people who will be using two graphics cards and do not need all of the extra things on many of the motherboards we see on the market. Let's see if the Z170A SLI Plus is the perfect board for your next Z170 build."

MSI Z170A SLI Plus

Sometimes less is more. That's the approach MSI has taken with the MSI Z170A SLI Plus. Sure, ridiculously overpriced and feature packed motherboards are nice to drool but sometimes you want just the right tool for the job. The MSI Z170A SLI Plus is poised to be everything you need and nothing you don't.

four Z170 motherboards

To start of the new year, we take it easy with a small round-up of four Z170 motherboards with the specs you'd expect for the new generation such as USB 3.1 and M.2, and a nice price. We've been testing so many of these, we decided to make a few comparisons between, well, comparable models. This is one of them. The ASRock Z170 Extreme4, ASUS Z170 Gaming, Gigabyte Z170X-Gaming 3 and the MSI Z170A Gaming Pro are discussed and benchmarked in this article, for your and your readers' pleasure.

ASRock Z170 Extreme4 Motherboard Review

The availability of multiplier-locked Skylake chips has sparked an even greater emphasis on the need for low-cost motherboards to partner with such processors. ASRock's affordable Z170 Extreme4 utilises the Z170 chipset's host of worthwhile features but minimises add-on components in order to maintain aggressive pricing. Aside from the Z170 chipset's rich set of native offerings, a feature that ASRock is coining – 'Sky OC' gives users the ability to overclock their multiplier-locked Skylake CPU by simply tweaking the BCLK.

CES 2016 - BIOSTAR Z170GT7, H170GT3 and B150GT5 Motherboards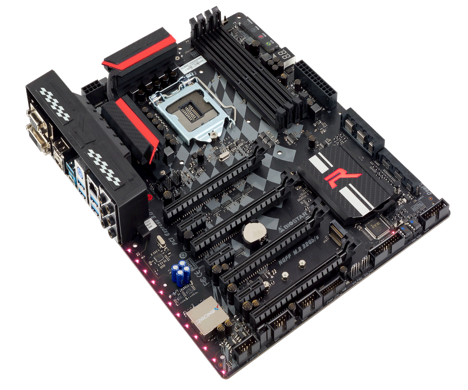 BIOSTAR is proud to introduce the next-level of performance motherboards: the BIOSTAR RACING Series. Featuring an all-new design, the BIOSTAR RACING series ushers in the future of performance with all new cutting-edge features and a new racing design for a stylish and powerful build.
Featuring the latest in gaming hardware from BIOSTAR, the all-new RACING Series is built with powerful hardware design based around the Intel 100-series chipset. Super Durable Ferrite chokes for high-quality power delivery to vital components, Super Durable Solid Caps for longer-lasting performance, low-latency Intel LAN. Storage via super-fast SATA Express and PCI-e M.2 slot allow rapid access to the latest generation of storage devices. DUAL BIOS guarantees resilient motherboard operation whenever BIOS fails.
Biostar has built the Racing series motherboard from the ground up, taking into consideration the ever-changing needs of gamers and enthusiasts. The new BIOSTAR Racing Series is proud to introduce the Super 5 Design concept.
All this new features are reflected in the Racing series which are intended to give the best experience for all users.
The new BIOSTAR Racing Series features the all-new Racing I/O Armor which protects the I/O panel and components from dust and static.
Design your own LED effect with BIOSTAR Vivid LED DJ. Control your motherboard LED light via VIVID LED DJ utility including special effects like music-reactive LED animation.
Expand your chassis looks by connecting 5050 header-equipped LED strips directly on the motherboard and control it via the VIVID LED DJ. Perfect for DIY fans and modders.
GT Touch features one-touch mode selection: Sports mode for a performance boost and Eco mode for optimized energy consumption. Designate onboard LED configuration for each profile individually VIVID LED DJ software.
BIOSTAR motherboard protection via DUAL BIOS technology ensures recovery during failed main BIOS removing the need for factory repair when corruption or BIOS failure occurs.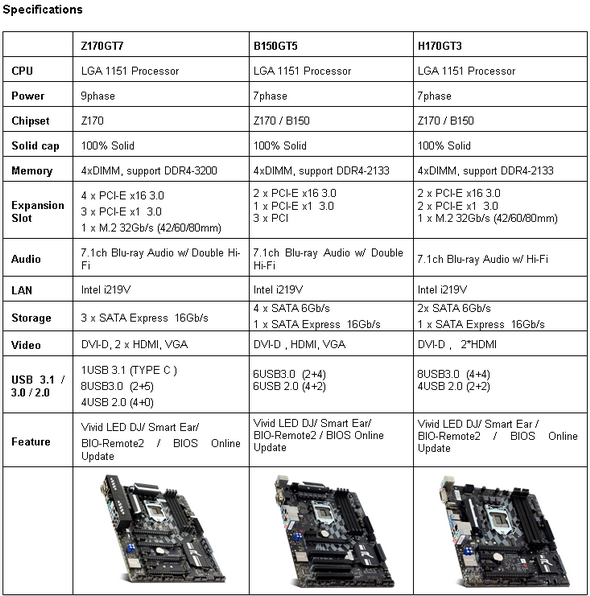 BIOSTAR GAMING Z170X Review

We've already reviewed a series of Intel Z170 motherboards from a variety of different brands but today we'll be turning to BIOSTAR for a detailed look at what the GAMING Z170X has to offer.

ASUS Sabertooth Z170 Mark 1 motherboard

The Sabertooth Z170 Mark 1 carries on the tradition of ASUS' TUF series in a big way: with the latest technologies, great overclocking headroom and a 5 year warranty it sure is impressive.

ASUS Z170 Deluxe Skylake motherboard

It may be on the expensive side, but ASUS' Z170 Deluxe offers it all: awesome overclocking headroom, great looks, high end performance and a feature list to drool over.


MSI Gaming 27 6QE Review

It isn't common to see an All-in-One PC, in fact, looking around there are very few to choose from. But today we'll be taking a look at a highly capable machine from MSI dubbed the GAMING 27 6QE. GAMING 27 blends together a lineup of the very latest technologies which include Intel's Skylake, NVIDIA's GTX 970M, 16GB DDR4 and M.2 SSDs in Super RAID 4. All of this hardware sits behind a 27" display for a neat, minimalist design.

ASUS ROG Maximus VIII Extreme Review

"Overclocking is just one of the many aspects of this board. ASUS builds its Republic of Gamers motherboards to be both high performance machines that deliver a targeted set of features to its core audience, the gamer. ASUS SupremeFX 2015 sound solution includes all the hardware to deliver a discrete level audio solution that is built into the PCB. It's a solution that continues to impress as it evolves. ASUS gives the end user a wealth of software tools that are integrated into one all-inclusive suite. Tools such as ROG Cache, RAMDisk, KeyBot, GameFirst III, Sonic Studio, and more are designed for the gamer to improve the overall experience. Tools such as AI Suite III with its TPU, EPU, 5-Way optimization tool, Fan Xpert III, USB 3.1 Boost, and ASUS Home Cloud and web storage all offer added benefits for the power user. The ASUS oftware suite is, in a word, great. It works and is easy to use. Add in the best in class CrashFree UEFI BIOS and it does not get much better."



The best Guides by the best writers on the internet; PCSTATS Beginners Guides explain computers, software, and all those other wonderful things that cause you frustration.

Learn how to use your computer better, master the internet while protecting yourself, and know what to do when your hard drive kicks the bucket.



"Get the 'Stats and Stay Informed!"