[>>]

[>>]

[>>]

[>>]

More>>

Search...

| | |
| --- | --- |
| Motherboards | |

... 1 news stories awaiting approval
MSI Z170A Gaming PRO CARBON Review

We check out the MSI Z170A Gaming PRO CARBON Gaming PRO Series motherboard. Armed with a decent price of €150,- this motherboard has refined looks, an RGB LED lighting system and next to that, this is Z170 meaning it is fast, feature rich and tweakable as well.

ASUS Maximus VIII Extreme Assembly Review

The Maximus VIII Extreme Assembly, is ASUS's new flagship overclocking and gaming motherboard regarding Intels latest Z170 chipset. Next to a never-ending feature list there is the new ROG design with black and orange color scheme like the GTX 980 Ti Platinum. Unlike the Extreme, the Extreme Assembly includes also a super-fast Ethernet card able to reach 10Gbps and a new Supreme HI-FI sound card. Meanwhile we're curious to find out more about all the different components ASUS has put on this motherboard and how this beast performs.

MSI Z170A Gaming Pro Carbon Motherboard Review

When choosing a motherboard, some users make their choice based on the extra features and overall look of the board while others choose boards based purely on speed and performance. However, the extra features and speed come at a cost; price. Over the last few years, MSI has released a slew of motherboards that hit both ends of the spectrum …

EVGA Z170 Classified K Motherboard Review

In this review we'll be looking at the EVGA Z170 Classified K. EVGA announced this motherboard during CES 2016 and described it as a lower cost version of the EVGA Z170 Classified that I reviewed back in November.

ASRock Z170 Extreme4+ motherboard

What compromises are you willing to make for an affordable motherboard? ASRock's Z170 Extreme4+ seems to offer everything from overclocking to high end features yet it maintains a low price.

ASRock Fatal1ty Z170 Gaming-ITX/AC Motherboard Review

It used to be that small form factor meant you would have to trade performance for size. Over the last few generations of motherboards and CPUs that stigma is changing. The Mini-ITX or ITX is one of the smallest form factor boards you can purchase. The ASRock Z170 Gaming-ITX/AC motherboard is part of the Fatal1ty (fatality) line of products and …

EVGA Z170 Classified K Motherboard Review

"When EVGA first announced their Z170 motherboards they had the Z170 Classified at the super high-end and the Z170 FTW filling out the mainstream. Since there was quite a large gap between those two boards, EVGA recently announced the Classified K, which will sit in the middle of the two. This motherboard has many of the great features you would expect from a Z170 motherboard like 2-way SLI support, dual M.2 slots, SATA Express, USB 3.1, and isolated audio components. EVGA has also added Killer E2400 gaming networking, their own 6-layer PCB, on board power, reset, and clear CMOS buttons and much more. This should be the perfect motherboard for someone who does not need all of the features that the Z170 Classified has, but wants something a little more powerful and feature-rich than the Z170 FTW board. Let's jump in and take a look at what the Z170 Classified K is all about!"

MSI Z170A GAMING PRO Carbon Review

The Z170A GAMING PRO Carbon adopts a super-sleek all-black livery with strong emphasis on styling. Throughout this motherboard there is a strong feature-set including an assortment of MSI's customary tools – with the addition of RGB LED lighting to add some pizazz to your config.


ASRock E3V5 WS Intel LGA 1151 Motherboard Review

No matter if you do video editing, graphic design, 3D animation, architectures or if you are just an allrounder or even a gamer - the latest Intel Xeon E3-1200 v5 processors offering great performance at an affordable price. Today we are testing on OCinside.de the new ASRock E3v5 WS Intel C232 workstation motherboard with an Intel Xeon E3-1230 v5 LGA1151 CPU as well as with an Intel Core-i5 6600K LGA1151 CPU.

MSI X99A SLI Plus

HardwareOverclock.com has just posted another review. Last week we have taken a look at the MSI X99A SLI Plus socket 2011 v3 board.

Gigabyte Z170-Gaming K3 (LGA1151) Motherboard Review

Intel's current iteration of enthusiast processors offering impressive overclocking headroom incurs a fairly hefty premium compared to the previous generation especially if you're opting for the i7-6700K. Unfortunately, the retail version of this CPU sporting a 3 year warranty still teeters around the £300 mark, and falls into a similar budget to the 6-core 5820K. The real savings when selecting the Z170 chipset revolve around cheaper motherboards which usually cater towards the gaming demographic with LED illumination, unusual colour schemes and a comprehensive software suite. It's astonishing to see the kind of performance and bundled list of features on products under £100. At this price, there's fierce competition and some manufacturers have struggled to outline the value of H170/B150 alternatives due to the narrow difference to affordable Z170 options.

GIGABYTE Features HEDT Motherboards at CeBIT 2016

GIGABYTE TECHNOLOGY Co. Ltd., a leading manufacturer of motherboards and graphics cards, invites the world to CeBIT 2016 in Hannover, Germany, where it will be showcasing GIGABYTE Z170 Chipset Motherboards, High-End Desktop (HEDT) Motherboards and the latest BRIX™ Products at CeBIT 2016, in Hall 15, Booth# D20

In addition, GIGABYTE invites all of our valued channel customers to attend an open seminar on March 14th at 3:00 PM to 4:30 PM local time, first day of CeBIT 2016, in Room 17 of the Conference Center at the Hannover Messe.

CeBIT is an IT show and conference that defines the latest IT trends, presenting renowned speakers, forward-looking panel discussions and showcases of innovative products from all over the world. It's estimated to welcome roughly 250,000 visitors with more than 3,000 exhibitors from 70 different countries.

During the exhibit GIGABYTE will be showcasing a number of boards in its G1™ Gaming Series based on the Intel® Z170 chipset: the Z170X-Gaming G1, Z170X-Gaming 7, Z170X-Gaming 5 and Z170X-Gaming 3. These boards are targeted at gamers with the exclusive unique GIGABYTE technologies such as, One Piece PCIe Metal Shielding, AMP-UP Audio, Killer™ Networking and Turbo B-Clock. Select boards even support USB 3.1 with the new Type-C™ connector, Intel Thunderbolt™ 3 through the use of the official Intel Thunderbolt Controller.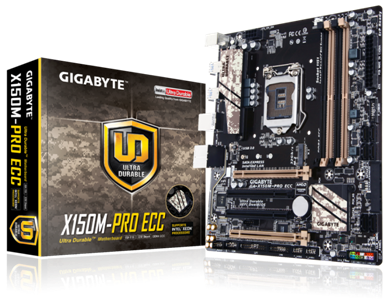 HEDT motherboards bring support for the Intel Xeon® E3-1200 v5 Processors and ECC DDR4 Memory. This Professional class motherboard is perfect for content creators who specialize in Photography, Designing, Video Streaming and more. It has features that are perfect for creative artists that require the latest connectivity, with support for PCIe Gen.3 x4 M.2 connectors users are able to reach transfer speeds of up to 32 Gb/s. The utilization of the new Intel 750 NVMe is a perfect example of this technology which improves transfer speeds by 4x that of traditional Solid-State Drives (SSDs). Moreover, with designers and graphics artists requiring an increasingly faster GPU for rendering, GIGABYTE has qualified Nvidia® Quadro® Cards on our Approved Vendor List (AVL) through strenuous testing procedures.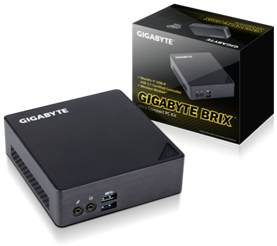 Ultra Compact Computing with the Next Generation GIGABYTE BRIX

GIGABYTE's BRIX has been turning heads ever since it entered the barebone Mini-PC market, and now with the Intel 6th Generation Core™ Processors it's doing so once again. With such a small footprint the BRIX is the epitome of innovation for the PC Industry. With multiple USB3.0 ports and video connectivity via mini DisplayPort and HDMI the BRIX is perfect for digital signage, a desktop alternative and even as a home theater PC (HTPC). On display at CeBIT there will be the GB-BSi5T-6200 and GB-BSi5A-6200 featuring a USB Type-C connector as well as the GB-BACE-3000 and GB-BACE-3150 which support a fanless design. The GIGABYTE BRIX are available in a variety of different configurations based on the 6th Gen. Intel Core i3/i5/i7 processors, allowing users to buy the exact model that meets their needs, while some BRIX offers support for a 2.5" SSD or HDD for users that need the extra storage space.

ASRock E3V5 WS Review

ASRock has really upped its game over the last few years. A decade ago, the company was most successful at the budget end of the market. But that image has long gone. Recently, we looked at a decidedly high-end X99 chipset board in the shape of the ASRock X99 WS-E/10G. This time, we are putting a more modest Intel C232 board, the E3V5 WS, through its paces. This is still aimed at workstations, but smaller, less powerful units.

Gigabyte X99P-SLI motherboard

The X99 platform may not be known for affordability but Gigabyte's new X99P-SLI aims to change that opinion with USB 3.1, M.2, great overclocking, quad GPU support and more for less than $250.

OSTAR RACING B150GT5 LGA1151 Motherboard Review

"The RACING B150GT5 was built from the start as a mainstream board, for budget-conscious people which usually also go for locked processors and are not interested to overclock their machine. We did really enjoy the fresh new look of the RACING series, with the checkered flag on the PCB surface but also the addition of the LEDs on both PCB & PWM heatsink. For added value BIOSTAR does also include an extra LED strip which must be connected to the dedicated header. BIOSTAR has also thought of people which want to keep some of their older expansion cards so no less than three PCI slots are also available."



The best Guides by the best writers on the internet; PCSTATS Beginners Guides explain computers, software, and all those other wonderful things that cause you frustration.

Learn how to use your computer better, master the internet while protecting yourself, and know what to do when your hard drive kicks the bucket.



"Get the 'Stats and Stay Informed!"