[>>]

[>>]

[>>]

[>>]

More>>

Search...

| | |
| --- | --- |
| Motherboards | |

... 4 news stories awaiting approval
MSI Z97 MPOWER MAX AC (LGA 1150) Motherboard Review

When it comes to premium motherboards bursting at the seams with features MSI's MPower and XPower motherboards are certainly well recognised. Although tailored specifically for overclocking, and themed to join the ranks of other MSI Lightning hardware, the M and XPower motherboards still offer all the high-end features we'd expect from a good motherboard. Today we have a motherboard with us that epitomises that from MSI, the Z97 MPower Max AC. Not only is it geared towards overclockers with its advanced BIOS, voltage read-off points, assortment of onboard tweaking buttons and even integrated liquid cooling but it is also geared towards the power user with Gigabit Intel LAN, AC WiFi, Bluetooth, M.2, SATA III, high quality audio and a shed-load of USB connectivity. There isn't really a lot else to say about the Z97 MPower Max AC other than it has just about everything you could possibly want in a motherboard, and better still it certainly won't make your wallet cry with a very reasonable price of £170 or $260. The full specifications are as follows:

ASUS Z97 Gryphon Armor Edition (LGA 1150) Motherboard Review

The ASUS TUF line is always one of the more exciting product ranges to come out of the ASUS consumer motherboard platform, albeit a very niche form of excitement (well I find it exciting anyway…). I took a look at my first ASUS TUF series motherboard last year when ASUS kindly sent over their Z87 Sabertooth board. My general thoughts were that the board was a very good piece of kit although the monitoring, reliability and stability aspects of it seemed to be quite niche, aimed at a specific form of power user. I don't really expect that to change given that the TUF series is still about giving you military grade reliability and stability but I am hoping there will be lots of new features on offer with the new Z97 TUF series. Today we are looking at theASUS Z97 Gryphon motherboard which is the micro-ATX version of the TUF line. More specifically we have the ARMOR EDITION equipped with the ASUS thermal armor but ASUS do offer a version without for users who find it garish or unnecessary. The full specifications of the motherboard are fairly basic given that there's no M.2, no SATA express, no WiFi and so on. However, for a micro-ATX motherboard it still has all the key features a desktop user would expect such as Gigabit LAN, dual PCIe 16X lanes, SATA III ports and decent spec audio.

ASRock Z97 Extreme6 (LGA 1150) Motherboard Review

ASRock's Extreme series of motherboards offer a nice balanced and more well rounded alternative to their Fatal1ty series, which are geared towards gamers, and their OC Formula series, which are geared towards overclockers. For the past few generations of Intel motherboards the ASRock Extreme series has been renowned for its great balance of performance, features and value for money compared to rival offerings. Today we have a new Z97 board from the Extreme series looking to carry forward this good reputation. More specifically we have ASRock's Z97 Extreme6 motherboard. This motherboard is quite exciting for the more productivity or prosumer style user. It offers up a ton of storage connectivity including two M.2 ports, a SATA Express port and 10 SATA III ports as well as eSATA. What's more you get a range of PCI connectivity including mini-PCIe and you get dual gigabit LAN supporting wake-on-WAN functionality so you can use this as a home cloud or server. As if that wasn't impressive enough there's also 10 USB 3.0 and 5 USB 2.0 one of which is an internal port wired to the motherboard. You also get a debug LED and onboard buttons as well as high quality Realtek ALC1150 based audio and 12K rated capacitors with a 12 phase VRM for the CPU area. This motherboard literally has it all and it comes in at a staggeringly low price of just $170, about £125-130.

ASRock Fatal1ty Z170 Gaming K6+ Motherboard

The ASRock Fatal1ty Z170X Gaming K6+ is a socket LGA1151 motherboard based on the new Intel Z170 chipset, supporting DDR4 memory modules and coming with a front panel with two extra USB 3.1 ports. Check it out!

Intel Z170-based G1 Gaming Series product

As the flagship board in their Intel Z170-based G1 Gaming Series product line, GIGABYTE integrated all the premium features you could ever want into their Z170X-G1 Gaming motherboard. The board features a black PCB with red and white accents spread throughout its surface to make for a very appealing aesthetic. GIGIGABYTE chose to integrate plastic shields covering their rear panel assembly, the VRM heat sinks, the audio components, and the chipset and SATA ports. With the addition of the Intel Z170 chipset, the motherboard supports the latest Intel LGA1151 Skylake processor line as well as Dual Channel DDR4 memory. Offered at at a premium MSRP of $499, the Z170X-Gaming G1 is priced to appeal to the premium user enthusiasts.

ASRock Fatal1ty Z97X Killer (LGA 1150) Motherboard Review

We've covered an absolute ton of Intel Z97 based motherboards since the chipset launched back on June 11th, a couple of weeks ago, but in that time we've yet to see an offering from ASRock. Today, and over the coming weeks, we will be rectifying that by having a look at a lot more motherboards from ASRock's Z97 series. Up first we have their Fatal1ty Z97X Killer motherboard which is part of their Fatal1ty gaming motherboard product series. Interestingly this motherboard will compete with MSI's Gaming 7 and Gigabyte's Gaming 7 in that hugely competitive sub-£140/$190 price point and it actually comes in a fair amount cheaper than the competition at just £125/$160. ASRock are equipping all their usual features with this motherboard such as their Purity Sound audio implementation, their Fatal1ty USB gaming port, their Super Alloy power components and a Killer E2200 gaming NIC. This motherboard has fairly similar specifications and features to other motherboards at this price point although this board does have the advantage of offering SATA Express and M.2 whereas a lot of the gaming motherboards at this price point offer only M.2. Full specifications of this motherboard can be seen directly below:

ASUS Republic of Gamers Maximus VII Ranger Z97 (LGA 1150) Motherboard Review

During the launch of Z87 motherboards ASUS surprised a lot of people when they announced their "Hero" SKU of the Republic of Gamers line of motherboards. When the Hero was released it was an extremely popular motherboard simply because it brought an ASUS ROG motherboard into the reaches of most peoples' budgets. A surprising move because ROG motherboards have traditionally been extremely expensive products that target a fairly niche market. It is unlikely that ASUS ROG would have made this move last generation without the price pressure of rival brands such as Gigabyte, with their G1 Sniper Z87, MSI, with their Z87-G45 Gaming and ASRock, with their Z87 Fatal1ty Killer. All of these competing products have driven the price of gaming motherboards down to the point where gaming motherboards are no longer exclusive or expensive products, but accessible to the fairly mainstream PC user and mainstream budget. Now ASUS have added the Ranger to sit just below the Hero for the Z97 platform which is another smart move given that Gigabyte and MSI have become even more aggressive with the pricing of their Gaming Series motherboards which start at just £100/$140. The main benefit of the ASUS Maximus VII Ranger is that it carries a 10-15% lower price premium (depending on the region and retailer) than the ASUS Maximus VII Hero but drops fairly little in terms of features or specifications. From our discussions with ASUS they have clarified that the main differences between the Hero and the Ranger are that the Hero has:

Gigabyte Z97X-Gaming 7 (LGA 1150) Motherboard Review

Intel's first Haswell Refresh CPUs have just been recently released, Intel's Devil's Canyon (unlocked K series Haswell Refresh) CPUs are expected in just a month or two and rumours going around suggest that Intel's Broadwell CPUs could even be released this year too – from an enthusiast perspective there has never been a better time to upgrade your motherboard to the latest chipset on the block – Z97. Today we are taking a closer look at our third Z97 motherboard courtesy of Gigabyte, more specifically it is their Z97X-Gaming 7 motherboard which is their top of the range Gaming Series motherboard, although they will have other more premium boards from their Ultra Durable and OC ranges but those aren't targeted specifically at gamers. For anyone used to the Gigabyte G1 Gaming series of motherboards you may be surprised by two obvious aesthetic changes. The first is the colour scheme has shifted from green and black to red and black. The second is that that G1 Series Bullets and Skulls have been replaced by the "Gigabyte Eye" typically seen on their VGA series products. For some this may be a great move by Gigabyte, moving towards the more desired and traditional "gaming" red and black colours, but for others it might be a bit frustrating to see ASUS, Gigabyte and MSI all offering red and black as the primary colour scheme on their gaming motherboards. What might be even more worrying is that MSI and Gigabyte both have Z97 gaming motherboard models dubbed "Gaming 7?, which will no doubt serve to confuse consumers.


MSI Z170A XPOWER GAMING TITANIUM Edition (LGA 1151) Motherboard Review

Intel's Skylake has been with us for a little over a month now and reports are coming back extremely positive, with retailers struggling to maintain stock and very few reviews having anything negative to say. We are now at the stage where motherboard manufacturers have had the chance to tweak and update drivers to ensure the best possible performance and prices have stabilised thanks to increased stock levels hitting retailers.

ASRock Z170 Gaming-ITX/ac Motherboard

ASRock Z170 Gaming-ITX/ac sports a HDMI 2.0 connector for 4K 60Hz video playback. Also 8 layer PCB and 8 power phase design.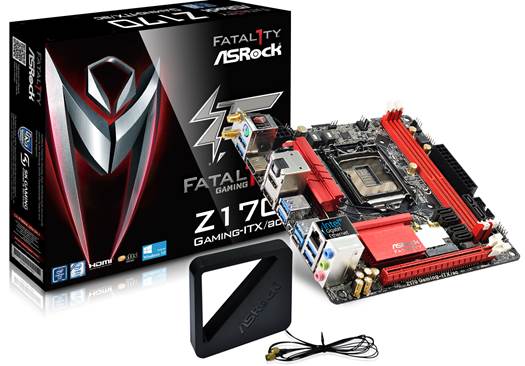 There is perhaps no other Intel 100 series mini-ITX motherboard that is able to compete with ASRock Z170 Gaming-ITX/ac, which might appear as any conventional tiny form factor board with two DDR4 DIMM slots on the side, a single PCIe 3.0 x16 slot at the bottom, and a huge fat LGA1151 CPU socket sitting in the middle. But, in truth, you may not judge a book from its cover. Because this compact gaming motherboard simply dominates the 100 series featherweight division, no matter whether it's head to head on specifications, features or performance.
To begin with, ASRock Z170 Gaming-ITX/ac is built on an eight layer PCB and adopts an eight power phase design. This ultimately leads to better performance, which is further amplified by the rest of the Super Alloy and Gaming Armor design, such as the Premium 60A Power Chokes, Dual-Stack MOSFET, Nichicon 12K Platinum Capacitors, Hi-Density Power Connector, 15µ gold contacts and Digi Power. It's stable, power efficient and most of all, powerful.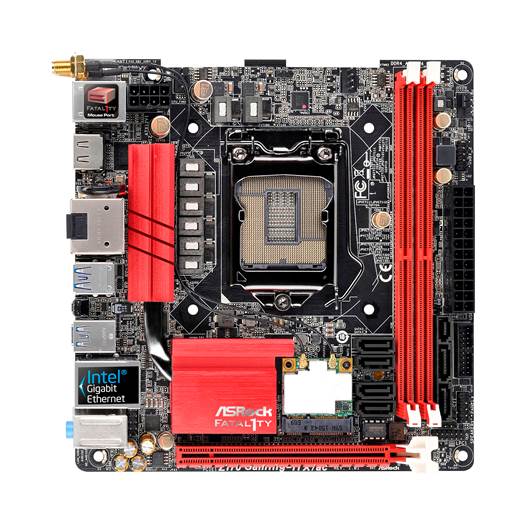 Another notable feature on this gaming motherboard is the graphics output. There are two HDMI ports and a DisplayPort built on the rear i/o, while one of the HDMI ports has an additional chip to support the latest version of HDMI and HDCP. Meaning that it has the ability to playback videos or games in 4K resolution at 60 herzt using the onboard Intel HD Graphics! So either you're planning to game with a graphics card or just settle with the onboard graphics, ASRock Z170 Gaming-ITX/ac is your best choice for a petite gaming rig.

EVGA Z170 Stinger Motherboard Review

Anyone bought an Intel Z97 motherboard recently? We think it is one of the best Chipsets out there but Intel think it's time for an upgrade. They recently launched their Skylake range of CPU's and a supporting Chipset, the Z170. We have a couple of motherboard and CPU samples kicking around the office and we must admit we are already very interested in their capabilities and performance.

Gigabyte Z170X-Gaming G1 Review: Features Galore For Skylake:

Intel Skylake processors have landed and motherboard manufacturers now have a wide range of boards sporting the necessary LGA 1151 socket and Z170 chipset to support the CPUs. Under the microscope today we have a high-end model from Gigabyte, the formidable Z170X-Gaming G1—a board that's virtually bursting at the seams with top-end features for the discriminating enthusiast. It's got everything from a 22 phase power array, to support for USB 3.1, Bluetooth, Wi-Fi, quad GPUs, Gen3 x4 M.2 connectors and dedicated network processing via on-board Killer DoubleShot Pro X3 NICs—just to name a few...

Asus Maximus VIII Hero Z170 Mainboard Review

The Asus Maximus VIII Hero Z170 Mainboard arrived Technic3D. We check the ATX-Mainboard with Intel Z170 chipset functions and Performance in the following Review with a Intel Core i7-6700K CPU on Windows 7 64 Bit SP1."

Gigabyte Z170X UD5 Motherboard Review

Those of you familiar with the Gigabyte Ultra Durable series will recognize the UD5 as being a mid-range mainstream product designed to fill the gap between specialized boards like the G1 and SOC and the lower in products designed for OEMs and business professionals.

Gigabyte GA-Z170X-GAMING G1 (Intel LGA-1151)

Gigabyte's GA-Z170X-Gaming G1, their top-level Gaming board product, has been on my test bench. Featuring high-end audio with swappable OP-AMPs, support for Quad SLI and Quad Crossfire, USB 3.1, and a host of other features to meet the discriminate gamer's needs.



The best Guides by the best writers on the internet; PCSTATS Beginners Guides explain computers, software, and all those other wonderful things that cause you frustration.

Learn how to use your computer better, master the internet while protecting yourself, and know what to do when your hard drive kicks the bucket.



"Get the 'Stats and Stay Informed!"