[>>]

[>>]

[>>]

[>>]

More>>

Search...

| | |
| --- | --- |
| Motherboards | |

... 3 news stories awaiting approval
Supermicro X11SAE Workstation (Intel C236) Motherboard Review

Intel recently released their Greenlow based Skylake series Xeon CPUs and it's a pleasure to take a look at the first enterprise-grade motherboard built for these processors today. I have Supermicro's X11SAE motherboard on the test bench which is a standard ATX-sized single CPU board, but one with all the trimmings.

ASRock Z170 Extreme4 Review

ASRock's Z170 Extreme4 is a low-cost option for those wanting to jump over to Intel Z170. This motherboard brings with it a classy design which will pair up with other hardware well and has a reasonably solid feature-set. Both of these aspects of the attributes of a motherboard only tell part of the story and thus we must test the Extreme4 in a range of benchmarks to reveal how capable this offering really is!

ASUS B150 PRO GAMING/AURA (LGA1151) Motherboard Review

Since the official reveal of Intel's latest mainstream LGA1151 platform, we've analysed the performance numbers of various Z170 motherboards and even taken an analytical look at the non-overclocking H170 offerings. However, there's another chipset available to consumers even though it's primarily marketed towards business users. More specifically, the B150 chipset includes Intel's Small Business Advantage software package to manage a small network of PCs using fairly rudimentary desktop applications. As a result, it seems quite a bizarre choice to release a B150 motherboard which adopts a lavish visual design, although it might be suitable for business clients wanting to play games during their downtime.

Gigabyte Z170N-Gaming 5 @ LanOC Reviews

With companies finding ways to pack more and more features into Mini-ITX motherboards the small form factor market has flourished over the past few years. We are finally seeing a lot of people running smaller builds at events as LAN rigs and the idea of a higher end build doesn't require a case that hardly fits in your car and needs a backbelt to pickup anymore. In fact, even when looking past the smallest builds we have been seeing cases designed for Mini-ITX that are still more mid tower designs. This is because most builds only need a single video card these days and built in NICs have improved in quality, ITX boards now sometimes have wireless, and even onboard audio has improved (and some people have moved to USB audio). All of that means most people don't really need huge builds. I already took a look at MSIs Z170 ITX gaming board and today I'm checking out the Gigabyte Z170N-Gaming 5, Gigabytes highest featured ITX board to see what they have packed into the ITX form factor.

China market: Asustek, Gigabyte to hike motherboard prices

Asustek Computer and Gigabyte Technology will increase motherboard retail prices in the China market in February to cope with potential foreign exchange losses arising from large fluctuations in exchange rate between the Chinese Yuan (CNY) and US dollar, according to industry sources.

Gigabyte X99P-SLI Motherboard Review

"Lately we have seen a second wave of X99 motherboards from multiple manufacturers. This second wave adds new features, many of which we saw with the introduction of the Z170 chipset. Gigabyte is one such manufacturer who is releasing new X99 motherboards. Today we will be taking a look at their X99P-SLI. The biggest feature of this motherboard is that it features the world's 1st USB-IF certified Intel USB 3.1 controller with USB Type-C. This controller utilizes 4 PCIe Gen3 lanes, offering up to 32 Gb/s total bandwidth. Other new features on this board include an M.2 interface with up to 32Gb/s data transfer and NVMe support, PCI-Express metal shielding, and a multiple color LED trace path. Of course being a Gigabyte X99 motherboard you get the Ultra Durable design, an all digital power design with IR Digital PWM and IR PowIRstage ICs, 4-way graphics support, Realtek ALC1150 115dB SNR HD audio, and more! As you can see this motherboard is loaded with features so let's jump in and see what it's all about!"

MSI Z170A Xpower Gaming Titanium Edition Motherboard

"Today the MSI Z170A Xpower Gaming Titanium Edition has arrived, looking astonishing in this new PCB coating. All the new features like dual M.2, USB 3.1 gen 1, USB 3.1 gen 2, Nahimic audio enhancer and a game boost knob plus separate OC panel. Wow this is one bad boy!"

Supermicro C7Z170-SQ Motherboard Review

Perched precariously at £210, the Supermicro C7Z170-SQ looks to be the motherboard that has been thrown unprepared into a market saturated by RGB lights and features that would make NASA technicians quiver at first sight. However, it's not all about additional utilities, sometimes a great performing unit only needs top quality components derived from servers and that's what Supermicro is betting on with this addition to the line up.

ASUS 970 PRO GAMING/AURA Review

"The 970 PRO GAMING/ AURA, is part of the AURA series that features customisable RGB LED lighting. 2015 seems like a prelude to 2016 in regards to RGB lighting and this is the first glimpse of that glorious spectral delight shining down on AMD. ASUS being ASUS, didn't stop there, they have added 2x USB 3.1 standard, which is twice the standard bandwidth of USB 3.0, and geared this motherboard towards enthusiast gamers by including support for NVIDIA's SLI."

GIGABYTE Presents the New AM3+ Ready 970-Gaming, 990FX-Gaming Motherboards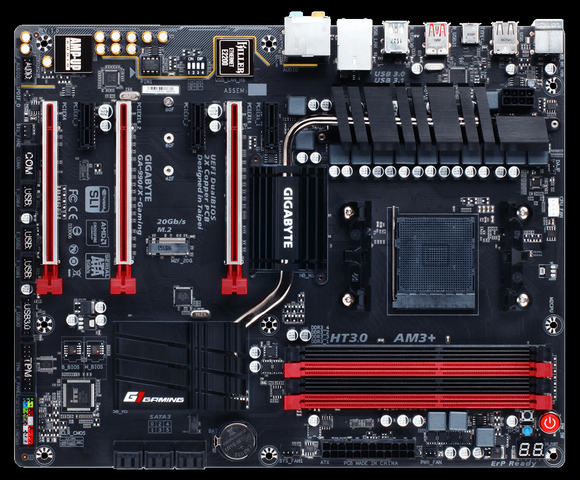 GIGABYTE TECHNOLOGY Co. Ltd., a leading manufacturer of motherboards and graphics cards, is proud to unveil today to all its AMD motherboard enthusiasts the new GA-990FX-Gaming and GA-970-Gaming, based on the highly anticipated AMD® 970 and 990FX + SB950 chipset respectively, and compatible with the latest AMD socket AM3+ high performance processors.
GIGABYTE 990FX-Gaming and 970-Gaming product highlights:
Fast USB 3.1 over USB Type-C™ and Standard-A port for maximum compatibility.
PCIe Gen2 x4 M.2 connectors with up to 20Gb/s Data Transfer (Includes PCIe NVMe & SATA SSD support).
AMP-UP™ Audio technology featuring upgradable OP-AMP, two USB DAC-UP and a Realtek ALC 1150 audio processor with support 115dB SNR HD audio.
High-End gaming network port powered by Killer™ E2201
2-Way graphics support for the best gaming experience
GIGABTYE EXCLUSIVE: Ultra Durable™ PCIe metal shield, DualBIOS™ technology and GIGABYTE APP Center Including EasyTune™ and Cloud Station™ Utilities

TUF's Sabertooth Z170 S motherboard chills in the snow

HBO won't return to Westeros for months, but winter is already here for the rest of us. So is ASUS' new Sabertooth Z170 S, which is dressed in matching digital arctic camouflage. The monochrome design provides a stylish foundation for modders and all-white builds while staying true to the principles that set the TUF family apart.
With the snowy season in full swing, we have a rare opportunity to observe the Sabertooth Z170 S in its natural habitat. Read more...

Gigabyte Z170X-UD5 Ultra Durable Motherboard

To expand on our coverage of Intel's Z170-chipset, we now turn our focus to another Gigabyte motherboard for Intel Skylake CPUs. The Gigabyte Z170X-UD5 Ultra Durable motherboard is up at the plate and has the budget-builder firmly in its sights. Conversely, the company's pricey Z170X-Gaming G1 motherboard, which we previously reviewed, is loaded with premium features that enthusiast gamers crave. Features such as Bluetooth, WiFi, 4-way CrossFire and SLI support, baked-in liquid cooling accommodations, and the like, are all absent on this more svelte GB product. With much of the fat trimmed, Gigabyte is able to offer a formidable platform for Skylake at a more aggressive price point...

SuperMicro C7Z170-OCE (LGA1151) Motherboard Review

SuperMicro is one of the most respected names in the server industry and synonymous with unparalleled reliability. Whether you're after a rackmount, blade server system or workstation motherboard, there's nothing on the market which manages to enthuse such a sense of rock solid stability. Recently, the company has taken their server roots and impeccable reputation into enthusiast consumer motherboards. This allows them to retain the server framework while offering more ostentatious motherboard designs. Additionally, SuperMicro's highly refined production line results in a low RMA rate and each product evokes such a premium feel. While their previous attempts have been a little rough around the edges, it's clear to see the rapid progress in terms of motherboard layout and visual exuberance. Typically, motherboard manufacturers opt for the gaming themed red and black colour scheme because it caters towards the core demographic and maximize sales.

China market: Asustek launches low-cost motherboards

With Asustek Computer launching the Red Flag series motherboards, looking to compete against China-based vendors such as Colorful for China's mid-range and entry-level motherboard segments, Colorful has also prepared a series of motherboards to counter, according to sources from the upstream supply chain.

ASUS B150 PRO GAMING/AURA Motherboard

Is overclocking and multi GPU support really necessary? That's the question ASUS' B150 PRO GAMING/AURA asks since it has a bunch of high end features but lacks support for those two elements.

ASUS ROG Maximus VIII Hero Alpha Review

Maximus VIII Hero Alpha looks identical to the standard Hero and an initial observation confirms the same theme has been implemented and a majority of the same features utilised. However, Alpha brings with it a number of significant improvements over its sibling with dual 32Gbps U.2 ports for NVMe storage, up to 3 PCI Express RAID devices, 802.11ac WiFi, RGB Strip headers and the Intel USB 3.1 controller.



The best Guides by the best writers on the internet; PCSTATS Beginners Guides explain computers, software, and all those other wonderful things that cause you frustration.

Learn how to use your computer better, master the internet while protecting yourself, and know what to do when your hard drive kicks the bucket.



"Get the 'Stats and Stay Informed!"