[>>]

[>>]

[>>]

[>>]

More>>

Search...

| | |
| --- | --- |
| Motherboards | |

... 10 news stories awaiting approval
MSI Z97S SLI PLUS (LGA 1150) Motherboard Review

Something that becomes apparently obvious with the motherboards I review on a regular basis is that most of them have too many features for the average user. That's too many in the sense that most of them would go unused but mainly it is too many in that it adds unnecessary cost. Let's face it none of us would say no to extra features if we didn't have to pay for them, even if they remained unused. In the Z97 space, MSI appear to have come up with a solution to that problem with their Z97S SLI PLUS motherboard. Sure it isn't the prettiest motherboard available sporting the Z97 chipset, neither is it the most feature rich but what it does have going for it is a well struck-up balance of pricing and features. For around £100 in the UK, or $135 in the USA, the MSI Z97S SLI PLUS offers you a feature rich platform which includes SATA III, SATA Express, M.2, USB 3.0, SLI and CrossFire support, a UEFI BIOS, Intel Gigabit Ethernet, a decent amount of fan connectivity and solid audio. The colour scheme does seem a little confusing with a combination of a brown PCB and blue/black heatsinks, so this is definitely aimed at being a motherboard for people without side panel windows.

MSI B85M ECO Motherboard Review

"Often we have to look at the indirect cost of PC ownership, specifically energy costs. One PC component that can easily escape notice in this respect is the motherboard. But the MSI B85M ECO is aimed at trimming power usage down to a minimum level without costing performance as a tradeoff; an interesting idea, to be sure with electricity prices the way they are. Let's take a close look at what the MSI B85M ECO is bringing to the table."

ASUS Rampage V Extreme (LGA 2011-3) Motherboard Review

The Rampage line of ASUS motherboards are famed for their class-leading performance and prestigious reputation. With every new CPU on Intel's High-End Desktop (HEDT) Platform we've seen new ASUS Rampage motherboards. The first Rampage arrived with LGA 775 and the X48 chipset, we saw the second iteration Rampage II come with socket LGA 1366, the X58 chipset and Bloomfield CPUs. The Rampage III arrived with the same socket and chipset but with the new 32nm Gulftown CPUs that introduced 6 cores for the first time. Intel continued the 32nm and 6 core trend when ASUS brought out the Rampage IV Extreme for X79 and Sandy Bridge-E CPUs. With Ivy Bridge-E ASUS refreshed the Rampage IV Extreme with a Black Edition variant that used the same socket and chipset as the original board it improved on. Now we've got Intel's Haswell-E 8 cores and ASUS have brought the Rampage motherboard into its fifth iteration – and it's more bada$$ than ever before.

ASUS H81M-A Motherboard

"Today, we are going to take a look at the ASUS H81M-A, a value socket LGA1150 motherboard based on the Intel H81 chipset. It has only two memory sockets, one PCI Express x16 slot, two USB 3.0 ports, and two SATA-600 ports. Let's see whether it is a good pick."

ASRock X99 Extreme 11 Review: The Most Extreme X99 Motherboard?

Intel's X99, aka Wellsburg, is the company's latest chipset for the high-end desktop market segment. Motherboards making use of the chipset have been readily available since last summer of 2014. Still, it took some time for motherboard manufacturers to kick out boards which can better take advantage of the supported Haswell-E processor family, and the promised drool-worthy feature set. With several Z97 chipset motherboards tested and reviewed, we now levy our attention toward the ASRock X99 Extreme 11 motherboard. This one stands atop the pile as the company's flagship offering with a feature set that reads like an ideal wish list for enterprise, overclockers and gamers alike...

BIOSTAR Offers support on New AMD FM2+ Godavari APU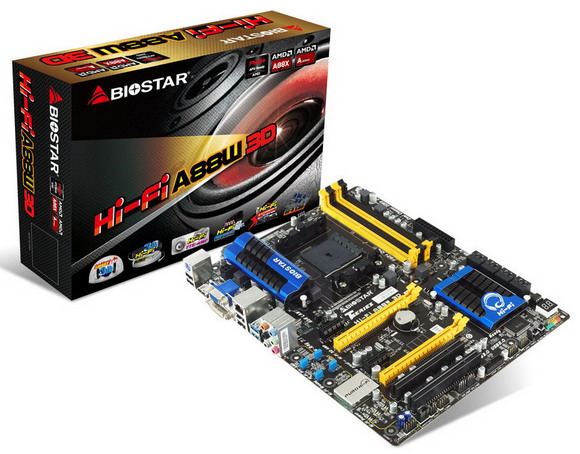 With AMD's launch of the FM2+ "Godavari" class of APUs today, Biostar has been in preparation of a complete series of mainboards for the supporting chipsets such as the BIOSTAR Hi-Fi A88W 3D, Hi-Fi A70U3P and Hi-Fi A68U3P. To make upgrading even easier, these boards also have backwards support for previous generation FM2+ / FM2 APUs.
These new Godavari AMD APUs are AMD socket FM2+ and will feature an upgraded CPU and GPU architecture. The new Godavari APU are part of the Kaveri-Refresh platform which is aimed to re-fresh the current Kaveri APUs with the new 8000 series branding utilizing the x86 Steamroller core and GCN graphics architecture.
The BIOSTAR Hi-Fi A88W 3D, Hi-Fi A70U3P and Hi-Fi A68U3P all have features such as onboard LAN, PCI Express 3.0 x16, SATA 6Gb/s, and USB 3.0. And with BIOSTAR's enhancements to these new FM2+ boards users will enjoy mainboards that excel in additional areas of BIOSTAR expertise such as the BIOSTAR Audio+, Video+, Speed+, Protection+, Durability+ and DIY+.

MSI's 8 mighty AMD Godavari ready FM2+ motherboards - Computex 2015

MSI, world leading in motherboard design, is pleased to announce the launch of 8 new AMD FM2+/FM2 socket based motherboards supporting the latest AMD Godavari APU. These new models are available in ATX, micro-ATX, and mini-ATX form factors and are backwards compatible with FM2 processors (Kaveri, Richland, Trinity, 6000 and 5000 series). MSI has packed these models with a rich blend of features and technologies, such as onboard LAN, PCI Express 3.0 x16, SATA 6Gb/s, USB 3.0 and multiple display support, offering the most stable and most cost-effective solution available.
New MSI AMD FM2+/FM2 Motherboards
A68HM-E33 V2
A88XM-E45 V2
A78M-E35 V2
A88XM-P33 V2
A78M-E45 V2
A88X-G41 PC Mate V2
A88XM-E35 V2
A88XI AC V2
The best price/performance solution for efficient PCs
MSI's new A88X, A78 and A68H based motherboards are available in different form factors and offer a great choice in connectivity with a RAID controller, onboard LAN, PCI Express 3.0 x16, SATA and up to 10 USB ports.
When combined with today's processors such as Godavari and Kaveri APUs, featuring advanced integrated graphics, MSI's new A88X, A78 and A68H based motherboards support AMD Eyefinity. All these features come at a very attractive price point, making the new MSI A88X, A78 and A68H based motherboards the most comprehensive and most cost-effective solution available.

Military Class 4: The Most Stable Military Class Components
MSI uses award-winning Military Class 4 components, composed of high quality components such as Solid CAPs and Dark Chokes, which ensure your PC runs stable under extreme conditions. These key components have all passed testing to military standards, ensuring reliable performance in the harshest environments.
The core of Military Class 4 is based on the essential elements which increase your stability in the most extreme conditions. Humidity- and high temperature protection ensure system stability in any environment, no matter what. The new structure of the PCB limits EMI emission. On top of that, all connectors have ESD protection to prevent short-circuiting.
The MSI A68H series motherboards are equipped with many exclusive technologies, including the one-second overclocking tool OC Genie 4, the easy to use Click BIOS 4 and the Command Center software that combines features such as monitoring, tuning and controlling of your hardware. The unprecedented level of flexibility and control offered in MSI's unique hard- and software design puts you in the driver's seat of your motherboards configuration.


MSI unleashes 990FXA GAMING, world's first AMD USB 3.1 GAMING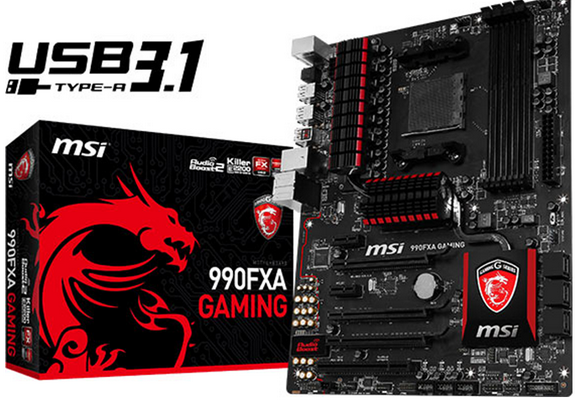 MSI, world leading in motherboard design, debuts the world's first USB 3.1 featured AMD GAMING motherboard, the 990FXA GAMING. Delivering blazing fast USB performance, up to 2 times faster than USB 3.0, the new 990FXA GAMING motherboard offers two USB 3.1 ports, which are fully backwards compatible with USB 3.0 and USB 2.0 devices. Inheriting the outstanding DNA of MSI's award winning GAMING family, the new MSI AM3+ 990FXA GAMING motherboard features Killer LAN for the best online GAMING experience, Audio Boost 2 powered by Creative Sound Blaster Cinema 2 for astonishing sound quality that gives you the upper hand on the battlefield, USB Audio Power and a completely new hardware and software design for enhanced gaming performance. Get ready for high-end AMD GAMING with MSI.
USB 3.1 allows for speeds up to 10 Gbps, doubling the speed compared to USB 3.0 and 20x faster than legacy USB 2.0. USB 3.1 is even faster than SATA III! Transferring your favorite games, albums and movies over USB has never been faster. The new 990FXA GAMING motherboard features 2 front USB 3.1 connectors for more convenience.
Lethal competitive gaming with Killer™ LAN
Whether you are a casual or professional gamer, network lag kills. MSI GAMING motherboards feature Killer high-performance networking and provide the highest level of control and network speed for video streaming and gaming. A Smooth, stutterfree network is a must in today's world of online gaming, where a single packet of network data can make the difference between a win or a loss, Killer makes sure that it arrives.
MSI Audio Boost 2 takes on-board audio to the next level. Powered by Creative Sound Blaster Cinema 2, Audio Boost 2 combines a revolutionary hardware layout for audio on the motherboard with the best customizable audio options like Multi-Channel Speaker Calibration and headphone profiles that dramatically enhance your audio experience. The Sound hardware is not only EMI shielded and separated from the motherboard, the power to the high quality amplifiers and audio components is delivered through ultra stable design. Ensuring clean power delivery for the audio components combined with the electrical shielding provides the highest level of on board audio ever experienced.

Optimized for multiple graphics cards
The MSI 990FXA GAMING motherboard is optimized for multi-GPU use with enough space between the PCI-Express slots for optimal airflow for your graphics cards. That way, there is no need to worry about heat issues and you are ensured to enjoy the best graphics at the highest framerates jumping off your screen when running an NVIDIA® SLI™ or AMD® CrossFire™ gaming setup.
GAMING engineered to perfection
MSI continues to showcase its love for GAMING products by crafting each GAMING motherboard to perfection. From the inspiring new heat sink with GAMING DNA, a cleaner layout around the CPU socket, matte black PCB across the entire line-up and impressive M-Shield I/O panel cover, it's an inspiring sight for gamers. Details make all the difference.

The most stable and power efficient motherboards
MSI uses award-winning Military Class 4 components. Military Class 4 is the next step in high quality components. Hi-C CAPs, Solid CAPs, Dark CAPs, together with SFC and Dark Chokes, ensure your PC runs stable under extreme conditions. These key components have all passed extreme testing, ensuring stable operation in the harshest environments. The core of Military Class 4 is based on GuardPro, a set of tools which increases your stability in the most challenging conditions, featuring ECO power, circuit protection, humidity protection, high temperature protection, EMI protection and ESD protection. ECO power features MSI ECO Center which allows you to physically cut the power to unused chips to reduce power usage up to 29%.
World's first AMD motherboard with NVMe support
The new 990FXA GAMING motherboard is the world's first AMD motherboard to fully support the next generation in storage control, NVM Express. The 990FXA GAMING motherboard supports NVMe devices as primary storage under Windows7 64bit and Windows8.1 64bit and fully support NVMe booting. Enjoy lower latency, lower power consumption and increased transfer speeds with MSI and NVMe.


Asrock mini ITX server board EPC612D4I - Computex 2015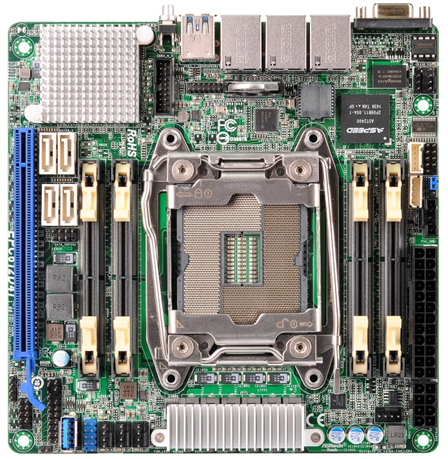 ASrock Rack, the innovative server technology provider, focuses on high performance and high-efficiency server products such as HPCs, Cloud Computing and Datacenters, announced the latest mini-ITX server board EPC612D4I. Earlier ago, ASRock Rack has showcased this latest mini-ITX board in CeBIT 2015, it is a perfect UP solution for intensive computing tasks, micro server and mini server.
EPC612D4I features Intel® Xeon® E5 v3 series with single socket. It supports four DDR4 DIMM slots, four SATA3 ports, and one PCIe3.0x16, fantastic memory frequency and transfer speed for storage. Topped off with two Intel® i210 ports and one dedicated IPMI LAN, this mini-ITX board is well-design with high performance features. It can meet diverse appliances from mini servers for personal users to blade type servers for parallel computing or multiple GPU computing, overall a comprehensive solution for the market.
Key Specification
- Mini ITX 6.7" x 6.7"
- Socket LGA 2011 R3 Intel® Xeon processor E5-1600/2600 v3 series
- Supports Quad channel DDR4 2133/1866 ECC DIMM, 4 x SO-DIMM slots
- Support 4 SATA3 by C612
- Supports 1 x PCIe 3.0 x16
- Integrated IPMI 2.0 with KVM and Dedicated LAN (RTL8211E)
- Supports Intel Dual GLAN ( Intel i210 + Intel i217 )



ECS LIVA mini PC and LEET motherboards at Computex 2015

World's first mini PC to support Windows 10 Cortana -- (ECS), will line up LIVA mini PC products, brand new LEET gaming motherboards and announce its new exclusive DURATHON 2 technology in Computex 2015. Also, ECS will play all final stage?How do you LIVA??short films in its booth, and conduct an award ceremonyon June 4th. ECS welcomesits guests to find out more about its attractive new products and partake in its event at ECS booth L0410 Nangang Hall from June 2nd to 6th.
LIVA mini PC
The new flagship LIVA Core is the world's first PC to adopt the Intel® Core™ M 14nm processor. It not only features an Intel 802.11 ac Wi-Fi card supporting wireless display (WiDi) technology; but also natively supports fast M.2 SSD! LIVA Core is a combination of performance and power saving. Brand new LIVA X2 sports a fashionable pearl white finish, breaking the conception of a traditional computer. Supporting up to 4GB memory, 64GB eMMC, M.2 SSD and adoptinga 3 times faster Wi-Fi ac card, ECS LIVA Core and X2 are also the World's first mini PC supporting Windows 10 Cortana voice assistance via native dual microphones.
LEET Gaming motherboards
ECS will display whole new LEET Gaming motherboards! Equipped with Dragon gaming Ethernet, which offers low latency to game lag free. New HDMI 2.0 video output provides 60FPS smoothly experience; and support 2-Way graphics cards to build a powerful gaming machine. Featuring 10Gbps USB 3.0 ports, M.2 and SATA-Express connectors, ECS new LEET gaming motherboards sport no lag network, smooth screen and faster transmission, the best choice of gaming PC.
Exclusive DURATHON 2 technology
ECS delivers high quality, stable and convenient motherboards to end-users. Thanks to its R&D department, Reliability and BIOS teams' work, ECS is proud to announce new DURATHON 2 technology in Computex 2015. ECS motherboards implement high quality components, pass strict environment tests for making strong products. An enhanced overclocking function in BIOS and simple PCB printing, provide a convenient ECS motherboard for the end user.

GIGABYTE Readies FM2+ Motherboards for AMD Godavari APUs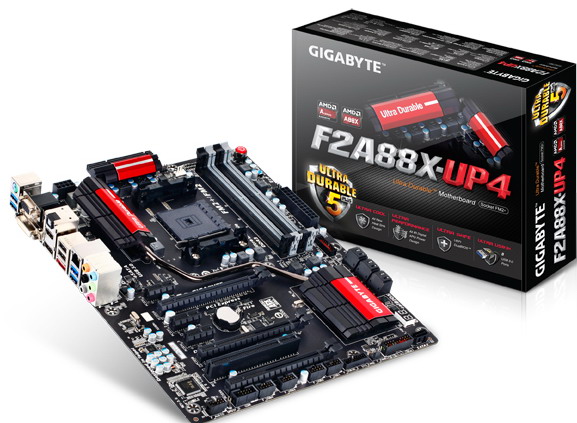 New APU from AMD brings support for Windows 10 , DirectX 12™ and AMD FreeSync™ Technology
GIGABYTE TECHNOLOGY Co. Ltd., a leading manufacturer of motherboards and graphics cards is proud to announce that its lineup of FM2+ motherboards is now compatible with the newly launched Godavari APU from AMD. Featuring 12 CPU and GPU compute cores (4+8), the latest AMD A-Series APU brings great support for exciting new technology such as AMD FreeSync™, DirectX™ 12 and also Windows 10 64-bit support. Paired with the connectivity featured on GIGABYTE FM2+ motherboards, the combo offers the best platform capable of delivering great processing performance, smooth high framerates in the most popular online game and a path to easy upgrades with many of the latest technologies available for today's desktop PCs.

AMD FreeSync™ Technology
GIGABYTE FM2+ series motherboards now support AMD FreeSync™, a technology which resolves the communication issues between the processor and the monitor to eliminate image tearing and choppiness. By adjusting the frame refresh rate of the monitor to the same speed as the processor's frame creation rate, AMD FreeSync™ helps provides the fluidity needed for the smoothest graphics during gameplay.

AMD Radeon™ Dual Graphics Technology
The AMD FM2+ series platform showcases AMD Radeon™ Dual Graphics technology, allowing users to further boost 3D graphics performance by adding an additional discrete AMD Radeon™ graphics card to the system. This unique AMD Radeon™ Dual Graphics technology means users can enjoy higher frame rates on the latest gaming titles, utilizing the processing power of both discrete and integrated graphics processors.

AMD Eyefinity™ Technology
Supporting multiple independent display outputs simultaneously, AMD Eyefinity™ technology delivers innovative graphics display capabilities enabling massive desktop workspaces and ultra-immersive visual environments for the ultimate panoramic computing experience.

To ensure your GIGABYTE FM2+ socket A88X, A78, A68H and A58 chipset motherboards can support the latest Godavari APU from AMD; make sure to update it to the latest BIOS which in the download section of GIGABYTE website: http://www.gigabyte.us/support-downloads/download-center.aspx

GIGABYTE 100 Series Motherboards at Computex 2015

Intel® 6th Gen Core™ CPU Ready Motherboards to be the Highlight in Taipei, Taiwan from June 2nd to June 6th
GIGABYTE TECHNOLOGY Co. Ltd., a leading manufacturer of motherboards and graphics cards is excited to join the 35th edition of Computex in its own backyard, Taipei – Taiwan. Visitors will have the opportunity have a first look at GIGABYTE's upcoming 100 Series motherboards, featuring support for Intel's soon to be released 6th Gen Core™ processors and onboard USB3.1 technology, alongside a wide range of 9 series and X99 G1™ Gaming, Ultra Durable™ and Overclocking motherboards. To keep up its tradition with the largest Asian ICT trade show, GIGABYTE will be exhibiting its latest motherboard solutions at the Taipei World Trade Center, booth D002, from June 2nd until June 6th.
GIGABYTE is currently hard at work on its next generation of motherboards powered by the soon to be released 6th Gen Intel® Core™ Processors, a 14nm desktop CPU which features improved performance, power efficiency and support for DDR4 memory. You can expect the new line up of G1™ Gaming, Ultra Durable™ and Overclocking motherboards from GIGABYTE to sport a great set of features such as the most updated connectivity, improved performance and functionalities to enhance your gaming, working and overclocking experience.
GIGABYTE X99 motherboards get Champion title for their unique design based on the Intel® X99 chipset with support for the new Intel® Core™ i7 Extreme Edition (Haswell-E) processor and latest DDR4 memory with XMP profiles up to 3333MHz, including the X99-SOC Champion taking the industry lead with support for 3400MHz XMP profile! Designed to fulfill the needs of the high-end desktop segment, the GIGABYTE X99 motherboards are the ultimate platform for users wanting long lasting quality, unrivalled performance and great looks that complement any system build.
Launched last year, the GIGABYTE 9 series motherboards continues to impress as the GIGABYTE Z97 and H97 lineup been updated to support the 5th Generation Intel® Core™ processors, the first socketed CPUs for enthusiasts to feature Intel® Iris™ Pro Graphics, which provides the power to edit HD videos and play games at high resolutions and silky-smooth frame rates. Come see it in action at our booth as it will be part of our live demo systems.
For more details regarding GIGABYTE motherboards, please go to:

BIOSTAR'S Z97X Gaming Motherboard Certified for Windows 10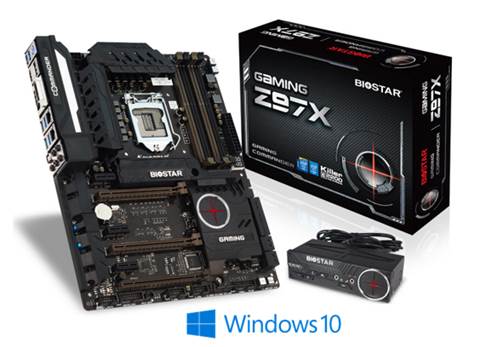 BIOSTAR's latest high-end gaming board, the Gaming Z97X, is the first Intel Z97 based motherboard to be certified for Microsoft's new Windows 10 operating system. The Gaming Z97X is the first complete gaming motherboard designed by BIOSTAR from the ground up. The Gaming Z97X is an ATX form factor board that comes with key features such as USB 3.1, three PCI Express 3.0x16 slots, PCIe M.2 support, Dual GbE LAN and BIOSTAR exclusive Super Hi-Fi Audio technology and support for DisplayPort. The on-board HDMI supports 4K and 2K resolutions. There is also the introduction of the SATA Express Connector which supports both SATA and PCIe storage solutions giving maximum data transfer speed of up to 10Gb/s. BIOSTAR is proud to work with partners like Microsoft and Intel to be the first to bring high-end motherboards like the Gaming Z97X certified for Windows™ 10. For more on the Gaming Z97X go to: http://www.biostar.com.tw/app/en/mb/introduction.php?S_ID=784

X99 Charts: 13 Boards - ASRock X99E-ITX/AC

So far we've tested 13 X99 motherboards and we have to say that sometimes we got quite interesting results. What we've also done is, we have added results gathered with Right Mark Audio Analyzer in order to chek the quality of the onboard audio.

GIGABYTE launches new X99 series motherboards

GIGABYTE TECHNOLOGY Co. Ltd., a leading manufacturer of motherboards and graphics cards, recently announced the availability of their new X99 motherboard lineup based on the Intel X99 chipset with support for Intel's new Core i7 Extreme Edition (LGA 2011-v3 socket) processors and latest DDR4 memory support. Featuring 3 main categories of motherboards including G1 gaming, SOC overclocking and signature GIGABYTE Ultra Durable, GIGABYTE has an X99 series motherboard custom built for any 'Dream Machine' build.

iBuyPower Noctis Intel Z97 Review

Once again, it is review time at eTeknix HQ and iBuyPower gives us the chance to test their Noctis Intel Z97. The case is a brand new iBuyPower version of the equally new NZXT Noctus 450. Inside we have an Intel i7 4790K, an EVGA Superclocked GTX 980, 16GB of DDR3 1600, and a 240GB SSD. Cooling the 4790K is a 120mm AIO CPU liquid cooler with two fans in a push-pull configuration. The 4790K has a Turbo frequency up to 4.4GHz, and with the EVGA Superclocked GTX 980 running up to 1505MHz core and 3505MHz memory makes this system well suited for some great gaming performance.



The best Guides by the best writers on the internet; PCSTATS Beginners Guides explain computers, software, and all those other wonderful things that cause you frustration.

Learn how to use your computer better, master the internet while protecting yourself, and know what to do when your hard drive kicks the bucket.



"Get the 'Stats and Stay Informed!"