[>>]

[>>]

[>>]

[>>]

More>>

Search...

| | |
| --- | --- |
| Motherboards | |

... 4 news stories awaiting approval
ASUS ROG Strix B450-F Gaming Review

The ROG Strix B450-F Gaming uses AMDs latest B450 chipset based on the AM4 socket, aiming to strike a balance between the cost effectiveness that the B450 chipset offers, as well as including features gamers expect and need.

ASRock Fatal1ty H370 Performance

ASRock's Fatal1ty-branded motherboards have recently taken a leap forward in design and tech, offering what might be the most complete gamer-centric design for motherboards today. Yet what happens when you apply that to a value-oriented Intel chipset? The ASRock Fatal1ty H370 Performance is exactly that, and we put it through the paces.

Asus ROG Maximus X Hero @ LanOC Reviews

Well with the Z370 launch I did get a few boards in to check out (and I have a few more still in the works), but none of them were nicer boards that would really allow me to play around with overclocking on the platform. So when I found out we had an Intel i7-8086K coming in I reached out to Asus about a board and they sent over their ROG Maximus X Hero. Like most Z370 boards, the Maximus X Hero does share a lot of features with the Z270 variant, in this case, the Maximus IX Hero. Well, today I'm going to check out the board and see what it has to offer and see if this is the board you want to get if you are planning a higher end Z370 build right now.

Gigabyte Aorus B450 I Pro Wifi

Look and ye shall find. Sized at just 17x17cm on the Mini ITX form factor we review the Gigabyte Aorus B450 I Pro Wifi, based on the new B450 chipset it is aimed at for Ryzen processors, and in specific the new Ryzen 2000 / Zen+. And with a 17x17cm, mini-ITX form factor this motherboard is small, offers good value and really has offers everything you need and require.

MSI MEG X399 CREATION Motherboard

MSI, the world-leading motherboard manufacturer, announces that MSI MEG X399 CREATION is on shelf now. MSI MEG X399 CREATION is the ultimate motherboard for creators, with design inspired by the concept of element explosion and packed with exclusive features to unleash the overall performance for incredible 32 cores CPU.

Featuring an incredible 19-phases PWM power design for the extreme 32 cores CPU, MEG X399 CREATION can fulfill the most demanding requirement for designers to keep stable and reliable conditions while creating contents. It combines premium PCB design with 16 DrMOS phases for the CPU and 3 phases for SOC.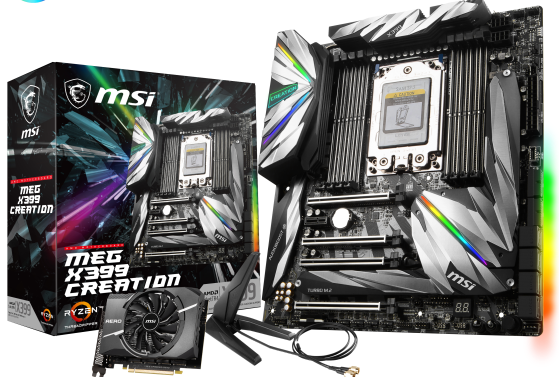 Double power connectors deliver adequate power supply for multi-core CPU, which unleashes the ultimate performance for the best user experience and extreme overclocking conditions.
With total of 10 fan connectors and 3 extension thermal headers, MEG X399 CREATION allows designers to set up a cool & silent system through automatic or manual fan controls, which means the temperature control is perfectly taken into consideration for maximum cooling.
The exclusive Metal Shields on the heat-sink are made from metal for better protection, enlarging the thermal surface for the maximum performance! M.2 SHIELD FROZR also prevents M.2 devices from throttling and offers higher maximum SSD speeds.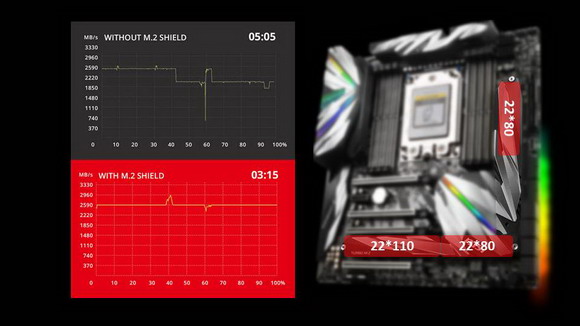 MEG X399 CREATION is equipped with triple Turbo M.2 with M.2 SHIELD FROZR on the board and can be expanded to 7x Turbo M.2 with another exclusive accessory can be found in the packaging: the M.2 XPANDER-AERO. This PCI-Express card offers four extra M.2 slots to increase your storage capacity at maximum speed. Featuring graphic card level thermal solution and brand new design bring the heat from M.2 to the bracket, keep your NVMe SSD cool with maximum performance.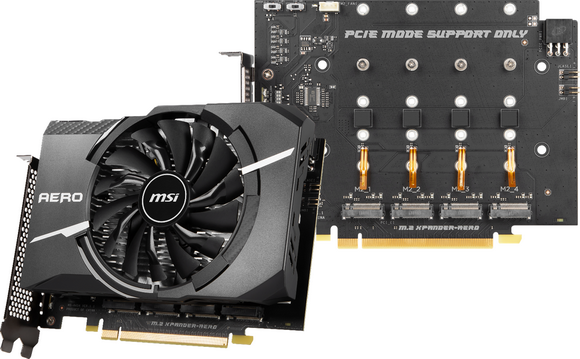 Shipped with the new AMD SSD technology 'StoreMI', and MSI's exclusive X-Boost, MEG X399 CREATION provides an optimized transfer experience. StoreMI helps create a virtual SSD by blending storage capacity, treats flash as primary storage and optimizes data access with continuous monitoring. Combined with MSI's X-Boost, transfer performance can be increased up to 10%, significantly boosting data transferring speeds. With AMD Turbo USB, Front USB 3.1 gen2 Type-C and tons of USB 3.0 / 2.0, MEG X399 CREATION provides sufficient expansion ports for your multiple devices, allowing designers not to worry about ports for professional equipment. Experience smooth and stable Intel networking. The MEG X399 CREATION features dual Intel gigabit LAN and dual-band Wi-Fi to deliver smooth and stable network connection that supports prioritization for applications, providing the maximum data transfer experience.

ASUS ROG Maximus X Formula Motherboard Review

It is difficult to go wrong with any ASUS ROG motherboard as they always feature better components, better performance potentials and ease of use. The Maximus X Formula is a full featured motherboard with onboard Wi-Fi, Tasteful RGB LEDs and a watercooled VRM

ASUS B450 Motherboard Models

AMD officially launched their B450 chipset on 31 July 2018, driving further demand for the 2nd Generation AMD Ryzen processors. In this article, we will look at the first ASUS B450 motherboards to hit the market!

GIGABYTE B450 Motherboard Models, Features

AMD officially launched their B450 chipset on 31 July 2018, driving further demand for the 2nd Generation AMD Ryzen processors. In this article, we will look at the first GIGABYTE B450 motherboards to hit the market!

MSI B450 Gaming Pro Carbon AC Review

The Pro Carbon moves away from MSI's typical black and red colour scheme, focusing on a monochrome design with Carbon Fibre accents. There's a small spattering of RGB LEDs around the motherboard, one section under the DIMM slots and the others peeking out from under the southbridge heatsink. We also find a full-length 110mm M.2 heatshield on the top port, to help improve NVMe performance by removing unwanted heat buildup.


Supermicro SuperO C9X299-PG300 Motherboard Review

With Intel's X299 platform supporting up to 18-core processors with 165-watt thermal design power, high-quality motherboards with capable power delivery are essential. One company that has long been engineering motherboards for high core-count and high power consumption scenarios is Supermicro.

BIOSTAR Racing X470GT8 AM4 Motherboard Review

"With the Racing X470GT8, BIOSTAR has built a solid mainstream platform for the AMD Ryzen 2000 series and packs quite a bit of features. The UEFI interface is easy to navigate and within it we can fine-tune the system performance or adapt the settings depending on the installed hardware. Thanks to the total of four memory slots, we can install up to 64GB of RAM and theoretically up to 3200MHz RAM is supported; in our tests, the GEIL PC4 25600 3200MHz CL16 8GBx2 Samsung B-die based kit did run well until 2933MHz, but considering that we were running the latest BETA BIOS, things may improve in the future."


MSI B450i Gaming Plus AC Motherboard Review

"AMD launched their second generation Ryzen processor back in April and with that we got the new X470 chipset, which for one supports the new Ryzen processors right out of the gate and offers some new features like Extended Frequency Range 2 and Precision Boost 2. Just like the initial Ryzen launch the higher-end X470 motherboards came first, and now we have the budget-minded B450 boards. While we call these budget boards, they really offer quite a lot and you get pretty much the same feature-set you get with X470. If you are running a single graphics card and don't need an abundance of USB ports one of these boards might be perfect for you and the money you save can be used towards a better graphics card or NVMe solid state drive. Today we are checking out the very small MSI B450i Gaming Plus AC motherboard, which is a mini-ITX board. Is this board perfect for your next small form factor build? Read on as we find out!"

ASRock B450M Pro4 Review

Back at the end of July, following on from the X470 chipset, AMD launched their B450 motherboard lineup, offering a more budget-friendly entry point to the AMD Ryzen processors. ASRock were quick off the mark, releasing several new motherboards to cater for different criteria; today we look at the AS Rock B450M Pro4 motherboard.

ASUS B450 Motherboard Models

AMD officially launched their B450 chipset on 31 July 2018, driving further demand for the 2nd Generation AMD Ryzen processors. In this article, we will look at the first ASUS B450 motherboards to hit the market!



The best Guides by the best writers on the internet; PCSTATS Beginners Guides explain computers, software, and all those other wonderful things that cause you frustration.

Learn how to use your computer better, master the internet while protecting yourself, and know what to do when your hard drive kicks the bucket.



"Get the 'Stats and Stay Informed!"