[>>]

[>>]

[>>]

[>>]

More>>

Search...

| | |
| --- | --- |
| Motherboards | |

... 12 news stories awaiting approval

MSI X99S XPower AC Motherboard Review

1.html,Join us in a review on the MSI X99S XPower AC motherboard,a gorgeous looking high-end X99 motherboard. MSI took the X99 chipset and then started adding, resulting in a gorgeous motherboard that has SLI/Crossfire support, AC WIFI, heaps of SATA3 connectors, M.2., overclock features, a very nice audio solution and yeah, so much more. Join us in a the MSI X99S XPower AC review, a product that is bound to please the enthusiast PC gamer."


ASRock X99 OC Formula Review

The X99 OC Formula is ASRock's new high-end motherboard when it comes to overclocking Intel's latest HEDT Haswell-E processors. But this board is not only interesting for overclockers. Gamers for example will enjoy the beefed up audio solution with decent headphone amp. What you also get with this board is ASRocks "Conformal Coating", which basically makes it waterproof. Especially extreme overclockers do love this feature. Overall we're really curious about this motherboard. ASRock has been investing quite some extra time in crafting the X99 OC Formula and now we really want to know what it can do.

GIGABYTE X99 SOC FORCE Review @ Vortez

Up today is the GA-X99-SOC Force, the latest and greatest of GIGABYTEs Overclocking Series. Based on Intels X99 Express chipset, its built to support the new Haswell-E CPUs through the LGA2011-3 socket. However its also one of the few to additionally support up to 4-way GPU configurations and has been assembled to GIGABYTEs own Ultra Durable standard, which they claim gives it the greatest chance for stable operation at high speeds."

MSI Z97I GAMING AC Motherboard Review

With the dust settling from the recent Intel X99-E releases, there is a general view there will be no mITX motherboards. When you consider what's in the Intel X99-E's spec, it is unlikely to ever be something to cater for the mITX gamers, so what's the alternative? Well, a few years ago mITX and even mATX motherboards were not aimed at the gaming or modding scene. Since then and with a parallel maturity with small form factor chassis, we are a couple of generations into some decent product lines for both chassis and motherboards in the mid to smaller form factors. With the looming SteamOS and Steam Box releases a mITX is going to be a perfect solution to size and space if you want to tuck a Steam Box away under your 40 inch TV. In January MSI replaced its highly rated Z87I AC Gaming mITX motherboard with the Z97 Chipset version.

EVGA X99 Classified motherboard @ Bjorn3d.com

EVGA is one of those brands we have all seen come up and become a very strong force in the graphics card market and even motherboards. Their history is a bit of a roller coaster ride starting with NF series Nvidia chipset boards which no doubt had their fair share of issues finally eclipsing with the 790i which thankfully is when EVGA was able to offer intel chipset boards. With that they also picked up Peter Tan AKA Shamino and his engineering and overclocking knowledge made for some real magic with the X58 Classified among a few other boards, but a short while later Peter left and wound up at ASUS and EVGA boards showed this as feature sets and even performance suffered, but EVGA trudged through the tough times and looking at what we have here today they are all the better for it. I have a belief that you can tell a lot about a manufacturer not by how they do when everything is going well but by how they push through and never give up when things are hard. The board we have here today is the X99 Classified and this at the time of writing is the top X99 based motherboard model EVGA offers. "


ASUS X99-DELUXE Motherboard Preview

Intel's LGA2011 and its aging X79 chipset have soldiered along for that segment of the market that prized core count and memory bandwidth above all. But now there's a new LGA2011 in town: LGA2011-V3, complete with the new X99 chipset, and Benchmark Reviews has ASUS' latest X99-based motherboard to test. Replete with features like 5-way optimization, Crystal Sound audio, on-board 802.11ac wireless, m.2 SSD support, extensive overclocking options, and unique additions like a fan extension card and multiple ways to mount m.2 SSDs, the ASUS X99-DELUXE is aimed squarely at the enthusiast for whom only the very best will do.

ASUS ROG Maximus VII Formula Motherboard

"Today we are looking at ASUS' flagship motherboard, the Maximus VII Formula. We are really excited to start putting this motherboard to the test. Its aesthetics alone really stand out, especially its Armor Shield. If you are an water cooling enthusiast, the hybrid CrossChill Cooling VRM block is also a great feature. Can the ASUS ROG Maximus VII Formula live up to its little brother the Hero and earn another Editor's Choice Award? Let's dive in and take a look."

ASUS X99 Deluxe LGA 2011-v3 Motherboard Review

ASUS X99 Deluxe promises to be a premium performance motherboard at a premium price. On paper it has the DNA to power any dream machine if your budget is big enough. With this new motherboard and chipset we get a new Intel Core i7 CPU as well, the venerable 6 and 8 core Haswell-E parts on an LGA 2011-v3 socket.

I Heard that You Like Storage....

Have you ever tried to move files around only to find a system warning about running out of storage space? It's a heart wrenching moment when you must involuntarily decide which files to keep and which should be deleted, arguably one of the toughest life decisions one must make. Luckily now there's ASRock X99 Extreme11, a monstrous LGA 2011-3 motherboard that holds a total of 18 SATA3 6.0 Gb/s ports, including ten ports that are provided by Intel's X99 chipset, and the other eight ports SAS3 12.0 Gb/s or SATA3 made possible by an added LSI SAS 3008 controller chip. The data transfer rate is fascinating too. With a couple of SSDs, ASRock's testing lab reached a ludicrous file transfer speed of 6.1 GB/s!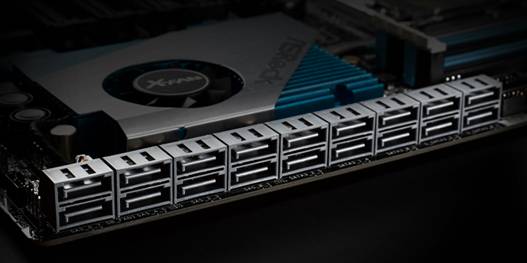 This flagship motherboard is designed to make power hungry hardware enthusiasts drool all over the place. Built around Intel's latest X99 chipset, X99 Extreme11 supports Intel's Haswell-E Core i7 as well as Xeon processors, so it is also ideal for making a storage happy workstation or small server system.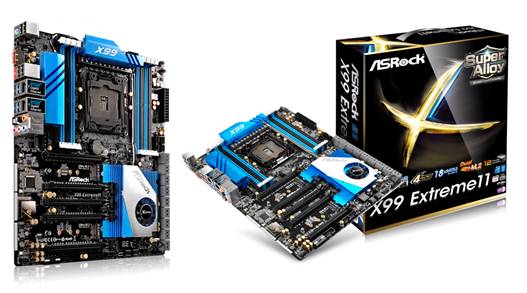 X99 Extreme11 is first class of ASRock's Super Alloy series motherboards. Along with the Super Alloy features and the 10 SATA3 plus 8 SAS3 ports, there's actually even two more Ultra M.2 PCIe Gen3 x4 32Gb/s slots hidden between the PCIe slots. Speaking of which, there are five PCIe Gen 3.0 x16 slots backed up by two PLX PEX 8747 bridge chips to support 4-Way SLI/CrossFireX in x16/x16/x16/x16 mode! Furthermore, the most optimized 12 power phase design for the best performance/power efficiency. And not to forget, support for the latest DDR4 ECC and UDIMM/RDIMM memory modules with up to 128 GB capacity and speeds up to DDR4 3400+(OC).

ASUS' Intel X99 chipset board

"ASUS has another feather in their cap with the X99-Deluxe motherboard. Not knowing what to expect from the combination of a new chipset, CPU, and memory technology, I went into the review with some trepidation. My concern quickly abated with an easy setup and lack of issues in running through the various testing scenarios. The X99-Deluxe is a well designed board that integrates features and ASUS-developed technologies from past board generations, making for a superior sythesis of form and function. I especially liked the small touches that ASUS put into the design, giving me the impression that they do listen to user feedback."

15 Intel X99 motherboards review: new boards for Haswell-E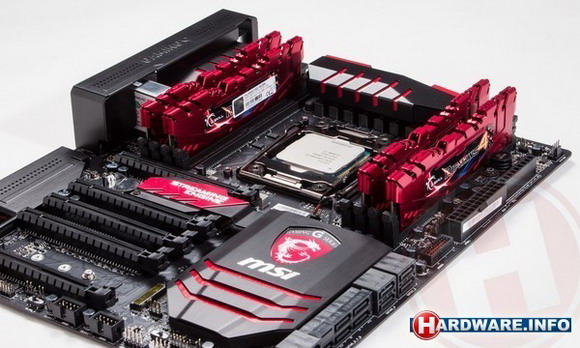 We tested no less than 15 Intel X99 chipset / Socket 2011 v3 motherboards for Intel's new Haswell-E CPUs. Our extensive roundup features a lot of benchmark and power usage tests. We also pay a lot of attention to the PCI-Express configurations and USB implementations of the boards, two of the major differences in this generation. An interesting fact is that there are some big performance differences between the X99 boards: usually when we compare boards with the same chipset they all perform roughly the same, this time around the opposite is true.

News: Gigabytes X99-UD4 motherboard reviewed

Buying into Intel`s high-end desktop platform doesn`t have to be exorbitantly expensive. Gigabyte`s X99-UD4 motherboard offers an affordable path to Haswell-E, and it doesn`t skimp on quality hardware or extra perks. We`ve taken a closer look at the board to see if the rest of it measures up."

Z97X-UD5H motherboard is one of the middle tier offerings

"The Z97X-UD5H is a solid contender for GIGABYTE in the mid-range offering category. It boasts a well thought out design with more than enough room around the integrated components for easy access. Additionally, GIGABYTE integrated their higher end power components, giving the board an edge in terms of overclocking potential and stability. Aesthetically, it would look nice in most windowed cases with its matte black coloring. The dual network controllers was another nice touch that is normally not found in a mid-range solution with both controllers offering top-notch performance. Add in the M.2 slot and SATA-Express capabilities, and you have a well rounded product.."



The best Guides by the best writers on the internet; PCstats Beginners Guides explain computers, software, and all those other wonderful things that cause you frustration.

Learn how to use your computer better, master the internet while protecting yourself, and know what to do when your hard drive kicks the bucket.



"Get the 'Stats and Stay Informed!"