[>>]

[>>]

[>>]

[>>]

More>>

Search...

| | |
| --- | --- |
| Motherboards | |

... 0 news stories awaiting approval
Gigabyte X99-UD3P Motherboard Review – X99 On a Budget?

In our recent review of the of the Z97X-UD3H-BK from Gigabyte, we found it to be solidly built, reliable, and a fantastic overclocking ability. So, naturally when Gigabyte approached us to do a review of their X99-UD3P, which is the entry-level member of their newly launched X99 Champion Series of motherboards, we jumped at the opportunity! The Gigabyte X99-UD3P, is not only a member of the X99 Champion Series, but also Gigabyte's longstanding Ultra Durable series, which promises top-notch build quality and reliability. With all that said let's get into the review!

Gigabyte X99-SOC Champion @ LanOC Reviews

So what is now years ago Adam and I were at a press event for Gigabyte at CES. At that event I spent some time playing against a pro gamer and we also had the chance to see them introduce their new games series of motherboards. At the end of that speech they slipped in a quick sneak peak of a new line of overclocking motherboards with an orange theme that they called OC Orange. Now I think everyone knows just how much I love orange and OC orange to me is LanOC orange, a color that we have used on the website from nearly the start. At that time Adam wrote that he imagined that I wouldn't be able to sleep until I got my hands on one of the boards. Well it has been a long few years, but today is finally the day. Gigabyte sent over their new X99-SOC Champion flagship overclocking board and today I'm going to dig into it and see what it is all about. Oddly enough now that I can sleep, I want nothing more than to stay up and see what sets the board apart from the competition.

Gigabyte Z97X-SLI Motherboard Review @ OCIA.net

?The Gigabyte Z97X-SLI is an SLI-capable motherboard priced very attractively for budget gamers. Due to licensing models with Nvidia, not all chipsets and boards are available to support SLI. Additionally, the board will support CrossFire natively as all Z97 boards do. This model also features high-end ALC1150 115dB SNR audio, a high quality headphone amplifier and a dedicated audio hardware zone to protect from interference. Intel Gigabit LAN, all solid caps and a new heatsink design round out the feature list.?"

GIGABYTE X99-SOC Champion Motherboard Review

If there`s one word I can use to describe the GIGABYTE X99-SOC Champion board, its Fast. GIGABYTE used their design and engineering prowess, coming up with a board design meant to surpass anything currently on the marker. Corsair was so impressed with the board that they worked with GIGABYTE in developing a Dominator Platinum DDR4-2400 kit specially optimized for use with the X99-SOC Champion in overclocking endeavors. That is not to say that GIGABYTE sacrificed board features or stability for the sake of raw speed. The board maintains the stability expectations we`ve come to expect from GIGABYTE, but definitely has a cut down feature set (in comparison to other higher priced offerings). The mantra that seems to apply is it has everything you need to run, but nothing you don`t. In keeping the feature set to the minimal side, GIGABYTE was able to introduce optimizations into the board`s design enabling it to run faster yet maintain stability."

ASRock X99 Extreme4 Intel LGA 2011-3 Motherboard Review

Today, we published a new X99 motherboard review here at OCinside.de. This time we tested the ASRock X99 Extreme4 LGA2011-3 motherboard with an Intel Core-i7 5930K CPU and four Crucial Ballistix Sport DDR4-2400 memory modules and overclocked it up to the limit. The motherboard will be available shortly additionally as ASRock X99 Extreme4/3.1 with USB 3.1 interface card (see CeBIT 2015 report). The ASRock X99 Extreme4 offers like the recently tested ASRock X99 Extreme6 motherboard eight DDR4 slots, an Ultra M.2 slot with up to 32 GB/s, ten SATA3 connectors, eSATA3, the HDD saver feature, purity sound 2 with analog and digital sound output, five PCIe slots, Gigabit LAN and lots of more powerful features.

Asrock Z97E-ITX/ac (LGA-1150) Motherboard Review

Intel's Z97 platform is a perfect basis for a mini-ITX system build as it features enough performance to please even the most demanding user while still being power efficient enough to be tamed by small form factor cases and modest cooling solutions. Due to those reasons it isn't surprising to see Intel's LGA 1150 platform dominate the mini-ITX landscape. Creating a mini-ITX motherboard from AMD's AM3+ or Intel's LGA 2011 platforms is unfeasible from a number of perspectives including heat and for LGA 2011, the size of the socket and number of memory lanes required. We have seen other mini-ITX motherboards emerge for low power platforms like Intel's Bay Trail, AMD's Kabini and AMD's FM2+ APU platform but relatively speaking all three of these platforms cannot rival Intel's LGA 1150 in terms of raw performance. In short, Intel's mainstream LGA 1150 platform offers the best balance of features, performance, pricing and power efficiency for the mini-ITX form factor.

(ASUS X99-A (LGA 2011-3) Motherboard Review

Intel's current flagship consumer chipset, X99 has been around since August 2014. The X99 chipset was the first motherboard range to fully utilise DDR4 memory modules and put the much higher speeds to use. It's starting to age slightly, being around 8 months old, so let's see if this motherboard has any new tricks to bring to the game.

MSI Preparing SFF-8639 Adapter Card for Motherboards

Hot off the heels of Intel's SSD 750 series launch, and with NVMe-based SSDs beginning to gain momentum in the consumer marketplace, MSI is preparing to launch an adapter card to provide support for SFF-8639 drives to its X99 motherboards.


Intel X99 motherboard review part 2: 20 boards tested

At the end of August Intel introduced the Haswell E processors and we published a comparative test of 15 Intel X99 motherboards. Since our last test we have received another few new motherboards and we have retested some boards that did not perform optimally in our original test. In this update we introduce the new boards on the market and show the updated test results of all 20 X99 motherboards.

BIOSTAR releases the H81MDC-LSP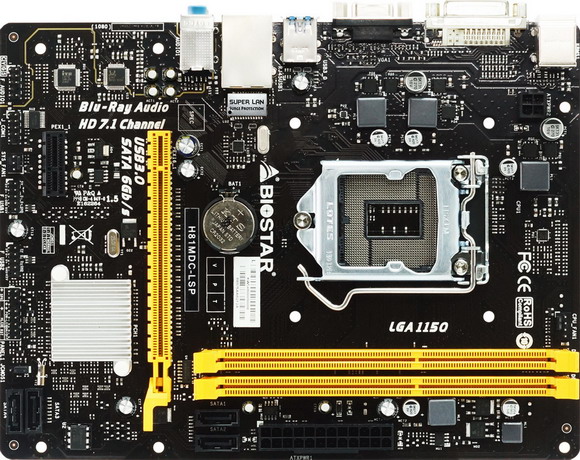 BIOSTAR has released the latest Micro-ATX Motherboard, the H81MDC-LSP. Based on the Intel H81 chipset, the H81MDC-LSP along with an upgraded sound chip and LAN surge protection. The board supports Intel 4th generation Core i7 and Core i5 processors. It features Intel single chip architecture with HD 4600Graphics, along with a new integrated memory controller that will run at speeds up to 1600MHz. The H81 chipset has two SATA 6Gb/s ports (plus four SATA 3Gb/s ports), and two USB 3.0 headers. The H81MDC-LSP supports two DIMMs for a maximum of 16Gigs of RAM. The H81MDC-LSP is a great option for small form factor systems where you rarely have more than one discrete card and two SATA drives and is a great combination for low-cost but with rich features such as HDMI video output. And being Intel based boards, they also feature Intel Rapid Start Technology and Intel Smart Connect Technology.

In addition to the normal specs, the H81MDC-LSP comes with MAGIX multimedia tools designed to enhance your music, videos and photos for free and Simplicheck, a small, intelligent tool by Simplitec GmbH that scans your PC for optimal performance. Simplicheck is based on well-proven scanning technology that has proven successful in everyday customer use.
The H81MDC-LSP is also equipped with modern high quality solid capacitors, the X.D.C (eXtreme Durable Capacitors). These are low ESR and high ripple conductive solid state capacitors that provide a stable power supply to the CPU. The life span can also be more than 6.25 times that of ordinary liquid caps. The H81MDC-LSP also has Super LAN Surge Protection which provides a LAN port with more advanced antistatic protection capabilities by adding an integrated chip to strengthen electrical stability and prevent damage from lightning strikes and electrical surges.
The boards feature the latest BIOSTAR technologies such as BIOS Flasher and BIOS Online Update for easy updating and restoration of the BIOS, as well as BIO-Remote2 for remote control of the system via Android and Apple devices.
BIO-Remote2 Technology gives users a better Home Theater environment. Users who own either Android or Apple mobile devices are able to access and control the PC remotely. Your smart device can become an intelligent and functional remote control. Moreover, BIO-Remote2 also includes both the function of mouse pad and power point presentation modes.
Lastly, the H81MDC-LSP features the Charger Booster function. It is a high powered charging solution for Apple or Android devices such as iPad, iPhone and Android phones and tablets. Charger Booster Technology is able to boost the charging time to be more efficiency and faster once any mobile device is connected to the motherboard. With Charger Booster technology, you are able to charge your devices up to 42 % faster.
The MSRP for the H81MDC-LSP is $49 USD.



Biostar Hi-Fi Z97WE Motherboard Review

While Biostar may not be the first company that springs to mind when we ask you to name a motherboard vendor, the Taiwanese board maker does have a long history of providing well-priced Intel- and AMD-based components. We take a look at Biostar's competitively-priced Z97 flagship – the Hi-Fi Z97WE.

Gigabyte, Asus and MSI X99 Boards

Intel's latest revision to its High-End Desktop (HEDT) platform is upon us and that means one thing is for sure – new processors and motherboards. Bringing the HEDT platform to the feature-rich realms of 2014, new motherboards based around the LGA 2011-v3 socket will use an X99 chipset that possesses many of the goodies found on the mainstream 9-series core logic, as well as more.

ASUS X99 Deluxe – A new look and features for ASUS X99!

When X99 started to become a reality we noticed that every manufacturer was running very late on boards and before you know it ASUS delivered with a board. This does not exactly surprise me since ASUS has a huge engineering and R&D team so getting boards out pretty quick may be a bit less of a chore than some competitors but on a new chipset/CPU launch like this sometimes the first one out of the gate can deal with the most issues. Now since ASUS was the first to deliver a board we did the launch article with it and X99 has some issues primarily based around software compatibility but overall it shows some serious brute force muscle, so now lets take a look less at the CPU/Platform and more at the features of the ASUS X99 Deluxe board.



The best Guides by the best writers on the internet; PCSTATS Beginners Guides explain computers, software, and all those other wonderful things that cause you frustration.

Learn how to use your computer better, master the internet while protecting yourself, and know what to do when your hard drive kicks the bucket.



"Get the 'Stats and Stay Informed!"