[>>]

[>>]

[>>]

[>>]

More>>

Search...

| | |
| --- | --- |
| Motherboards | |

... 6 news stories awaiting approval
ASRock D1800M Motherboard

The ASRock D1800M is a microATX motherboard that comes with a Celeron J1800 "Bay Trail-D" dual-core CPU soldered. It has one USB 3.0 and two SATA-300 ports, but its highlights are actually its low TDP and low cost."

Gigabyte X99 SOC Force Motherboard Review

In this review we check out the Gigabyte X99 SOC Force, will the force be strong with this one ? We certainly can tell you that is is one of the most impressive X99 motherboards we have had our hands on. It has a massive feature set like SLI/Crossfire support, heaps of SATA3 connectors, M.2., VERY sweet overclock features, a near audiophile audio solution, and yeah the means to tweak. Join us in another X99 motherboard review, a product that is bound to shock and awe.

ASUS X99 Rampage V Extreme Review

In this review we check out the ASUS Rampage V Extreme motherboard, armed with the X99 chipset and with that luxurious OC panel this motherboard is amongst the most high-end X99 motherboards available on the globe. It's big, fast, ROG themed and has luxurious features and overclocking written all over it. The Rampage V ROG Edition is an E-ATX form factor motherboard for the new Haswell-E series of processors. The motherboard comes with a massive feature set like SLI/Crossfire support, AC WIFI, heaps of SATA3 connectors, overclock features, a nice audio solution, M.2 PCIe compatibility and yeah, the means to overclock.

EVGA X99 Micro Motherboard Review @ ThinkComputers.org

I have always been a fan of Micro-ATX motherboards. They give you many of the same great features you find in ATX motherboards in a smaller form factor that is great for building a LAN rig. In the case of the Intel X99 chipset we have seen a couple of companies release Micro-ATX motherboards and EVGA is one such company. While having a Micro-ATX X99 motherboard does not take advantage of the extra PCI-Express lanes the platform offers you can easily run dual graphics (x16/x16) or 3-way graphics (x8/x8/x8) with the three included PCI-Express slots on this motherboard. On top of that you are going to get the higher CPU core count that the new Haswell-E processors have an DDR4 memory support. The EVGA X99 Micro also packs in six SATA 6GB/s ports, a 6 phase digital VRM, six USB 3.0 ports (4 rear / 2 header) and Intel Gigabit Ethernet. If you are looking to build an extreme LAN rig this could be the perfect motherboard for you. Read on as we check it out!"

ASUS Z97 Sabertooth MARK1 Motherboard Review @HiTech Legion

The Sabertooth started out as a server board and has always been a niche component. Features were rather spartan, but there were distinct elements that made the Sabertooth very desirable. From the start, they have been built for longevity and stability, and with that came thermal features and controls that separated the Sabertooth from mainstream boards."



Best Press Release EVER...

Quoting directly from the Asrock press release, in response to the news of iCloud being hacked and revealing photo's of certain stars being traded about the internet....

"Worried About Leaking Private Photos on Public Cloud Services? Try Our One Year Free Subscription of Private ASRock Cloud for a Change!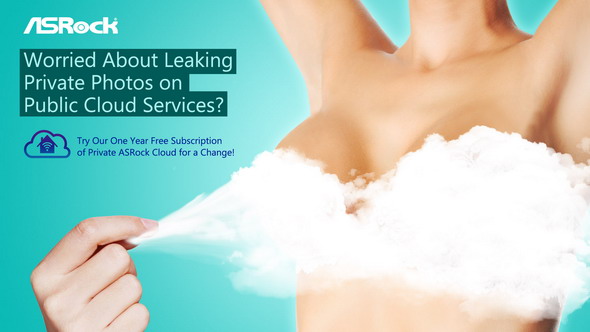 TAIPEI, Taiwan, September 5, 2014 – Now that you've heard about the massive nude celebrity photo leak this week, it's probably the right time to change your game plan for hiding those embarrassing files that for some reason you insist to keep. Either you have photos of yourself embracing the sidewalk while intoxicated, audio recordings of your best attempt of "Nessun dorma" in the showers, or just plain awful videos that will turn you into an abomination of the modern society once revealed. Instead of uploading these personal stuff into public cloud servers, why not just keep them stored in your hard drive and give private cloud solutions such as ASRock Cloud a shot?
ASRock Cloud – Orbweb ME is a personal and private cloud solution that allows users to connect to their PC with their mobile devices, such as a smart phone, tablet or another computer. Browsing, editing and moving files between devices via ASRock Cloud are merely basic functions of this wonderful Cloud solution. It's also capable of remotely turning on/off your personal computer, remote desktop to perform all the tasks you'd normally do on your computer, plus the ability of accessing file explorer from multiple devices simultaneously! Best of all, you get to keep your files in your own device's storage, so ASRock Cloud is relatively safe compared to other public Cloud services that upload these files onto servers.
Almost all ASRock motherboards support ASRock Cloud, so just abandon your old public cloud storage and sign up for ASRock Cloud by entering the promo code "ASR2014B" to get a free one year subscription of Orbweb.ME Professional version plus an additional one month upgrade for the Orbweb.ME Ultimate package!

* OrbWeb ME is provided by Kloudian Systems Inc. Restrictions may apply and the offer is subject to change, termination or discontinuation by Kloudian Systems Inc. without prior notice. Enter the link below to learn more:"
http://www.asrock.com/feature/cloud/index.html
See how ASRock Cloud works on Youtube:
http://www.youtube.com/watch?v=1CY6BCT237Q

ASUS Maximus VII Impact Review @ ocaholic

If there is a motherboard this year, which makes the heart of any enthusiast, gamer or even overclocker beat faster, than it`s the Maximus VII Impact from ASUS`s ROG department. After having set a new trend for mini-ITX gaming rigs, ASUS now brings this form factor to the next level by releasing this feature packed and powerful mini-ITX board. Next to an extra powerful VRM design and an additional sound module, there are plenty of other features and obviously, we`re going to show them all to you."

ASUS H97-PRO GAMER Motherboard @ Hardware Secrets

The ASUS H97-PRO GAMER is a mid-range socket LGA1150 motherboard based on the new Intel H97 chipset, supporting the fourth and the forthcoming fifth generation Core i processors. It brings high-end audio codec, six SATA-600 ports (allowing one SATA Express connection), and six USB 3.0 ports. Let`s take a good look at it."

Gigabyte Z97X-Gaming GT Motherboard Review @ ThinkComputers.org

When you first look at this motherboard you think to yourself is this really a Gigabyte Gaming Motherboard? Yes, Gigabyte has ditched the neon green and black design and has opted to change their gaming line to a red and black design, which is common for gaming motherboards these days. Dont let the color change fool you this motherboard is packed with features. First and foremost for gamers this motherboard is capable of 4-way multiple graphics card configuration thanks to the PLX PEX8747 chip, it has Killer E2200 networking platform for no-lag gaming, and AMP-UP audio technology for the best game sound. If that is not enough you also have SATA Express, gold-plated display and audio ports, and Gigabytes Ultra Durable design so you know this board is built with quality components. Lets jump in!"



MSI Z97 GAMING 9 AC

We look at our second MSI Z97 motherboard today. Let's see how the new Z97 GAMING 9 AC performs under our tests as Shawn puts it under the spotlight."

ASRock Fatal1ty FM2A88X+ Killer Socket FM2+ Motherboard Review

Today, here at OCinside.de we test the ASRock Fatal1ty FM2A88X+ Killer - a brand new Socket FM2+ motherboard with special gaming features, or rather killer features. The Socket FM2+ motherboard is backward compatible with Socket FM2, so we have tested it with an AMD Richland and AMD Trinity in addition to the latest AMD Kaveri processor. Not only the compatibility has been tested, but also the performance and the overclocking options with an AMD A10-7850K, A10-6800K and A10-5800K APU on the ASRock Fatal1ty FM2A88X+ Killer motherboard is compared.

MSI Devils Canyon Roundup @ LanOC Reviews

Its amazing how quickly things can add up. A great example of this is just how many motherboards a company like MSI manufactures. Just on the Intel side of things, you have multiple chipsets and then from there they have an overclocking line, gaming line, and their general line. From there they still have to break things down by price and feature set. Just for the Intel Socket 1150 they have a whopping 67 motherboards listed on their website. With the launch of Devils Canyon CPUs I really wanted to take a look at a few of their boards to get an idea of what the different price points will get you. So today, Im going to take a look at four different Gaming motherboards ranging in size from Mini ITX to full ATX. Three are Z97 boards but there is also their only B85 gaming model slipped in as well. Combined with the Z97 Gaming 5 that I already took a look at, we should be able to get a good idea of what you should be looking at for your builds and why they have such a wide variety of motherboards."



The best Guides by the best writers on the internet; PCstats Beginners Guides explain computers, software, and all those other wonderful things that cause you frustration.

Learn how to use your computer better, master the internet while protecting yourself, and know what to do when your hard drive kicks the bucket.



"Get the 'Stats and Stay Informed!"