[>>]

[>>]

[>>]

[>>]

More>>

Search...

| | |
| --- | --- |
| Motherboards | |

... 4 news stories awaiting approval
Gigabyte Aorus AX370 Gaming 5 review

In this review we check out the Aorus AX370 Gaming 5 from Gigabyte. This motherboard is incredibly nice looking and perhaps a perfect match for your Ryzen series 5 or 7 processor. The X370 motherboard is seated in the high-end Ryzen motherboard spectrum. A motherboard with a black and white design with gorgeous looks and some extras

ASUS RoG Crosshair VI Hero X370 Motherboard Review

Ryzen is here at last, and with that comes dozens of motherboards from the many AMD partners. Today, we'll be taking a look at the new ASUS RoG Crosshair VI Hero, an X370 chipset board for the latest Ryzen AM4 socket chips from AMD. The new board brings all the high-end thrills you would expect, promising plenty of overclocking features, SLI/Crossfire support, M.2 storage, RGB lighting and much more! It's primed to appeal to enthusiast system builders, overclockers and gamers alike, so let's take a closer look at what it has to offer!

MSI TOMAHAWK B350 Review

Making use of AMD's B350 chipset, as opposed to the flagship X370, this motherboard is more for gamers and mainstream users looking to create a system that doesn't quite need the additional extras found on the enthusiast platform.

Asus Prime X370-PRO AM4 Motherboard Review

We've been playing around with a few high-end AM4 motherboards recently, including the fantastic ASUS RoG Crosshair VI Hero X370, but not everyone wants to spend well over £200 for a motherboard, nor does everyone need to. The new ASUS PRIME X370-PRO looks set to tick all the right boxes for those who want high-end performance, without too many complications or the added cost that can often come with the flagship boards.

Gigabyte Aorus AX370-Gaming 5 Motherboard Review

Gigabyte has given several of its AM4 X370 motherboards the Aorus treatment. We examine the Aorus AX370-Gaming 5 – a £205 motherboard that features Gigabyte's Smart Fan 5 system and RGB Fusion LED lighting. Storage geeks will be happy to see the inclusion of M.2 and U.2, as well as 10Gbps USB 3.1 Gen 2, while users looking for a straightforward running process will appreciate Gigabyte's UEFI-based XMP memory support.


The GIGABYTE Z270X-Gaming 8 motherboard

With the release of Intel Z270 chipset, GIGABYTE unveiled its AORUS line of products. The AORUS branding differentiates the enthusiast and gamer friendly products from other GIGABYTe product lines, similar to how ASUS uses the ROG branding to differentiate their high performance product line. The Z270X-Gaming 8 is one of two "enhanced" boards in the AORUS product line, factory-customized with a Bitspower designed VRM hybrid water block. The board features the black and white branding common to the AORUS product line with the rear panel cover and chipset featuring the brand logos. The board is designed around the Intel Z270 chipset with in-built support for the latest Intel LGA1151 Kaby Lake processor line (as well as support for Skylake processors) and Dual Channel DDR4 memory running at a 2400MHz speed. The Z270X-Gaming 8 can be found in retail with an MRSP of $399.99.

MSI X370 XPower Gaming Titanium Motherboard Review

MSI is giving the X370 chipset its Titanium treatment with the vendor's flagship AM4 motherboard. Sporting the unique style that has become representative of MSI's range, the X370 XPower Gaming Titanium is targeting enthusiasts who want a stack of features and strong overclocking potential from their motherboard. Priced at £300, this is the most expensive X370 offering currently on the UK market. Does it live up to its billing?

MSI X370 Xpower Gaming Titanium AM4 Motherboard Review

"X370 Xpower Gaming Titanium AM4 is a very capable motherboard from MSI, which can handle the latest Ryzen 7 CPUs overclocking with ease, while packing a ton of other features. The board comes with a unique white PCB which is covered with a metallic paint coating (hence the "Titanium" naming), while the other connectors/slots/heatsinks do follow the modern design lines."




Asus Strix H270F Gaming @ LanOC Reviews

After the Intel 200 Series launch, I took a look at a range of boards on the Z270 chipset all in the mid range as far as pricing and features. The Asus Strix Z270E board ended up being great and I have been using it with all of the Ryzen testing as well for comparison testing. Well, a shipping mix-up when waiting for a Z270 ITX board for an upcoming project build meant I ended up with an Asus Strix H270F Gaming in its place. It might have been an accident, but it is a good chance to check out a similar board but from the H270 line. H270 drops overclocking and gives a lower number of PCI lanes from the CPU which means less for PCIe options, fewer M.2 storage options, and less for USB. But it still gives a lot of features at a lower price point, so today I'm going to check out the Strix H270F and see if it's a good option for someone who might not be planning on overclocking their new build at all.



GIGABYTE Announces AM4 Ryzen Support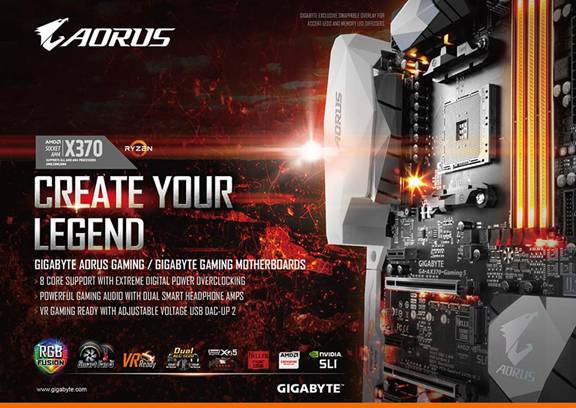 GIGABYTE has announced the rise of the AORUS Gaming Series Motherboards on the New AM4 Ryzen Platform from AMD. The AM4 Platform will host the X370, B350 and A320 Chipsets which all support the Ryzen CPUs. GIGABYTE will have all three chipsets available, each fully optimized for CPUs with 8-Cores and 16 Threads, for consumers who are interested in any segment of the platform. With user-centric features exclusive to GIGABYTE, consumers will find RGB Fusion, Smart Fan 5 and Dual Audio Chips that provides a solution like no other.
With anticipation building for the new platform, GIGABYTE has made no compromises with its innovative technologies. The fully customizable RGB LEDs from RGB Fusion will allow users to customize their system exactly the way they want. Smart Fan 5, an intuitive user interface, works in tandem with hybrid fan headers for optimum cooling performance and system protection. Moreover, RGB Fusion has made its way onto many accessories and peripherals already in the market. RGB Fusion Ready devices allow enthusiasts to control all of their RGB lit products from a single interface.
"This is an exciting time for GIGABYTE as Ryzen processors will bring new technologies and innovations that many of our consumers have longed for," said Henry Kao, Vice President of GIGABYTE's Motherboard Business Unit. "Even more so, GIGABYTE has continued to improve upon the platform adding exclusive GIGABYTE features that enthusiasts demand."
Ryzen - Powerful in Purpose. Efficient in Design.
The new GIGABYTE Gaming and AORUS Gaming Motherboards will be built with support for Ryzen. Ryzen, built on the AM4 platform, has crucial technologies that ensure users have the most efficiency when it comes to performance and power consumption. With features like Pure Power, Precision Boost, Neural Net Prediction, Smart Prefetch and an Extended Frequency Range, Ryzen is ready to address the needs and demands of gamers and enthusiasts.



The best Guides by the best writers on the internet; PCSTATS Beginners Guides explain computers, software, and all those other wonderful things that cause you frustration.

Learn how to use your computer better, master the internet while protecting yourself, and know what to do when your hard drive kicks the bucket.



"Get the 'Stats and Stay Informed!"