| | |
| --- | --- |
| Motherboards | |

... 4 news stories awaiting approval
ASRock Z370 Extreme4 Review

In the spotlight today we have the ASRock Z370 Extreme4. As has always been the case, Extreme4 moves in as a mid-range option, carrying strong features and hopeful performance. Some of these features include, dual M.2 slots, USB 3.0 and 3.1 headers and NVIDIA SLI/AMD Crossfire support.


ASUS ROG Strix GL753VD Review

Packing a 7th generation Core i5 processor along with 12GB of DDR4 memory, the Strix GL753VD should certainly be able to handle any kind of office or media editing workloads you can throw at it; pair that with M.2 storage, an NVIDIA GTX1050 and a 1080p display and this laptop aims to sensibly smash its way through games.

ASUS ROG STRIX Z370-F Gaming Review

Utilising the new Z370 chipset, the Z370-F Gaming hits the mid-range with a distinct yet unassuming monochrome theme. Across this motherboard, we have stunning aesthetics and a good variety of features which include support for up to 4000MHz DDR4, twin M.2 slots with heatsink and trademark ROG features like 5-Way Optimization with Auto-Tuning and FanXpert 4.

GIGABYTE Z370 AORUS Ultra Gaming Review

The Z370 AORUS Ultra Gaming should be regarded as GIGABYTE's go-to motherboard for Z370. It sits in a mid-tier position, boasting a wealth of features which should satisfy novice and avid gamers wanting to get the most out of their new Core i7-8700K.


GIGABYTE unveiled its AORUS line of products

With the release of Intel Z270 chipset, GIGABYTE unveiled its AORUS line of products. The AORUS branding differentiates the enthusiast and gamer friendly products from other GIGABYTE product lines, similar to how ASUS uses the ROG branding to differentiate their high performance product line. The Z270X-Gaming 8 is one of two "enhanced" boards in the AORUS, factory-customized with a Bitspower designed VRM hybrid water block. The board features the black and white branding common to the AORUS product line, with the rear panel cover and chipset featuring the brand logos. The board is designed around the Intel Z270 chipset with in-built support for the latest Intel LGA1151 Kaby Lake processor line (as well as support for Skylake processors) and Dual Channel DDR4 memory running at a 2400MHz speed. The Z270X-Gaming 8 can be found in retail with an MRSP of $399.99.


ASUS ROG Zephyrus

While the pricing might not be entirely in line with the rest of the more mature gaming notebooks featuring GTX 1000-series GPUs, the GS63VR leaves me more excited to see what NVIDIA does with the Max-Q program in the future. I'd imagine with their next-generation GPU architecture, Volta, NVIDIA will launch Max-Q GPU products much earlier in the generation, and build upon the learning from these initial round of notebooks."

Intel Z270 Motherboard Round-Up: MSI, Gigabyte

Today we are going to take a look at three popular Intel Z270-based motherboards targeted at power users and gamers, produced by enthusiast favorites Gigabyte, ASUS and MSI. The three boards we've rounded-up here cover a wide range of price points. The Gigabyte Aorus Z270X-Gaming K5 and ASUS ROG STRIX Z270F Gaming boards represent more mainstream segments, while the MSI Z270 XPOWER Gaming Titanium targets the ultra high-end. Although AMD's powerful Threadripper processors and Intel's upcoming 18-Core Skylake-X behemoth have gotten the lion's share of attention lately, more mainstream processors like Intel's Kaby Lake-based Core i7s and Core i5s sell in much greater quantities.

Gigabyte's Aorus GA-Z270X-Gaming 8 motherboard

Gigabyte's Aorus GA-Z270X-Gaming 8 motherboard sets itself apart with an included VRM water block, Creative onboard sound, and a fully-fledged Intel Thunderbolt 3 controller. We put it to the test to see if it's worthy of its lofty price premium over lesser Z270 motherboards.

Gigabyte X299 Aorus Gaming 3 Preview

The X299 Aorus Gaming 3 is basically Gigabytes entry-level motherboard when it comes to their X299 offerings. One might be tempted to assume that the vendor has been saving money everywhere but this board comes with a suprisingly high-end power design as well as an extensive RGB backlight, which illuminates the entire motherboard.

ASUS TUF X299 Mark I Motherboard Review

We grab a Core i9 7900X processor and review the €289,- ASUS TUF X299 Mark 1 motherboard with it, yes the Sabertooth series is back. A nice looking motherboard in dark theme offering nice features, design and of course performance. This X299 motherboard can house Kaby-Lake-X and Skylake-X processors. Will the recent BIOS updates have fixed the initial Skylake-X issues?


Asus' Tinker Board single-board computer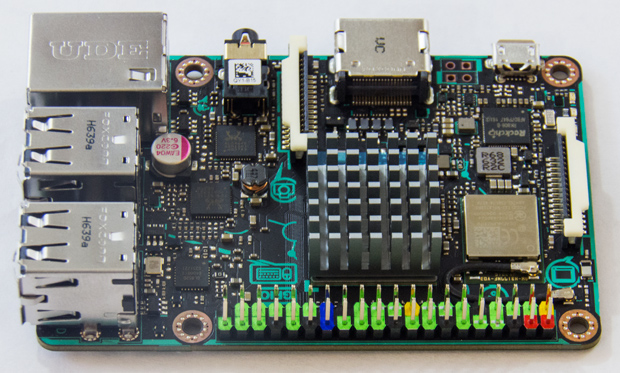 Asus' Tinker Board single-board computer wants to challenge the Raspberry Pi 3's popularity with a more powerful SoC and better networking, among other improvements. We put it to the test to see whether it's a worthy alternative to the status quo

ECS Z270H4-I LGA1151 Motherboard Review

"ECS Z270H4-I is a pretty solid offering from the manufacturer that does support the Intel's 6th gen and 7th gen processors and despite the Mini ITX size, we do get quite a bit of expansion options. The board packs no less than four SATA ports, one M.2 slot for Wi-Fi/BT, another one for 2242/2280 SSDs, but also one PCI-Express x16 Gen 3.0 slots. In terms of memory, we can equip it with up to 32GB of DDR4 RAM and at the same time it does not seem to have issues running with higher frequency RAM since it is able to read the XMP profiles properly."