| | |
| --- | --- |
| Motherboards | |

... 4 news stories awaiting approval
Motherboard makers to see shipments decline in 4Q17

Some motherboard vendors are expected to see their shipments decline over 10% sequentially in the fourth quarter of 2017 as demand from the cryptocurrency mining sector has shown signs of a slowdown, and the new Z370-based motherboards are seeing weaker-than-expected sales, according to sources from motherboard players.

MSI Z370 GAMING PLUS Review

So today, we turn to MSI for a detailed look at what they have to offer in the form of the Z370 GAMING PLUS – a motherboard equipped for Intel's 8th Generation of CPUs codenamed Coffee Lake. If you're wanting basic functionality and a passage to Intel Z370, while keeping the costs down, then this motherboard could be for you. We get all of the essential features and a price-tag which should appeal.

ASRock X370 Gaming-ITX/ac Motherboard Unboxing Video

Today, we have published an unboxing video with English subtitles of the new ASRock X370 Gaming-ITX/ac, an awesome ITX motherboard for AMD Ryzen Socket AM4 processors. The written review of this ASRock X370 Gaming ITX motherboard is coming soon as well on OCinside.

ASRock X299 Taichi Motherboard Review

"We are back with our third X299 motherboard review. Today our board comes from ASRock, it is their X299 Taichi. ASrock has explained their Taichi motherboards as the best value for your money. So basically they try and pack in the features for the best price possible. In the past ASRock's Taichi motherboards have been very solid and a great choice among gamers and enthusiasts. The X299 Taichi features a 13-phase power design, triple Ultra M.2 slots, multi-GPU support, dual LAN as well as dual band 802.11ac WiFi, USB 3.1, and even some RGB lighting. It is hard to find another X299 motherboard with all of these features in the same price range as the Taichi. Let's dive in and see what the X299 Taichi is all about."



ECS Z270H4-I is a mini-ITX motherboard

"Up for review today is the ECS Z270H4-I mini-ITX motherboard, which supports both 7th and 6th generation Intel Core processors for the LGA 1151 socket. This motherboard has 6-phase power delivery and uses all solid capacitors. Two memory slots support up to 32 GB of memory at speeds of up to 3200 MHz when overclocked."


ASRock Z370 Taichi

With yet another platform upon us, we have yet another ASRock Taichi motherboard to play with. The ASRock Z370 Taichi is just like all the other Taichi boards before it, ready to make the most of what Intel's Z370 platform has to offer, and with three 32 Gb/s M.2 slots, you can throw in all your HDDs and SSDs, too.



MSI X299 SLI Plus motherboard

"The MSI X299 SLI Plus is a budget friendly way to get into the high performance LGA 2066 socket, while offering great features. For testing in this review I will be using the Intel Core i5-7640X which has an unlocked multiplier, runs at 4 GHz, and features quad cores and threads."

Asus ROG Strix Z370-F Gaming @ LanOC Reviews

Well, the Coffee Lake launch is here and to support Intel's new CPUs we also have new motherboards. As I write this I have two boards in the office that I have been testing, the first being the Asus ROG Strix Z370-F that I used to test the two CPUs for the review. Asus's boards have been solid and this one doesn't look to be any different. As a Strix board, it has Asus's now standard color neutral layout that uses black and gray, RGB lighting, and the angular Strix look. Today I'm going to take a look at its features, confirm that it performs well, check out the UEFI, and then talk a little about where it sits in the market and find out if it is worth picking up.

ASUS Crosshair VI Hero board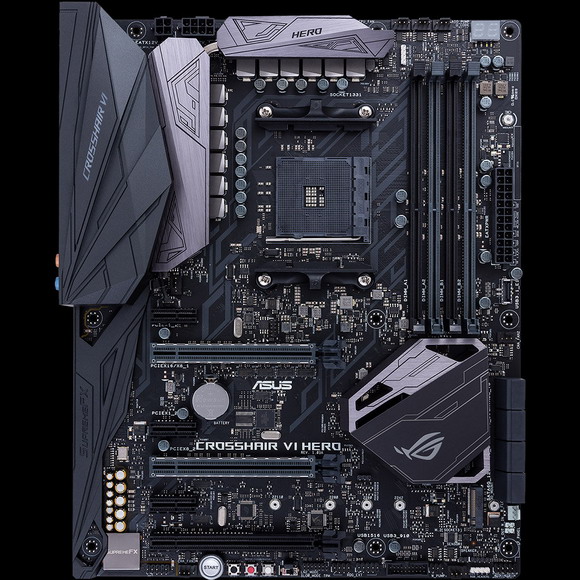 The ASUS Crosshair VI Hero board features a black PCB with a plastic armor overlay covering the board's rear panel and audio subsystem components. ASUS added RGB LED backlighting to the rear panel cover and chipset heat sink to illuminate the board and ASUS ROG logos, as well as under board lighting along the sound PCB separator line. ASUS designed the board around the AMD X370 chipset, offering support for AMD's Ryzen processor line and Dual Channel DDR4 memory running at a 2400MHz speed. The Crosshair VI Hero motherboard can be found in the wild at an MRSP of $254.99

Asus ROG Rampage VI Apex @ LanOC Reviews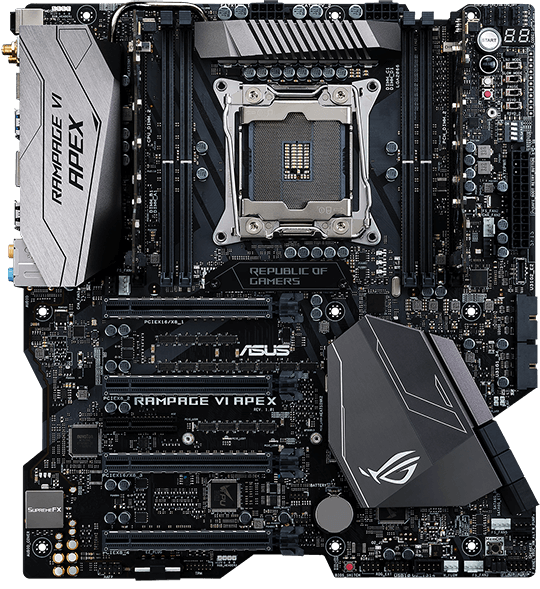 Well, we are far enough past the original X299 launch that the refined and crazier motherboards are starting to come out. This isn't anything new, Asus especially likes to take more time for their crazy boards, not just rushing everything out to make it to launch day. In this case, it also gives them the chance to tweak things, like work on the VRM cooling that was found to be an issue with a lot of the X299 boards after the launch. This works out timing wise as well given Intel finally launching their last few high-end Core-X CPUs. In fact, Asus sent this board over specifically to test with that launch. Well with that out of the way I can finally also take a closer look at the board itself. You know the Rampage VI Apex is something special when it stands out even when compared to the Prime X299 Deluxe. So let's check it out.