[>>]

[>>]

[>>]

[>>]

More>>

Search...

| | |
| --- | --- |
| Motherboards | |

... 1 news stories awaiting approval
ASUS X99-M WS

"The X99-M WS is another quality product from ASUS with a high quality board layout and design, and enough features packed into its mATX form factor to give some full-sized boards a run for their money. As part of ASUS' Workstation line, the board comes with all the power bells and whistles you've come to expect from that series - 12k-rated capacitors, Beat Thermal chokes, and Dr. MOS MOSFETs. Further, ASUS jammed the board with eight SATA ports, an M.2 port, dual Intel GigE ports, and a tri-antenna 802.11ac adapter to name the highlights."


SRock Z170 Extreme6, the ASUS Maximum VIII Ranger

Choosing the right motherboard can be tricky, even with only a limited number of manufacturers in the market compared to a dozen years ago, there are more models than ever to pick from. We've been testing loads of them and are presenting them in easily comparable selections. Today it's four mid-range models: not quite the cheapest you can get, but also not so expensive you need to take out a second mortgage (because who wants those).

BIOSTAR A68N-5200 Motherboard Review

The A68N-5200 board, by incorporating one A6-5200 Kabini-based APU, is bringing to the table even more raw performance when compared to its A4-5000, while the GPU component gets a 100Mhz boost. While the increased 3D performance is minimal versus the A4, other tasks which require CPU performance will get up to 25% performance boost. Despite the fact that this is a cheap and low-powered board, BIOSTAR saw fit to include a fully-fledged UEFI interface which also contains some performance tuning options. Last but not least, we do get with the A68N-5200 one very-welcome PCI-E 2.0 x16 (x4 electrical) which invites us to install a dedicated video card.

ASRock X99 WS-E/10G Motherboard Review

Motherboards aimed at professional usage have quite different requirements to those aimed at consumer activities like gaming. For a start, whilst gamers are swiftly moving onto the Z170 chipset and Intel Skylake procesors, because quad-core is usually enough, workstations have generally stuck with X99 and Haswell E processors, due to the latter offering support for Core i7 CPUs up to eight-core, and Xeons up to 18-core. But there are other features that the professional might need that they consider worth paying extra for, and the ASRock X99 WS-E/10G showcases one of them – 10Gbit Ethernet networking.

ASRock's X99E-ITX/ac ITX Motherboard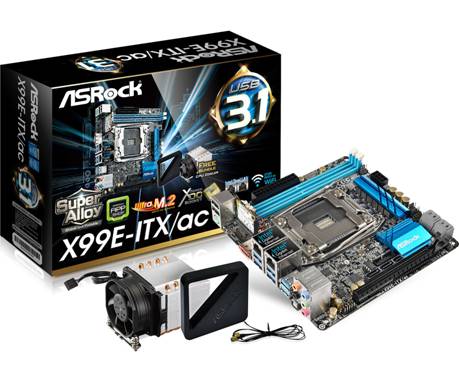 ASRock's X99E-ITX/ac - the world's first and only mini-ITX form factor X99 chipset motherboard!
Intel's X99 chipset used to be represented by a long line of huge and bulky EATX or ATX motherboards, because the CPU, chipset, memory and whole layout required an extra large PCB to contain the extreme performance. But that was all yesterday's history. Now ASRock's research and development team has worked out a way to defy logics, and have built an incredibly small mini-ITX form factor motherboard with Intel X99 chipset's extremely huge performance. Hence the world's first and only mini-ITX X99 chipset motherboard – ASRock X99E-ITX/ac is born!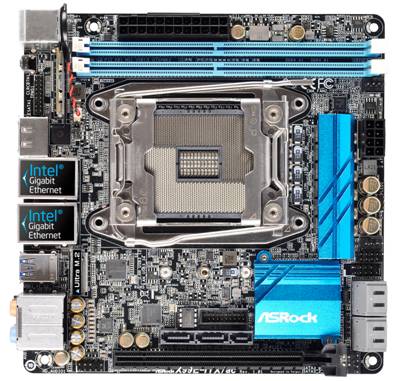 Regardless of its tiny size, X99E-ITX/ac is built around an X99 chipset and an X Series OC Socket. This new socket design by ASRock unlocks the hidden performance of Intel LGA 2011-3 socket CPUs, giving the overall performance a huge boost. The whole set of Super Alloy hardware features are crammed onto the board too, including Premium 60A Power Chokes, Premium Memory Alloy Chokes, Fairchild 60A Dual Cool™ DrMOS which withstands 60A currents and keeps the system cool, Nichicon 12k Platinum Capacitors that promotes performance, plus a luxurious 6 phase power design and digi power.
Other points worth mentioning are the onboard 32Gb/s PCIe Gen3 x4 Ultra M.2 socket for insanely fast SSDs, the 10Gb/s SATA Express connector that will work with future SATA Express HDDs, dual Intel LAN ports that support teaming, and dual band 2.4/5 GHz 802.11ac WiFi with Bluetooth 4.0. To add icing on the cake, there are two Type-A USB 3.1 ports on the rear i/o that allow up to 10Gb/s data rates. Furthermore, ASRock is bundling a server grade narrow ILM cooling fan and water cooling mounting plate, so that user may choose their desired solution for keeping cool.

Gigabyte Z170N-Gaming 5 Mini-ITX

"The mini-ITX form factor is becoming extremely popular with gamers who will be using a single graphics card because it allows them to build a system with premium components that is small and easy enough to take with them to LAN parties or other events. The problem with mini-ITX motherboards has been that they lack many features that their larger ATX counterparts offer. Well Gigabyte is changing that with their Z170N-Gaming 5 motherboard that has all of the features you would want in a full-size ATX motherboard, but in the tiny mini-ITX form factor. Gigabyte was able to pack in Killer E2200 gaming networking, Sound Blaster X-Fi MB3 support, a PCIe Gen3 x4 M.2 slot, two USB 3.1 ports (1x Type-C, 1x Type-A), and even 802.11ac dual band wireless. Gigabyte wants this to be the perfect board for gamers building in the mini-ITX form factor. Is it? Let's take a look and find out!"

GIGABYTE's mid-range Z170X-UD5

GIGABYTE's mid-range Z170X-UD5 has some impressive specifications, a lengthy feature set, and comes in with a sub-$200 street price. This motherboard has all the ingredients for a spectacular enthusiast option on paper. But how does it do in the real world when you put it to the test? It actually does very well.

MSI Z170I Gaming Pro AC @ LanOC Reviews

Over the last few years small builds have been becoming more and more popular. Both for LAN rigs like we have been using for a long time, but even for main PCs. This is partially due to more parts being available but mostly some people are tired of dealing with huge heavy cases, especially when you can do nearly anything you want in the Mini-ITX form factor. Late this fall I started thinking about a new LAN rig, maybe even another iteration of our LunchBox series, before I did that though I really needed to check out the new Z170 boards. That leads me to today where I'm going to check out MSI's gaming focused Mini-ITX board, the Z170I Gaming Pro AC. I've used a few of MSI's ITX boards in builds before and I'm excited to see what this one has to offer.

Asus Maximus VIII Impact (Z170) Motherboard Review

Right now, the mini-ITX scene is extremely popular for gamers and enthusiasts. A combined effort by component manufacturers has seen greater emphasis being put on innovative mini-ITX cases, short graphics cards, and more confined cooling solutions. And let's not forget the system builders deploying small form-factor (SFF) offerings such as steam machines. With installation space and expansion options being in short supply, the motherboard features are critical to the success of a SFF build. Asus aims to pack the features that enthusiasts and gamers will desire into the company's flagship mini-ITX motherboard – the Republic of Gamers Maximus VIII Impact.

ASUS ROG Maximus VIII Impact

"When you look at the stock performance, the Maximus VIII Impact is going to deliver results in a narrow envelope when compared to other motherboards. That's a given. However, running out of spec is where this little board will shine, much like the rest of the ROG Z170-based motherboards in ASUS' product stack. From the PCB up, ASUS ROG DNA is piled up in every corner of the board. Things like ASUS' Impact Power III 6+2+2 phase implementation of ASUS' Extreme Engine DIgi+ VRM controls equipped with Microfine alloy chokes, 10K Black capacitors, and Power PowlRstage® MOSFETs that allow it to overclock just as well as any ATX form factor board. Backing all that up, ASUS uses its Pro Clock technology to allow for extended bClk ranges that exceed what are commonly available as seen by the 350MHz bClk shots in the overclocking section. The ASUS T-Topology DRAM trace layout and memory training algorithms make it easier to push for big memory overclocks that don't compromise performance for the sake of clock speed, although you can take that route as the M8I supports memory speeds of 4133MHz right out of the box."

ASRock Z170 Extreme4 Motherboard Review

Every system builder these days will know the name ASRock, and it's welcome, in the past ten years we have seen the number of motherboard manufacturers dwindle, losing the likes of Abit, Nvidia and even the mighty Intel from the motherboards arena.

ASUS Z170 ROG Maximus VIII Formula review

We review the all new ASUS Z170 ROG Maximus VIII Formula. Armed with a customizable AURA RGB LED system, some extensive shielding and then regulars like the hippest features of 2015/16 and you are sure you'll have the right infrastructure for gaming de-li-cious product. If you fire it up with that new 14nm Skylake based Core i7 6700K processor this product will bring a smile to your face.

Z170 Motherboard Charts: 14 Models tested - Supermicro C7Z170-OCE

In our comparison tables, meanwhile you find benchmark values regarding 14 recent Z170 motherboards. Furthermore we do not comment the benchmark values. The idea and also the goal is to present to you a market overview which helps you choose the right motherboard.

BIOSTAR RACING Z170GT7 Motherboard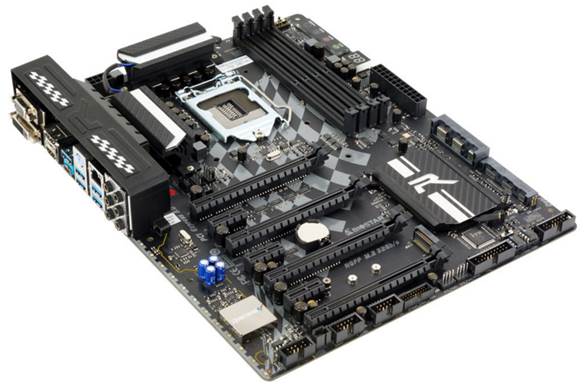 BIOSTAR is proud to introduce the flagship of the new RACING series: RACING Z170GT7 motherboard. Flaunting the new Super 5 Design Concept, the RACING Z170GT7 flaunts the best of the BIOSTAR RACING series together with its latest motherboard design features including the all new RACING IO armor, carbon-fiber design treatment on the heatsink, checkered flag PCB print on a matte black surface treatment and Titanium-color RACING audio shielding.
The BIOSTAR RACING Z170GT7 features support the latest Intel 6th-generation Core processors featuring the Intel Z170 chipset. The board supports up to four DDR4 memory modules of speeds up to DDR4-3200 (OC) with capacities of up to 64GB. Signature BIOSTAR Hi-Fi audio solution for a better listening experience than standard built-in audio. Other features include support for USB3.1 Type-C reversible connector for existing and future devices supporting the interface and also SATA Express and PCI-e M.2. Featuring more bandwidth than USB3.0, USB3.1 along with the new reversible Type-C connector allows greater bandwidth and more flexibility to use devices with your motherboard. Dual-BIOS protection allows greater security against BIOS corruption and damage from faulty BIOS update procedure. A manual switch allows toggling between BIOS chips for full control of which BIOS you want to use.
BIOSTAR Z170GT7

CPU

LGA 1151 Processor

Power

9phase

Chipset

Z170

Solid cap

100% Solid

Memory

4xDIMM, support DDR4-3200

Expansion Slot

4 x PCI-E x16 3.0
3 x PCI-E x1 3.0
1 x M.2 32Gb/s (42/60/80mm)

Audio

7.1ch Blu-ray Audio w/ Double Hi-Fi

LAN

Intel i219V

Storage

3 x SATA Express 16Gb/s

Video

DVI-D, 2 x HDMI, VGA

USB 3.1 / 3.0 / 2.0

1USB 3.1 (TYPE C )
7USB3.0 (2+5)
4USB 2.0 (4+0)

Feature

Vivid LED DJ/ Smart Ear/
BIO-Remote2 / BIOS Online Update

MSI Z170A Gaming M7 Motherboard Review

Tackling the premium gaming market, MSI outfits the Z170A Gaming M7 with a number of features that will have eager buyers licking their lips. Alongside the eye-catching red and black colour scheme, hardware features include an enhanced audio system, two high-speed M.2 slots, and USB 3.1 Type-A and Type-C ports.



The best Guides by the best writers on the internet; PCSTATS Beginners Guides explain computers, software, and all those other wonderful things that cause you frustration.

Learn how to use your computer better, master the internet while protecting yourself, and know what to do when your hard drive kicks the bucket.



"Get the 'Stats and Stay Informed!"