[>>]

[>>]

[>>]

[>>]

More>>

Search...

| | |
| --- | --- |
| Motherboards | |

... 3 news stories awaiting approval
GIGABYTE Features HEDT Motherboards at CeBIT 2016

GIGABYTE TECHNOLOGY Co. Ltd., a leading manufacturer of motherboards and graphics cards, invites the world to CeBIT 2016 in Hannover, Germany, where it will be showcasing GIGABYTE Z170 Chipset Motherboards, High-End Desktop (HEDT) Motherboards and the latest BRIX™ Products at CeBIT 2016, in Hall 15, Booth# D20

In addition, GIGABYTE invites all of our valued channel customers to attend an open seminar on March 14th at 3:00 PM to 4:30 PM local time, first day of CeBIT 2016, in Room 17 of the Conference Center at the Hannover Messe.

CeBIT is an IT show and conference that defines the latest IT trends, presenting renowned speakers, forward-looking panel discussions and showcases of innovative products from all over the world. It's estimated to welcome roughly 250,000 visitors with more than 3,000 exhibitors from 70 different countries.

During the exhibit GIGABYTE will be showcasing a number of boards in its G1™ Gaming Series based on the Intel® Z170 chipset: the Z170X-Gaming G1, Z170X-Gaming 7, Z170X-Gaming 5 and Z170X-Gaming 3. These boards are targeted at gamers with the exclusive unique GIGABYTE technologies such as, One Piece PCIe Metal Shielding, AMP-UP Audio, Killer™ Networking and Turbo B-Clock. Select boards even support USB 3.1 with the new Type-C™ connector, Intel Thunderbolt™ 3 through the use of the official Intel Thunderbolt Controller.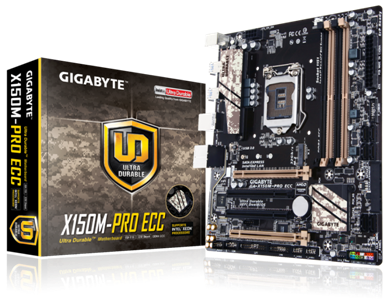 HEDT motherboards bring support for the Intel Xeon® E3-1200 v5 Processors and ECC DDR4 Memory. This Professional class motherboard is perfect for content creators who specialize in Photography, Designing, Video Streaming and more. It has features that are perfect for creative artists that require the latest connectivity, with support for PCIe Gen.3 x4 M.2 connectors users are able to reach transfer speeds of up to 32 Gb/s. The utilization of the new Intel 750 NVMe is a perfect example of this technology which improves transfer speeds by 4x that of traditional Solid-State Drives (SSDs). Moreover, with designers and graphics artists requiring an increasingly faster GPU for rendering, GIGABYTE has qualified Nvidia® Quadro® Cards on our Approved Vendor List (AVL) through strenuous testing procedures.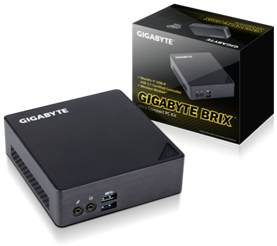 Ultra Compact Computing with the Next Generation GIGABYTE BRIX

GIGABYTE's BRIX has been turning heads ever since it entered the barebone Mini-PC market, and now with the Intel 6th Generation Core™ Processors it's doing so once again. With such a small footprint the BRIX is the epitome of innovation for the PC Industry. With multiple USB3.0 ports and video connectivity via mini DisplayPort and HDMI the BRIX is perfect for digital signage, a desktop alternative and even as a home theater PC (HTPC). On display at CeBIT there will be the GB-BSi5T-6200 and GB-BSi5A-6200 featuring a USB Type-C connector as well as the GB-BACE-3000 and GB-BACE-3150 which support a fanless design. The GIGABYTE BRIX are available in a variety of different configurations based on the 6th Gen. Intel Core i3/i5/i7 processors, allowing users to buy the exact model that meets their needs, while some BRIX offers support for a 2.5" SSD or HDD for users that need the extra storage space.

ASRock E3V5 WS Review

ASRock has really upped its game over the last few years. A decade ago, the company was most successful at the budget end of the market. But that image has long gone. Recently, we looked at a decidedly high-end X99 chipset board in the shape of the ASRock X99 WS-E/10G. This time, we are putting a more modest Intel C232 board, the E3V5 WS, through its paces. This is still aimed at workstations, but smaller, less powerful units.

Gigabyte X99P-SLI motherboard

The X99 platform may not be known for affordability but Gigabyte's new X99P-SLI aims to change that opinion with USB 3.1, M.2, great overclocking, quad GPU support and more for less than $250.

OSTAR RACING B150GT5 LGA1151 Motherboard Review

"The RACING B150GT5 was built from the start as a mainstream board, for budget-conscious people which usually also go for locked processors and are not interested to overclock their machine. We did really enjoy the fresh new look of the RACING series, with the checkered flag on the PCB surface but also the addition of the LEDs on both PCB & PWM heatsink. For added value BIOSTAR does also include an extra LED strip which must be connected to the dedicated header. BIOSTAR has also thought of people which want to keep some of their older expansion cards so no less than three PCI slots are also available."

ASRock X99 WS-E/10G Motherboard Unboxing Video

Today, on OCinside.de we have published a new unboxing video of one or lets better say two of the same ASRock X99 WS-E/10G Intel LGA 2011-3 motherboards in German with English subtitles. The full written review of both ASRock X99 WS-E/10G motherboards with Intel X99 and Intel X540 Chipset is coming soon as well.

ASUS ROG Maximus VIII Impact Review

Maximus VIII Impact is ASUS' latest Intel Z170 motherboard bearing the Mini-ITX form factor. This board is designed to target both the enthusiast and gamer who favour compact system configurations. Although small in size, Impact is packed with innovative features which can be found on full-sized ROG motherboards. Impact contains an all-digital power design, comes with a premium audio solution, advanced overclocking features and even a case fan extension card – proving that size, really doesn't matter.


Supermicro X11SAE Workstation (Intel C236) Motherboard Review

Intel recently released their Greenlow based Skylake series Xeon CPUs and it's a pleasure to take a look at the first enterprise-grade motherboard built for these processors today. I have Supermicro's X11SAE motherboard on the test bench which is a standard ATX-sized single CPU board, but one with all the trimmings.

ASRock Z170 Extreme4 Review

ASRock's Z170 Extreme4 is a low-cost option for those wanting to jump over to Intel Z170. This motherboard brings with it a classy design which will pair up with other hardware well and has a reasonably solid feature-set. Both of these aspects of the attributes of a motherboard only tell part of the story and thus we must test the Extreme4 in a range of benchmarks to reveal how capable this offering really is!

ASUS B150 PRO GAMING/AURA (LGA1151) Motherboard Review

Since the official reveal of Intel's latest mainstream LGA1151 platform, we've analysed the performance numbers of various Z170 motherboards and even taken an analytical look at the non-overclocking H170 offerings. However, there's another chipset available to consumers even though it's primarily marketed towards business users. More specifically, the B150 chipset includes Intel's Small Business Advantage software package to manage a small network of PCs using fairly rudimentary desktop applications. As a result, it seems quite a bizarre choice to release a B150 motherboard which adopts a lavish visual design, although it might be suitable for business clients wanting to play games during their downtime.

Gigabyte Z170N-Gaming 5 @ LanOC Reviews

With companies finding ways to pack more and more features into Mini-ITX motherboards the small form factor market has flourished over the past few years. We are finally seeing a lot of people running smaller builds at events as LAN rigs and the idea of a higher end build doesn't require a case that hardly fits in your car and needs a backbelt to pickup anymore. In fact, even when looking past the smallest builds we have been seeing cases designed for Mini-ITX that are still more mid tower designs. This is because most builds only need a single video card these days and built in NICs have improved in quality, ITX boards now sometimes have wireless, and even onboard audio has improved (and some people have moved to USB audio). All of that means most people don't really need huge builds. I already took a look at MSIs Z170 ITX gaming board and today I'm checking out the Gigabyte Z170N-Gaming 5, Gigabytes highest featured ITX board to see what they have packed into the ITX form factor.

China market: Asustek, Gigabyte to hike motherboard prices

Asustek Computer and Gigabyte Technology will increase motherboard retail prices in the China market in February to cope with potential foreign exchange losses arising from large fluctuations in exchange rate between the Chinese Yuan (CNY) and US dollar, according to industry sources.

Gigabyte X99P-SLI Motherboard Review

"Lately we have seen a second wave of X99 motherboards from multiple manufacturers. This second wave adds new features, many of which we saw with the introduction of the Z170 chipset. Gigabyte is one such manufacturer who is releasing new X99 motherboards. Today we will be taking a look at their X99P-SLI. The biggest feature of this motherboard is that it features the world's 1st USB-IF certified Intel USB 3.1 controller with USB Type-C. This controller utilizes 4 PCIe Gen3 lanes, offering up to 32 Gb/s total bandwidth. Other new features on this board include an M.2 interface with up to 32Gb/s data transfer and NVMe support, PCI-Express metal shielding, and a multiple color LED trace path. Of course being a Gigabyte X99 motherboard you get the Ultra Durable design, an all digital power design with IR Digital PWM and IR PowIRstage ICs, 4-way graphics support, Realtek ALC1150 115dB SNR HD audio, and more! As you can see this motherboard is loaded with features so let's jump in and see what it's all about!"

MSI Z170A Xpower Gaming Titanium Edition Motherboard

"Today the MSI Z170A Xpower Gaming Titanium Edition has arrived, looking astonishing in this new PCB coating. All the new features like dual M.2, USB 3.1 gen 1, USB 3.1 gen 2, Nahimic audio enhancer and a game boost knob plus separate OC panel. Wow this is one bad boy!"

Supermicro C7Z170-SQ Motherboard Review

Perched precariously at £210, the Supermicro C7Z170-SQ looks to be the motherboard that has been thrown unprepared into a market saturated by RGB lights and features that would make NASA technicians quiver at first sight. However, it's not all about additional utilities, sometimes a great performing unit only needs top quality components derived from servers and that's what Supermicro is betting on with this addition to the line up.

ASUS 970 PRO GAMING/AURA Review

"The 970 PRO GAMING/ AURA, is part of the AURA series that features customisable RGB LED lighting. 2015 seems like a prelude to 2016 in regards to RGB lighting and this is the first glimpse of that glorious spectral delight shining down on AMD. ASUS being ASUS, didn't stop there, they have added 2x USB 3.1 standard, which is twice the standard bandwidth of USB 3.0, and geared this motherboard towards enthusiast gamers by including support for NVIDIA's SLI."



The best Guides by the best writers on the internet; PCSTATS Beginners Guides explain computers, software, and all those other wonderful things that cause you frustration.

Learn how to use your computer better, master the internet while protecting yourself, and know what to do when your hard drive kicks the bucket.



"Get the 'Stats and Stay Informed!"