| | |
| --- | --- |
| Motherboards | |

... 5 news stories awaiting approval
Prime Z270-A motherboard

"ASUS continues to tread the fine line between value and performance with its latest revision of its base channel board in the Prime Z270-A motherboard. With the release of this new board, ASUS subtly changed the aesthetics with this board, giving it a more futuristic and tech-savvy vibe while still sticking with the based black and white coloration. Further, they added support for dual M.2 devices while not sacrificing the number of SATA devices supported by the board. And the board performs as well as its more expensive siblings. Its overclocking performance was another feather in the board's cap, easily matching that of its more pricey siblings with one caveat - its inability to boot with memory over 3866MHz. However, that issue is most likely fixable via a BIOS update. All in all, a good board with a solid feature set."


ASUS ROG STRIX Z270I GAMING ITX motherboard

They say good things come in small packages and ASUS' new ROG STRIX Z270I GAMING proves that. This tiny ITX motherboard packs all the performance and overclocking chops of boards twice its size.


MSI Z270 Gaming M3 Motherboard Review

New AMD motherboards and Ryzen processors have been gathering the limelight for the past few weeks but there is still a fiercely-contested battle under way between Intel and AMD. Adding fuel to the fire are motherboard vendors who are jostling for a position in which they can enjoy the spoils of an in-demand platform. We examine MSI's competitively-priced, mid-range Z270 Gaming M3 motherboard to see what it brings to the table.

Z270/Z170 Motherboard Charts: 31 Models tested - MSI Z270 Gaming M7

Meanwhile you can find benchmark values of 31 recent Z270 and Z170 motherboards in our comparison tables. We do not comment the benchmark values. The idea and also the goal is to present to you a market overview which helps you choose the right motherboard simply based on facts in the form of numbers.

Strix Z270E Gaming motherboard

ASUS continues to differentiate its product lines, expanding their Strix gaming product line with the Strix Z270E Gaming motherboard. The board combines a killer aesthetic with a rich feature set to make for a compelling product. Take into account its performance, and you have a solid product. One of the nicer additions was the support for dual external RGB LED strips, something not many boards has currently. The board performed very well across the board at stock speeds. Its overclocking performance was very good as well with a single caveat - its inability to boot with memory over 3866MHz. However, that issue is most likely fixable via a BIOS update. All in all, a good board with a solid feature set."

ASRock X370 Taichi Motherboard Review

Continuing our examination of high-end X370 motherboards for AMD's new AM4 platform, ASRock's £230 X370 Taichi is put under the microscope. Acting as the second-rung product in ASRock's current X370 line-up, the Taichi uses a slightly different approach to supplied features in comparison to competing board vendors.

MSI X370 XPower Gaming Titanium review

For our next X370 review we move on-wards to MSI with their grand X370 XPower Gaming Titanium. This top of the line Ryzen motherboard is stylish alright, wrapped in that Titanium look and feel the motherboard has a feature set that impresses.

Aorus AX370 Gaming 5 Motherboard Review

In this review I'll be looking at the Aorus AX370 Gaming 5 motherboard for the new AMD Ryzen series of CPUs. During CES 2017 Gigabyte formally announced that Aorus would become a companywide brand for all high-end gaming products including motherboards, video cards and gaming accessories.

BIOSTAR World's First Mini-ITX Motherboard for AMD RYZEN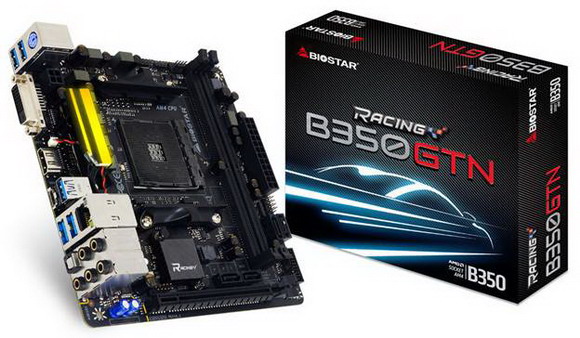 BIOSTAR is thrilled to announce the latest addition to the growing mini-ITX family of BIOSTAR motherboards with the introduction of the world's first mini-ITX motherboards for AMD AM4 platform and the first mini-ITX RGB LED-capable motherboards with AMD X370 and AMD B350 chipsets. BIOSTAR is pleased to welcome the new BIOSTAR RACING X370GTN and RACING B350GTN mini-ITX motherboards into the RACING Series family. Both motherboards aim to deliver the best balance of form and function, delivering the full potential that the AMD AM4 platform offers especially with AMD RYZEN CPUs, all in a small package. The BIOSTAR RACING X370GTN and RACING B350GTN comes equipped with BIOSTAR 2nd-gen RACING features like 5050 LED Fun Zone with dual 5050 LED header for DIY customization, the BIOSTAR exclusive VIVID LED DJ with full RGB LED control that lets enthusiasts design their own system lighting with precise control. Together with that, BIOSTAR also adds performance and quality features for maximum system performance and stability.

With the multi-threaded performance of AMD RYZEN CPUs, it's a great choice for content creators and professionals looking for a highly-accessible, high-performance processor to help them in their work and together with BIOSTAR RACING Series AM4 mini-ITX motherboards, it makes it easy to maximize your workspace by building a system with a relatively small footprint that does big things.
Perfect for Small-Form Factor Systems
The mini-ITX form factor is the perfect for small form factor (SFF) systems and with today's powerful components, you can make the perfect SFF gaming or workstation with the right parts. BIOSTAR's RACING X370GTN and RACING B350GTN allows system builders, power users, enthusiasts to create their perfect SFF system without compromising performance.
The size of the new mini-ITX motherboards from BIOSTAR allows modders to create mind-bending works and BIOSTAR knows this perfectly well as the new RACING Series motherboards including the new mini-ITX models include supports for RGB lighting for the perfect fusion of performance and style.
The new BIOSTAR RACING X370GTN and RACING B350GTN feature USB3.1 Type-C port which offer double the data-rate than USB3.1. This allows faster transfers and larger bandwidth for your devices. The Type C connector also allows ease-of-use and universal compatibility with Type-C-compatible devices which uses a reversible connector design for utmost convenience. USB3.1 Type-C also supports 3A with standard cables allowing increased charging times up to 50% versus Type-A cables.
Both motherboards feature plenty of fast connectivity with four USB3.0 ports, two USB3.1 Gen2 ports with a traditional Type-A and the new reversible Type-C ports available. Legacy PS2 support for older devices and multimedia output including HDMI and DVI as well as SPDIF and 5 audio output ports for multi-channel setups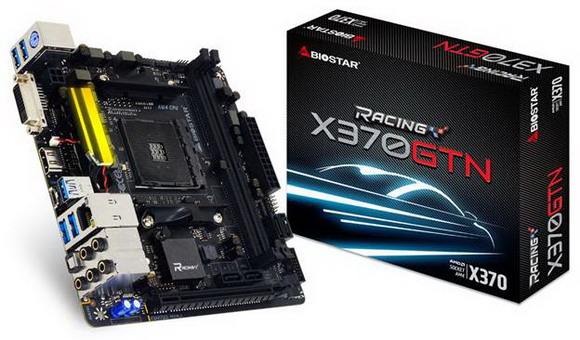 The BIOSTAR RACING X370GTN will have an MSRP of $129 and the RACING B350GTN has a $109 MSRP.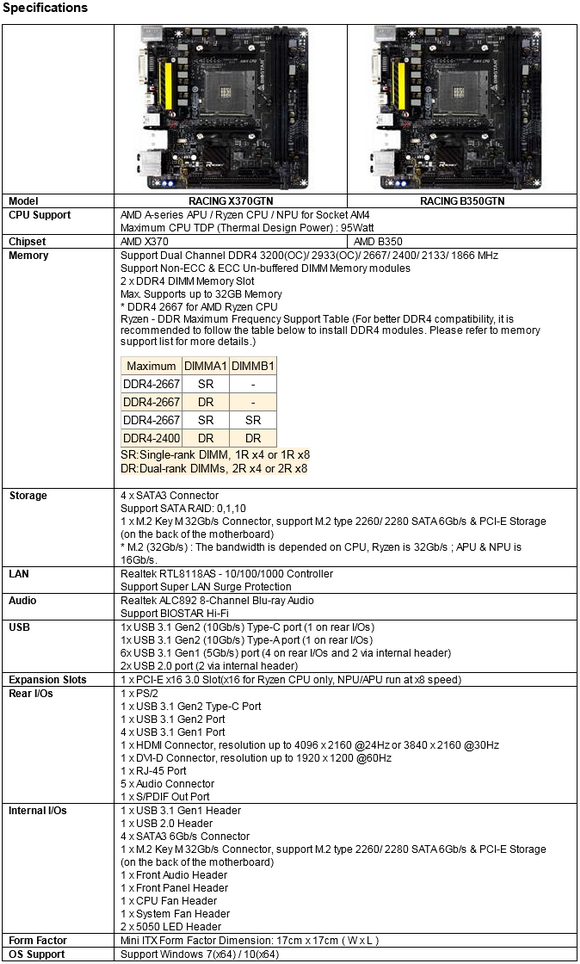 ASUS ROG Maximus IX Extreme motherboard review

Got 600 bucks to spend? We review the flagship ASUS Z270 motherboard, the ASUS Maximus IX Extreme from the Republic of Gamers line. The board boasts everything you want and need, has a deep and profound AURA LED lighting system, CPU VRM area water-block (monoblock) and then some!


MSI Z270 GAMING PRO CARBON

When you want your PC to be fast, ultra fast, you are going to look at very specific products only. One you might not look at is MSI's Z270 GAMING PRO CARBON, a board truly designed to be one of the fastest boards on the market, ready to help you reach the finish line first.

BIOSTAR RACING X370GT7 AM4 Motherboard Review

"The RACING X370GT7 AM4 board from BIOSTAR does perform well and at the same time is being able to hold some decent system overclocks. The product does pack one of the latest Realtek (Dragon) Gigabit LAN controllers, which is accompanied by a software for optimizing traffic in games. The Realtek ALC1220 8-channel CODEC takes care of the audio interface, an NVMe M.2 cooler is bundled for bringing the temperature down of these specific devices, while the RGB lighting can be synchronized with other supported products too, given the dual 5050 headers."

Gigabyte Aorus AX370 Gaming 5 review

In this review we check out the Aorus AX370 Gaming 5 from Gigabyte. This motherboard is incredibly nice looking and perhaps a perfect match for your Ryzen series 5 or 7 processor. The X370 motherboard is seated in the high-end Ryzen motherboard spectrum. A motherboard with a black and white design with gorgeous looks and some extras