[>>]

[>>]

[>>]

[>>]

More>>

Search...

| | |
| --- | --- |
| Motherboards | |

... 2 news stories awaiting approval
ASUS X99 Sabertooth Preview

Meanwhile ASUS also has a Sabertooth motherboard in its portfolio, which is based on Intels X99 chipset. As expected this is a high-end motherboard, which comes with a lot of features. As with all Sabertooth models you there is the so called thermal shield and apart from that we find a metal back-plate, which reinforces the entire motherboard.

Gigabyte X99M-Gaming 5 Preview

The Gigabyte X99M-Gaming 5 is an mATX motherboard from Gigabyte, which is based on Intels HEDT X99 chipset. At a first glance we notice a clean and very nice looking design. Apart from that there are high quality components on board like for example the power design.

Which Gigabyte X99 board to choose?

As the dust starts to settle from the launch of Intel's X99 platform and the latest GTX9xx cards from nVidia, level heads are looking at the benefits being offered by the new technologies, and beginning to think about making the investment. With prices varying so much, which mainboard is right for your project? KitGuru gets up close and personal with Andrew Ditchburn, technology guru for Gigabyte.

ECS Z97-PK Deluxe mATX Motherboard Review

I am constantly asked to help build a low cost system for the casual gamer. Generally, I'll point them to an AMD based system, which doesn't compare to an Intel Core i5 system, but generally it's within people's budget and does what they need. Earlier this year, Intel released the Pentium Anniversary G3258, which comes unlocked and has been found to be a massive overclocking processor. ECS has released the Z97-PK Deluxe mATX motherboard is designed for Socket 1150 processors, with a focus on the Intel Pentium G3258 '20th Anniversary Edition' processor. Right now, the ECS Z97-PK Deluxe motherboard is a little hard to find as it is just being released, but you can find it at a few places for $79.99 plus shipping. This makes it the lowest priced Intel Z97 board on the market and I just had to take a look at it.


Logic Supply ML400G-50 Fanless m-ITX PC

The latest in Logic Supply's continuing efforts in the realm of Silent Computing is the ML400 series, which features mini-ITX boards in robust, fanless cases. A close look at the ML400G-50, based around a mobile 4200M chip in the ASRock IMB-180 motherboard.

extra overclockability.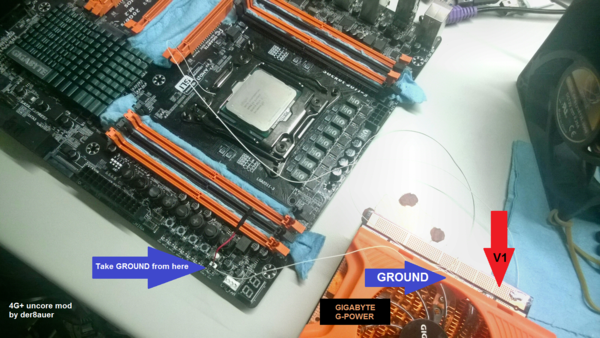 Back in our launch review of fifteen Intel X99 motherboards for Haswell-E processors we weren't entirely sure about the purpose of ASUS' OC Socket, which contains more pins than the sockets other manufacturers incorporate in their boards. During the last few weeks however we did find out that the ASUS boards have some uncore overclocking capabilities that the boards of Gigabyte, ASRock and MSI lack. German overclocker der8auer proved that the special OC Socket is the reason for the extra overclockability.

affordable X99 board for overclockers

The MPower is very similar to the entry level board offered by MSI, the X99S SLI Plus. The a bit more expensive Mpower does have a better audio implementation, more CPU power phases, flat Hi-Caps and the extra buttons on the motherboard, justifying the higher price of the Mpower. We feel the Mpower is actually a good alternative to the ASUS X99-A. For the users that were thinking to be able to get a overclocking board for £ 190 / € 255 / $ 270 that offers similar features to the more expensive boards already introduced: unfortunately we have to disappoint you.

X99 Charts: 6 Boards - Gigabyte X99-SOC Force

So far we've tested 6 X99 motherboards and we have to say that sometimes we got quite interesting results. What we've also done is, we have added results gathered with Right Mark Audio Analyzer in order to chek the quality of the onboard audio

PCSpecialist Predator X99 System review

Today we look at one of the latest systems from popular UK system builder PCSpecialist. Their X99 Predator system is loaded with high end components, including AMD's flagship R9 295X2 graphics card, an Intel i7 5820k six core processor and an Asus X99-S motherboard. The Predator ships in a Corsair Air 540 Chassis and is overclocked extensively for every customer. Is it worth the £2,299 inc vat asking price?

MSI X99S XPOWER AC (LGA 2011-3) Motherboard Review

Every major motherboard brand has a particular flagship board that targets overclocking on Intel's new HEDT X99 platform. Gigabyte have their X99 SOC-FORCE, ASUS have the Rampage V Extreme and ASRock have the X99 OC Formula. Today we are looking at MSI's flagship OC board, the X99S XPOWER AC. Despite being an "overclocking" board the X99 XPOWER AC gets endowed with a lot more consumer-friendly features than you might expect. The AC in its name denotes the fact this board ships with an 802.11 AC WiFi module and antennae. MSI have also equipped their AudioBoost audio package, a shed-load of USB 3.0 connectivity, dual Intel Gigabit NICs and of course a stylish design. However, overclocking features make up the DNA of this board. MSI calls the overclocking features "OC Essentials" and they are mainly buttons, check points and LEDs. There are also less visible things like CPU overcurrent protection built into the board and even a USB flash drive for saving BIOS OC profiles.

ASRock X99 WS Workstation Motherboard Review

"Workstation boards offer some unique features and additional GPU support that can be used for gaming or GPGPU functions. With X99 there are even more additions to what is usually an already stacked product line. Not to mention the ability to use the absolute best processors available in a desktop form factor. Today we will be looking at the ASRock X99WS, a workstation board designed for those that require a bit more than any standard gaming board could provide."

X99 Charts: 6 Boards - Gigabyte X99-UD4

So far we've tested 6 X99 motherboards and we have to say that sometimes we got quite interesting results. What we've also done is, we have added results gathered with Right Mark Audio Analyzer in order to chek the quality of the onboard audio

ASUS X99-A Motherboard

"The ASUS X99-A is a mid-range motherboard for the new Intel high-end "Haswell-E" processors, based on the new LGA2011-v3 socket. It includes three PCI Express 3.0 x16 slots, ten SATA-600 ports (with one SATA Express connector), ten USB 3.0 ports, and a high-end audio controller. Let's take a good look at this board."


MSI Z97S SLI PLUS (LGA 1150) Motherboard Review

Something that becomes apparently obvious with the motherboards I review on a regular basis is that most of them have too many features for the average user. That's too many in the sense that most of them would go unused but mainly it is too many in that it adds unnecessary cost. Let's face it none of us would say no to extra features if we didn't have to pay for them, even if they remained unused. In the Z97 space, MSI appear to have come up with a solution to that problem with their Z97S SLI PLUS motherboard. Sure it isn't the prettiest motherboard available sporting the Z97 chipset, neither is it the most feature rich but what it does have going for it is a well struck-up balance of pricing and features. For around £100 in the UK, or $135 in the USA, the MSI Z97S SLI PLUS offers you a feature rich platform which includes SATA III, SATA Express, M.2, USB 3.0, SLI and CrossFire support, a UEFI BIOS, Intel Gigabit Ethernet, a decent amount of fan connectivity and solid audio. The colour scheme does seem a little confusing with a combination of a brown PCB and blue/black heatsinks, so this is definitely aimed at being a motherboard for people without side panel windows.



The best Guides by the best writers on the internet; PCSTATS Beginners Guides explain computers, software, and all those other wonderful things that cause you frustration.

Learn how to use your computer better, master the internet while protecting yourself, and know what to do when your hard drive kicks the bucket.



"Get the 'Stats and Stay Informed!"