| | |
| --- | --- |
| Motherboards | |

... 6 news stories awaiting approval

MSI X370 Krait Gaming AMD AM4 Motherboard Reader Review

Today a new reader review is published on OCinside.de where Itchi is testing the new MSI X370 Krait Gaming AMD Ryzen motherboard. In the following review we will see how the MSI X370 Krait gaming motherboard performs with an AMD Ryzen 5 1600 CPU and an AMD Radeon RX480 8GB graphics card and how well it can be overclocked.

Z370 Motherboard Charts: 4 Models tested - Gigabyte Z370 AORUS Gaming 3

Meanwhile you can find benchmark values of the first Z370 motherboards in our comparison tables. We do not comment the benchmark values. The idea and also the goal is to present to you an overview which helps you choose the right motherboard simply based on facts in the form of numbers.

MSI Z370 Gaming Pro Carbon Review

With the Gaming Pro Carbon, MSI has a well equipped mid-range motherboard in its portfolio, which comes with a bunch of interesting features. There are for example two M.2 Gen 3 x4 slots as well as a good looking design. Apart from that this model should feature a rather interesting price.

ASRock X299 Taichi Intel LGA 2066 Motherboard Review

Today we tested and overclocked the ASRock X299 Taichi motherboard. After the AMD Ryzen Threadripper ASRock X399 Taichi motherboard we now have the pleasure to test an Intel Core i9-7900X Skylake-X CPU on the ASRock X299 Taichi motherboard. As previously reported in the Intel OC Community, we were able to overclock the Core i9-7900X from 3.3 GHz to almost 5.2 GHz and this is an awesome result in this high-end range. Also great is the basic configuration of the ASRock motherboard, which we have already shown in the Unboxing Video. Let's now come to the detailed review of the powerful Intel LGA 2066 motherboard from ASRock. We also tested the ASRock X299 Taichi XE motherboard, which will be released on OCinside.de soon.

Top 5 Intel Z370 Motherboards

After looking at our selection of the best budget-oriented AMD B350 motherboards, now we're looking at our favorite Z370 motherboards meant to be coupled with Intel's latest 8th-gen Core processors a.k.a. Coffee Lake. There are loads of great Z370 motherboards to choose from and pricing starts at a little over $100.

ASUS ROG Crosshair VI Hero

"As far as overclocking on the Crosshair VI Hero goes, it gets my hardware to its maximums with very little fuss using just some basic settings in the BIOS. You can take the time to tune down voltages for reduced thermals, but it will get to the 4080MHz-4090MHz range with full stability. Cranking it up higher allows the R7 1800X to run upwards of 4140MHz with quite a bit more voltage, but at that point, we are playing for screenshots versus looking for true stability. At least with my processor. Will this board overclock? It most certainly will and then some depending on how you plan to use it (daily driver or benchmarking only)."

Gigabyte Z370N WIFI - The Cutest Of them all?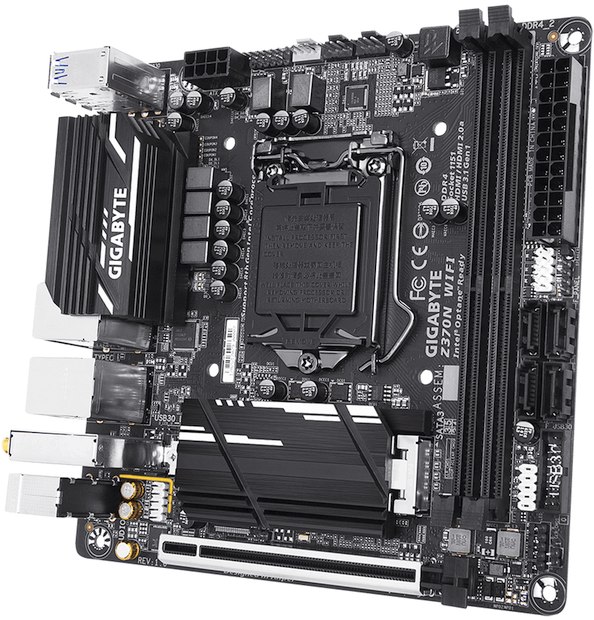 We review and test the small yet agile Gigabyte Z370N WIFI motherboard, this Mini ITX Form Factor based measures just 17x17cm, yet is as fast as its bigger bethrens. We'll pair it with the new six-core Core i7 8700K. Will it perform as fast as the more expensive SKUs? Well, heck yeah.

MSI GV62 7RC Review

In the spotlight today is a new gaming laptop which sits within MSI's newly created GV Series. GV tackles the lower end of the market and seeks to offer users with entry-level options for those on a tighter budget. Today we'll be looking specifically at the GV62 7RC which utilises a quad-core CPU, 8GB DDR4 and the NVIDIA MX150.

MSI Z370 Gaming Pro Carbon AC motherboard

The MSI Z370 Gaming Pro Carbon AC motherboard features a black PCB with carbon fibre overlay accenting it's chipset heat sinks and rear panel cover. MSI also placed RGB LED-enabled components across the board's surface and under the board for an interesting ground effects type look. The board is designed around the Intel Z370 chipset with in-built support for the latest Intel LGA1151 Coffee Lake processor line and Dual Channel DDR4 memory running at a 26667MHz speed. The Z370 Gaming Pro Carbon can be found in retail with an MRSP of $209.99.

Biostar Racing Z370GT6

Biostar's Racing Z370GT6 is a cost-effective motherboard for Intel's newest mainstream platform. It still features two PCIe 3.0 x16 slots connected to the CPU, which means multi-GPU setups are possible. Also included are two M.2 NVMe slots and a heatsink to keep those drives cool.

ASUS Tinker Board Review

Maker culture has been going from strength to strength. The Arduino has been instrumental in this development, and the hugely successful Raspberry Pi has taken the revolution further with a full computing device for as little as £20. But these were just the beginning, and now ASUS is hoping to grab a bit of the action with its Tinker Board.

ASRock Z370 Taichi Build Makes 5Ghz OC Simple

Our combination of the ASRock Z370 Taichi, 8th Gen Intel chip and Intel optane provided for the fastest and most powerfull build to date! Not only do we demonstrate how to hit and use a solid 5GHz in two easy steps, but also, our video demonstration validates the fastest system startup and shut down we have seen yet in a PC. It also validates our 5GHz clock speed.

Top 5 AMD B350 Motherboards

Today we're talking what we think the best AMD B350 motherboards are across multiple categories and budgets. We've selected five boards that include affordable (and very affordable) options, best overclocker and the all-important best looking board.

ASRock X299 Taichi XE Motherboard Review

X299 motherboard VRMs received bad press after investigative research by professional overclocker der8auer demonstrated a tendency for them to run uncomfortably hot with overclocked Skylake-X CPUs. So much so that ASRock has pushed out an enhanced version of its X299 Taichi motherboard, the X299 Taichi XE, even though its X299 Taichi had been highly praised for its VRM and not implicated in the X299 VRM "scandal".