[>>]

[>>]

[>>]

[>>]

More>>

Search...

| | |
| --- | --- |
| Motherboards | |

... 3 news stories awaiting approval
ASUS Rampage IV Black Edition Motherboard

Echoes of AC/DC ring in my head as I came up with this title, and it took everything in me not to have about a thousand different "Back in black" references but I think we can survive a few. ASUS seems to reserve its "Black Edition" moniker for very special models as im sure some of you saw back when we got a chance to check out the Rampage III Black edition board based on the X58 chipset. That thing was a flat out beast and from looking at the specs on paper the Rampage IV Black edition is no different. Well we can say that in a manner of speaking as it looks to be a flat out beast but it is in terms entirely different as the technology on this board is seemingly light years ahead of the previous generation Black edition board, and even huge leaps ahead of the first Rampage IV Extreme board we viewed what must be 2 years ago now.

AMD A10-7850K (Kaveri) APU Review featuring GIGABYTE G1.Sniper A88X @ HardwareHeaven.com

New GPU tech, new audio tech, more programmable, higher performance and better efficiency... just some of the main claims AMD make about Kaveri. Today we find out how it compares to the direct competition from Intel in real world media tests, some of the latest games (such as Call of Duty: Ghosts and DOTA 2) and also dipping into a few key synthetic benchmarks."

EVGA Z87 Stinger Motherboard Review

For Intel's latest Haswell CPUs, EVGA has updated their Stinger motherboard with a Z87 chipset, new features and a new EFI. The Z87 Stinger measures 170.18 x 170.18mm and supports four SATA ports, one mPCI-E/mSATA port, two DDR3 DIMM slots and has a PCI-E 3.0 port for discrete graphics. For external connectivity, an E-SATA port is available in the rear as well as four USB 2.0 ports and four USB 3.0 ports with an additional pair of USB 2.0 and USB 3.0 ports via onboard headers.

MSI's new Socket FM2+ boards are primed for Kaveri

"AMD will release its first Kaveri desktop processors on January 14. At CES this week, MSI was showing several new Socket FM2+ boards ready for Kaveri. Most of them conformed to either Mini-ITX or microATX form factors, but there was one full-sized ATX model in the mix."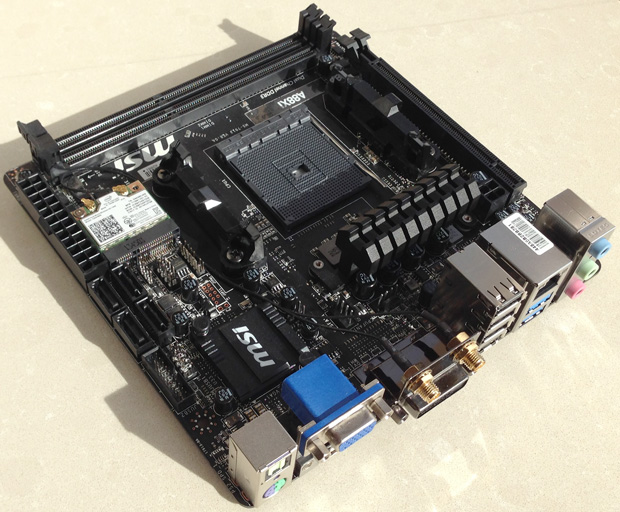 ASRock FM2A88X Extreme6+ AMD Socket FM2+ Motherboard Review

The AMD FM2+ motherboard based on the AMD A88X Bolton-D4 chipset and has a total of five PCI Express slots, two PCI slots, four memory slots with AMP and XMP support, seven SATA3 ports, one eSATA3 port, Gigabit LAN, HDMI-In, HDMI output, D-Sub VGA, DVI, DisplayPort, 7.1 purity sound and lots of more features. Of course we have not just tested the ASRock FM2A88X Extreme6+ Socket FM2+ mainboard features, but also overclocked it up to the limits

ASUS Sabertooth Z87 Review @ ocaholic

With their TUF series motherboards ASUS, have rather interesting products in their portfolio. Next to their unique design, these boards feature good cooling with the thermal shield and apart from that there is a decent power design as well as an overall high quality. All of this even comes at an interesting price point which sounds like a compelling offer, doesn`t it?"

Gigabyte Z87X-UD4H Review

Description Gigabyte aims to allow overclockers to take Haswell as far as possible on air with the 16-phase "Ultra Durable" Z87X-UD4H. Check out our review here.

Asrock Z87 Extreme11/ac Review

Asrock's new Z87 Extreme11/ac may very well be the most extreme motherboard we've handled. It touts four-way GPU support, over 20(!) SATA ports, premium onboard audio, dual gigabit Ethernet, Wi-Fi, Bluetooth and -- unsurprisingly -- the largest price tag in its class. So, how exactly does a company justify $540 for a motherboard?

GIGABYTE G1-Killer Sniper 5 Z87 Gaming Motherboard

"The GIGABYTE G1-Killer Sniper 5 is something of an experience somewhere between that of a beautiful musical sonnet and a shot fired from 1,000 yards. It's designed to be an epic gaming motherboard that should enhance the gamer experience yet it seems to be capable of much more. While the Creative audio processor provides an improved gaming experience, it's the new OP AMP (AMP UP) that gives the Sniper 5 an impressive gaming voice. All kinds of video game genres enjoy enhanced volume allowing gamers to hear and experience sounds in games they probably never knew were there. High definition movies and music will share the same experience. Just tweak and tune til your heart's content with swappable OP AMPs."


EVGA Z87 FTW Review

We review the EVGA Z87 FTW, an overclocking motherboard that doesn't offer many bells and whistles, but aims to take your Haswell CPU as far as it will go.

GIGABYTE launch G1.Sniper Z5S and G1.Sniper Z5 gaming motherboards

GIGABYTE TECHNOLOGY Co. Ltd., a leading manufacturer of motherboards and graphics cards, announced the launch of its latest gaming motherboards, the GIGABYTE G1.Sniper Z5S and GIGABYTE G1.Sniper Z5, featuring signature GIGABYTE AMP-UP Audio features with Qualcomm Atheros Killer E2200 networking, deadly looks and awesome performance.

ASUS M5A99FX Pro R2.0 Motherboard Review

Overclocking with the ASUS M5A99FX Pro R2.0 was relatively straightforward. I followed the usual method of disabling any power-saving options, locked in frequencies manually, and set about my way cranking up the speed. To make things move more quickly, after setting the basics in the BIOS, I fired up ASUS AI Suite to start iterating on my settings. After a few rounds through setting and testing I was sitting fat and happy at a very much thermally limited 4715 MHz at 1.43 volts. Any lower on the voltage would yield a failure on core #5 (which was the first one to fail in every single test) and any higher on either the voltage or clocks pushed the CPU into thermal throttling after a few minutes of Prime95. The final settings ended up being 200x23.5, 1.43 volts vcore, and 1.225 volts to the memory controller. All of my testing was done with the H100i cranked up to the unbearable maximum of its two 120mm screamers, but there just wasn`t any more headroom to keep it cool under load; the 8350 is not a cool chip when cranked this high. The last 15 MHz came from the board slightly overclocking the FSB even though I locked it in at 200 MHz."

12G SAS-3 Motherboard: ASRock Rack E3C224D4M-16RE - CES2014

Dear God, all I need is an all rounder server motherboard that offers 16x 12G SAS-3 connectors while taking up less space and using less power, a Mezzanine slot for upgrading to 10GLAN plus ECC memory for stability, is that too much to ask for? Not really, because your wish is ASRock Rack's command! ASRock Rack's E3C224D4M-16RE is the world's first 12G SAS-3 server motherboard specifically built to fit our enterprise customers' needs.
ASRock Rack's E3C224D4-16RE adopts LSI™ SAS 3008 controller + 3X24R expander to support 16 SAS-3 (12Gb/s) ports directly onboard with 4 SAS HD connectors. A whopping total of 22 connectors, including 16 SAS-3 connectors provided by LSI™ SAS 3008 controller + 3X24R expander and 6 SATA ports, which can offer more than enough storage options! ASRock Rack is a pioneer in introducing the SAS-3 12Gb/s standard to the server marketplace.
The groundbreaking SAS-3 solution and Mezzanine slot (10G) is brilliantly designed for businesses to create solutions for intractable data bottlenecks in Big Data/Network Storage, ERP/MRP, Network/Security and Web Farm/Hosting environments. With the onboard 16 SAS-3 ports, anyone can get more things done in less time!

Gigabyte G1.Sniper B5 review

1.html,Today we review the Gigabyte G1.Sniper B5. A small price, nice features and tweakability ? We just have to check that out. Oh and you`ll get many USB 3.0 ports and of course an improved and enhanced audio solution (albeit that really is a software layer sitting on top of the Realtek ALC 898 codec). Be sure to check out this review. "

Gigabyte Brix GB-BXI7 review: Mini-powerhouse with i7

Gigabyte has made excellent motherboards and graphics cards for many years, but more recently the company has begun making mini-PCs. You can buy them with affordable, entry-level hardware such as Celeron processors, or with a much more powerful Haswell Core i7 like the one we tested.



The best Guides by the best writers on the internet; PCSTATS Beginners Guides explain computers, software, and all those other wonderful things that cause you frustration.

Learn how to use your computer better, master the internet while protecting yourself, and know what to do when your hard drive kicks the bucket.



"Get the 'Stats and Stay Informed!"