[>>]

[>>]

[>>]

[>>]

More>>

Search...

| | |
| --- | --- |
| Motherboards | |

... 3 news stories awaiting approval
ASUS Rampage IV Black Edition X79 review

1.html,In this review we check out the marvelous ASUS Rampage IV series motherboards in the Black Edition. It`s big, fast, black and has tweaking written all over it. The board is just gorgeous and totally pimped out with an OC dock and even stuff like Wireless AC. Today we review the product armed with a Core i7 4960X (Ivy Bridge-E) processor onto this seriously high-end LGA2011 infrastructure. Can we overclock it? Yes we can!"

ECS Z87H3-M Motherboard - Intel Z87 Chipset, 4K Resolution, Crossfire X Graphic

ECS is pleased to announce the Z87H3-M, the smartest Z87 MicroATX motherboard choice on the market for high-end gamers. The Z87H3-M is packed with features that enhance the gaming experience out of the box and provides a future upgrade path, all wahile still being affordable price.
This is an ECS Durathon board, which means it has the Triple Density moisture-proof PCB, ultra-high Extreme Temperature Resistance, and extra-stringent testing. ECS Z87H3-M features 100% durable, heat-resistant solid capacitors for an ultra-long, stable life, even with the serious electrical and thermal demands of the latest gaming hardware. Solid capacitors typically provide a lifetime 6 times longer than the electrolytic capacitors used in lower-quality products. Meanwhile external connectors, such as VGA, USB and LAN ports, feature heavy-duty ESD (electrostatic discharge) protection, to protect delicate internal components from static and other electrical disturbances.
Up to 3 independent displays are supported, with 1 HDMI port (DP optional), 1 DVI port, and a VGA port to ensure compatibility with any kind of monitor. There's also 8-channel audio onboard for thunderous gaming sound and vivid music.
Unlimited Expansion and Upgrade Potential
ECS Z87H3-M features a host of expansion options. There are dual channel 4 x DDR3 1600 slots for up to 32GB of DRAM, meeting the demands of modern 64-bit operating systems. On board there are 2 PCI Express x16 slots for extreme fast AMD Crossfire X support (1 x Generation 3, and 1 x Generation 2 running in 4x mode), a PCI Express x1 slot, and also a PCI slot for compatibility with other cards.
There are 6 SATA 6.0 Gigabyte/sec connections, providing for multiple terabytes of internal drive storage. For external devices, such as disk drivers, printers, cameras, phones, and media players, ECS Z87H3-M offers 2 x USB 3.0 and 4 x USB 2.0 connectors - with internal headers there are 4 x USB 3.0 and 10 x USB 2.0 ports in total. Network connectivity is fast, with a Gigabit LAN socket. To provide compatibility with products, without wasting space on sockets, the board includes headers for COM/serial port, TPM, and LPT devices.
Unique ECS Features
Special ECS features include EZ charger technology to help users recharge phones and other external devices. Normally USB ports would switch to low current mode when the system is off, making recharging very slow. But EZ charger provides 3 times the current of competing products during S5 mode (system shutdown), recharging external devices rapidly and safely.
The exclusive ECS iEZ utility combines eBLU BIOS Live Update Utility, eDLU Drivers Live Update Utility - to keep the system up to date with minimal hassle - and eSF Smart Fan Utility, which reduces system noise while allowing the system to work safely at maximum speed when required. Additional features include Intel Smart Response, which combines the speed of SSD and the capacity of traditional hard disks, allowing huge data storage with fast access times. Intel Rapid Start Technology provides an almost instant start up.
Availability
The ECS Z87H3-M is the ultimate high-value motherboard for high-end gamers and demanding PC users, and will be available worldwide in January 2014 for the suggested retail price of $100.
About ECS (Elitegroup Computer Systems)
ECS, Elitegroup Computer Systems, was established in 1987. In recent years, ECS's main focus has expanded from motherboards to All-in-One PCs, notebook computers, graphics cards and other mobile products. ECS is strongly committed to developing cutting-edge technology in order to create innovative products under environmentally friendly designs. ECS's comprehensive quality control system ensures all of ECS products can be counted on for stability and reliability. Visit http://www.ecs.com.tw to learn more.

ASUS Maximus VI Gene Z87 Motherboard Review

Overall, the ASUS Maximus VI Gene is without a doubt an excellent motherboard from build quality and looks, boasting an 8-layer PCB complexity and high quality components, to the software bundle you can actually use and to the UEFI that improves upon the already great UEFI used in the last RoG generation. It is excellent all around and more importantly, the price is not too crazy considering the features you get , performance you can see and the potential you can unlock.


ASUS VANGUARD B85 Motherboard @ Hardware Secrets

We analyzed the ASUS Vanguard B85, an entry-level socket LGA1150 motherboard based on Intel B85 chipset. It is part of the TUF (The Ultimate Force) series, which means it uses some high-grade components that give it a longer lifespan than common boards."


ASUS Rampage IV Black Edition Motherboard

Echoes of AC/DC ring in my head as I came up with this title, and it took everything in me not to have about a thousand different "Back in black" references but I think we can survive a few. ASUS seems to reserve its "Black Edition" moniker for very special models as im sure some of you saw back when we got a chance to check out the Rampage III Black edition board based on the X58 chipset. That thing was a flat out beast and from looking at the specs on paper the Rampage IV Black edition is no different. Well we can say that in a manner of speaking as it looks to be a flat out beast but it is in terms entirely different as the technology on this board is seemingly light years ahead of the previous generation Black edition board, and even huge leaps ahead of the first Rampage IV Extreme board we viewed what must be 2 years ago now.

AMD A10-7850K (Kaveri) APU Review featuring GIGABYTE G1.Sniper A88X @ HardwareHeaven.com

New GPU tech, new audio tech, more programmable, higher performance and better efficiency... just some of the main claims AMD make about Kaveri. Today we find out how it compares to the direct competition from Intel in real world media tests, some of the latest games (such as Call of Duty: Ghosts and DOTA 2) and also dipping into a few key synthetic benchmarks."

EVGA Z87 Stinger Motherboard Review

For Intel's latest Haswell CPUs, EVGA has updated their Stinger motherboard with a Z87 chipset, new features and a new EFI. The Z87 Stinger measures 170.18 x 170.18mm and supports four SATA ports, one mPCI-E/mSATA port, two DDR3 DIMM slots and has a PCI-E 3.0 port for discrete graphics. For external connectivity, an E-SATA port is available in the rear as well as four USB 2.0 ports and four USB 3.0 ports with an additional pair of USB 2.0 and USB 3.0 ports via onboard headers.

MSI's new Socket FM2+ boards are primed for Kaveri

"AMD will release its first Kaveri desktop processors on January 14. At CES this week, MSI was showing several new Socket FM2+ boards ready for Kaveri. Most of them conformed to either Mini-ITX or microATX form factors, but there was one full-sized ATX model in the mix."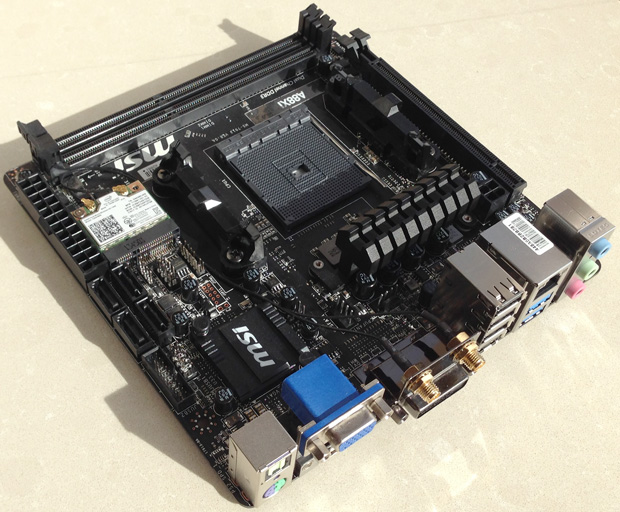 ASRock FM2A88X Extreme6+ AMD Socket FM2+ Motherboard Review

The AMD FM2+ motherboard based on the AMD A88X Bolton-D4 chipset and has a total of five PCI Express slots, two PCI slots, four memory slots with AMP and XMP support, seven SATA3 ports, one eSATA3 port, Gigabit LAN, HDMI-In, HDMI output, D-Sub VGA, DVI, DisplayPort, 7.1 purity sound and lots of more features. Of course we have not just tested the ASRock FM2A88X Extreme6+ Socket FM2+ mainboard features, but also overclocked it up to the limits

ASUS Sabertooth Z87 Review @ ocaholic

With their TUF series motherboards ASUS, have rather interesting products in their portfolio. Next to their unique design, these boards feature good cooling with the thermal shield and apart from that there is a decent power design as well as an overall high quality. All of this even comes at an interesting price point which sounds like a compelling offer, doesn`t it?"

Gigabyte Z87X-UD4H Review

Description Gigabyte aims to allow overclockers to take Haswell as far as possible on air with the 16-phase "Ultra Durable" Z87X-UD4H. Check out our review here.

Asrock Z87 Extreme11/ac Review

Asrock's new Z87 Extreme11/ac may very well be the most extreme motherboard we've handled. It touts four-way GPU support, over 20(!) SATA ports, premium onboard audio, dual gigabit Ethernet, Wi-Fi, Bluetooth and -- unsurprisingly -- the largest price tag in its class. So, how exactly does a company justify $540 for a motherboard?

GIGABYTE G1-Killer Sniper 5 Z87 Gaming Motherboard

"The GIGABYTE G1-Killer Sniper 5 is something of an experience somewhere between that of a beautiful musical sonnet and a shot fired from 1,000 yards. It's designed to be an epic gaming motherboard that should enhance the gamer experience yet it seems to be capable of much more. While the Creative audio processor provides an improved gaming experience, it's the new OP AMP (AMP UP) that gives the Sniper 5 an impressive gaming voice. All kinds of video game genres enjoy enhanced volume allowing gamers to hear and experience sounds in games they probably never knew were there. High definition movies and music will share the same experience. Just tweak and tune til your heart's content with swappable OP AMPs."




The best Guides by the best writers on the internet; PCSTATS Beginners Guides explain computers, software, and all those other wonderful things that cause you frustration.

Learn how to use your computer better, master the internet while protecting yourself, and know what to do when your hard drive kicks the bucket.



"Get the 'Stats and Stay Informed!"