| | |
| --- | --- |
| Computer / SFF PCs | |

... 2 news stories awaiting approval
Insane Crypto-Currency Mining Rigs @ ThinkComputers.org

Crypto-Currency mining has really taken off over the past year or so. So much so that we have seen a shortage of AMD graphics cards that are used for mining this currency. There are even motherboards and PC cases made specifically for mining. While many people mining are just using 1-2 graphics cards there some pretty insane setups. Read on to see what I am talking about"



Zotax Zbox Nano AQ01 Plus

While Zotac maybe is most knows for their graphics cards they also are specialized on small motherboards and small desktop systems. Today we are reviewing one of those tiny small desktop PC's: the Zotax Zbox Nano AQ01 Plus. This is a very small PC that even comes with a VESA-mount so it can be attached to a TV ore monitor and be out of sight. It has a Quad-core AMD "Kabini" APU, the A4-5000 while a Radeon HD 8330 provides us with the graphics muscles. This is not a gaming machine, even though the GPU should benefit from the Mantle API, but promises to work well as either a media PC, a kitchen PC or even a bedroom PC. Does it have what it takes to compete with tables and other tiny PC's?

ZOTAC ZBOX nano ID67 Series - CES 2014

ZOTAC International today releases the new ZBOX nano ID67 series with 4th Generation Intel Core technology. The new ZOTAC ZBOX nano ID67 series incorporates the latest Intel Core i3 4010U processor for great day-to-day performance and excellent energy efficiency. "Our engineers continue to boost performance of our ZBOX mini-PCs. The latest ZBOX nano ID67 series raises the bar for CPU and GPU performance for that class and form factor," said Carsten Berger, senior director, ZOTAC International.
"It's amazing what kind of performance we're able to extract out of such a tiny form factor." Intel HD Graphics 4400 enhances the ZBOX nano ID67 series with high-definition video decoding acceleration and DirectX 11 compatibility for stunning video playback and snappy system response of GPU-accelerated applications.
A trio of networking technologies – Gigabit Ethernet, 802.11ac and Bluetooth 4.0 – ensure the ZOTAC ZBOX nano ID67 series has lightning-fast networking performance via wires, wireless and with peripherals.
It's time to play with the ZOTAC ZBOX nano ID67 series.
General details
• ZOTAC Releases New ZBOX nano ID67 series
• New ZBOX nano ID67 series
• Intel Core i3 4010U
o 1.7 GHz, dual-core, 3MB L2 cache
o Intel HD Graphics 4400
• PLUS models available with preinstalled memory and hard drive
o 4GB DDR3
o 500GB HDD
• HDMI & DisplayPort outputs
• 802.11ac Wi-Fi & Bluetooth 4.0 w/ external WiFi antenna
• Gigabit Ethernet
• High-amperage USB charging capable (yellow ports)
• Bundled VESA75/100 mount

ZOTAC Previews ZBOX Steam Machine - CES2014


ZOTAC today previewed the upcoming ZBOX Steam Machine mini-PC with Steam OS at CES 2014 in Las Vegas. The ZOTAC ZBOX Steam Machine is engineered from the ground up for breathtaking gaming performance in a compact mini-PC form factor that's a fraction the size of traditional mini-ITX based gaming systems. "ZOTAC is pleased to work with Valve Software to create the ZBOX Steam Machine.
Valve's SteamOS is a game-changer to the PC gaming market that enables us to deliver a game console experience that's superior to the latest next-generation console," said Carsten Berger, senior director, ZOTAC International. "Gamers can expect the latest Intel Core processor and NVIDIA GeForce GTX graphics processor in the upcoming ZOTAC ZBOX Steam Machine for stunning visuals and world-class features." The ZOTAC ZBOX Steam Machine will feature an enthusiast-class Intel Core processor that delivers class-leading performance with excellent energy-efficiency.
Graphics power for the ZOTAC ZBOX Steam Machine will come from an upcoming performance-class NVIDIA GeForce GTX graphics processor for an outstanding smoothness and superior features. Exterior enhancements to the ZOTAC ZBOX Steam Machine include an all-black 3rd Generation ZBOX chassis with orange lighting that gives the mini-PC aggressive and sporting aesthetics. The ZOTAC ZBOX Steam Machine will ship with SteamOS preinstalled and include the Steam Controller. Expect the ZOTAC ZBOX Steam Machine to reach retailers in the second half of 2014. More details will be released closer to the launch date.

MSI AG2712 Gaming All-in-One review

All-in-one PCs are an exciting concept, but in terms of performance they're usually not that interesting. They look cool and have a modern design with touch features, but for serious work or gaming a traditional desktop is still the better option. For every rule there's an exception, such as the high-end Apple iMac 27 and the powerful HP Workstation Z1 aimed at professionals. MSI wants to join that select group with the MSI AG2712, a gaming all-in-one.

Shuttle OmniNAS KD21 review: great design

The Shuttle OmniNAS KD21 made a positive impression, it performs well and the firmware is well-organised. The enclosure is a strong point of this NAS, feauturing a memory card reader and two USB 3.0 ports. The software features are limited to downloading torrents, the Sharebox and mobile apps. If that's all you need, then the Shuttle OmniNAS KD21 is a very good and affordable NAS device.

ZOTAC ZBOX Nano AQ01 Plus Review @ Vortez

The AQ01 Plus features within the ZBOX nano series and proudly hosts the AMD A4-5000 APU which delivers integrated AMD Radeon DX11 capable graphics and a whole host of useful features such as dual display support, USB 3.0, bluetooth 4.0 and much more!"

The Novelist PC Review

One of the hardest things to do for a developer is to tap into our emotional side, yet Kent Hudson makes it look easy with The Novelist."

Lini PC Delivers A Nice Haswell-based Xubuntu PC

Lini PC is a low-volume system builder of Linux-friendly PCs that recently sent over their new Intel Pentium Haswell-based desktop that runs Xubuntu 13.10. Let`s see how this Intel Linux desktop system performs with our first testing of a Lini PC."

Shuttle XPC Barebone SH87R6 w/ Core i5-4570T @ techPowerUp

Shuttle is one of the few manufacturers to specialize in compact but powerful systems. We are testing the SH87R6 using their new R6 chassis. Equipped with Intel`s H87 express chipset, it supports the latest Intel Haswell CPUs. It can also take a full length VGA card and two 3.5 or 2.5 drives and a 5.25 ODD."

ASUS Transformer Book T100TA review: The perfect affordable

We keep hoping to find that perfect Windows 8 hybrid laptop. There are a number of interesting products on the market you can use both as tablet and laptop, but they're also very pricey. That's not true for the ASUS Transformer Book T100TA, available for around £350.

MSI All-in-One Gaming PC (AG2712) Review @ HardwareHeaven.com

The MSI Gaming All-In-One PC takes what is essentially the guts of a performance laptop and puts it into a form factor which is ideal for the desktop. Large display with built in CPU and Radeon GPU, touch functionality etc. Today we find out if it can live up to its Gaming tag while also looking at its potential for normal desktop use."

MSI Z87I GAMING AC and GTX760 GAMING ITX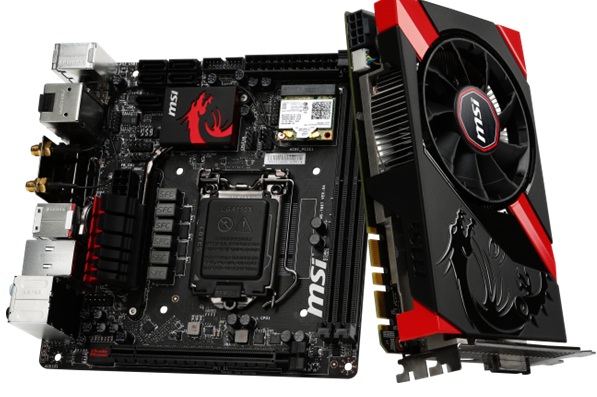 The long awaited products for gamers who prefer small-sized gaming machines are finally here! Today, world-renowned hardware manufacturer MSI officially announced the Z87I GAMING AC motherboard and GTX 760 GAMING ITX graphics card offering many gaming features in the small mini-ITX form factor. With features such as Killer LAN, 802.11ac and Audio Boost the Z87I GAMING is ready to support you wherever you go knowing you'll be able to connect to networks with the best speeds for gaming. The GTX 760 GAMING ITX features MSI's new RADAX fan which is a true Hybrid design fan that boosts lower noise and up to 30°C lower temperatures compared to any other card in its class. Both motherboard and graphics card offer excellent chassis and component compatibility and are the optimal combination for your living room PC or LAN Party gaming rig.
Comprehensive Mini-ITX GAMING Motherboard
MSI's Z87I GAMING AC has inherited the outstanding genes of MSI's GAMING motherboards, which have won more awards than any other gaming motherboard on the market. It is equipped with the Killer E2205 Ethernet which offers the fastest low latency to game lag free. Additionally, MSI's Audio Boost comes with the highest grade built-in amplifier and audio capacitors, giving gamers a stunning in-game audio experience. The audio circuit board signal is split from other components to avoid lower noise and provide purer audio quality. For those gamers who are using external USB audio devices, MSI's USB Audio Power provides more stable power and a higher quality signal resulting in a better audio experience. The included Intel Wi-Fi AC solution provides a maximum transfer speed of 867Mbps, and supports Intel's exclusive wireless video transmission Wi-Di technology! There is a built-in HDMI 1.4 video output that supports 4K UHD ultra high resolution. These gaming features will enhance the gaming experience and this all packet into a very small mini-ITX form factor which will give gamers the edge on the battlefield.
Miniature GAMING Graphics
When we created the new GTX 760 GAMING ITX Graphics card we realized that with a 30% shorter size (only 17 centimeters!) the challenge was to still provide the great and silent cooling that has been synonymous with other MSI GAMING graphics cards. We found the solution in the new MSI RADAX fan, a true Hybrid Radial/Axial fan that combines the best of both worlds and reduces temperatures up to 30%. Consisting of elements similar to the MSI Propeller Blade fan, combined with a traditional blower fan we can increase airflow, exhaust hot air through the rear of the card and keep temperatures and noise better than any other product in its class and form factor. The MSI GTX 760 GAMING ITX also inherits all the features of the MSI GAMING series graphics cards: the exclusive one button overclocking Gaming App, Predator video capturing and more importantly, Military Class 4 components for excellent stability and lifetime. The MSI GTX 760 GAMING ITX, combined with the MSI Z87I GAMING provides a unique, rich Gaming experience optimized for today's online and social gaming world while offering amazing thermal and acoustic performance in the mini-ITX form factor.