| | |
| --- | --- |
| Computer / SFF PCs | |

... 0 news stories awaiting approval
Lini PC Delivers A Nice Haswell-based Xubuntu PC

Lini PC is a low-volume system builder of Linux-friendly PCs that recently sent over their new Intel Pentium Haswell-based desktop that runs Xubuntu 13.10. Let`s see how this Intel Linux desktop system performs with our first testing of a Lini PC."

Shuttle XPC Barebone SH87R6 w/ Core i5-4570T @ techPowerUp

Shuttle is one of the few manufacturers to specialize in compact but powerful systems. We are testing the SH87R6 using their new R6 chassis. Equipped with Intel`s H87 express chipset, it supports the latest Intel Haswell CPUs. It can also take a full length VGA card and two 3.5 or 2.5 drives and a 5.25 ODD."

ASUS Transformer Book T100TA review: The perfect affordable

We keep hoping to find that perfect Windows 8 hybrid laptop. There are a number of interesting products on the market you can use both as tablet and laptop, but they're also very pricey. That's not true for the ASUS Transformer Book T100TA, available for around £350.

MSI All-in-One Gaming PC (AG2712) Review @ HardwareHeaven.com

The MSI Gaming All-In-One PC takes what is essentially the guts of a performance laptop and puts it into a form factor which is ideal for the desktop. Large display with built in CPU and Radeon GPU, touch functionality etc. Today we find out if it can live up to its Gaming tag while also looking at its potential for normal desktop use."

MSI Z87I GAMING AC and GTX760 GAMING ITX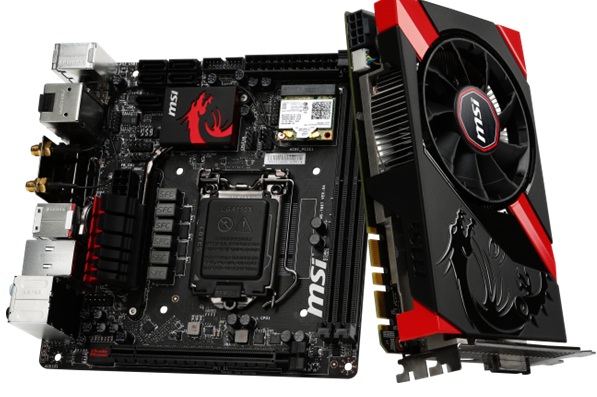 The long awaited products for gamers who prefer small-sized gaming machines are finally here! Today, world-renowned hardware manufacturer MSI officially announced the Z87I GAMING AC motherboard and GTX 760 GAMING ITX graphics card offering many gaming features in the small mini-ITX form factor. With features such as Killer LAN, 802.11ac and Audio Boost the Z87I GAMING is ready to support you wherever you go knowing you'll be able to connect to networks with the best speeds for gaming. The GTX 760 GAMING ITX features MSI's new RADAX fan which is a true Hybrid design fan that boosts lower noise and up to 30°C lower temperatures compared to any other card in its class. Both motherboard and graphics card offer excellent chassis and component compatibility and are the optimal combination for your living room PC or LAN Party gaming rig.
Comprehensive Mini-ITX GAMING Motherboard
MSI's Z87I GAMING AC has inherited the outstanding genes of MSI's GAMING motherboards, which have won more awards than any other gaming motherboard on the market. It is equipped with the Killer E2205 Ethernet which offers the fastest low latency to game lag free. Additionally, MSI's Audio Boost comes with the highest grade built-in amplifier and audio capacitors, giving gamers a stunning in-game audio experience. The audio circuit board signal is split from other components to avoid lower noise and provide purer audio quality. For those gamers who are using external USB audio devices, MSI's USB Audio Power provides more stable power and a higher quality signal resulting in a better audio experience. The included Intel Wi-Fi AC solution provides a maximum transfer speed of 867Mbps, and supports Intel's exclusive wireless video transmission Wi-Di technology! There is a built-in HDMI 1.4 video output that supports 4K UHD ultra high resolution. These gaming features will enhance the gaming experience and this all packet into a very small mini-ITX form factor which will give gamers the edge on the battlefield.
Miniature GAMING Graphics
When we created the new GTX 760 GAMING ITX Graphics card we realized that with a 30% shorter size (only 17 centimeters!) the challenge was to still provide the great and silent cooling that has been synonymous with other MSI GAMING graphics cards. We found the solution in the new MSI RADAX fan, a true Hybrid Radial/Axial fan that combines the best of both worlds and reduces temperatures up to 30%. Consisting of elements similar to the MSI Propeller Blade fan, combined with a traditional blower fan we can increase airflow, exhaust hot air through the rear of the card and keep temperatures and noise better than any other product in its class and form factor. The MSI GTX 760 GAMING ITX also inherits all the features of the MSI GAMING series graphics cards: the exclusive one button overclocking Gaming App, Predator video capturing and more importantly, Military Class 4 components for excellent stability and lifetime. The MSI GTX 760 GAMING ITX, combined with the MSI Z87I GAMING provides a unique, rich Gaming experience optimized for today's online and social gaming world while offering amazing thermal and acoustic performance in the mini-ITX form factor.




Buying advice: Gaming PC - Updated @ ocaholic

This buying advice is all about selecting the right components for your new gaming rig. What we`ve done is we`ve put together several configurations for different budgets and we also included links to Toppreise.ch and Geizhals.at with prices, that are being updated automatically."

EVGA NVIDIA Tegra Note 7 Review - $199 Tegra 4 Tablet

At a price of $199, the EVGA Tegra Note 7 is priced just under the lowest cost Nexus 7, and is able to make a case for itself with performance and features. Yes, the Nexus feels a bit better in the hand and has a higher resolution screen, but the Note 7 comes with a stylus a, drastically improved audio with front facing speakers, and a camera with pending features like always-on HDR."

Halite Video Purifier by Salt Labs Review @ TestFreaks

Almost one year ago now I reviewed the DarbeeVision Darblet HDMI Video Processor and I thought it was a great device but one of my chief complaints was and still is that its rather ugly and apparently a company called Salt Labs agrees with me on this as theyve sent me of the Halite Video Purifier based on the Darblet. The device is virtually the same as the Darblet but it just looks a whole lot better now. The Halite essentially reprocesses your video, any video, movies, games or TV and add further depth cues to it for enhanced depth and realism, and I found that it can make everything just look better overall. The Halite can improve video quality on lower resolution videos and one of the things I love about it is that it can bring things in the background more into focus. The Halite isnt only for videos, but it does have a gaming mode so it can even enhance your gaming experience. Read on to learn more"

Guru3D Rig of the Month - October 2013

1.html,The Guru3D Rig of the Month October 2013 was made by Matthew Herman. A colorful and very nicely liquid cooled PC that he is proud of shows exactly what Guru3D is all about. The rig has been named the 900D ?Bucket List? Build, by 45 years old Matthew. He is a Director of Visual Merchandising. Have a look at the great build that he created with his rig, the 900D ?Bucket List?."

Apple 27-Inch iMac (Late 2013) Review, Haswell Inside

It's hard to believe there's a full fledged system packed inside Apple's slim and sexy iMac chassis. It was roughly a year ago when Apple revamped its all-in-one line, tasking the company's engineers to flatten the design as much as possible without sacrificing performance. What emerged was a sleek display measuring just 5mm at its edge with up to 40 percent less volume than the previous generation. It was such a radical design change that Apple had to abandon traditional welding methods in favor of a process called friction-stir welding, which combines friction-generated heat and pressure to force molecules from two separate aluminum surfaces to mingle with one another.

Buying advice: Gaming PC - Updated @ Ocaholic

This buying advice is all about selecting the right components for your new gaming rig. What we`ve done is we`ve put together several configurations for different budgets and we also included links to Toppreise.ch and Geizhals.at with prices, that are being updated automatically."


Lenovo Erazer X700 PC Gaming Computer System Review

It?s been years since I?ve bought a pre-built desktop computer, so I was interested in the opportunity to check out the Erazer X700 Gaming System that Lenovo offered to us to review. The Erazer occupies a space between the sub-$500 generic boxes most people are satisfied with and the expensive boutique systems at the other end of the scale."