| | |
| --- | --- |
| Audio / Sound | |

... 6 news stories awaiting approval
Tt eSPORTS Verto Gaming Headset Review

Tt eSPORTS has a budget-minded gaming headset on offer with the Verto, with a unique design and great sound at an even better price. Here's our review."

Jabra Move Bluetooth Wireless Headset Review @ Technogog

"Today we are looking at the Jabra Move – a beautifully designed headset that sounds pretty awesome. They are lightweight, comfortable and built to last. Besides music playback Jabra also created the Move to wirelessly control your smartphone. Calls can be answer and made using the controls on the side of the headphones. In addition to wireless sound playback, you can also use the included 3.5mm cord to convert the Move into wired cans for those times when they run out of power for Bluetooth playback."



Asus Xonar U5 5.1 USB sound card review

Asus claim their Xonar U5 will eliminate background noise from VOIP calls and deliver higher quality, more powerful sound, as well as a robust software back-end for customisation. Clearly this is not an audiophile's amplifier, but a gamer's one. Let us see how it holds up to our gaming tests.

Corsair Gaming H1500 USB headset Review

Today we review the latest in a series of peripherals to be released under the 'Corsair Gaming' brand. The H1500 USB headset offers a pair of 50mm drivers, 7.1 virtual surround sound and a high level of comfort thanks to the memory foam padding and large ear cups.

CM Storm Sirus-C 2.2 PC & PlayStation 4 Gaming Headset

CM Storm, the gaming division of legendary manufacturer Cooler Master is back once again with the release of their Sirus-C 2.2 gaming headset. The Sirus has long been a popular product of CM Storm, but this new model looks to kick things up a notch with improved performance and specifications. Not only is the headset compatible with PC, but also PlayStation 4, making it a tempting purchase for those who love to game on both PC and the latest Sony console. Priced at a little over £70 from most major online retailers, the Sirus-C isn't overly expensive, especially given the brand name and the multi format support, so it will be interesting to see how it stacks up to the competition. Especially when you can pick up something like the Turtle Beach PX3 and the MadCatz Tritton Pro+ for around the same money. However, the Sirus-C does have some impressive specifications behind it that should give it a leading edge, most importantly being the 2.2 drives, that's two drivers in stereo configuration and two sub woofers to give your sound extra depth and low end grunt, something that will no doubt appeal to a gaming audience.

Gigabyte FORCE H3X Headset Review

"Gigabyte is continuing their foray into the gaming peripheral market, and this time it's the audio arena with the launch of a new gaming headset, the FORCE H3X. This set of cans looks sleek, is lightweight, versatile, and reasonably priced at about $100. But what about performance? Indeed, this is where headsets make (or lose) their reputations, so let's take a closer look and see just how well the Gigabyte FORCE H3X gaming headset performs."

Jabra Stealth Bluetooth Headset Review

" What differentiates the Jabra Stealth from other models is its compact size, thus the Stealth moniker. It has up to six hours of talk time with a standby time of 240 hours. Not too shabby for such a small headset."

Plantronics GameCom 788 Headset

Plantronics has stepped up its game since seeing success a few years ago with some older models, but how will this upgraded headset model fare?"

AKG K553 Pro Studio

AKG by Harman is one of the grand names within the audio sphere and their latest K553 Pro studio headphones promise an excellent package for monitoring, mixing and mastering with a reasonable price of $199.


Roccat Kave XTD 5.1 Analog Headset Review

One of the most critical weapons in any gamer's arsenal is a good gaming headset. A good headset gives you the ability to isolate outside noise while providing detailed, sharp, and clear sound from all sides. A gaming headset also lets you easily and understandably communicate with the other members of your team. In this article, Benchmark Reviews is looking at the Roccat Kave XTD 5.1 Analog Headset and compares it directly with other top Gaming Headsets to see what sets it apart and how well it performs.


Gigabyte Z170X chipset motherboards from Computex 2015

Gigabyte Intel Z170 Motherboards, straight from Computex 2015 Sneek preview of the new Gigabyte motherboards based on Intel Z170 (skylake) chipset and packing the new Intel LGA1151 processor socket.
Gigabyte GA-Z170X Gaming 3 motherboard
Gigabyte GA-Z170X Gaming 7 motherboard
Gigabyte GA-Z170X Gaming G1 motherboard
Gigabyte GA-Z170X Gaming 5 motherboard
Gigabyte GA-Z170X-UD3 motherboard
Gigabyte GA-Z170X-UP5 TH motherboard
Gigabyte GA-Z170X Gaming G1
Gigabyte 100-series motherboards
Gigabyte 100-series motherboards
Gigabyte 100-series motherboards

MSI Z97 & H97 motherboards support the 5th Generation Intel Core CPUs - Computex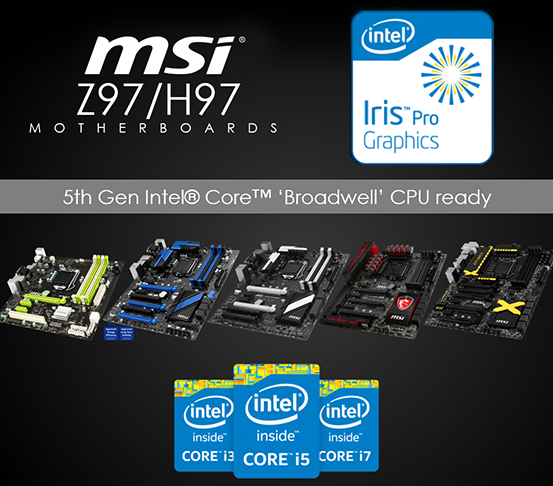 MSI, leading in motherboard design, is proud to announce that our Z97 & H97 motherboards fully support the 5th Generation Intel® Core™ processors! With the latest BIOS update, current MSI Z97 & H97 motherboards are completely compatible with the 5th Gen Intel® Core™ processors, and able to unleash your system's full performance. Committed to ensuring compatibility and performance, the MSI R&D team is making sure you never have to worry about your MSI Z97 & H97 motherboard supporting the latest generation of Intel® Core™ processors. If you want to fully enjoy all the advantages of the 5th Generation Intel® Core™ processors, MSI Z97 & H97 motherboards are definitely your best choice.