[>>]

[>>]

[>>]

[>>]

More>>

Search...

| | |
| --- | --- |
| Audio / Sound | |

... 5 news stories awaiting approval
CM Storm Sirus-C 2.2 PC & PlayStation 4 Gaming Headset

CM Storm, the gaming division of legendary manufacturer Cooler Master is back once again with the release of their Sirus-C 2.2 gaming headset. The Sirus has long been a popular product of CM Storm, but this new model looks to kick things up a notch with improved performance and specifications. Not only is the headset compatible with PC, but also PlayStation 4, making it a tempting purchase for those who love to game on both PC and the latest Sony console. Priced at a little over £70 from most major online retailers, the Sirus-C isn't overly expensive, especially given the brand name and the multi format support, so it will be interesting to see how it stacks up to the competition. Especially when you can pick up something like the Turtle Beach PX3 and the MadCatz Tritton Pro+ for around the same money. However, the Sirus-C does have some impressive specifications behind it that should give it a leading edge, most importantly being the 2.2 drives, that's two drivers in stereo configuration and two sub woofers to give your sound extra depth and low end grunt, something that will no doubt appeal to a gaming audience.

Gigabyte FORCE H3X Headset Review

"Gigabyte is continuing their foray into the gaming peripheral market, and this time it's the audio arena with the launch of a new gaming headset, the FORCE H3X. This set of cans looks sleek, is lightweight, versatile, and reasonably priced at about $100. But what about performance? Indeed, this is where headsets make (or lose) their reputations, so let's take a closer look and see just how well the Gigabyte FORCE H3X gaming headset performs."

Jabra Stealth Bluetooth Headset Review

" What differentiates the Jabra Stealth from other models is its compact size, thus the Stealth moniker. It has up to six hours of talk time with a standby time of 240 hours. Not too shabby for such a small headset."

Plantronics GameCom 788 Headset

Plantronics has stepped up its game since seeing success a few years ago with some older models, but how will this upgraded headset model fare?"

AKG K553 Pro Studio

AKG by Harman is one of the grand names within the audio sphere and their latest K553 Pro studio headphones promise an excellent package for monitoring, mixing and mastering with a reasonable price of $199.


Roccat Kave XTD 5.1 Analog Headset Review

One of the most critical weapons in any gamer's arsenal is a good gaming headset. A good headset gives you the ability to isolate outside noise while providing detailed, sharp, and clear sound from all sides. A gaming headset also lets you easily and understandably communicate with the other members of your team. In this article, Benchmark Reviews is looking at the Roccat Kave XTD 5.1 Analog Headset and compares it directly with other top Gaming Headsets to see what sets it apart and how well it performs.


Gigabyte Z170X chipset motherboards from Computex 2015

Gigabyte Intel Z170 Motherboards, straight from Computex 2015 Sneek preview of the new Gigabyte motherboards based on Intel Z170 (skylake) chipset and packing the new Intel LGA1151 processor socket.
Gigabyte GA-Z170X Gaming 3 motherboard
Gigabyte GA-Z170X Gaming 7 motherboard
Gigabyte GA-Z170X Gaming G1 motherboard
Gigabyte GA-Z170X Gaming 5 motherboard
Gigabyte GA-Z170X-UD3 motherboard
Gigabyte GA-Z170X-UP5 TH motherboard
Gigabyte GA-Z170X Gaming G1
Gigabyte 100-series motherboards
Gigabyte 100-series motherboards
Gigabyte 100-series motherboards

MSI Z97 & H97 motherboards support the 5th Generation Intel Core CPUs - Computex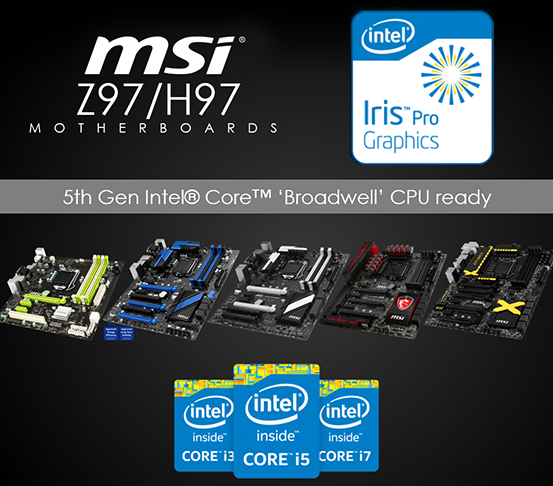 MSI, leading in motherboard design, is proud to announce that our Z97 & H97 motherboards fully support the 5th Generation Intel® Core™ processors! With the latest BIOS update, current MSI Z97 & H97 motherboards are completely compatible with the 5th Gen Intel® Core™ processors, and able to unleash your system's full performance. Committed to ensuring compatibility and performance, the MSI R&D team is making sure you never have to worry about your MSI Z97 & H97 motherboard supporting the latest generation of Intel® Core™ processors. If you want to fully enjoy all the advantages of the 5th Generation Intel® Core™ processors, MSI Z97 & H97 motherboards are definitely your best choice.

Western Digital My Passport Wireless contest

We proudly announce The Tech ARP + WD My Passport Wireless Contest! The My Passport Wireless drive from Western Digital is a revolutionary new storage device that melds the hard disk drive with a wireless hub, an SD card reader and a battery pack to allow you to share storage on-the-go! Thanks to the generosity of Western Digital, we have FOUR of these fantastic My Passport Wireless drives to give away!

Luxa² E-One Headset Holder Review

Luxa² E-One Headset Holder Review Most PC gamers and enthusiasts use expensive headsets for pristine audio quality and clarity and are often plagued by an annoying and possibly costly nuisance, there is nowhere to properly place a headset and Luxa² has found a solution to that problem. The E-One is an elegant, well built, sturdy aluminum headset holder that is capable of holding any and all headsets. With the E-One headset holder, Luxa² saved gamers and desktop users from having to hang an expensive headset on your monitor or simply leaving it on a desk where it can get scratched and possibly fall.

Razer Leviathan 5.1 Channel Surround Sound Bar Review

Having used 5.1/7.1 Dolby Surround/Digital Sound systems since the late 90's i know that regular stereo and even 3D virtual surround sound systems can't even hold a candle against them. Still not everyone has enough space to place 6 or 8 speakers (5.1/7.1) so it didn't take that long for manufacturers to come up with the ideal compromise between size and performance. We are of course talking about sound bars and although the concept is not really new and they can't really compete with complete 5.1/7.1 surround sound systems still they offer a good value for people looking to seriously upgrade the sound coming from their TV screens without sacrificing much space in the process. Razer is mostly popular amongst users for their gaming mouse, keyboards and headsets but what many may not know is that they've recently ventured in other areas of the market such as virtual reality, portable computing, TV players and even home theater audio systems. One of these new products is the Leviathan 5.1 Channel Surround Sound Bar which as the title of this review clearly states is with us today.

Grado Prestige Series SR80e Headphone Review

When a headset has 'A Higher Level of Listening' boasted on the front of the box, it sparks interest immediately. What makes this headset, in comparison to the rest, so much better than that of the any other headset? Or at least, how does it provide a higher level of listening? While some may find this to be a simple marketing tactic, others (including ourselves) are dying to know what makes the Grado Prestige Series SR80e so much better than the rest. After undergoing a thorough and rugged series of tests, we have an answer. Let's find out!

HiFiMAN EF100 Headphone Amplifier & DAC

HiFiMAN has a reputation for producing great headphone amplifiers. Today, we take a look at their newest do-it-all headphone amplifier & DAC combo with an on-board T-amp. This all-encompassing device features a class A/B headphone amplifier with a tube input stage. Despite all its features, it sells for $499, which is quite impressive.

Turtle Beach

It's been a very interesting time for Turtle Beach, with the revealing their new desktop peripherals at CES 2015, we're now very excited to have them in the eTeknix office. We've already looked at their new gaming nice, the GRIP 500 and the GRIP 300, as well as their full-size mechanical keyboard, the IMPACT 700. Today, we've got their first Ten Keys Less (TKL) keyboard, the Impact 500.



The best Guides by the best writers on the internet; PCSTATS Beginners Guides explain computers, software, and all those other wonderful things that cause you frustration.

Learn how to use your computer better, master the internet while protecting yourself, and know what to do when your hard drive kicks the bucket.



"Get the 'Stats and Stay Informed!"