| | |
| --- | --- |
| Audio / Sound | |

... 6 news stories awaiting approval
HyperX Cloud Revolver S Headset Review

The HyperX Cloud Revolver S is the latest flagship headset from Kingston's gaming brand. The company is calling this product "the ultimate gaming headset", thanks to improved comfort, new 50mm drivers, and a USB dongle that brings Dolby Surround 7.1 technology to the Cloud Revolver line for the first time.


MSI B250M Mortar Motherboard Review

The MSI B250M Mortar uses Intel B250 chipset, a desktop chipset that has enough function to keep most users happy. For some reason, Intel chose not to enable overclocking.


Game Max Sapphire RGB Case Review

Recently we have reviewed a couple of cases from Game Max, and while they both scored very well, they were definitely aimed at users on a budget. Today, we are seeing what Game Max can offer those looking for a more luxurious case, as the Sapphire RGB is definitely luxurious – it features no less than 3 tempered glass side panels, and not ordinary tempered glass either. The Game Max Sapphire's highlight feature (quite literally) is its use of mirror-finish tempered glass.

ASUS Launches Tinker Board in North America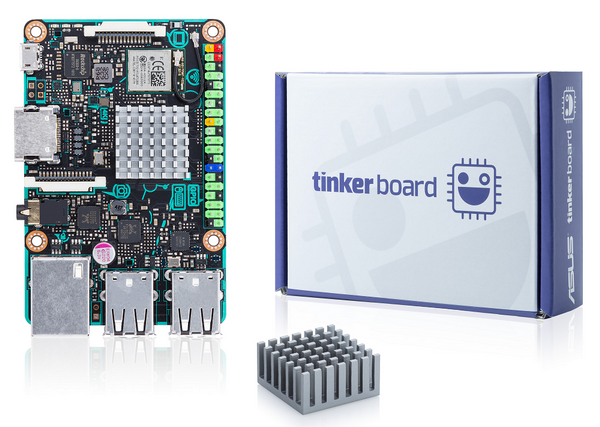 ASUS, maker of the world's best-selling, most award-winning motherboards, is excited to launch the ASUS Tinker Board in North America today. Imagine the freedom to make your ideas come alive, the ability to invent an IoT device for a connected home or just having fun creating an entertainment hub for the family or powering your DIY robot project at school. With Tinker Board, the possibilities to create personalized devices are endless. Tinker Board is a single-board computer (SBC), which makes it the ideal foundation for makers, hobbyists, educators, and electronic DIY enthusiasts to develop and build low-cost, great-performing computers.
ASUS Tinker Board offers class-leading performance, robust multimedia support, IoT connectivity, and enhanced DIY design and compatibility with a wide range of leading SBC chassis and accessories. The result is a near credit card sized computer that offers people the freedom to tinker and apply their ingenuity to create platforms for a wide variety of uses.
Key features of Tinker Board include:
CPU: 1.8GHz Rockchip® RK3288 SoC quad-core processor
GPU: Mali-T764 GPU
Video: HD/UHD video playback support – including H.264/H.265 decoding
Audio: 192kHz/24-bit audio support
Memory: 2GB of dual-channel LPDDR3
Storage: Micro SD(TF) slot features SD 3.0 support
Connectivity: Bluetooth° 4.0 + EDR and on-board 802.11b/g/n WiFi
Networking: 1Gb Ethernet
Ports: (4) USB2.0 ports, (1) HDMI 1.4 out port, (1) 3.5mm audio jack
I/O Ports: (1) 40-pin GPIO interface header, (1) 15-pin MIPI DSI, (1) 15-pin MIPI CSI, (1) 2-pin contact point for PWM and S/PDIF signals
Power: Suggested 5V/2A AC adaptor via the micro-USB port (power adaptor not included)
OS: ASUS TinkerOS (Debian-based Linux) & Android Support
Dimensions/Weight: 85.60mm x 56mm x 21mm, 45g without included heatsink
AVAILABILITY & PRICING

ASUS Tinker Board is available now at Amazon and Micro Center with a suggested MSRP of $54.99. For additional information and support on this exciting new product, please visit our Tinker Board website at Tinker Your Way to the Future.

Mad Catz F.R.E.Q.9 Wireless Surround Headset Review

At launch the rather expensive F.R.E.Q.9 Wireless Headset by Mad Catz was considered to be among the top headsets of its class not only due to its impressive audio clarity and accuracy but also due to its excellent build quality and available connectors thanks to its audio box. 2+ years later and with its price reduced by over 70% due to EOL status the F.R.E.Q.9 is by far the best headset of its class today.

TUNAI CLIP Review

TUNAI Creative is a new company here for us at ThinkComputers. Looking at their product lineup they currently offer two products, the CLIP, which we are taking a look at today and the Firefly. Both are Bluetooth audio products. The clip is an interesting product as its main function is to bring wireless connectivity to your favorite set of wired headphones. It also gives you a voice assistant, microphone for taking calls, and has a range of 250 feet in the open air. CLIP comes along at an interesting time where many mobile devices are dropping support of the 3.5 mm jack. If you have a favorite pair of headphones that are wired this could be the perfect thing for you! Read on as we take a look..."

Tt eSPORTS CRONOS Riing RGB 7.1 Gaming Headset

Thermaltake began making gaming peripherals in 2010 through the brand Tt eSPORTS to appeal to the growing PC gaming market. Along with Tt eSPORTS' lineup are a number of keyboards, headsets, controllers, gaming chairs, etc. Tt eSPORTS recently released the CRONOS Riing RGB 7.1 gaming headset and that is the product that we are reviewing today.

Drobo 5N2 Review

The 5N2 is the successor of the 5N, which we've already reviewed last year. On the inside there is now an upgraded quad core SoC running at 1.6GHz (1.2GHz with the 5N) making sure there is enough processing power and apart from that there are two 1 Gigabit Ethernet interfaces (1 interface in the 5N) for quick transfers. Drobo is keen on making their NAS as easy to use as possible. One key feature is the possibility to add disk drives of different sizes to an array.

ZTE Grand X 4 Smartphone Evaluation

We have just posted our review of the ZTE Grand X 4 Smartphone. This is an Android 6.0.1 device that packs in a very large battery into a device with mainstream specifications. While it's not going to break any benchmark records, it's a solid device that is worth a look if you want a lot of features on a decent device that won't break the bank - or be required to be tethered to a charger all day. Take a look at our review for all the little details.

Sound BlasterX Weapons Crate Review

There's just something about a limited edition bundle that always peaks my interest and Creative Labs has created an awesome bundle to celebrate the release of hot new Sound BlasterX Siege M04 RGB gaming mouse and Vanguard K08 RGB mechanical gaming keyboard.

Creative Sound BlasterX Vanguard K08 Review

Creative has addressed all these things with the Vanguard K08. It features a low footprint appearance that is sleek and elegant, yet has the additional macro and media keys, and despite its elegant appearance, it features advanced customisable RGB LED lighting.

Sennheiser GSP 300 @ LanOC Reviews

When it comes to headphones the Sennheiser brand is well known for their great audio performance both in the enthusiast market and the professional market. They have even been in the gaming market for a while now, I even covered the PC-350's all the way back in 2009. I was really excited about the PC-350's back then for their performance and their comfort but the price point was out of range for most regular gamers. It took 8 years but they did finally decide to move into the regular price range of gaming headset. So I'm really excited today to check out the Sennheiser GSP 300's and see how they compare to the recently improving gaming headset market. Sennheiser finally has a model at a price point that won't scare people away, but is it too late?

Fractal Design Define Mini-C Tower

HardwareOverclock.com has just posted another review. Last week we have tested the Fractal Design Define Mini-C tower. Smaller than the usual Micro ATX case, the Define Mini C and its optimized interior provides the perfect base for users. The open air design offers unobstructed airflow across your core components with high performance and silent computing in mind at every step.