| | |
| --- | --- |
| Cooling / Heatsinks | |

... 0 news stories awaiting approval
ID-COOLING AuraFlow 240 AIO High Performance CPU Liquid Cooler Review

Cooling efficiency may not be one of its strong selling points but thanks to a very affordable price in the EU (currently) and RGB illumination for everyone (thanks to a bundled RGB controller) the AuraFlow 240 AIO Liquid CPU Cooler by ID-COOLING might just be exactly what you've been looking for.

Bond Home Smart Ceiling Fan Controller

The Bond Home Smart Ceiling Fan Controller is a device that promises to make your non-smart home devices smart, providing they are controlled by RF (Radio Frequency) or IR (Infrared). Using the Bond Home you can not only control ceiling fans; but air conditioners, garage doors, etc. Not only does it claim to give you full control of these devices remotely, you also can control these devices with Amazon Alexa and Google Home products.

Viglen Incepta Professional RX

The Viglen Incepta Professional RX is a £999 system that's taking aim at business users – and it's locked and loaded a brand-new AMD Ryzen 2 chip to take the fight to the competition. With an RX 560 as well, could it prove to be a solid all-rounder?


In Win Aurora RGB Fans Review

"It seems there are RGB fans everywhere these days, almost every company we know makes them. We have In Win's Aurora RGB fans up for review today. These fans are In Win's second forte into the RGB fan realm and it seems they have took a lot of time to get things right. The fans can easily be daisy-chained together, offer vibration dampening, can be connected and controller via an RGB header on your motherboard, or with the included controller you can customize them with In Win's application. On top of that the 3-pack, which we are reviewing today, comes with 2 RGB LED strips so you can really light up the inside of your system! Let's take a look at these fans and see what they are all about!"

Silverstone FHP141 Fan

The Silverstone FHP141 is a 38 mm thick, 140 x 140 mm fan that can be mounted to a single 120 mm fan slot. By virtue of the added space to the motor and rotor, and some other tricks up its sleeve, it aims to provide an excellent balance of performance and noise for those low on radiator space.

CORSAIR ML PRO Series RGB Case Fans Review

The new ML PRO RGB series of fans from CORSAIR are combining performance with silence, while creating a nice LED light show inside your case via the unified Link software. If you are purchasing one of the fan packs, you will also receive the RGB lighting hub which supports up to six fans, along with the Lighting Node PRO module; the connectivity cables are also supplied, so you only have to connect the items as instructed inside the manual and enjoy the finished setup."

EK-Vardar EVO 120ER Fan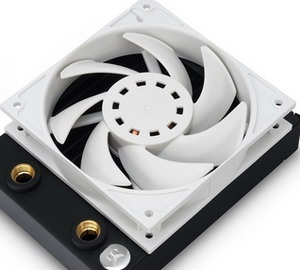 EKWB takes their high static pressure optimized Vardar fans and improves upon them by adding a zero RPM mode to PWM-controlled fans. The dual ball bearings also get replaced to reduce bearing noise, and at $20, these aim to be the best-performing radiator fans for PC DIY watercooling around.

Corsair LL120 RGB Fan

Corsair decided that having 12 RGB LEDs on a fan was not enough, and with the LL RGB fans, we get 16 addressable ones split into two light loops. Featuring software control via the Lighting Node PRO, these are all about maxing out on the bling factor.

Corsair ML120 Pro RGB Review

Not forgetting the main feature of the ML120 Pro RGB fans, the lighting is provided by 4 LEDs located at every quarter-turn around the centre hub of the blades. Those lighting effects are providing by the Lighting Node PRO, a small device included with the ML120 Pro RGB package that connects to the Corsair Link software via a USB header.

Corsair ML140 Pro RGB Fan Kit Review

When I reviewed the Corsair LL RGB series of fans, I came away thoroughly impressed, as they offered great looking RGB effects and moved a good amount of air while remaining very quiet. The Corsair LL RGB series of fans would go on to earn the Legit Reviews Recommended Award, but I did fathom when Corsair would take the next step and bring RGB lighting to their incredible series of ML Pro fans, which feature magnetic levitation bearings and custom designed rotors to allow for low-noise, high airflow operation. Corsair ML (Magnetic Levitation) Pro fans are considered some of the best case fans on the market by enthusiasts, with Corsair touting them as being the fans NASA would develop for PC. While the Corsair ML series of fans have been available with single-color LED options for some time, it was only natural that Corsair would take their best fans and add programmable RGB lighting, allowing them to now fit into the Corsair LINK ecosystem. Now, PC enthusiasts who have been waiting for Corsair to bring RGB lighting to their ML Pro fans can fork over their money for some low-noise, high airflow RGB goodness...

BitFenix Aurora

The Bitfenix Aurora packs dual 280 mm liquid-cooling support, a bracket for reservoirs, an Aura-compatible RGB controller, and glass side panels into one case. We take it for a spin to make it glow in all its colors and take a closer look to see if it manages to shine even in deep space.

Intel's Core i7-7700 CPU with a GeForce GTX 1080

Zotac's Zbox Magnus EN1080K pairs Intel's Core i7-7700 CPU with a GeForce GTX 1080 graphics card in an impressively dense liquid-cooled package. We ran some of our favorite games on this system to see how it stacks up in the small-form-factor pantheon.

Reeven Kiran RGB 120mm Fan Overview

Reeven has recently released a new standalone RGB fan with high static pressure. Called the Kiran, it is specifically designed for radiators that need active cooling. When building a custom water-cooling loop, you need to fans that provide high static pressure on the radiator. The Kiran with its fluid-dynamic bearing and 11-blade design has that functionality, but it also adds …

Arctic Summair Light Review

Today, we're testing the Arctic Summair Light USB fan in our OCinside.de summer special, which is not a CPU cooler or graphics card cooler. Even an overclocker can get warm, not just his hardware. We are therefore testing the USB fan Summair Light from Arctic, which is already well known for their PC cooling.

Cooler Master Masterkeys S PBT

When it comes to keyboards, just about everyone makes them but only a few companies have been able to really get things rolling. Cooler Master is one of those companies, they bridge the gap between the high-end expensive enthusiast brands and gaming products with simple keyboards at decent prices from a brand most people know. Over the years more often than not I personally have been using them on my own computer and that is with a huge stack of other keyboards available to use. So any time Cooler Master introduces a new model they have earned my attention. They reached out a few months ago about an upcoming keyboard, well really a new variation on their current lineup, the Masterkeys PBT. They sent out the S model, or what most call their TKL version. Today I'm going to check it out.