| | |
| --- | --- |
| Cooling / Heatsinks | |

... 0 news stories awaiting approval
EK-Vardar EVO 120ER Fan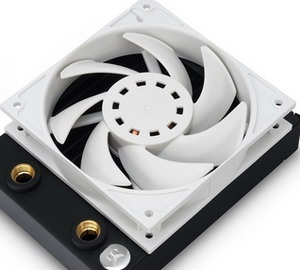 EKWB takes their high static pressure optimized Vardar fans and improves upon them by adding a zero RPM mode to PWM-controlled fans. The dual ball bearings also get replaced to reduce bearing noise, and at $20, these aim to be the best-performing radiator fans for PC DIY watercooling around.

Corsair LL120 RGB Fan

Corsair decided that having 12 RGB LEDs on a fan was not enough, and with the LL RGB fans, we get 16 addressable ones split into two light loops. Featuring software control via the Lighting Node PRO, these are all about maxing out on the bling factor.

Corsair ML120 Pro RGB Review

Not forgetting the main feature of the ML120 Pro RGB fans, the lighting is provided by 4 LEDs located at every quarter-turn around the centre hub of the blades. Those lighting effects are providing by the Lighting Node PRO, a small device included with the ML120 Pro RGB package that connects to the Corsair Link software via a USB header.

Corsair ML140 Pro RGB Fan Kit Review

When I reviewed the Corsair LL RGB series of fans, I came away thoroughly impressed, as they offered great looking RGB effects and moved a good amount of air while remaining very quiet. The Corsair LL RGB series of fans would go on to earn the Legit Reviews Recommended Award, but I did fathom when Corsair would take the next step and bring RGB lighting to their incredible series of ML Pro fans, which feature magnetic levitation bearings and custom designed rotors to allow for low-noise, high airflow operation. Corsair ML (Magnetic Levitation) Pro fans are considered some of the best case fans on the market by enthusiasts, with Corsair touting them as being the fans NASA would develop for PC. While the Corsair ML series of fans have been available with single-color LED options for some time, it was only natural that Corsair would take their best fans and add programmable RGB lighting, allowing them to now fit into the Corsair LINK ecosystem. Now, PC enthusiasts who have been waiting for Corsair to bring RGB lighting to their ML Pro fans can fork over their money for some low-noise, high airflow RGB goodness...

BitFenix Aurora

The Bitfenix Aurora packs dual 280 mm liquid-cooling support, a bracket for reservoirs, an Aura-compatible RGB controller, and glass side panels into one case. We take it for a spin to make it glow in all its colors and take a closer look to see if it manages to shine even in deep space.

Intel's Core i7-7700 CPU with a GeForce GTX 1080

Zotac's Zbox Magnus EN1080K pairs Intel's Core i7-7700 CPU with a GeForce GTX 1080 graphics card in an impressively dense liquid-cooled package. We ran some of our favorite games on this system to see how it stacks up in the small-form-factor pantheon.

Reeven Kiran RGB 120mm Fan Overview

Reeven has recently released a new standalone RGB fan with high static pressure. Called the Kiran, it is specifically designed for radiators that need active cooling. When building a custom water-cooling loop, you need to fans that provide high static pressure on the radiator. The Kiran with its fluid-dynamic bearing and 11-blade design has that functionality, but it also adds …

Arctic Summair Light Review

Today, we're testing the Arctic Summair Light USB fan in our OCinside.de summer special, which is not a CPU cooler or graphics card cooler. Even an overclocker can get warm, not just his hardware. We are therefore testing the USB fan Summair Light from Arctic, which is already well known for their PC cooling.

Cooler Master Masterkeys S PBT

When it comes to keyboards, just about everyone makes them but only a few companies have been able to really get things rolling. Cooler Master is one of those companies, they bridge the gap between the high-end expensive enthusiast brands and gaming products with simple keyboards at decent prices from a brand most people know. Over the years more often than not I personally have been using them on my own computer and that is with a huge stack of other keyboards available to use. So any time Cooler Master introduces a new model they have earned my attention. They reached out a few months ago about an upcoming keyboard, well really a new variation on their current lineup, the Masterkeys PBT. They sent out the S model, or what most call their TKL version. Today I'm going to check it out.

Fractal Design Celsius S36 AIO cooler

All in one water CPU coolers are everywhere these days but Fractal Design's new Celsius S36 dares to do things differently. At 360mm, it may be long but its price to performance is incredible.

LEPA NEOllusion RGB CPU cooler

HardwareOverclock.com has just posted another review. Last week we have tested the LEPA NEOllusion RGB CPU cooler. The NEOIlusion is a cooler with high quality RGB LED with innovative nano diffusant covers, NEOllusion creates vivid luminance and impeccable RGB lighting effects.

Reeven Polariz Triple Channel Fan Controller

In this review I'll be looking at the new Reeven Polariz fan controller. This is a triple channel unit meaning it will control up to three fans or three fan zones provided that the total output is less than 3.0A per channel

Cooler Master MasterNotepal Maker Cooling Pad Review

"The MasterNotepal Maker cooling pad from Cooler Master offers quite a bit of flexibility regarding installation; the sandblasted aluminum surface helps with the head dissipation thanks to the large ventilation grill, while the fans underneath can be adjusted in the desired positions in order to match the intake vents from your laptop. The Maker version does include a base for adjusting the viewing angles, while the custom stoppers make sure that your laptop will never fall off. The cooling pad is also offered with a removable USB 3.0 & USB 2.0 hub, which can be used in two different modes."

XFX Hard Swap LED Fans @ LanOC Reviews

So last week I took a look at XFX's RX 480 and it, like the XFX RX 470, has what they call Hard Swap fans. The stock fans are just basic 90mm fans like you would find on most aftermarket cards, but without any tools they can be swapped with other fans. Along with the card, XFX also sent all three of their LED fan kits for me to check out. So today isn't going to be a long day or anything, but I'm going to check out the new fans, see how easy they are to swap out, and take a look at all three LED colors on the XFX RX 480.

Cooler Master 212 LED CPU Cooler Review

With a long history in the PC component market, Cooler Master is often a popular choice for any system builder. Their now legendary 212 cooler series has long been the go-to product for those looking for excellent price vs performance ratios, and the best starting point for anyone looking to upgrade from the often lacklustre stock coolers that come with their new CPU. Over the years, we've seen a few minor revisions to the 212 cooler design, and the latest comes with a few minor tweaks, as well as the addition of an LED fan, giving it a little extra visual flair and giving the consumer a little more value for money at the same time.