| | |
| --- | --- |
| Cooling / Heatsinks | |

... 0 news stories awaiting approval
Scythe Ninja 4 SCNH-4000 Heatsink Review

" While Scythe doesn't overtly market its heatsinks as "silent", the company has typically produced CPU coolers which do meet the quiet esthetic. In this review Frostytech will be testing out the new Scythe Ninja 4 heatsink - a 156mm tall boxy looking thermal solution which is designed for lower noise cooling. The Scythe Ninja 4 CPU cooler weighs ~900grams and has a footprint of around 145x130mm."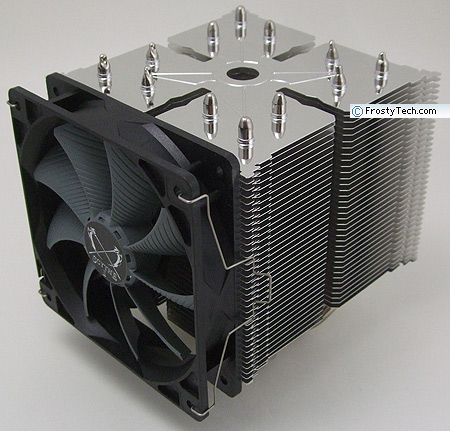 Thermaltake Riing 14 LED RGB fan

HardwareOverclock.com has just posted another review. Last week we have taken a look at the Thermaltake Riing 14 LED RGB fan. Three patented circular 256 multicolored 140mm RGB radiator fans with high-static pressure design, one smart fan controller included.

Silverstone are the masters of ergonomics

The design team at Silverstone are the masters of ergonomics, something we've seen time and time again with their revolutionary space-saving chassis designs. Not only have they created some masterful chassis, but they also have a great range of cooling products that are perfectly designed for tighter spaces, such as slim fans, low-profile air coolers and slim AIO radiators. Today, we'll be taking a look at the Tundra TD02-Slim, a 240mm AIO water cooler with a total thickness of just 37mm, with the fans installed! This is going to be a great cooler for mini-ITX and Micro-ATX chassis designs where space is at a premium.

DeepCool Gamer Storm Lucifer K2 Heatsink Review

"DeepCool's Gamer Storm Lucifer K2 heatsink is a revised version of the original Gamer Storm Lucifer heatsink, which Frostytech tested about a year back. The Lucifer K2 heatsink only differs in that it's not nickel plated and ships with a slim profile (20mm thick)120mm fan which makes the heatsink a little more accommodating on confined motherboards."


Gelid Antarctica Heatsink Reviewed on Frostytech

The Gelid Antarctica heatsink features a nice narrow footprint which measures 141x74mm with the 140mm fan installed. The slim profile should make the Antarctica cooler more compatible with a larger range of motherboards.

NZXT Grid+ V2 Review

With Grid+ V2, NZXT offers a digital fan controller, which is capable of handling up to 30W load. The NZXT Grid+ V2 is actually a small black box, which is easy to hide inside your case. Apart from that it's been paired with NZXT's CAM software, which is straight forward simple.

Enermax Liqmax II 120s: AIO Cooling

When it comes to a new build I always keep cooling in mind. Not every rig I build has custom water reservoirs, custom piping or fancy radiators. Sometimes I just need a machine to work without spending an enormous amount of cash on custom parts. I find that All in One (AIO) cooling systems are easy to install, work well …

Scythe Iori CPU Cooler Review

Today we are testing the Scythe Iori CPU cooler with top-blow design on OCinside.de. Because of their flat design, top-blow coolers are suitable for small environments such as a HTPC. Iori is the Japanese word for a small mountain hut as place of refuge. We will find out, if a CPU can find safe refuge with the Scythe Iori.

BeQuiet Dark Rock TF Heatsink Review

"On the test bench today we have BeQuiet's Dark Rock TF heatsink - a top-down dual tower heatsink which features a pair of BeQuiet SilentWings fans and stands 130mm tall. The Dark Rock TF heatsink is built around six 6mm diameter heatpipes which link a large primary aluminum fin stack and smaller secondary set of aluminum cooling fins to a chunky copper heatspreader below. The 135mm PWM fans are arranged in a push-pull configuration, exhausting downwards so related motherboard CPU VRM components benefit from the cooling air flow. "

Scythe Ninja 4 CPU Cooler Review

Much like mechanical drives and solid state drives regular CPU air coolers are nowhere near to be replaced by the rather new in comparison AIO (all in one) liquid CPU coolers. When the first "serious" AIO models made their appearance just over a year ago some of us did think that it wouldn't take long for that to happen but since to date AIO models haven't really achieved much higher cooling performance compared to high-end CPU air coolers it will obviously take longer for that to happen (if of course something new and better comes along until then). Because of that it doesn't really come as a surprise that there are many manufacturers out there that still focus in the design and manufacture of CPU air coolers one of which is Scythe and today with us we have their latest Ninja 4 model.

Nubee NUB8500H Temperature Gun Non-contact Infrared Thermometer Review @ Technog

"Tools, I love getting tools for review and not just power tools and such but electronic tools like IR thermometers. Infrared thermometers can be very handy for computer work and for just around the house in general. Today for review I've got the Nubee NUB8500H Temperature Gun Non-contact Infrared Thermometer and it seems accurate and it's well made. The thermometer has several options on it and nice large and easy to read display and even a red dot laser so you can visually see what you're measuring. Read on to learn more… "

MSI GTX 980 Gaming - Watercooling EK-FC980 GTX TF5 vs. Aircooling

Meanwhile EK Water Blocks also has a full-cover watercooler for MSI's latest and greatest GeForce GTX 980 Gaming 4G graphics card in its portfolio. For us this is reason enough to have a close look at the cooler itself. Apart from that we want to know if there is any performance when aircooling or watercooling the card.

Reeven Four Eyes Touch (RFC-03) Fan Controller Review: Look, and DO Touch

With the optical drive phased out in most modern PCs, the 5.25" external drive bay is feeling a bit of an "empty nest" syndrome. This space however, can be put to good use by adopting a fan controller that serves to provide thermal management much better than any built-in chassis fan controller could. As a company specializing in cooling components, …

XFX R9 380 4G DD, XFX Review, XFX Rocks the DD Coolers Again

The XFX R9 380 4GB arrived at the lab in a plain, for once, undamaged cardboard box with the part description on the side on a large piece of white paper. Happy dances ensued for about 2 minutes then in a flurry of ripping and tearing befitting a Great White Shark we opened the box. The bountiful box contained an XFX R9 380 4GB sporting a core clock of 990 with 4GB of GDDR5 running at 1425 MHz and effective clock on that is 5700 MHz. Boasting 1792 Stream processors channeling data to the GDDR5 across a 256-Bit Bus. It's still based on the Tonga Pro core but the technology around it has had time to mature and AMD and their vendor partners have put that time to good use developing better technologies to surround that core with. As long as the GPU competes with other GPU's at its price point we don't care if it's dressed in a grass skirt and serving drinks on a plane.

Overclockers UK Infin8 Nebula Custom Watercooled Gaming PC

UK etailer Overclockers UK have been selling components for a long time, but they also create a wealth of systems … to suit every bank balance. Today we are taking a look at one of their more expensive systems – the overclocked, watercooled extreme gaming PC called the 'Infin8 Nebula'. This is based around the 4790k, overclocked to 4.6ghz, alongside not one, but two GTX980's in SLI which are also watercooled.