| | |
| --- | --- |
| Cooling / Heatsinks | |

... 1 news stories awaiting approval
BeQuiet Dark Rock TF Heatsink Review

"On the test bench today we have BeQuiet's Dark Rock TF heatsink - a top-down dual tower heatsink which features a pair of BeQuiet SilentWings fans and stands 130mm tall. The Dark Rock TF heatsink is built around six 6mm diameter heatpipes which link a large primary aluminum fin stack and smaller secondary set of aluminum cooling fins to a chunky copper heatspreader below. The 135mm PWM fans are arranged in a push-pull configuration, exhausting downwards so related motherboard CPU VRM components benefit from the cooling air flow. "


Silverstone FQ and FW Fans Review

"The Silverstone FQ and FW Fans arrived Technic3D. The Fans at least 20,7 dB(A) and up to 2.000 U/min for your Case or CPU-Cooling can you see in the following Review on Technic3D."

Scythe Mugen Max Heatsink Tested on Frostytech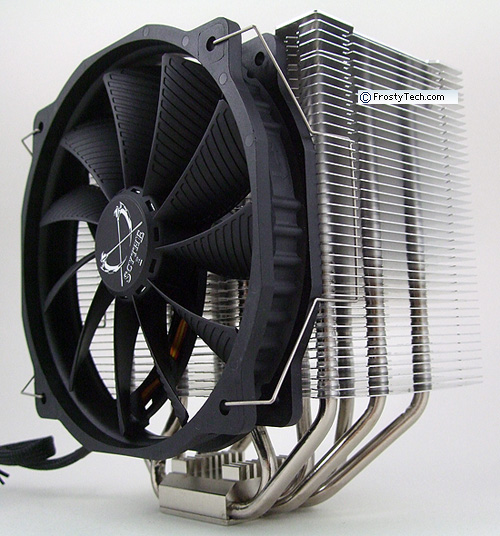 The Scythe Mugen Max heatsink weighs 870 grams and stands 166mm tall, it has a footprint of 146x110mm. The heatsink is constructed around six 6mm diameter copper heatpipes which are soldered to a 2mm thick nickel plated copper base plate, rather than being left exposed as with 'heatpipe direct touch' coolers. The heatpipes are swaged into a 113x145x84mm aluminum fin stack which is broken up into four nearly separate cooling towers. For those with case windows, the Scythe Mugen Max is capped by a polished aluminum fan shroud that obscures the heatpipes for a neat, finished appearance.

Phanteks PH-TC12LS Low Profile Heatsink Review

Frostytech is testing the Phanteks PH-TC12LS heatsink, a top-down low profile heatsink that stands 74mm tall and weighs in at 500grams. The PH-TC12LS has a footprint about the size of the 120mm PWM fan that rests atop its black-painted aluminum fins. The cooler itself is built around six 6mm diameter nickel plated copper heatpipes which run the length of the fin stack, take a 180 degree turn and terminate in a thick copper heatspreader at the base - no exposed heatpipes here. The fan is mounted on little rubber pads to cut down on errant vibrational noises and it spins at 1800-500RPM, moving 53CFM at 1.72mmH2O according to manufacturer specs. Phanteks' PH-TC12LS heatsink installs onto AMD socket AM2/AM3/FM1/FM2 and Intel LGA2011/1366/115x/775 processors. Retail price is estimated at $49USD/CDN through the usual computer stores.

Phanteks PH-TC14S Slim Tower Heatsink Review

"The whole premise behind the slim-tower Phanteks PH-TC14S heatsink is not overhanging memory slots - if you've built an Intel X99 based computer recently, you're undoubtedly aware that the memory slots straddle either side of the LGA2011-3 CPU socket with a little less than 20mm to spare."

Phanteks PH-TC14S Slim Tower Heatsink Review

The Phanteks PH-TC14S heatsink stands 161mm tall and weighs 740grams. It's built around six 6mm diameter heatpipes, a chunky nickel plated copper heatspreader and two black painted aluminum cooling fin towers, each 19mm wide. At the center of the heatsink is a 140mm PWM fan that operates at 1600-500RPM, producing upwards of 47dBA according to our real world noise measurements. The fan itself moves 68CFM at 1.62mmH2O, according to manufacturer specs. he aluminum fins of the Phanteks PH-TC14S heatsink have been painted black for aesthetic reasons, not anodized as several novice reviews have mistakenly reported. A coating of paint on a heat transfer surface is not ideal as it insulates the aluminum fins from the surrounding air mass to some degree.



Noctua NH-U9S Compact Lower Noise Heatsink Review

"Noctua has responded to the siren call for a more compact CPU cooler with its NH-U9S heatsink. It claims this mid-size cooler has "100% RAM compatibility" and "100% compatibility with PCIe cards on miniITX" motherboards. That's relatively easy to accomplish by sticking to the Intel/AMD thermal design guidelines, but how much thermal performance is sacrificed? Noctua's NH-U9S heatsink is an upgraded version of the NH-U9B, incorporating more heatpipes, a completely revamped fin geometry and a higher airflow Noctua NF-A9 fan. Noctua's NH-U9S mid-size heatsink is rated to heat loads of 140W TDP and installs onto AMD socket AM2/AM3/FM1/FM2 and Intel LGA2011-0/LGA2011-3/115x processors. "

Reeven Ouranos RC-1401 Heatsink Review

"What's particularly interesting about the Reeven Ouranos heatsink is not the number of heatpipes or the fact that it's yet another 'tower heatsink'... but that Reeven's thermal engineers have decided to use a combination of 8mm and 6mm diameter heatpipes in concert."

Reeven Hans RC-1205 Heatsink Revieww

"In this review Frostytech will be testing the Reeven Hans (RC-1205) heatsink, a 151mm tall tower cooler built around the usual mix of heatpipes, aluminum fins and a weighty copper base. Reeven a relatively new Taiwanese thermal solutions brand, though judging by the box art and company address, it appears to be mainstream-geared Scythe Co. Ltd. off-shoot. Reeven ship the Hans RC-1205 heatsink with a single 120mm PWM fan that operates at 1500-300RPM, shifting between 17CFM - 82CFM according to the manufacturer specs."

ID-Cooling SE-214X Heatsink Review

"By doing away with the heatsink heatspreader, inconsistencies in the solder bond between heatpipes and copper base plate are omitted. The exposed heatpipe base approach also lightens things up, the 160mm tall SE-214X weighs a modest 740grams. In addition to the copper heatpipes there is the aforementioned vertical aluminum rod going down through the center of the fins."

BeQuiet Pure Rock Heatsink Review

"On the test bench today we have BeQuiet's Pure Rock heatsink - a 155mm tall tower cooler built around four 6mm diameter copper heatpipes and paired with one of BeQuiet's 'Pure Wings 2' low noise 120mm fans. "

Lamptron CM615 Touchscreen Fan Controller Review

We do a lot to make your small rotating noisemakers in the PC case more silent. In addition to sound insulation and decoupling, there are more ways to achieve this. Or just install a fan controller to pulse the fan voltage or reduce the fan voltage. The air flow is then usually still enough for a good cooling, but the volume of the fan is massively reduced. The offer on the PC market is manageable, and controller starts with simple 3 step types, followed by LCD, LED, or VFD Display to the top fan controllers with touch screen and remote control via Internet. Today, we test such a fan controller - the Lamptron CM615 6-channel fan controller with touch screen display.

CPU coolers, the truth: KitGuru TV

Are you still using a reference Intel or AMD cooler? Thinking about an upgrade? What about thermal paste application? Performance? We discuss a few upgrade options today on KitGuru TV and other things you need to know.