| | |
| --- | --- |
| Cooling / Heatsinks | |

... 2 news stories awaiting approval
NZXT Respire T40 Heatsink Review

"At the heart of this 158mm tall heatsink are four 8mm diameter copper heatpipes and a 120mm, 68CFM fan. The heatpipes are all exposed at the base while the aluminum fin stack is pretty standard; there aren't any fancy leading edges, punched out cooling fin patterns or unnecessary plastic fan shrouds. The 120mm fan rotates at 1800-1300RPM and moves upwards of 68CFM through the heatsinks' 112x130mm fin stack. "


Phanteks PH-TC14PE White Heatsink Review

The Phanteks PH-TC14PE (white) itself is a pretty standard dual tower, five-8mm-heatpipe-packing heatsink that retails for about $90 bucks. It stands 168mm tall and has a wide 144x161mm footprint that may have clearance issues on some motherboards where RAM slots and VRM heatsinks are too tall, too near the CPU socket. The cooler weighs upwards of 1250 grams and ships with two 140mm PWM fans arranged in a push-pull configuration. The fans spin at 1200-900RPM and are anywhere from moderately audible to pretty quiet. On the plus side, the dual-fan set up does make this heatsink a good lower noise thermal solution, as you'll shortly see.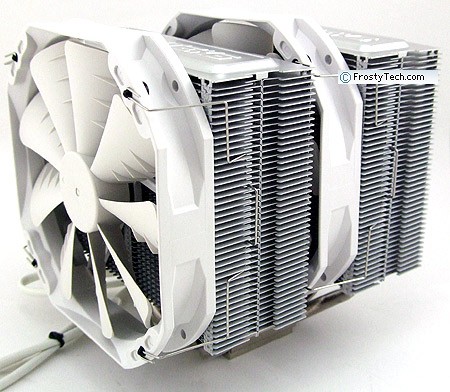 The Phanteks PH-TC14PE's five, 8mm diameter copper heatpipes fan out from a thick nickel-plated copper base plate into two 115mm tall anodized aluminum cooling towers. Both fans are held in place with easy to engage/disengage wire fan clips that lock into the sides of the fin stack. The fans rest against clear elastomer strips to isolate the rest of the heatsink from minor vibrations and such.

Swiftech H20-320 Elite Custom Liquid Cooling

Swiftech H20-320 Elite kit is designed with many new improvements that should help functionality and even fitment. Now lets take a closer look and see if Swiftech has taken another step in the custom liquid cooler arena."

NZXT Respire T20 Heatsink Reviewed on Frostytech

"On the dock today is NZXT's Respire T20 heatsink. The Respire T20 stands 160mm tall, putting it in the class of full tower CPU coolers. At the heart of this 510 gram heatsink are three heatpipes; two 6mm diameter and one 8mm diameter, all exposed at the base for efficient heat conduction."

Corsair Hydro H60 Watercooling System Review

"Corsair have updated the waterblock design and given the Hydro H60 a new compact profile which hides functional changes to the integrated pump and improves mounting bracket installation significantly. All of this is transparent to the end user though. Being the 'entry level' water cooler model, the H60's waterblock lacks the integrated fan controller and LINK hardware present on the Hydro H80i and H100i units. No matter, you don't need the software/USB stuff to operate a watercooler such as this. "

Corsair Hydro H60 Watercooling System Review

Corsair's Hydro H60 is an all-in-one, entry level liquid cooling CPU heatsink for Intel LGA2011/1366/1155/1156/775 and AMD socket AM2/AM3/FM2/FM1 processors. It comes with a single-120mm fan sized heat exchanger that is good for mid-to-full tower PC cases.
A single 120mm PWM fan is shipped with the Hydro H60 which operates at a moderately audible 2000RPM or as slow as a whisper quiet 900RPM. The waterblock is connected by 28cm of flexible composite rubber tubing to a 157x119x27mm aluminum liquid-to-air heat exchanger.


Thermaltake Water 2.0 Performer Liquid Cooling Heatsink Tested on Frostytech.com

"Thermaltake's Water 2.0 Performer is a self contained liquid cooling system for Intel and AMD CPUs that's ready to go out of the box - no mess, no fuss. The only requirement you need to worry about is whether your PC case has a 120mm fan opening at the back of the chassis. The Thermaltake Water 2.0 Performer ships pre-filled with a distilled water/anti-freeze based coolant which circulates through 11mm diameter 'low evaporation' rubber tubing. The small fluid pump operates at 2800RPM and is housed along with a reservoir and thin copper water block in the package which mounts atop the processor. For the sake of efficiency, the copper waterblock uses skived copper fins and a thin elastomer gasket to directs water flow through the resulting channels. "

UPDATED - Frostytech's Top 5 Heatsink Chart

"Lost in a sea of hundreds of CPU heatsinks when all you want is the best of the best? Quickly find the Top 5 Heatsinks for Intel and AMD processors from over 600 CPU coolers tested by Frostytech, right here. The heatsinks are ranked by the coolest performance, lowest noise and by low profile cooling ability..."

Corsair Hydro Series H55 Quiet Liquid Cooler Review @ Pro-Clockers

I, myself have been using an AIO kit since I saw how much cleaner a rig looks with one compared to typical heat sinks. Corsair has released several AIO units in the past few years which would include the H40, H50, H60, H70, H80 and H100. Each has served many well but there is a time when technology advantages and change come. The H55 is the new kid on the block and looking to take the place of the H50 as the quiet cooler. One that someone would purchase to replace the stocker that comes in the box with your CPU."


Sapphire Vapor-X Universal CPU

"I have to say I was pleasantly surprised at how the Vapor-X Universal CPU Cooler handled the thermal load of the Core i7 2600K and especially how it outperformed what has been my go to heat sink for family builds: the Noctua NH-U12P. Sapphire's Vapor-X Universal CPU cooler performed two degrees Celsius better than the Noctua at both stock and overclocked speeds. The Phantek's cooler shows more cooling is available with a massive air cooling solution that provides an 8 °C improvement over the Vapor-X when the CPU is overclocked. The Vapor-X is not meant to compete at that level yet still delivers acceptable temperatures when overclocked."

Tech News: Cooler Master NotePal I300 Review

Staying true to its name, Cooler Master has released their newest laptop cooling pad - The NotePal I300. Offering flavours across every conceivable notebook size, the I300 has a lot to live up to. Taking a look at Cooler Master`s website, it is astounding the amount of laptop coolers on display; from less than 12 and greater than 17, Cooler Master has no less than 15 per category. The primary point to take away is that there is a cooling option for virtually every type of consumer, and ergonomic to boot. Some are expensive, some are budget-friendly, and some are even fully universal."

Noctua's NH-L9i Low Profile CPU Cooler

Our mini ITX demo system that first appeared at the NCIX Windows 8 Launch Event is quite the conversation piece. Especially once people realize that inside the understated ANTEC ISK300 mini ITX case lies a full desktop Core i7 3770K CPU, two Kingston HyperX 120GB SSDs, 16GBs of HyperX DDR3 LoVo memory, and a discrete AMD HD 5570 low profile GPU all plugged into a GIGABYTE Z77N-WiFi motherboard. The fact that all of this works together fantastically today, without exploding, tells us that mini ITX is ready to become a do it all platform. However, two things still plague small form factor systems in the form of noise and heat.

Zalman CNPS9900DF Heatsink Review

"Zalman's CNPS9900DF heatsink is a twin tower cooler that stands 154mm tall and is built around three 6mm diameter composite wick copper heatpipes. For a look inside a composite wick heatpipe, check this out. The CNPS9900DF comes with two fans, a 120mm intake fan that runs at a fixed speed of 1000RPM and a center, 135mm PWM fan than operates at 1400-900RPM. The center 135mm PWM fan operates at 1400RPM to 900RPM, thus even at its slowest speed airflow is pretty well balanced between the intake (front) fan and exhaust (center) fan. The open frames allow additional air mass to be drawn in from the sides as necessary."