| | |
| --- | --- |
| Cooling / Heatsinks | |

... 1 news stories awaiting approval

Cooler Master Clutch @ Techreaction.net

* * Cooler Master sent us the Clutch to help clear some space up on the desk. It will store your MacBook Pro and MacBook Air in a vertical position to accomplish that. Not much else we can say about this here, so lets move on!"


Fractal Design Adjust 108 Fan Controller Review @ Hi Tech Legion

Fan controllers are all about functionality and style. The Fractal Design Adjust 108 fits the bill for both with six 35w channels and a solid brushed aluminum panel. The Adjust 108 fits into a single 5.25 drive bay and has long 600mm 4-pin/3-pin fan cables to reach any part of a normal full tower case without stretching them across the motherboard. Power is provided to the controller and fans through a single 4-pin Molex cable or 15-pin SATA power cable. Each channels fan speed is adjusted with one of the rubberized sliders on the front of the panel. LED`s are present below each slider that shifts from white (low) to blue (high) when the sliders are adjusted."

Arctic Breeze USB Desktop Fan Review @ Hi Tech Legion

The Arctic Breeze is a USB desktop fan that is portable and flexible. The Arctic Breeze`s 92mm fan has a range of 800 up to 1,800 RPM and can be controlled through the built-in knob. A 1.8 meter long USB 2.0 cable is used to power the Arctic Breeze fan and it has a flexible shaft to freely direct the airflow wherever required. Arctic also offers a Pro version of the Breeze which has an illuminated knob and doubles as a USB hub. An even more compact version is also available, dubbed the Arctic Breeze Mobile which does not come with a tabletop stand. The Arctic Breeze carries a 2-year warranty and is compatible with any device that has a 5V, 0.2A powered USB port."

HWBot Aquamark Wrapper

Ninjalane Podcast - Console Hardware, HWBot Aquamark Wrapper and EVGA Interview Ninjalane Podcast - In this episode Dennis and Darren talk about Next Gen console hardware, The new HWBot benchmark wrapper for Aquamark3 and an exclusive interview with Jacob from EVGA.

NZXT Kraken X40 & X60 CPU Coolers Review @ Hardware Canucks

NZXT`s Kraken X40 and X60 all in one water coolers are meant to go head to head against some of the best offered by Corsair, Thermaltake and Cooler Master. In order to accomplish this, NZXT has avoided using typical 120mm and 240mm form factors and instead upsized their new X40 and X60 to 140mm and 280mm respectively."

Fractal Design Adjust 108 Fan Controller Review

Today we are taking a look at the Adjust 108 Fan Controller from Fractal Design, which on the face of it is a simple six channel fan controller, but being a Fractal Design product it has no doubt got a few subtle style touches to be found. Fractal Design are quickly working their way to the top of my favourites list in terms of product design, I still think their Fractal R4, Node 304 and Node 605 are some of the finest chassis' on the market for their respective categories and in my mind the name Fractal Design is synonymous with high quality products, something that I have reflected on many a time in previous reviews of their products, all of which have proven themselves worthy of various eTeknix awards. Fan controllers are by nature fairly simple devices, in the sense that they have one intended function. Sure some products on the market find all kinds of complex and creative methods of performing this task, but the end result should always be the same, a method of maximising cooling efficiency, or minimising fan noise with ease.

Lamptron Fan Controller FC10 Review

The FC10 from Lamptron is not a fan controller like you are used to see. Lamptron gave it's latest toy a cool vintage/steampunk design using four Nixie tubes as displays. Apart from that it's a regular fan controller that allows you to drive up to four fans and monitor four temperature probes via remote.

Top 5 Heatsink Charts Updated for January 2013

"In case you missed it, Frostytech's Top 5 Heatsinks Chart has just been updated for January 2013. A couple of new heatsinks rise to the top of the best of the best... If you're lost in a sea of hundreds of CPU heatsinks, the Top 5 Heatsinks really helps narrow down the field. Heatsinks are ranked by the coolest performance, lowest noise and by low profile cooling ability for heights less than 154mm, 110mm, 75mm and 45mm. Use Frostytech's Top 5 Heatsink Chart to find the best heatsink, in your region of the world, that offers the coolest performance."

Coolermaster Gemin II M4 Heatsink Review

The Coolermaster Gemin II M4 heatsink measures just 61mm tall, from the base of its exposed copper heatpipes to the tippy tip of its translucent vaneaxial fan. How does manage to squeeze in a fan and enough cooling surface area in a package so thin?

NZXT Respire T40 Heatsink Review

"At the heart of this 158mm tall heatsink are four 8mm diameter copper heatpipes and a 120mm, 68CFM fan. The heatpipes are all exposed at the base while the aluminum fin stack is pretty standard; there aren't any fancy leading edges, punched out cooling fin patterns or unnecessary plastic fan shrouds. The 120mm fan rotates at 1800-1300RPM and moves upwards of 68CFM through the heatsinks' 112x130mm fin stack. "


Phanteks PH-TC14PE White Heatsink Review

The Phanteks PH-TC14PE (white) itself is a pretty standard dual tower, five-8mm-heatpipe-packing heatsink that retails for about $90 bucks. It stands 168mm tall and has a wide 144x161mm footprint that may have clearance issues on some motherboards where RAM slots and VRM heatsinks are too tall, too near the CPU socket. The cooler weighs upwards of 1250 grams and ships with two 140mm PWM fans arranged in a push-pull configuration. The fans spin at 1200-900RPM and are anywhere from moderately audible to pretty quiet. On the plus side, the dual-fan set up does make this heatsink a good lower noise thermal solution, as you'll shortly see.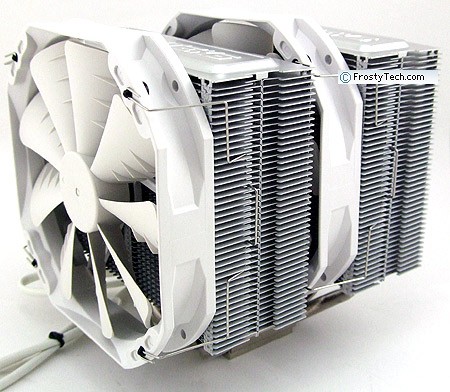 The Phanteks PH-TC14PE's five, 8mm diameter copper heatpipes fan out from a thick nickel-plated copper base plate into two 115mm tall anodized aluminum cooling towers. Both fans are held in place with easy to engage/disengage wire fan clips that lock into the sides of the fin stack. The fans rest against clear elastomer strips to isolate the rest of the heatsink from minor vibrations and such.

Swiftech H20-320 Elite Custom Liquid Cooling

Swiftech H20-320 Elite kit is designed with many new improvements that should help functionality and even fitment. Now lets take a closer look and see if Swiftech has taken another step in the custom liquid cooler arena."

NZXT Respire T20 Heatsink Reviewed on Frostytech

"On the dock today is NZXT's Respire T20 heatsink. The Respire T20 stands 160mm tall, putting it in the class of full tower CPU coolers. At the heart of this 510 gram heatsink are three heatpipes; two 6mm diameter and one 8mm diameter, all exposed at the base for efficient heat conduction."