| | |
| --- | --- |
| Cooling / Heatsinks | |

... 0 news stories awaiting approval
Titan Dragonfly 4 CPU Cooler

"We have seen many CPU coolers in recent years starting to get larger and larger to accommodate those who are looking for the ultimate in cooling. Especially for those who are going to be overclocking, most seem to think bigger is better. Then there are those who are looking for coolers that are smaller in size so they can squeeze it into a small form factor. Well today we are going to be looking at a cooler that has outstanding cooling in mind, packed into a slim profile. How well will this perform? Well… we are going to find out exactly that with the Titan Dragonfly 4 CPU Cooler. So without going into too much detail here let's jump forward and take a closer look at what the Titan Dragonfly 4 CPU Cooler has to offer

Noctua NH-U14S Heatsink Review

"In this review Frostytech will be testing out Noctua's NH-U14S heatsink, a 170mm tall thermal solution built around six 6mm diameter heatpipes and featuring one 140x150mm fan called the NF-A15 PWM. The Noctua-branded NF-A15 fan features all kinds of fancy attributes designed to decrease noise, increase airflow, lengthen bearing life and cancel out errant vibrations. Given the pride Noctua have in their fans, Frostytech will be taking the extra step of testing the NH-U14S heatsink in stock and dual fan configurations, on 85W, 150W and 200W synthetic thermal test platforms."

Phanteks F140HP 140mm PWM Fan Review @HiTech Legion

Phanteks is introducing the new PH-F140HP 140mm fan which is aimed specifically for air coolers. With that in mind, the Phanteks F140HP uses 120mm mounting in order to accommodate most tower coolers currently on the market./"

Enermax Aeolus Vegas Notebook Cooler

"Boasting a 180mm re-positionable Vegas fan as well as some clever cable management, the Enermax Aeolus Vegas cooling pad is designed for the power notebook user who requires airflow to be directed at a specific point on the bottom of their notebook. Let's take a closer look at the total package to see if the Aeolus Vegas matches its namesake, 'the Ruler of the Winds.'"

Thermaltake Commander F5 Fan Controller Review @ ThinkComputers.org

Todays product comes from a well-known company ThermalTake. As we all know, ThermalTake offers products from chassis, power supplies, coolers and storage. But what about cooling? Sure they also offer a wide variety of fans but what motherboard has enough headers to connect every fan. ThermalTake has developed a multi fan controller for your custom cooling needs. The Commander F5 fan controller offers five channels at 8w per channel. Read on to see if the Commander F5 holds up to the ThermalTake reputation."

be quiet! Dark Rock Pro 2 LGA 1150 CPU Air Cooler

CPU air cooling and huge cooler sizes have become synonymous. One thing that is not synonymous with high end air cooling are muted sound profiles. be quiet! looks to remedy this issue with its Dark Rock Pro 2 CPU air cooler that sports a tremendous 220 watt cooling capacity all in that be quiet! package.

Raijintek Ereboss Heatsink Review

"Take for example the Raijintek Ereboss heatsink Frostytech is testing in this review; the Ereboss is a big boxy cooler that stands 159mm tall and looks a little bit like a 4U HP server heatsink on steroids. Hyperbole aside, the Raijintek Ereboss heatsink is built around six 6mm diameter copper heatpipes which weave their way up from a nickel-plated copper base plate to a voluminous aluminum fin stack measuring 105mm tall and 112x140mm wide."

Raijintek Aidos Heatsink Reviewed by Frostytech

The 325gram Raijintek Aidos is built around four 6mm diameter copper heatpipes which are exposed at the base. The heatpipes rise up through a 90mm tall aluminum fin stack. Each aluminum fin to heatpipe joint is made with a novel crimped connection. Driving air through the heatsinks' aluminum fins is a 92x25mm PWM fan which is held in place with rubber fan mounts. This is not a method we're not particularly fond of, wire fan clips stand the test of time. The fan spins at 2400-1000RPM and draws power from a standard 4-pin PWM connection. At full speed it pushes upwards of 53CFM air through the 55mm deep fin stack according to the manufacturer specs.
Raijintek's Aidos heatsink installs onto Intel socket LGA2011/1366/1150/1155/1156/775 processors and the complete line up of AMD CPUs, including socket AM2/AM3 and socket FM1/FM2. Retail price is pegged at $22 USD.

Gelid Black Edition Heatsink Review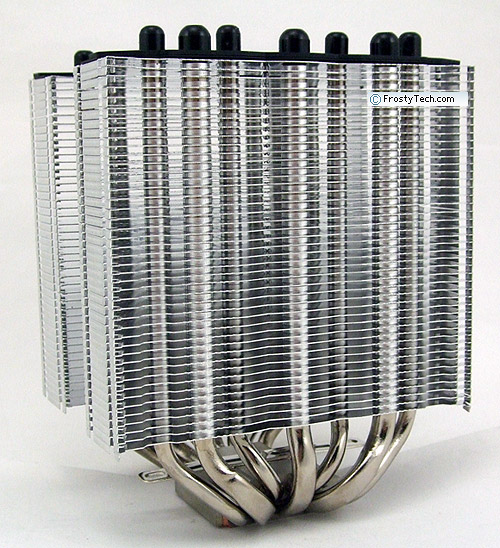 Gelid continue the asymmetrical design approach on the heatpipe front as well; 'the Black Edition' heatsink makes use of three 8mm diameter and four 6mm diameter heatpipes to conduct heat energy from the heatsinks' chunky copper base plate. Furthermore, two of the 6mm diameter heatpipes are stacked above the rest. The seven heatpipes intersect the aluminum fins in a long line, which explains why two fans are required to drive cool air through 'the Black Edition's' cooling fins.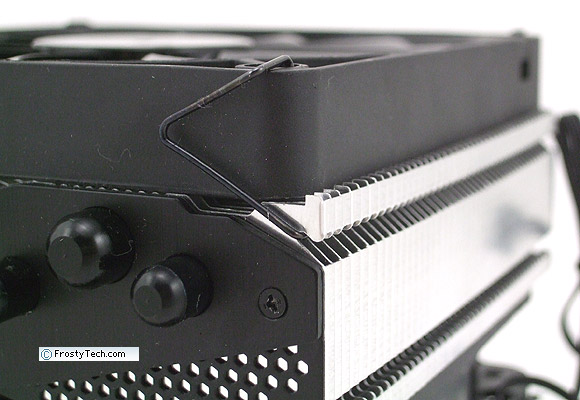 For adventurous computer enthusiasts seeking new and innovative heatsinks, Gelid's 'the Black Edition' heatsink offers pretty good cooling performance with a modest noise output at stock fan speeds. Gelid's 'the Black Edition' heatsink is compatible with Intel socket LGA2011/1366/1155/1156/775 processors and AMD socket AM2/AM3/FM1/FM2 CPUs/APUs. Retail price is pegged at around $75 bucks.

DeepCool Neptwin Heatsink Review

The twin full-size cooling towers and doubled up fans are only part of the story however, the real coup d'etat is how DeepCool configured its fan speeds. The front 120mm PWM fan operates at 1500-900RPM to drive air through the first 40mm thick aluminum fin stack based on moment to moment CPU thermal requirements while the center 120mm fan operates at a fixed speed of 1300RPM; essentially ensuring a steady volume of airflow is always pulled through the two fin stacks. Consequently, DeepCool's Neptwin sees very little thermal performance fluctuation between its high and low fan speed settings. In short, it's a heatsink ideally sized for Intel LGA2011 platforms and AMD FX-series chips.
For the adventurous out there, the DeepCool Neptwin heatsink even ships with an extra set of springy wire fan clips so a third fan (not supplied) can be tacked onto the rear of the cooler.DeepCool's Neptwin heatsink installs onto Intel socket LGA2011/1366/1155/1156/775 processors and the complete line up of AMD socket AM2/AM3/FM1/FM2 processors.

Raijintek Themis Heatsink Reviewed on Frostyech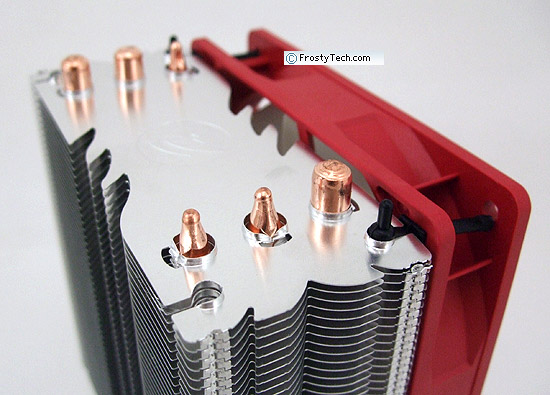 Raijintek's Themis heatsink stands 158mm tall and weighs 448 grams. It's designed for Intel socket LGA2011/1366/115x/775 processors and AMD socket AM2/AM3/FM1/FM2 CPUs - should any still be in existance. The heatsink design is your bog-standard, three-8mm-heatpipe-exposed-base-tower-cooler we've all seen countless times before. The 120mm PWM fan operates at 1800-1250RPM and moves upwards of 78CFM according to the manufacturers specs. Noise output is modest to audible. Rubber fan mounts make mounting the fan relatively easy during the installation process, but for some reason Raijintek are counting their pennies and include just enough fan mounts for ONE fan, one fan only. Expect to find the Raijintek Themis heatsink selling for around $34 USD.

DeepCool Frostwin Heatsink Review

Today's focus is the DeepCool Frostwin heatsink which stands a modest 150mm tall. At the heart of this 712 gram tower heatsink are four 6mm diameter copper heatpipes which are exposed at the base and twin 120mm fans. The remainder of the Frostwin heatsink is built around a pretty standard mix of aluminum fins with turbulent flow inducing edge darts and notches. The DeepCool Frostwin heatsink ships with two 120mm PWM fans that rotate at 1500-900RPM and move upwards of 55CFM each. According to Frostytech's real world sound measurements, the heatsink produces between 37-50dBA noise. DeepCool's Frostwin heatsink installs onto Intel socket LGA2011/1366/1155/1156/775 processors and the complete line up of AMD chips (socket AM2/AM3/FM1/FM2).

Raijintek Ereboss Heatsink Reviewed on Frostytech.com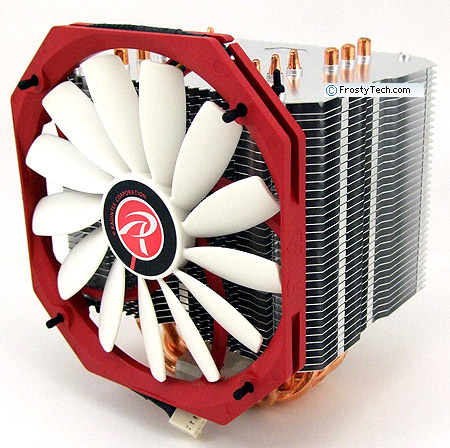 With a footprint of 140mm x 126mm, the Raijintek Ereboss heatsink may be a tight squeeze in anything less than a full tower PC chassis, so measure your clearances first. The heatsink weighs 808grams and ships with a rather odd 140x130x13mm PWM fan that spins at 1650-1000RPM. As you'd expect, Raijintek's Ereboss heatsink is compatible with Intel socket LGA2011/1366/1156/1155/1150/775 Core i3/i5/i7 processors. For AMD users still clinging to hope that their embattled microprocessor will have a come back, the Ereboss heatsink accommodates the complete line up of AMD socket AM2/AM3/FM1/FM2 chips. Since Raijintek is a relative new comer to the heatsink market, you may have a hard time tracking down this CPU cooler though.

Zalman CNPS2X Low Profile Heatsink Review

"This little heatsink from Zalman is called the CNPS2X and it looks like it should be found on an entry level videocard, motherboard chipset or possibly a miniITX motherboard. It is small. To give an idea of how small, the impeller from a 120mm fan is larger than this entire heatsink."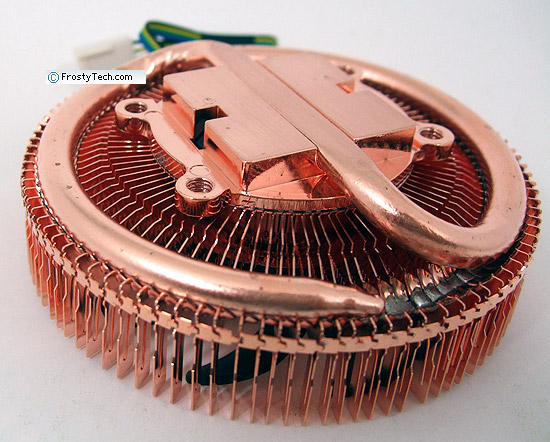 Kingwin FPX-003 Multi-Function LCD Fan

The Kingwin FPX-003 Multi-Function LCD Fan Controller fits in a 5.25" drive bay, can control the speed of 4 fans, 8W per channel, there are 4 temperature probes, has a card reader and an eSATA port. It even has an LCD which shows fan RPMs & probe temperatures. It's a great looking, feature rich, affordable product!" ~3dGameMan.com

Silverstone Argon AR01 Heatsink Review

"We're throwing the new 200W Frostytech Mrk.III Intel LGA2011 test platform thermal test platform into the mix today! Silverstone's Argon AR01 is constructed around three beefy 8mm diameter copper heatpipes which are exposed at the base of the cooler. Putting the heatpipes in direct contact with the top of the processor makes for a very thermally efficient path with a minimum of thermal joint resistance."