| | |
| --- | --- |
| Cooling / Heatsinks | |

... 0 news stories awaiting approval
Zalman LQ310 Self-Contained Liquid Cooling System

Zalman's LQ310 is a compact self-contained liquid cooling system built on the successful Asetek watercooling framework. It uses a 120mm wide aluminum heat exchanger equipped with a single, 120mm, 2000RPM fan. The pump/waterblock is built around a novel micro-skived copper base plate that is connected to the heat exchanger via a 30cm length of flexible rubber tubing.


Scythe Mugen 4 Heatsink Review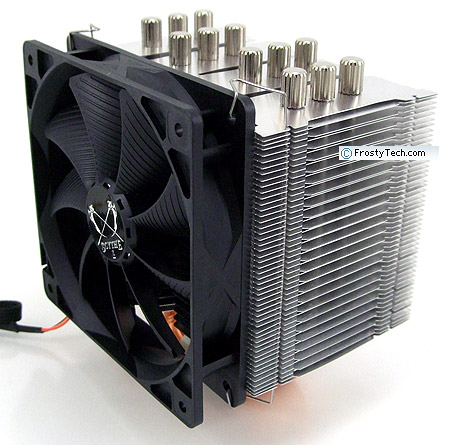 "The Scythe Mugen 4 heatsink weighs 625grams and stands 157mm tall. The heatsink is built around six 6mm diameter copper heatpipes and has a footprint of 130x112mm. A 120mm PWM fan ships with the Mugen 4 heatsink, it rotates at 1400-600RPM and produces upwards of 41.9d dBA."

Noctua NH-U12S Heatsink Review

"For unyielding clearance issues Noctua has released the more modestly sized, 120mm fan equipped, NH-U12S tower heatsink which Frostytech is testing in this review. Standing 158mm tall with a footprint of 125x72mm, the Noctua NH-U12S heatsink ships with single NF-F12 PWM fan that rotates at 1500RPM. The NH-U12S is built much like the NH-U14S, but is a better fit for cloistered motherboard processor sockets. "

Thermaltake Commander F5 multi-fan controller

Today we review the Thermaltake Commander F5 multi-fan controller which allows you to manually adjust the speed of your case fans across five separate channels simultaneously or independently.

Evercool Aiolus NPB-101 Notebook Cooler

"This notebook cooler, Aiolus NPB 101, was inspired by Greek Mythology. The appearance of the external fan implies the image of Aeolus, also the ruler of wind in mythology, holding the airbag. Sounds cool, right? Well let's see how it actually performs."

Cooler Master Hyper TX3 Evo Reader Review

OCinside.de today published a new reader review. This time the reader Hattiro tested the inexpensive Cooler Master Hyper TX3 Evo CPU cooler. He published his experiences and make a purchase recommendation for this Cooler Master Hyper TX3 Evo CPU cooler.

Titan Dragonfly 4 CPU Cooler

"We have seen many CPU coolers in recent years starting to get larger and larger to accommodate those who are looking for the ultimate in cooling. Especially for those who are going to be overclocking, most seem to think bigger is better. Then there are those who are looking for coolers that are smaller in size so they can squeeze it into a small form factor. Well today we are going to be looking at a cooler that has outstanding cooling in mind, packed into a slim profile. How well will this perform? Well… we are going to find out exactly that with the Titan Dragonfly 4 CPU Cooler. So without going into too much detail here let's jump forward and take a closer look at what the Titan Dragonfly 4 CPU Cooler has to offer

Noctua NH-U14S Heatsink Review

"In this review Frostytech will be testing out Noctua's NH-U14S heatsink, a 170mm tall thermal solution built around six 6mm diameter heatpipes and featuring one 140x150mm fan called the NF-A15 PWM. The Noctua-branded NF-A15 fan features all kinds of fancy attributes designed to decrease noise, increase airflow, lengthen bearing life and cancel out errant vibrations. Given the pride Noctua have in their fans, Frostytech will be taking the extra step of testing the NH-U14S heatsink in stock and dual fan configurations, on 85W, 150W and 200W synthetic thermal test platforms."

Phanteks F140HP 140mm PWM Fan Review @HiTech Legion

Phanteks is introducing the new PH-F140HP 140mm fan which is aimed specifically for air coolers. With that in mind, the Phanteks F140HP uses 120mm mounting in order to accommodate most tower coolers currently on the market./"

Enermax Aeolus Vegas Notebook Cooler

"Boasting a 180mm re-positionable Vegas fan as well as some clever cable management, the Enermax Aeolus Vegas cooling pad is designed for the power notebook user who requires airflow to be directed at a specific point on the bottom of their notebook. Let's take a closer look at the total package to see if the Aeolus Vegas matches its namesake, 'the Ruler of the Winds.'"

Thermaltake Commander F5 Fan Controller Review @ ThinkComputers.org

Todays product comes from a well-known company ThermalTake. As we all know, ThermalTake offers products from chassis, power supplies, coolers and storage. But what about cooling? Sure they also offer a wide variety of fans but what motherboard has enough headers to connect every fan. ThermalTake has developed a multi fan controller for your custom cooling needs. The Commander F5 fan controller offers five channels at 8w per channel. Read on to see if the Commander F5 holds up to the ThermalTake reputation."

be quiet! Dark Rock Pro 2 LGA 1150 CPU Air Cooler

CPU air cooling and huge cooler sizes have become synonymous. One thing that is not synonymous with high end air cooling are muted sound profiles. be quiet! looks to remedy this issue with its Dark Rock Pro 2 CPU air cooler that sports a tremendous 220 watt cooling capacity all in that be quiet! package.

Raijintek Ereboss Heatsink Review

"Take for example the Raijintek Ereboss heatsink Frostytech is testing in this review; the Ereboss is a big boxy cooler that stands 159mm tall and looks a little bit like a 4U HP server heatsink on steroids. Hyperbole aside, the Raijintek Ereboss heatsink is built around six 6mm diameter copper heatpipes which weave their way up from a nickel-plated copper base plate to a voluminous aluminum fin stack measuring 105mm tall and 112x140mm wide."

Raijintek Aidos Heatsink Reviewed by Frostytech

The 325gram Raijintek Aidos is built around four 6mm diameter copper heatpipes which are exposed at the base. The heatpipes rise up through a 90mm tall aluminum fin stack. Each aluminum fin to heatpipe joint is made with a novel crimped connection. Driving air through the heatsinks' aluminum fins is a 92x25mm PWM fan which is held in place with rubber fan mounts. This is not a method we're not particularly fond of, wire fan clips stand the test of time. The fan spins at 2400-1000RPM and draws power from a standard 4-pin PWM connection. At full speed it pushes upwards of 53CFM air through the 55mm deep fin stack according to the manufacturer specs.
Raijintek's Aidos heatsink installs onto Intel socket LGA2011/1366/1150/1155/1156/775 processors and the complete line up of AMD CPUs, including socket AM2/AM3 and socket FM1/FM2. Retail price is pegged at $22 USD.

Gelid Black Edition Heatsink Review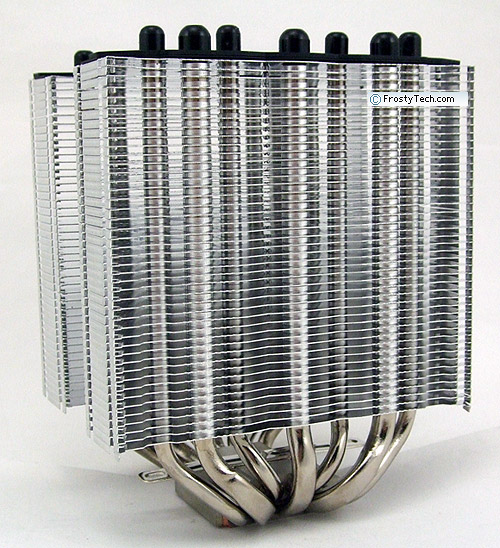 Gelid continue the asymmetrical design approach on the heatpipe front as well; 'the Black Edition' heatsink makes use of three 8mm diameter and four 6mm diameter heatpipes to conduct heat energy from the heatsinks' chunky copper base plate. Furthermore, two of the 6mm diameter heatpipes are stacked above the rest. The seven heatpipes intersect the aluminum fins in a long line, which explains why two fans are required to drive cool air through 'the Black Edition's' cooling fins.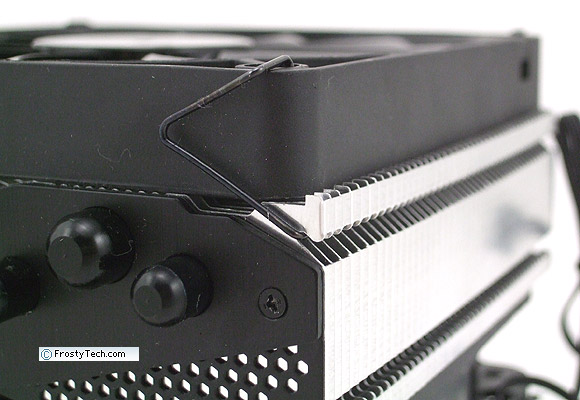 For adventurous computer enthusiasts seeking new and innovative heatsinks, Gelid's 'the Black Edition' heatsink offers pretty good cooling performance with a modest noise output at stock fan speeds. Gelid's 'the Black Edition' heatsink is compatible with Intel socket LGA2011/1366/1155/1156/775 processors and AMD socket AM2/AM3/FM1/FM2 CPUs/APUs. Retail price is pegged at around $75 bucks.