[>>]

[>>]

[>>]

[>>]

More>>

Search...

| | |
| --- | --- |
| Games | |

... 0 news stories awaiting approval
OCC has published a review on Titanfall

"One of the best things about Titanfall, and why I feel I can recommend the game, is that it's quite balanced. Sure there are some things I'd like to see changed (like throwing satchel charges a hundred yards, making them better grenades than grenades), but for the most part, there's no one weapon, ability, or tactic that dominates the game. And the one primary weapon that is above average at all distances, the R-101C Carbine, is available at level one, so every single player always has access to it. Furthermore, and arguably most impressive, is that Respawn somehow managed to balance pilots and Titans."

Genius Ergo 8800 Wireless Mouse Review @ Bigbruin.com

The Genius Ergo 8800 Wireless Mouse is well built and incorporates all the features you would expect to find in your typical mouse. It has a fairly traditional design for universal (right-handed) comfort and it doesn`t do anything extra that would require special software or setup time. Pretty much a plug and play device that is well suited for desktop use and perhaps some casual gaming."

Darksiders II 2-Years Later

"Darksiders II is not a strong game, but it is one that can be enjoyed by many. It is a pity it is not better, but that is not enough to stop someone from playing it. Really this is a game now for those gamers who want a new game to experience, and do not need it to be the newest or the greatest. For those of you that fit this description, I can recommend it, but do not expect something great; just another fun experience."

Darksiders 4-Years Later

"Should War ride again or be abandoned to his final judgment? In my opinion, you should definitely help the Horseman to the end of his quest. Darksiders is a very good example of its genre and a strong title on its own, with its story, characters, and gameplay. The combat is satisfying, exploration is rewarding, and the story is well crafted to grab and hold your interest. The graphics could be better, but graphics are not the only thing of importance."

Gamdias Demeter GMS5010 Gaming Mouse Review

The Gamdias Demeter is one of their more entry level products for gaming. The Demeter features an array of options for macro creation, timers, built-in memory, adjustable DPI and poll rates, 6 smart keys, 10 million click life-cycle switches, and LED color choices to display. The Demeter?s design is aimed at gamers who have needs that exceed your standard 3-button mouse designs. To use all of these features Gamdias has a program interface called Hera, that you can download from their website."

TESORO Lobera Supreme Mechanical Gaming Keyboard Review

"The Tesoro Lobera is a unique keyboard, using special technology that improves the quality of a membrane keyboard, increasing its lifespan and incorporating the touch feeling of the mechanical switch. It's certainly an interesting combination, with the proliferation of Cherry switches and heavy mechanical boards. Let's take a look at this Tesoro board and see how it performs."

Modders-Inc QuakeCon BYOC Seat Giveaway

Do you have a computer case mod and you missed out on getting your seat to the largest LAN in the United States? Well have no fear and get your butt into gear! Modders-Inc is helping you make it into the BYOC at the 2014 QuakeCon.


Tt eSPORTS Poseidon Z Illuminated Gaming Keyboard Review @ ThinkComputers.org

It seems like pretty much everyone offers a mechanical gaming keyboard these days, and most of them feature Cherry MX mechanical switches. These of course come at a cost to the manufacturer, making mechanical keyboards more expensive. Well Tt eSPORTS wants to change all of that. Today we are checking out their Poseidon Z Illuminated Gaming Keyboard that features Tt eSPORTS certified Blue mechanical switches that are rated for 50 million keystrokes. These blue mechanical switches are built for built for speed and durability, offering a pronounced tactile feel and audible click feedback. Using these switches with a proven keyboard design and backlit illumination Tt eSPORTS hopes to get a mechanical keyboard in the hands of most people with a low MSRP of $89.99. On top of that they have backed this keyboard with an industry first 5 year warranty. Lets dive in..."

High-End NVIDIA GeForce vs. AMD Radeon Linux Gaming Comparison

After last week carrying out separate NVIDIA Windows vs. Linux OpenGL benchmarks and similar AMD Radeon Windows 8.1 vs. Ubuntu 14.04 tests, today we are pitting the GeForce and Radeon graphics cards against each other on Ubuntu Linux with the very latest drivers to see how their performance compares now head-on. With this testing we have some Steam games plus are also monitoring the power consumption, performance-per-Watt, and GPU thermal metrics."

Weekly Steam Game Giveaway Tropico 4 Steam Special Edition @ TestFreaks

So were starting the weekly Steam game giveaway here at TestFreaks. I have over twenty five games to giveaway to our readers. I wasnt sure where to start with so many to pick from, but since Tropico 5 just launched the other day I thought why not start the weekly giveaways off with Tropico 4 Steam Special Edition. Details are below for you"

Sentey Lumenata Pro Gaming Mouse Review

What is the point in purchasing a gaming mouse vs a regular mouse? When you make the decision to invest in a quality gaming mouse, such as the Sentey Lumenata Pro, it goes without saying that you won?t only be using the mouse for gaming. With the features and responsiveness this mouse offers, it will easily become your ?go to? mouse for all of your objectives."

COUGAR Launches eSports Gaming Line at COMPUTEX 2014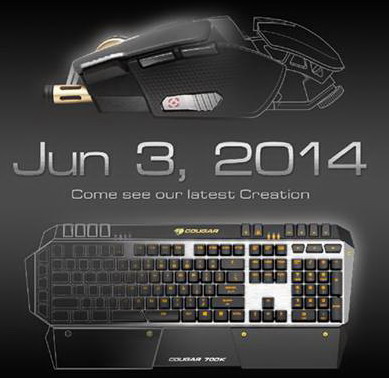 2014 was a year of innovation at COUGAR. At Computex, with the launch of many new products, COUGAR will be showing products that reflect an accumulation of more technological experience, which has grown more sophisticated and more mature in quality. COUGAR is launching series of gaming eSports products and aims to be one of the top brands of eSports gaming product going forward.

For the next generation of upcoming power supplies, COUGAR will be launching a digital and budget bronze power supply. The power supply will no longer just be a cold metal box. The digital features of the PSU will allow for the interaction between users and the product. Gamers will instantly be able to monitor power data in real time such as efficiency, output status of consumption, voltage and electric current as well as the temperature of each PC component.

Users can also adjust features depending on their preferences and needs, such as power-saving mode, voltage output adjustment, PC system fan speed control and silent mode. The outstanding aspect to this is that the price of these digital power supplies will not be as expensive as other brands. Indeed, it will be the first "budget" bronze power supply with digital features in the market.

In response to the latest gaming trend known as "Steam OS", the new gaming platform for PC games, COUGAR will be launching a smaller and more exquisite case for the Steam platform. The trend and feature of Steam OS will be to not only integrate multimedia applications but also bring PC games to the living room. PC Gamers can comfortably plan their PC games by using the big screen in the living room. COUGAR will be showcasing these new case products at Computex 2014.

In addition to the PSUs and CASEs for the PC gaming market, COUGAR has stepped into the gaming peripherals market and will be launching a full range of gaming peripherals at Computex 2014, and aims to be one of the top eSports brands. COUGAR is not only developing the hardware but also the software. By using software in these products, it enhances their functionality, especially for mice and keyboards. COUGAR took two years to develop the first flagship gaming keyboard and mouse, and both have won the iF (International Design Award) of 2014. The iF Design Awards are considered the design "Oscars" in the IT/PC industry. These design awards further bolsters COUGAR's reputation for excellent product design and creation.

Come check out the latest COUGAR flagship gaming mouse, the 700M, and keyboard, the 700K, and other PSUs and CASEs at the Nangang Exhibition Hall, Booth #J0624, June 3rd through the 7th.

HyperX Event at 2BY2 @ Madshrimps

The HyperX team introduced to the Belgian press last week their new lineup. Biggest novelty was the side step from the traditional Kingston HyperX branding. HyperX is a standalone b"





The best Guides by the best writers on the internet; PCSTATS Beginners Guides explain computers, software, and all those other wonderful things that cause you frustration.

Learn how to use your computer better, master the internet while protecting yourself, and know what to do when your hard drive kicks the bucket.



"Get the 'Stats and Stay Informed!"