[>>]

[>>]

[>>]

[>>]

More>>

Search...

| | |
| --- | --- |
| Games | |

... 5 news stories awaiting approval
Celluon Epic Keyboard

In summary, we certainly recommend the Epic Keyboard as a great alternative to another wireless keyboard, especially if you prefer not to type on the screen you are trying to read or edit word documents on. For phones and tablets, it provides the perfect solution for this, if you can afford the $150 USD price tag that is. Obviously for any gadget tech-head who loves to impress colleagues, family & friends this is hard to pass up – it is a well packaged and polished piece of tech that is welcome along on our next business trip.

GameWorks, GameStream and ShadowPlay

"It seems that NVIDIA is set to redefine 'The Way It's Meant to Be Played' once again. This value proposition was backed by some impressive announcements and unveilings last week during 'The Way It's Meant to Be Played' 2013 Montréal Press Event. The two-day event was held in the heart of picturesque Montréal city in Canada."

ASRock M8 review: sleek portable gaming barebones

The ASRock M8 is a beautiful piece of design, both in terms of style and what it offers as hardware. It's a great foundation for a fairly portable and powerful gaming system. Gamers are probably the main target audience for this rig, but anyone interested in a portable system with style should give this one a closer look.

News: Topres Type Heaven mechanical keyboard reviewed

Once marginalized by their extravagant pricing, Topre mechanical keyboards have now entered (somewhat) more affordable territory. How does the $150 Topre Type Heaven stack up against other mechanical keyboards based on the more popular Cherry MX switches? We investigate."

Logitech G602 Wireless Gaming Mouse @ techPowerUp

Logitech`s new wireless gaming mouse, the G602, is a long departure from the last generation. It comes with twelve buttons, a 2500 DPI optical sensor, and packs a lot of different technologies to boost battery life and performance. We take it for a spin to see if the future of gaming mice is wireless!"

Battlefield 4 VGA graphics performance benchmark review

1.html,We review Battlefield 4 with regular benchmarks, FCAT frametime results and have a look at Ultra HD gaming as well. Join us in this article where close to 30 graphics cards are being tested with the new Battlefield 4. After waiting way too long before the game to be unlocked we wanted bring you guys one of our traditional graphics and processor performance articles. As such we`ll take a dozen of graphics cards today and have a look at DX11 performance with the newest graphics cards and technologies. The new and popular title is looking great from a graphics point of view. But as a result how will it perform on a selection of different graphics cards ? This review will cover all these basics and then more so you know what choice to make either graphics card or in-game settings wise."

Gigabyte Aivia Uranium Wireless Gaming Mouse Review @HiTech Legion

The Gigabyte Aivia Uranium is a one of a kind gaming mouse that comes with an OLED wireless receiver. The receiver`s display enables the Aivia Uranium to control macros, program buttons, change sensitivity and polling rates without having to use software on the computer. There are 10 programmable buttons and a no-slip rubberized surface so that even the most intense gaming session won`t go out of control./"

Assassins Creed II 4-Years Later Review

Is Assassin`s Creed II a memory to relive or to forget? In my opinion, definitely the former. It is a very fun game with plenty to do, and you are rewarded for all of it. There are some places it could be better, but it also has a lot of places that need no improvements, though they would be welcome. The graphics stand up for their age, but do show some wrinkles here and there. The gameplay is a solid experience with many well designed and implemented mechanics, all of which add depth. The story is also superb; especially considering it is for a video game. I would honestly expect something with its intricacies to be limited to the written word, but it succeeds in this interactive medium of video games. Four-years-old or not, this game deserves attention for its quality."

Assassins Creed Brotherhood 3-Years Later Review

Should most of the Borgia die for their crimes against the Assassins and Rome, or can history-making be left to others? If you want an assassination done right, you have to do it yourself. Assassin`s Creed Brotherhood is a very enjoyable and well-made game, offering a solid gameplay experience. It also introduces many mechanics we see in the later games, and some important story information. That being said though, I will say it is not as good as Assassin`s Creed II (yes, I finally mention it by name. I did not want too many `Assassin`s Creeds` in the text to possibly confuse people). The older game offers an outstanding story while Brotherhood stands out primarily for its new mechanics, in my opinion. The story is not bad, but not of the same caliber. It would not reduce the game by calling it supplemental material though; it deserves better than that. Just recognize where its strength truly lies: the gameplay experience and not the story."

Lenovo IdeaCentre Erazer X700 Gaming PC Review

If we asked you to name five gaming PC manufacturers, Lenovo probably wouldn't make the list. No other company in the world ships more PCs than Lenovo, but of those machines, relatively few are dedicated gaming boxes. Traditionally, Lenovo has focused its efforts on business class desktops and laptops, though the company is known to play in performance waters on occasion, most notably with its IdeaCentre K Series of high-end towers. These aren't hardcore gaming boxes like the boutique builders offer, however, so there's room in Lenovo's lineup to add a dedicated line of systems built exclusively for gamers, and that's what we have with the IdeaCentre Erazer X700...

NVIDIA Reveals Powerful Game Development

NVIDIA is holding a tech event currently in Montreal to showcase a number of the tools and technologies that the company has developed to push the state of the art in game development. The event is taking place over the next two days and we're told there will be a number of newsworthy items revealed. One rather impressive demo of NVIDIA's Flame Works film-quality volumetric effects really caught our eye...

Mionix Avior 8200 Gaming Mouse @ Rbmods

Today we are taking a look at a new gaming mouse from Mionix, they sent us a sample of the Avior 8200. Will it follow the high quality trend that Mionix has had in the past; that is the quesiton. It seems to have some cool features and be a decent size; so lets not waste anymore time and get on with the review!"

Assassins Creed 6-Years Later Review

Should we look to the past and learn from this six year old game? I certainly think so. Replaying Assassin`s Creed for this review reminded me of just how much I enjoyed it when I first played it. Sure it has some rough patches and somewhat dated graphics, but this game is still excellent and deserves a place in our libraries. I would easily recommend this game to anyone who has been caught up in the marketing for the upcoming Assassin`s Creed IV: Black Flag as well as to anyone looking for a good, story-driven action game. It is a straightforward experience that you can play your own way and on your own schedule. Go ahead and take a trip to the past."

Thermaltake Superior Level 10 M Gaming Mouse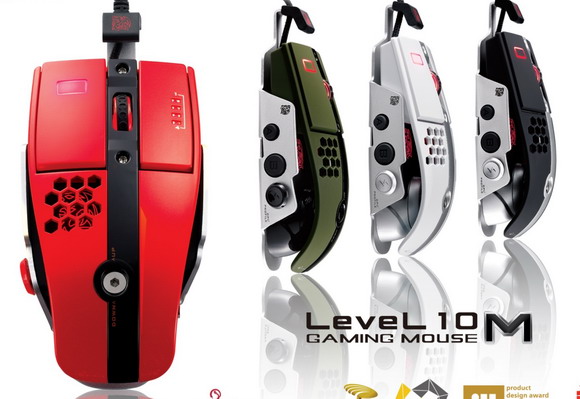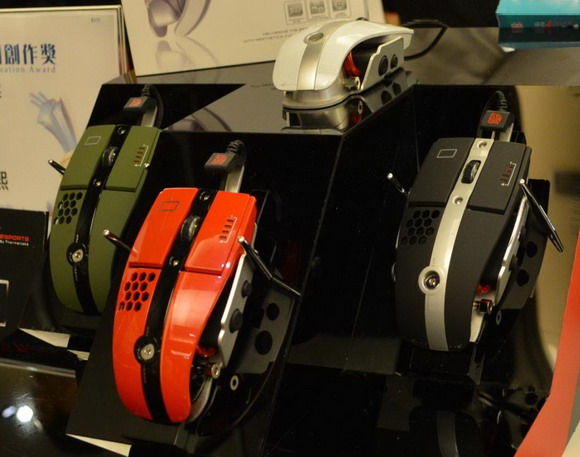 At the award ceremony for the "National Invention and Creation Award 2013" (NICA 2013) on 9th October, 2013, Thermaltake, comes up to all the expectations, stands out among 494 entries and wins Silver Medal in the "Invention Award" from NICA with its supreme patented product?"Level 10 M Gaming Mouse", which is the design collaboration by Thermaltake and BMW DesignworksUSA. The Chairman & CEO of Thermaltake Technology Group, Mr. Kenny Lin was bridging BMW DesignworksUSA and Thermaltake Group's international advanced design studios Tt Design Works for the "Level 10 M Gaming Mouse". Once again, the Level 10 M Gaming Mouse has perfectly demonstrated its revolutionary design concept and creative engineering! Thermaltake is also proud to announce its achievement for receiving 199 Patent Certifications so far. The National Invention and Creation Award 2013 conferred by the Intellectual Property Office, Ministry of Economic Affairs R.O.C, which rewards outstanding innovative achievements.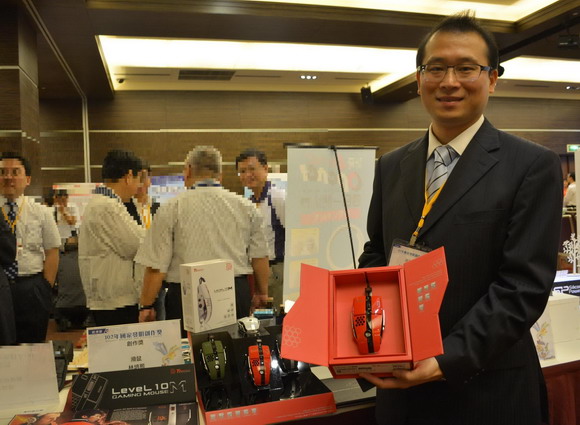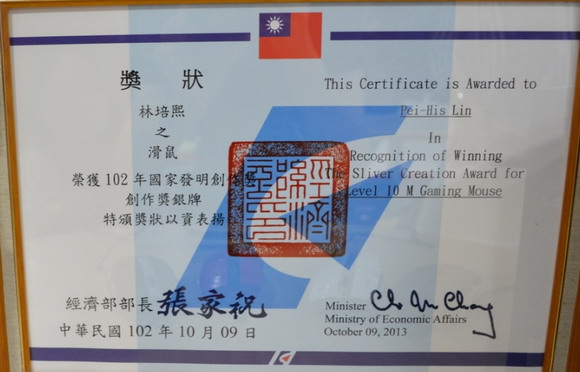 "The award is an important confirmation of the long-term corporate and product strategies! Our pioneering spirits are undiminished! Continuous innovation is an important core value to Thermaltake. Combining our vision and research for future e-Sports and digital entertainment trends, we extends the classic concept of Level 10 to e-Sports gaming peripherals together with BMW DesignworksUSA. With the Level 10 M Gaming Mouse proving its characteristic and distinctive design along with the outstanding range and high level of enjoyment, it not only establishes our autonomous key technology, but also reveals our significant technological strength to the world! " by the Chairman & CEO of Thermaltake Technology Group, Mr. Kenny Lin.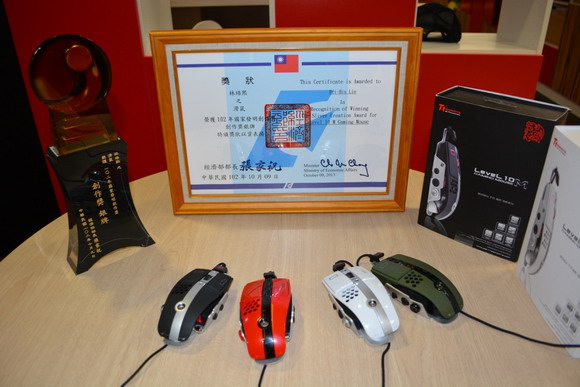 The Tt eSPORTS Level 10 M Gaming Mouse has been an outstandingly successful model and received numerous awards since its launch in 2012, including "COMPUTEX 2012 d&i Gold Award", "2012 Golden Pin Design Mark", "2012 GOOD DESIGNTM Award", "Taiwan Excellence Award 2013", and "iF GOLD Design Award 2013". Each award is a further indicator that the legend of Level 10 shows Thermaltake's innovative spirit and uncompromising persistence!

NVIDIA GeForce Experience: ShadowPlay. First Impressions.

The video quality is also very good as well. The image is very sharp and would almost convince me that I am not playing a video except for slightly flattened colors. Basically, it looks like live game play with a slightly uncalibrated monitor in Starcraft II. Pay close attention to the shade of orange in my username (Phopojijo). Players with decent monitors would know that just does not look right. Then again, from my understanding, orange is annoying to represent especially in the sRGB color space."

Splinter Cell: Blacklist @ LanOC Reviews

With the success of Ubisofts Assassins Creed series it is easy to forget that they have another widely successful stealth-action series up their sleeve. Tom Clancys Splinter Cell has been around since 2002 when it caught our attention with those ever recognizable glowing green trifocals. While the series hasnt had the annual release attention since 2006, Ubisoft Montreal still kept the series strong with the release of Splinter Cell: Conviction and this year Ubisoft Toronto take the reins with Splinter Cell: Blacklist. Promising to deliver the same stealth-action weve come to enjoy, it is time to take a look at the latest installment in the Splinter Cell series."



The best Guides by the best writers on the internet; PCSTATS Beginners Guides explain computers, software, and all those other wonderful things that cause you frustration.

Learn how to use your computer better, master the internet while protecting yourself, and know what to do when your hard drive kicks the bucket.



"Get the 'Stats and Stay Informed!"