| | |
| --- | --- |
| Cases | |

... 1 news stories awaiting approval

Phanteks Evolv X – Best ATX case of 2018 (so far!)

Phanteks has cruelly kept us waiting three months since we first saw the Evolv X at Computex 2018 and now the time has arrived for a review. It is fair to say the Evolv X was one of the stars of Computex and was certainly one of the most anticipated products that mainstream gamers might actually buy (32-core Threadripper and 28-core Intel got more attention but that's a different story).


Be quiet! Straight Power 11 1000W Power Supply Unit Review

If you're looking for a 1KW 80 Plus Gold certified power supply unit with very good rail stability, quality components, plethora of available electrical protections and a fully modular chassis then the Straight Power 11 1000W model by be quiet! could be the one.


FSP CMT520 Computer Case Review

The FSP CMT520 improves in a few key areas over previous iterations of the company's chassis lineup and delivers an aesthetically pleasing case.

Silverstone Redline RL07

The Redline RL07 is the most expensive chassis in the Redline line-up and offers an all-steel construction with a cool look in either black or white. It utilizes the same body as the PM02 or KL07, but has a much lower price tag.

tec P8 Midi Tower Case Review

The Antec P8 is a mid tower PC case that features a minimalist, functional design aimed at PC builders on a budget. You won't find any RGB lighting but there are plenty of different options when it comes to cooling and drive configuration. With a price tag of around £65, is the P8 a case worth considering?

Thermaltake Releases Level 20 VT Micro Chassis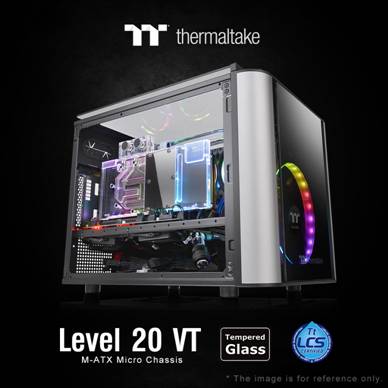 Thermaltake, a leading premium gaming tower manufacturer, announced the immediate availability of Thermaltake Level 20 VT Micro Chassis. Thermaltake is thrilled to show the latest TT Premium product line – the Level 20 Series which commemorates 20 years of dedication to the PC industry. The Level 20 VT is the pocket rocket of the Level 20 series, offering massive support inside an M-ATX footprint. The Level 20 VT is designed to prove that micro cases don't have to be small on power. It boasts a 200mm fan preinstalled at the front as well as great liquid cooling support, four 4mm tempered glass panels and interchangeable panels with filters. The VT also has a split-level design with a flat motherboard tray that lets you hide away cables, while showing off liquid cooling hardware at the top. The Level 20 VT takes our latest case innovations and wraps them in an ultra-modern, space-conscious style that's utterly unique in the case market today.


Cooler Master MasterAir MA410M Review

RGB lighting has been popular with custom PC builds for quite some time now, but with newer innovations in technology comes newly updated products. Following the boom in RGB lighting comes Addressable RGB lighting. Not only do addressable RGB LEDs require a specific three-pinheader on your motherboard to make use of finer software control, but as a controller is applied to each individual LED there is a far greater variance of colours, modes and effects available to the ARGB devices. Cooler Master has decided to embrace this with the new MasterAir MA410M, a dual fan air cooler, that supports addressable RGB LEDs on both the fans and cooler shroud itself. With a host of features including a built-in CPU temperature sensor and Air Guide Armour for £59.99, how does it stack up against both AIO liquid coolers and air coolers at this relatively saturated price point?

Lian Li Strimer Review

If you've been living under a rock for the last few years, you may not know that the computer tech industry has been overwhelmed by the introduction of RGB LED lighting. Cases, graphics cards, memory, coolers and more are now all capable of delivering 16.8 million colour illumination and, for those who just simply can't get enough of this glitzy customisation, Lian Li has now created the Strimer – an RGB ready 24-pin cable extension kit.

Azza Storm 6000

The Azza Storm 6000 comes in two color choices and offers a whopping five fans (four of which are RGB), E-ATX support, the ability to install large radiators and potent hardware; all while keeping the price pretty low. Will the case hold out the storm or will its four Hurricane RGB fans rattle the cage?

Cooler Master Introduces the MasterBox MB530P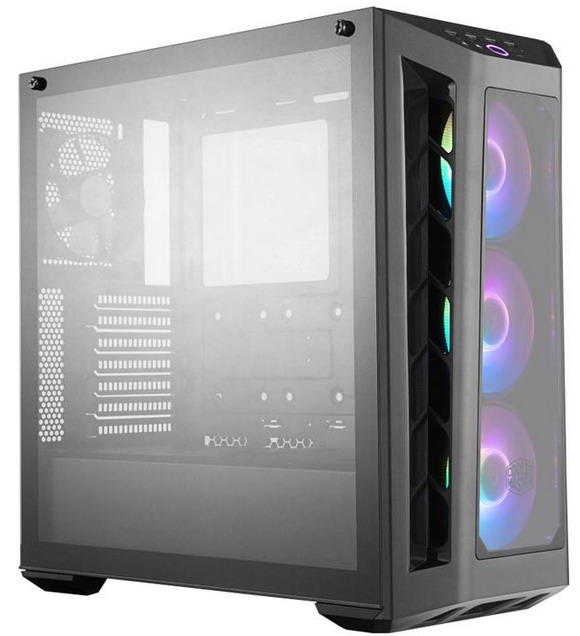 Cooler Master, a global leader in manufacturing computer hardware and peripherals, today launched the MasterBox MB530P, a case which offers an affordable price point without compromising appearance.
The MB530P comes equipped with three tempered glass panels on the front and both sides of the case for a clear view of components and cable management. A honeycomb pattern decorates the bottom of the rear side panel offering users a stylish solution to cover the open side of the power supply and hide any unsightly cables.
The MasterBox MB530P features three addressable RGB (ARGB) 120mm fans on the front and an ARGB power button, which can be synced by connecting the ARGB cable on the front I/O to the included 2 to 3 splitter. Users can control lighting functionality via motherboard software or by cycling through the pre-set lighting modes attached to the reset button. The MasterBox MB530P is certified compatible with ASUS, Gigabyte, MSI and ASRock motherboards.
Ventilation cutouts line the side of the front panel to allow for air intake while a magnetic dust filter blankets the top of the case to keep components clean and maintain thermal efficency. Two friction SSD mounts can be found behind the motherboard for a seamless installation without the use of tools. Users can simply attach the SSD to the case by inserting the included rubber pegs into the SSD and sliding it into place. For additional storage space, two HDD/SSD trays can be found beneath the PSU shroud.
The MB530P joins the previously launched MasterBox MB510L (carbon), MB511 (mesh) and MB520 (DarkMirror). The MasterBox series satisfies consumer's needs for a variety of style choices. Defined by the aggressive intakes that unite the line, the MB530P will provide users with the addition of a more premium build at an affordable price. The MasterBox MB530P will be available August 9, 2018 for pre-sale on Newegg.com for a starting MSRP of $109.99.

Cooler Master MasterBox TD500 Review

It was at Computex 2018 that we saw the first images of the distinctive MasterBox TD500 and gaining some attention it certainly did. In a market which is shy of unique models, the three-dimensional diamond cut-design found on the TD500 is definitely turns heads. This mid-tower not only offers good hardware support, an edge to edge side panel and radiator support, but it also arrives with four cooling fans – three of which are RGB LED ready!

Reeven Twila RGB LED Light Strip Review

In this article for Benchmark Reviews, I'm going to be testing the Reeven Twila RGB LED strips. Reeven Twila is compatible with Asus Aura, MSI Mystic Light Sync, ASrock RGB LED, and Gigabyte RGB Fusion ready. Twila connects to motherboards via the 4 pin RGB connector. The motherboard manufactures have their own software for controlling the output of the LED connectors built-in to compatible motherboards.