[>>]

[>>]

[>>]

[>>]

More>>

Search...

| | |
| --- | --- |
| Cases | |

... 5 news stories awaiting approval
Phanteks Eclipse P300 Review

With the Eclipse P300, Phanteks has a case for ATX motherboards in its portfolio, which comes with a lot of features and at an attractive price. Apart from that especially friends of water cooling will love this case, since it offers good flexibility in that direction. In addition this model supports RGB illumination and it's compatible with ASUS, MSI and Gigabyte systems. For now, we're really curious to find out how this case is going to do in our review.



Deepcool ARK 90 Case Wins 2018 Red Dot Design Award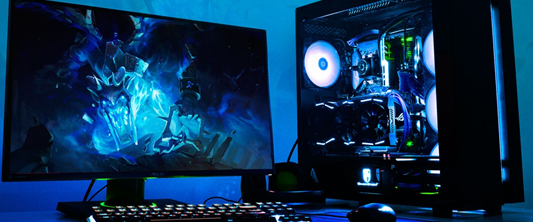 "The Red Dot jury has made its decision: After all of the products submitted were tested and assessed individually in the course of an evaluation process spanning several days, NEW ARK 90, manufactured/designed by Deepcool, received the distinction "Red Dot".
Push Your Liquid-cooled PC Further NEW ARK 90 features a fluid-cooled tower with visible external flow systems, which completely eliminates the conventional technical barrier between DIY water-cooled towers to provide users with the perfect user experience. The tower is a perfect integration of extreme minimalist designs, glass panels, and RGB lighting to provide a unique visual aesthetics. Internal compartments offer excellent expandability and compatibility. The NEW ARK 90 comes with 4 independent cooling slots, dominating its competition by allowing users to easily create their personalized water-cooled rig.The competition was intense: over 6,400 entries were submitted from 54 countries in hopes of receiving the seal of quality.
Evaluation platform for good design The Red Dot Award: Product Design has roots dating back as far as 1955 and determines the best products created each year. In 2018, designers and manufacturers from 59 countries submitted more than 6,300 objects to the competition. True to the motto "In search of good design and innovation", a jury comprising roughly 40 members assessed the products individually based on the original. The strict judging criteria, which include level of innovation, functionality, formal quality, ergonomics and durability, provide a frame of reference which the jurors then complement with their own expertise.
"I want to congratulate the award winners sincerely on their wonderful success in the Red Dot Award: Product Design 2018. Success in the competition is proof of the good design quality of the products and once again shows that companies are on the right path. When I speak about good design, I am referring to more than just an attractive product. All of the products are characterised by outstanding functionality. This demonstrates that the designers have understood their clients and their needs", said Professor Dr. Peter Zec, founder and CEO of the Red Dot Award. "


Corsair Carbide Spec-Omega Mid-Tower Case Review

At CES 2018 Corsair once again presented a range of updated and new products geared at expanding their product line with new and innovative ideas. While we are still in the half of 2018, Corsair has already launched several new computer cases, Obsidian 500D, Carbide 275R and the Spec-Omega. Today, we will be taking a look at the Spec-Omega (specifically the White model with part number CC-9011119-WW), a Mid-Tower ATX case, that features a Tempered Glass side panel, built-in LED lighting on the front panel, and an angular design for a unique look.

Lian Li PC-O11 Dynamic

The Lian Li PC-O11 Dynamic is not simply an updated version of the existing PC-O11. It is a unique beast of its own that essentially only shares its timeless looks with the current variants. Thanks to the input of German pro-overclocker der8auer the PC-O11 Dynamic aims to offer loads of radiator support, while allowing for an uncompromising choice of high-end hardware.



BitFenix Enso

The BitFenix Enso is the classic wolf in sheep's clothing. It may look like an ordinary 70-80 USD chassis out there when turned off, but as soon as the addressable RGB lights turn on, it becomes apparent how much more the Enso offers while keeping the price enticingly low.


Corsair Carbide 275R Review

With the Carbide 275R, Corsair updated their Carbide series with a tempered glass side panel. Like the previous 270R, the new Carbide is a case capable of housing custom watercooling builds and ATX motherboard. There is a lot of space available for radiators and there is space for reservoir and pump.

Phanteks Evolv Shift X Case Review

"Most modern chassis are designed to make the installation process simple and straight-forward; mostly they succeed in this. Cleverly case engineers have taken hints from yesterday's mods and created designs that enable the builder to fit most any part on the market with little to no hassle, no elbow grease needed. At the end some might even feel like they've created something worth unique even as a first time builder. Today we are not looking at one of those cases. The Phanteks Evolv Shift X immediately strikes you as a unique and beautiful work of steel and glass. It is incredibly aesthetically pleasing. Striking even. However, as we take a moment and ponder further we see that beauty, as it often does, comes at a cost. This chassis will accept only Mini ITX motherboards, it is small. The length or height (depending on orientation) hides the fact that this case is basically SFF and as such must be approached with care and tact. Follow along as we find out both what it takes to build in this nearly boutique work of art as well as whether or not you really want to."

NZXT H400i Review

Today we have with the H400i from NZXT a high-quality Micro-ATX case tested, which can already be classified in the higher price range. Unlike many of its competitors, NZXT uses in this small case a tempered glass instead of acrylic glass. Beside some pictures there is also a video with different RGB effects contained in this review. As always, we hope you enjoy it.

SteelSeries Rival 600 Review

SteelSeries have carved out quite the position within the gaming and eSports market, seemingly offering a device to suit every budget and ability. Their latest gaming mouse, the Rival 600, is under the spotlight today.

Cooler Master MasterCase H500P Mesh White Review

The launch of the Cooler Master MasterCase H500P went off the rails, as our man Dominic found in October 2017 as the case did not breath correctly and also tended to fall apart when you moved it around. Cooler Master knew things weren't right and in January we saw a revised H500P at CES.



The best Guides by the best writers on the internet; PCSTATS Beginners Guides explain computers, software, and all those other wonderful things that cause you frustration.

Learn how to use your computer better, master the internet while protecting yourself, and know what to do when your hard drive kicks the bucket.



"Get the 'Stats and Stay Informed!"