| | |
| --- | --- |
| Cases | |

... 5 news stories awaiting approval
BitFenix Ronin Midi-Tower Computer Case Review @ Madshrimps

A warrior with no master. A case with no equal. Ronin combines a dark, stealthy design with enhanced hardware compatibility for a chassis built for vengeance, a small extract of what BitFenix has to say about today`s reviewed Ronin mid tower case. Very aggressive PR material, but that`s the way we got used too. Strong and bold claims, however the case has to live up to the hype created around it. Let us pop the box and discover what the Ronin is really made of..."

Thermaltake Urban S41 Windowed Mid-Tower

While Im typing these lines things are probably heating up at CES 2014 because of all the intriguing and innovative products unveiled there for the first time including several PC cases of all sizes by most (if not all) of the leading manufacturers. Certainly we all know how hard it is nowadays for some people to decide on the right PC Case for them because of all the countless available models in the market so the introduction of even more will probably make things even harder for them but in the end i think that it`s always good to have more variety (not to mention that competition is always good for the consumer). Now some of you may recall that a few weeks back we promised to increase our focus on PC Case reviews something which we didn`t really follow through due to extremely heavy workload. Well the Urban S41 mid-tower windowed chassis by Thermaltake is the first tower which we will be looking at in an effort to make up for that."


NZXT H630 Silent Full Tower Case Review @ ThinkComputers.org

Being computer enthusiasts we love to build some pretty extreme systems, but that of course comes some with some noise. That is where quiet PC Cases come in to play. Many different companies make them, but today we are talking a look at one from NZXT. The NZXT H630 is a full tower case with a very elegant design and is made to keep your systems noise to a minimum. Not only that this case has room for multiple watercooling setups, XL-ATX and E-ATX motherboards, long video cards, and 9 hard drives. Will the NZXT H630 impress? Read on as we find out!"

Cooler Master HAF Stacker 935 Case Review

Cooler Master is no stranger to breaking new ground in the wide world of computer peripherals having been in the business since 1992. Their portfolio includes many OEM products, as well as consumer grade products. Breaking the consumer products down, they manufacture products for budget minded users to the high end enthusiasts. By looking at the market, they take risks by developing new products based on market trends. The HAF, or High Air Flow case design has been around since 2008, in 2013 they introduced a new model, the Stacker. The Stacker is a stackable "mod-tower" that takes their experience with the HAF line and expands it to an easily expandable case.

Cooler Master COSMOS SE Computer Case Review

The latest Cosmos SE case from Cooler Master offers plenty of options for water cooling, has removable and switchable HDD bays and resembles the look of the massive Cosmos II. We also get washable and easy to remove air filters and the case comes initially equipped with two 120mm fans with LEDs in front, one 120mm in the back, but also a 140mm fan on top.

BitFenix Ronin case review

Since the company's launch in 2010, BitFenix has quickly become a household name among computer enthusiasts. The firm sells everything from fan controllers to fans and LED strips, but is primarily known for its series of cases. One of the newer additions to BitFenix' case lineup is Ronin, a mid-tower with "a dark, stealthy design with enhanced hardware compatibility for a chassis built for vengeance".

EVGA Hadron Air Mini ITX Case Review

Those couple of issues aside, working inside the EVGA Hadron Air case was fairly straight forward and we were very happy with the results. A clean and incredibly powerful system can be put into a small case design if you are willing to invest the time and money into your rig. The EVGA Hadron Air is currently selling for $179 with a small mail-in rebate. That definitely doesn`t qualify as a budget case for any PC but as with the notebook world, you pay more for smaller and more compact designs."

Phanteks Enthoo Primo Review

The list of features of the Enthoo Primo is impressive. The PWM fan hub allows PWM control over your case fans from a single PWM fan header on your motherboard. The blue LEDs of the front fans and front and top LED light strips add a touch of elegance to the case, and can be turned on or off with the touch of a button. The included pump mounting base, reservoir mounts, and multiple radiator locations simplify your water cooling build. Phanteks put a lot of time into this case and it shows."

Humble Indie Bundle X Review

Playing Surgeon Simulator yourself could be decidedly frustrating when things stop behaving the way you want them to. Sometimes an organ will not cut when we want it to; we will get a bad grip on a tool, making it almost impossible to use the way we want to; or something will fall to the floor where it is lost forever. The only good news I can share with you about any of that is everyone who has played the game shares your pain and that restarting an operation is quick, easy, and painless (for you; not the patient)."

BitFenix Ronin Case Review @ Hardware Secrets

The BitFenix Ronin is a mid-tower case with three 5.25 bays, six 3.5/2.5 bays, support for 240/280 mm radiators, and a big transparent window at the left panel. Let`s take a look at it."

Cougar MX500 @ LanOC Reviews

Just in time for Christmas we have a mid-tower for you, this time from Cougar. The MX500 promises to be a case with a gaming centric design and the capability to handle just about any ATX/mATX setup you could want to throw at it with an array of possible drive setups. With the promise or flexibility and expandability the MX500 looks to target gamers and ever since we got our hands on their Vortex PWM fans we knew Cougar was capable of making quality products. Lets see if they can continue to impress us."

BitFenix Phenom mITX Case Review

When the BitFenix Prodigy was released last year, it expanded on the idea of how much performance could fit in a small case. There were some users (me included) that felt the original Prodigy was just a little too big for an ITX box ? responding to customer feedback, BitFenix wanted to provide a more streamlined option for those users that wanted all that the Prodigy had to offer in a more compact package. With essentially the same internal layout as the original Prodigy, the new BitFenix Phenom (model BFC-PHE-300-WWXKK-RP) caters to those that want something a little more minimalistic with airflow taking a backseat to looks and finesse. Benchmark Reviews is ready to look inside and see how much of the Prodigy legacy stays intact with the BitFenix Phenom ITX case."

Silverstone Raven Z RVZ01 Mini-ITX Case - The Steam Machine Chassis

If you are on the hunt for a Mini-ITX chassis that supports powerful components and would prefer a case design that looks at home in your A/V rack, then Silverstone`s Raven Z RVZ01 is definitely a great option to consider. I am looking forward to upgrading our build with a higher wattage power supply and higher performance graphics card to concrete its place on my shelf with the Xbox One and PS4. It`s not a perfect design, but we have yet to find a SFF case that is."

Elite 110 mini cube compact chassis

The Cooler Master Elite 110 is a Mini-ITX chassis. A full breathable mesh front panel holds space beneath it for a powerful 120mm All-in-One watercooling radiator. Elite 110 Mini Cube is engineered to fit in the minutest spaces while maintaining support for premium hardware. A pleasing, conservative design helps Elite 110 blend into any home environment.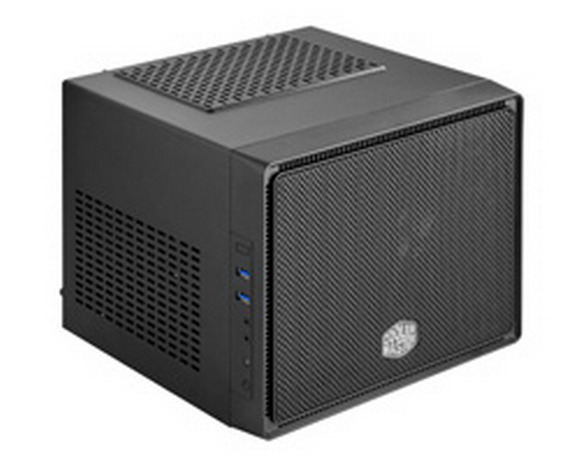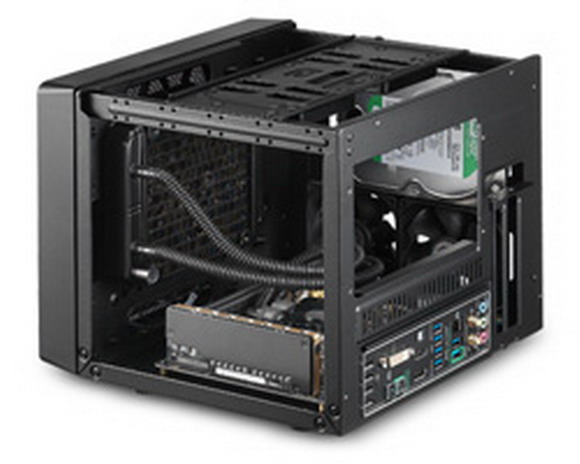 Offering no compromises, Elite 110 is built with an intelligent use of internal space. Mid to high-end graphics cards up to 210mm long can be accommodated easily. A simple, yet effective rear PSU bracket allows Elite 110 owners to easily install long power supplies up to 180mm long. Despite its miniature size, Elite 110 can support a full three hard drives or four SSDs. Elite 110 Mini Cube features full force cooling with its included 120mm front intake fan (compatible with 140mm fans), and 2 x 80mm optional side fans. Users needing quick access to ports will find a rich front I/O panel with two Super Speed USB 3.0 ports and audio in/out.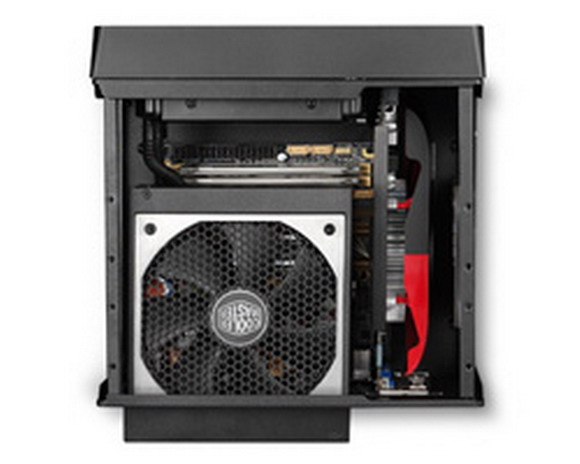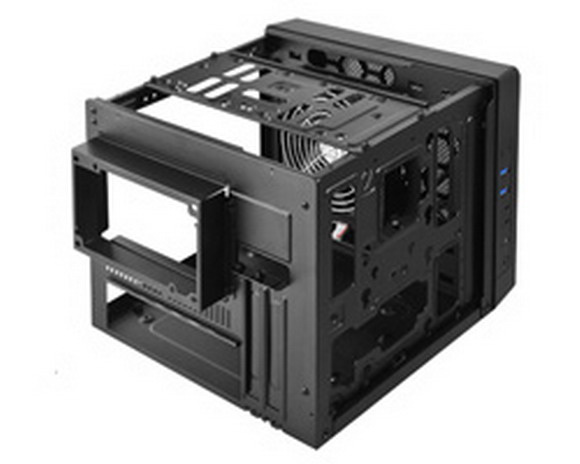 Elite 110 is available now. Price and availability may vary by region. This release is for North America region(s) only. Please consult your local Cooler Master Representative for more information.

NZXT Phantom 530 Case Review @ Hardware Secrets

Today, we bring our analysis of the Phantom 530, a full-tower case from NZXT, targeted to users who want to build a high-end computer in an aggressive look case. Let`s see what this product has to offer."